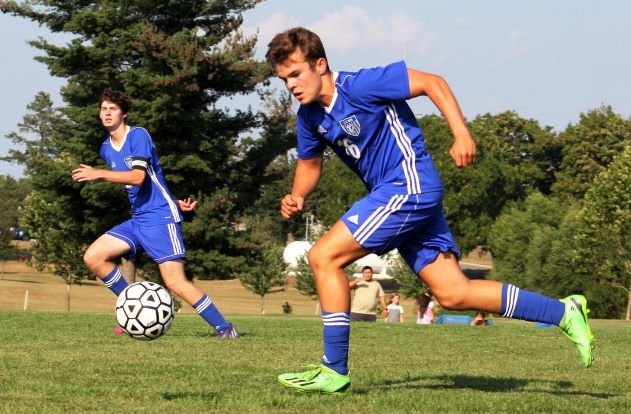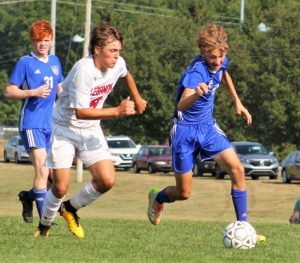 BY JEFF FALK
Editor
SOUTH LEBANON – And now, in the category for the quickest turnaround in the history of scholastic sports, the award goes to the Cedar Crest boys' soccer team.
The Falcons are one game into their 2022 campaign, and they're already better than they were last year.
On a humid Monday evening at Cedar Crest High School, the Falcons opened their season with a dominant and convincing 6-0 triumph over rival Lebanon. Cedar Crest opened a 2-0 halftime advantage, then wore the Cedars down in the second half.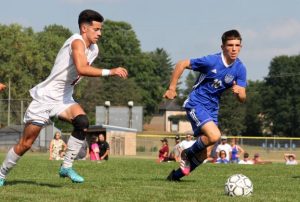 Seven different Falcons figured in the scoring, including junior Gio Mancino, who netted a pair of goals and an assist.
In 2021, Cedar Crest went 0-17-1 overall, the worst record in program history. Included in that was a disappointing setback to the Cedars, who compiled an 8-9-1 mark last year.
"We were awful," said Cedar Crest head coach Todd Gingrich of 2021. "What was frustrating was that we were so close in games, but we ran out of gas. So in the off-season, we put on an average of 15 pounds per player through weight training. We put the time in the weight room. We were tired of losing. We were tired of being pushed around. You could see it today. We were really physical.
"We want to go 1-0, 1-0," continued Gingrich. "I haven't brought up wins and losses with the kids. We want to be competitive with everyone we play. In terms of health, we're exactly where we need to be."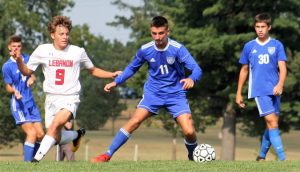 "Numbers play a factor," said Lebanon head coach Doug Hunter. "Some of our numbers are a little light. They have numbers where we don't have numbers. That's always going to be an issue when we play bigger schools.
"Cedar Crest did a wonderful job," added Hunter. "They broke us down. The game got a little more physical than it needed to be. Sportsmanship has got to come into play."
The Falcons tallied a pair of goals six minutes apart late in the first half to gain control of the outcome.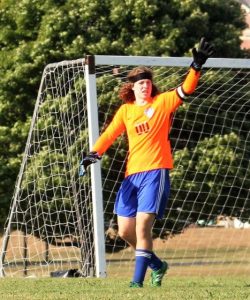 First, Mancino beat a sprawling Lebanon goalkeeper to a ball served by fellow Falcon Matthew Stohrer, before depositing it into an open net. Then from the middle of the pitch Jack Wolgemuth shuffled a pass outside to Logan Hackman, who went short side to make it 2-0.
"Honestly, I thought we'd win today if we played our best game," said Gingrich. "They (the Cedars) have six or seven very good players. But we knew they couldn't match our depth, and we knew they couldn't match our fitness.
"We're actually much better on turf," Gingrich continued. "This (grass) was a disadvantage for us. When we watched them (the Cedars) play on Saturday, we noticed they played three (defenders) in the back and they played really wide. It's just a numbers game. We had two or three players running at the same time."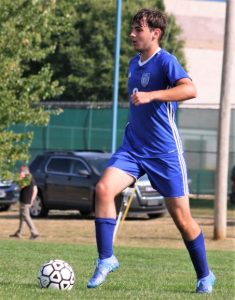 "I was looking for a little more possession," said Hunter of his side. "We struggled possessing and moving the ball. But you can't come into a game expecting a result you haven't earned."
Early in the second half, the Falcons extended their lead to 4-0, and Mancino had a hand in both goals.
From the left side of the field, he collected a loose ball and went high into the net, with his left foot on the short side. Also with his left foot, Mancino sent a precise cross across the Lebanon goal mouth to Jozef Shkreli, who headed the ball into the goal at the right post.
"He has been 100 percent a team guy," said Gingrich of Mancino. "He's worked so hard. He's taken up a leadership role. He was more proud of the assist than his two goals.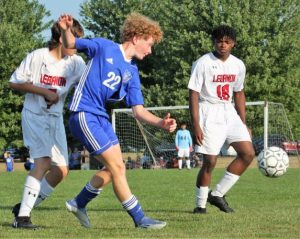 "It's always going to be a rivalry," added Gingrich. "It's Lebanon-Cedar Crest. I felt like there was a time when we lacked the fire to out work our rival. We're a very close team. I don't know if we took things personally last year, that we were willing to fight."
"Number ten (Mancino) is a good finisher," said Hunter, "and he didn't waste his chances.
"This was a learning lesson," Hunter added. "We can only grow from this. The boys have to look inside and see what they're made of."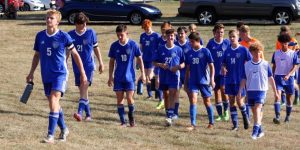 With less than three minutes remaining, Cedar Crest posted its final two goals, about 60 seconds apart. Senior Nick Garman made it a 5-0 game, while sophomore Matthew Golub placed an exclamation point on the rout.
Cedar Crest out shot Lebanon 22-4, as goalie Tye Hains logged the shutout.
"Last year, we had terrible goalkeeping problems," said Gingrich. "It was frustrating because we had two athletic kids. It just didn't click. It was just bad luck. Tye Hains has come on this year and since he's hit the field, he's been dominant. And it's made a huge difference."
"I want to be competitive when we play everybody," said Hunter. "We're in Section Three (of the Lancaster-Lebanon League) this year and it's going to be a little more difficult. We want to be .500 or above."
 To purchase images in this article please email jeff@lebcosports.com.
2022 Lebanon Boys' Soccer Schedule
Date/Time
Opponent
Location
League
Mon Aug 22 4:00 PM

@

Middletown Area High School

Middletown Area High School
Field 3/4 Turf Stadium
S
Sat Aug 27 9:00 AM

@

Carlisle Area School District
with 9 others

Lampeter-Strasburg High School
Pioneer Turf – Field 2
S
Mon Aug 29 4:00 PM

@

Cedar Crest High School

Cedar Crest High School
Turtle Field
L
Wed Aug 31 4:15 PM

@

Milton Hershey High School

Milton Hershey High School
Soccer Grass Field – Homestead Ln, Hershey PA 17033
N
Fri Sep 2 10:00 AM

@

Tulpehocken Junior/Senior High School

TULPEHOCKEN HS/MS
HS Stadium #1
N
Thu Sep 8 7:00 PM

@

Eastern Lebanon County

Eastern Lebanon Co Sr High School
Stadium
L
Sat Sep 10 10:00 AM

@

JP McCaskey High School Campus

JP McCaskey High School
Varsity Soccer Field
N
Mon Sep 12 4:00 PM

vs

Donegal Senior High School

Lebanon High School
Alumni Stadium
L
Wed Sep 14 4:00 PM

@

Cocalico Senior High School

Cocalico Senior High School
Talon Field – Turf
L
Fri Sep 16 4:00 PM

vs

Northern Lebanon HS/MS

Lebanon High School
Lower Wilhelm Field @ LHS
L
Tue Sep 20 4:00 PM

vs

Solanco High School

Lebanon Alumni Stadium
L
Thu Sep 22 7:00 PM

@

Octorara Area High School

Octorara Area High School
Gene Davis Memorial Stadium Field 1
L
Wed Sep 28 4:00 PM

@

Donegal Senior High School

Donegal Athletic Stadium
Donegal Athletic Stadium
L
Sat Oct 1 10:00 AM

vs

JP McCaskey High School Campus

Lebanon High School
Alumni Stadium
N
Tue Oct 4 4:00 PM

vs

Cocalico Senior High School

Lebanon High School
Alumni Stadium
L
Thu Oct 6 7:00 PM

@

Solanco High School

Solanco High School
Stadium
L
2022 Cedar Crest Boys' Soccer Schedule
Date/Time
Opponent
Location
Results
League
Sat Aug 27 9:00 AM

@

Carlisle Area School District
with 9 others

Lampeter-Strasburg High School
Pioneer Turf – Field 2
S
Mon Aug 29 4:00 PM

vs

Lebanon High School

Cedar Crest High School
Turtle Field
L
Tue Aug 30 4:00 PM

@

Cedar Cliff High School

Lowther Sports Complex
Cedar Cliff – Lowther Field
N
Fri Sep 2 4:00 PM

@

Cocalico Senior High School

Cocalico Senior High School
Talon Field – Turf
L
Sat Sep 3 10:00 AM

vs

Palmyra Area Senior High School

Cedar Crest High School
CCHS Stadium
L
Wed Sep 7 4:00 PM

@

Garden Spot High School

Garden Spot High School
Football Stadium
L
Sat Sep 10 11:30 AM

vs

Northern Lebanon HS/MS

Cedar Crest High School
CCHS Stadium
L
Tue Sep 13 4:00 PM

@

Lampeter-Strasburg High School

Lampeter-Strasburg High School
Pioneer Turf – Field 2
L
Thu Sep 15 7:00 PM

vs

Elizabethtown Area High School

Cedar Crest High School
CCHS Stadium
L
Sat Sep 17 7:00 PM

vs

Eastern Lebanon County

Cedar Crest High School
CCHS Stadium
L
Mon Sep 19 7:00 PM

@

Ephrata High School

Ephrata Middle School
Mountaineer Turf Field
L
Wed Sep 21 7:00 PM

vs

Manheim Central High School

Cedar Crest High School
CCHS Stadium
L
Sat Sep 24 10:00 AM

vs

Solanco High School

Cedar Crest High School
CCHS Stadium
N
Tue Sep 27 7:00 PM

vs

Garden Spot High School

Cedar Crest High School
CCHS Stadium
L
Thu Sep 29 5:30 PM

vs

Lampeter-Strasburg High School

Cedar Crest High School
CCHS Stadium
L
Mon Oct 3 4:00 PM

@

Elizabethtown Area High School

Elizabethtown Area High School
Jane Hoover Field
L
Wed Oct 5 7:00 PM

vs

Ephrata High School

Cedar Crest High School
CCHS Stadium
L
Sat Oct 8 10:00 AM

@

Annville-Cleona High School

Annville-Cleona High School
Varsity Soccer
L
Tue Oct 11 7:00 PM

@

Manheim Central High School

Rettew Stadium Complex
Turf Field
L