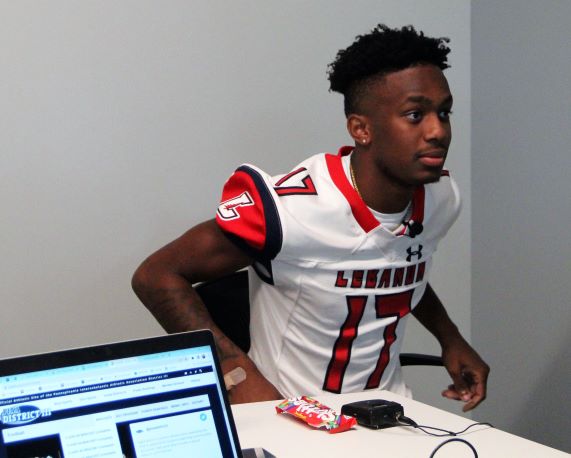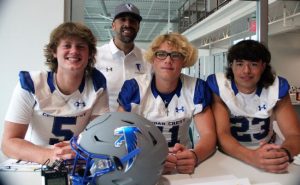 BY JEFF FALK
Editor
LANCASTER – It's presented as the unofficial start of the 2022-23 scholastic sports year, as a chance for local football programs to preview their upcoming campaigns, as a way to enhance relationships and promote good will. But there's so much more going on deeper, below the surface, something much more substantial, something a lot more important.
The annual Lancaster-Lebanon League football media days is a vehicle for local student-athletes to step outside of their comfort zones, a way to teach life lessons that can't be learned in the classroom or even the football field, a chance to learn something about themselves. It's about the kids.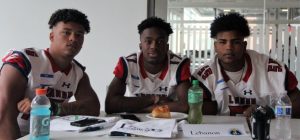 On Friday, the latest edition of the Lancaster-Lebanon League football media day was staged by Lancaster Newspapers Publishing at the media outlet's swank new headquarters in downtown Lancaster. Lebanon County's five Lancaster-Lebanon League members – Cedar Crest, Lebanon, Elco, Northern Lebanon and Annville-Cleona – were well-represented, by each respective programs' head coach and three leading players.
The event preceded Monday's first official day of practice for the 2022 scholastic football season, which will kick-off in earnest with Week One games on August 26.
"I don't think any of our guys have been exposed to anything like this before," said Lebanon head coach Frank Isenberg. "But all three of our guys (Emmanuel Mason, Zaihr Stoner, Josiah Wright) have college aspirations. I think it's just important to be able to speak publicly, to present yourself with a level of professionalism. It's a great learning experience."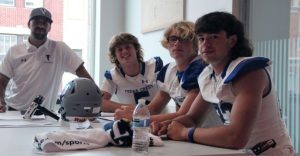 "This is great for the players," said Cedar Crest head coach Rob Wildasin. "I have three guys (Jay Huber, Ethan Heisey, Roman Brummel) here who have dedicated themselves to the program, and they deserve to be here. I think it's good for them to see how we handle the media. We have a great relationship with the media. This is a good way for the kids to learn about the media."
For most of the players in attendance, the gathering allowed them to interact with and speak to members of the media representing area newspapers, on-line media outlets, television stations and radio stations.
For some, it was their first time ever being interviewed on the record. For others, they will never formally interact with the media again.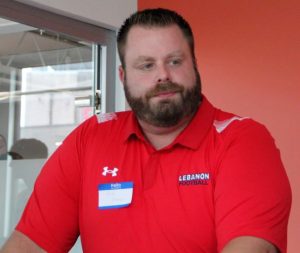 Some players were outgoing and engaging. Other players were more reserved and quiet.
"I'm not a guy who talks a lot," said Huber. "This is a new experience for me. I listened to what Coach had to say, and I thought he hit on all the key points. I think the media's job is to put the news out there so people can have a greater knowledge of a subject."
"It's more like an experience thing to me," said Stoner. "I wanted to come because I thought it would be fun. I really try to listen to what Coach says (when he addresses the media)."
Both veterans of numerous media interviews, Isenberg and Wildasin are always searching for unique ways to put their best feet forward, promote their programs and players, but still do it in an open and honest fashion. It's an approach that can be applied to life, as well as one that can be modeled by those exposed to the behavior.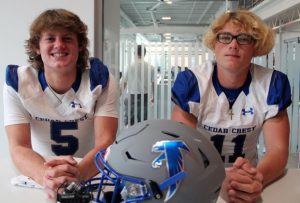 "It's a good experience for us," said Wildasin. "We're going to do our own things, and the media really isn't aware of what goes on behind the scenes. The media is presenting the story within a story, something more than the score. The media is providing facts that fans can't see. I think when people think about the media, it's sometimes in a good way and sometimes in a bad way."
"I enjoy watching these guys speak publicly," said Isenberg. "Our guys are pretty loose. Just them speaking in front of the media is really good to see.
"I want them to enjoy themselves," continued Isenberg. "They're three good kids. They know what to say. They've earned this opportunity. They're leaders on the team."
To purchase images in this article please email jeff@lebcosports.com.