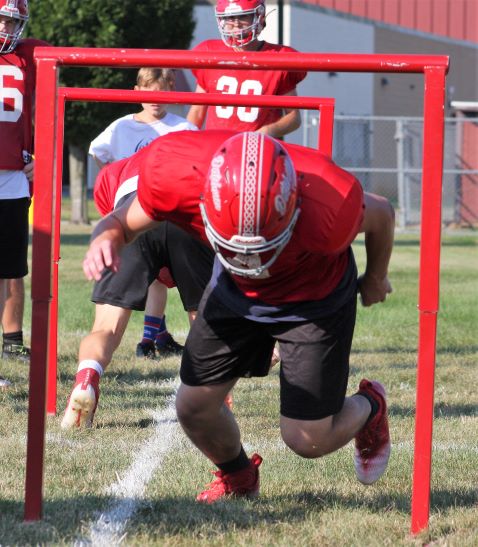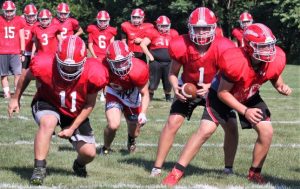 BY JEFF FALK
Editor
ANNVILLE – It's not a rebuild or even a reload. Or anything remotely resembling that.
It's more like a tweak, a fine-tuning. Sort of a repositioning of direction.
While the program as a whole remains strong, this year's version of Annville-Cleona football is of the opinion that a small change in attitude and approach can go a long way towards success. The Little Dutchmen don't do a lot of things, but what they do, they do well, aggressively.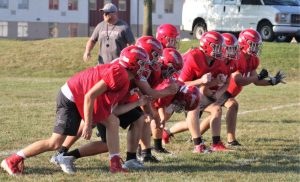 "I would really like to get back to playing physical games, offensively and defensively," said Matt Gingrich, who's in his eighth season as Annville-Cleona's head coach. "The last few years we've not been as aggressive. If we're physically close to a team, we're going to win. I just want to get back to the point where teams know they're playing against Annville-Cleona.
"I've been on them (his players) more about being in the weight room," continued Gingrich. "Unfortunately, our kids don't know what's best for them. Average effort and average attendance doesn't equal outstanding performance."
The Little Dutchmen are pointing at a 3-6 campaign in 2021, one in which they were physically worn down by a number of opponents. This new focus on physicality, coupled with a year of maturity and a year of experience should translate into a few more victories.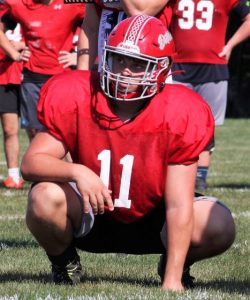 "We wanted more wins last year," said Gingrich. "I think there were a couple of games where we weren't happy with our performance. There were other games where we played better, but the opponent was just better. It was definitely a mixed bag of performances and strong opponents.
"I think there is carryover to this year," Gingrich added. "I'm personally sick of losing. I can be the nicest human being ever, but I'm ultra-competitive. It grinds at my soul. I want us to play up to our potential, not to our record."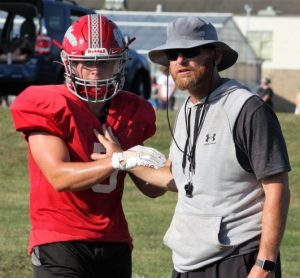 "I hope some people think I'm a leader," said Little Dutchmen senior back Phoenix Music. "I think I just started to become a leader in my junior year. I led by example, but now I want to be more talkative. In the past, I didn't like talking too much."
Music is one of 17 seniors on this season's A-C roster, a tangible reason for optimism. But another factor that has Annville-Cleona excited is a drop in classification from AAA to AA, a move that should make the Little Dutchmen's aspirations for District Three playoff success more optimistic.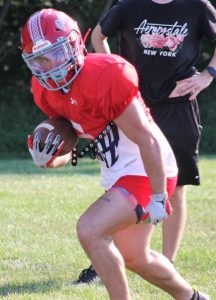 "It's (the district postseason) realistic," said Gingrich, who's led three different Little Dutchmen squads to the District Three playoffs in three different seasons. "We have a chance to get there. There are four teams that qualify, so if we can get there and win one game, we can make it to the district championship game. It's on our radar.
"Football's a funny game," Gingrich continued. "If you win that first game of the season, who knows? If you lose that first game of the season, who knows? You have to win the games you should. In those other games, you want to compete, and hopefully pull out a few wins."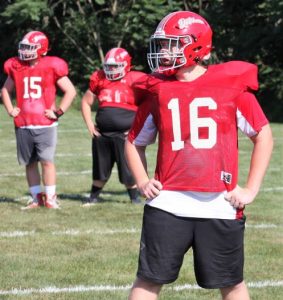 "Winning every game, that's every team's goal," said Music. "I think Coach wants the seniors to have at least one playoff game. I just think he wants us leaving school with one good season.
"When people make mistakes on the field and put their heads down, you can't do that," Music added. "You've got to move on to the next play. We've also got to be like a family, and treat each other that way."
Annville-Cleona is currently working with a roster of 37 student-athletes. The Little Dutchmen return seven offensive starters, and seven starters on the defensive side of the ball.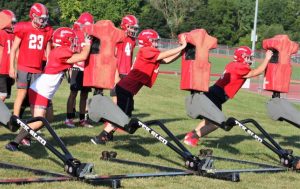 "We only had seven seniors last year and I think it showed," said Gingrich. "They were good leaders, but there weren't enough of them. This year, we have quality and quantity. But I'm still looking for more development. We're worried about the things we can control.
"I feel like we're a group of chameleons," Gingrich continued. "We have a lot of players who can play a lot of different positions. We have a lot of kids who can do the same things. I feel pretty good about getting kids rest when they're tired. I think we have pretty good depth."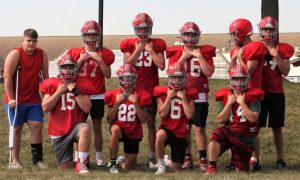 "You know what leaders are, but it's hard to explain what they do," said Music. "They're someone you can trust and someone who will help you out throughout the season. I just want to set a good example and try to make all the running backs better. And hopefully that will spill over into next year."
With Preston Bomgardner at center, Josh Lindsay and Damien Miller at guard, Chris Nagle and Alec Tetzlaff at tackles, and Darrian Holloway and Jon Shay at tight ends, Annville-Cleona is solid and well established across the offensive front.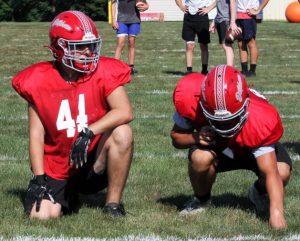 Backed up by utility man Cam Connelly, senior quarterback Gavin Keller will call the signals for the Annville-Cleona offense this season. Keller will be surrounded by athletic skill players like Music, fellow senior captain Alex Long, Cael Harter, Dominic Funk, Bryce Keller, Dom Casciotti, Dom Viozzi, Cash Watson, Ali Konneh and Tim Montijo.
Many of those athletes will also be asked to contribute their talents to a defense, which will be anchored by tackle Logan Riggenbach and linebacker Jadin Zerphey.
"It's a real tough time to be a football coach right now," said Gingrich. "There are a lot of headaches. I struggle with the day-to-day operations. There's less given to you and more expected of you. Getting kids to come out and play a tough physical sport right now is extremely difficult to do. That being said, I'm happy with our numbers. Things are looking up, program-wise. But at a small school, it can take a turn quickly.
"There's kind of this love-hate relationship with the community," concluded Gingrich. "They care about Friday nights, but they don't care about summer work-outs. It's extremely tough for me because I left a great place to come home. I know we could be doing so much more. I think there are a lot of players who are missing an opportunity to be part of something bigger than themselves. Football is the greatest high school sport. It's also the last high school sports. It's played on Friday nights in front of your whole town."
To purchase images in this article please email jeff@lebcosports.com.
This preview and LebCoSports' coverage of Annville-Cleona football this season is presented by Wengert's Home Center, https://www.wengertshomecenter1.com/.
2022 Annville-Cleona Football Schedule
Date
Opponents
8/26
7:00 pm
Annville-Cleona
at Hanover
Nonleague
9/01
7:00 pm
Elco
at Annville-Cleona
Nonleague
9/09
7:00 pm
Littlestown
at Annville-Cleona
Nonleague
9/16
7:00 pm
Hamburg
at Annville-Cleona
League
9/23
7:00 pm
Columbia
at Annville-Cleona
League
9/30
7:00 pm
Annville-Cleona
at Kutztown
League
10/07
7:00 pm
Lancaster Catholic
at Annville-Cleona
League
10/14
7:00 pm
Annville-Cleona
at Pequea Valley
League
10/21
7:00 pm
Annville-Cleona
at Schuylkill Valley
League
10/28
7:00 pm
Northern Lebanon
at Annville-Cleona
League
2022 Annville-Cleona Football Roster
Jersey
Player
Class
Height
Weight
Position
1
Ali Konneh
12
5'9"
155
WR/DB
2
Cash Watson
11
5'8"
140
WR/DB
3
Carson Grow
11
5'10"
155
RB/DB
4
Cael Harter
11
5'7"
130
RB/DB
5
Gavin Keller
12
6'3"
195
QB/DB
6
Trenton Brubaker
12
5'7"
140
WR/DB
7
Ian Buvoltz
12
5'11"
150
WR/DB
8
AJ Sheaffer
11
5'6"
150
WR/DB
9
Phoenix Music
12
5'7"
180
RB/DB
11
Bryce Keller
10
5'9"
160
RB/DB
13
Brady Hoffman
12
6'1"
150
WR/DB
16
Cameron Connelly
11
6'2"
180
QB/DB
20
Alex Long
12
5'11"
200
RB/DB
21
Ryan Barrientos
10
6′
170
RB/LB
22
Alec Verhagen
12
5'10"
155
K/WR/DB
23
Anthony Lucera
12
5'6"
130
K
24
Dominic Funk
12
5'10"
155
RB/LB
31
Dominic Casciotti
10
6'1"
170
WR/DB
36
Ivan Kreider
10
5'10"
160
TE/LB
41
Jonathon Shay
10
6'2"
175
RB/TE/DL
43
Jadin Zerphey
11
5'9"
200
RB/LB
44
Dominic Viozzi
12
6'2"
140
WR/DL
50
Joshua Lindsay
12
6'1
240
OL/DL
51
Alex Hemperly
10
5'10"
180
OL/LB
52
Damien Miller
11
6'1"
230
OL/DL
53
Adam Kwiatkowski
12
5'8"
175
OL/LB
54
Malacai Victa
10
6′
190
OL/DL
68
Anthony Gardner
11
5'9"
220
OL/DL
70
Brock Briel
12
5'7"
210
OL/DL
72
Alec Tetzlaff
11
6′
230
OL/DL
73
Jordan Ziebell
12
5'5″
270
OL/DL
75
Logan Riggenbach
12
5'10"
210
OL/DL
76
Preston Bomgardner
10
6′
200
OL/DL
77
Chris Nagle
12
5'10"
185
OL/DL
79
Mike Shuey
9
6'4"
275
OL/DL
80
Tim Montijo
11
6′
180
WR/DB
87
Darrian Holloway
11
6'2″
215
TE/LB
Head Coach: Matt Gingrich
Assistant Coach: Joe Heckard
Assistant Coach: Greg Keener
Superintendent: Dr. Krista Antonis
Assistant Coach: Drew Speraw
Principal: Mrs. Laura Bowersox
Assistant Coach: Mitch Rodkey
Assistant Principal: Mr. Kevin Brindle
Assistant Coach:  Cody Dodson
Athletic Director: Mr. Tommy Long
Assistant Coach:  Jonathan Lum
Trainer: Tanya Deihl
Assistant Coach:  Mike Miller
Equipment Manager: Mike P. Miller / Harry Hitz
School Colors: Red and White
Statistician: Rob Eisenhauer
School Mascot: Dutchmen
Video Technician: Mike Zimmerman