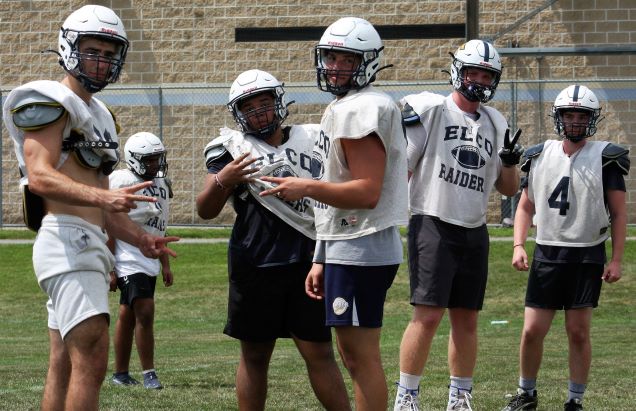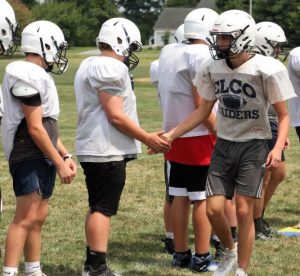 BY JEFF FALK
Editor
MYERSTOWN – They care about doing the right things. They care about the details. They care about the outcomes.
They care about themselves. They care about their school. They care about their community.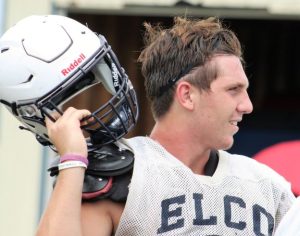 But most importantly they care about each other.
The Elco football team cares.
As the 2022 season nears, the Raiders are like every high school team in that they're discovering their assignments, defining their roles and learning the game of football. But unlike many squads, Elco is making the fundamental football stuff secondary to a bigger picture.
For the Raiders, preseason training camp represents a continuing and annual renewal of their culture of caring, an informal passing of rights and responsibilities from the former group to the current one. With a near record turnout of 61 aspiring adults, it's a culture more and more people want to be a part of.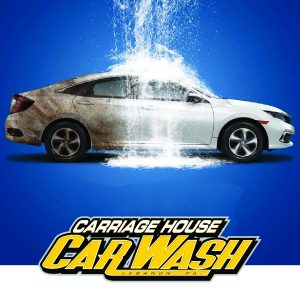 A culture without heritage is not a culture.
"During team camp, we asked each individual player the same questions," said Elco head coach Bob Miller, the administrator of the Raiders' culture. "One of the questions was, "How are people outside of the program going to see you?' People are going to judge you not on words, but on your actions. Their answers were to be a team of physicality, a group of sportsmen and to be fearless. We need to take care of who we're going to be without our words.
"As a program, we're in a good position right now," added Miller. "We've seen a lot of growth over the last 11 years – on the field, in the weight room and with the culture of the kids. Now there are a lot of new things that make it exciting for the kids."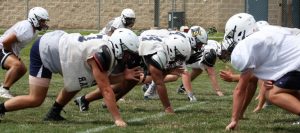 A 4-6 mark in 2021 may not have been the record that the Raiders were looking for. But last year the Raiders came very close to maximizing their potential, and the overall experience was very much on par with what it had been over the previous nine seasons.
"We sat at the banquet at the end of the season," said Miller, "and our four captains stood up, and if you looked around you would've thought we won the Super Bowl. We created some lifetime memories. But every year is different. You have different kids and new teammates.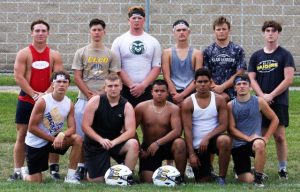 "We just need to have fun, and then raise the standard," continued Miller. "And the continuation of the culture is part of the standard. We've always been here, but our players have made this a culture of fun and brotherhood. People on the outside see how close our team is and they want to be a part of that."
An influx of new student-athleties and a large sophomore class has left Elco scrambling to find enough jerseys for its entire squad. It's a nice problem to have, but once it's addressed and resolved, the Raiders will return seven starters on offense and seven on defense.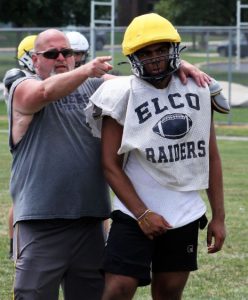 "The goal is exactly the same, we want to have fun every day," said Miller. "Right now, we're hitting that. There are a lot of happy kids out there. It's going to take a while to teach 60 kids. Another one of our goals is to give everyone a great football experience.
"We're dealing with a lot of new players," Miller continued. "We had a great off-season commitment. We have so many kids competing to have a role on the team. That's a special undertaking, to do it without an ego."
Not unlike its emotional make-up, the Raiders are physically built from the inside out.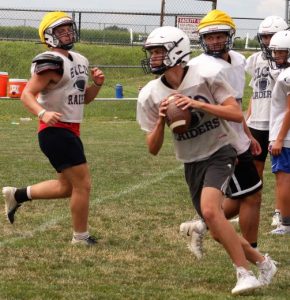 It all starts with an offensive line that returns four starters, Aidon Fritsch, Colin Daub, Ricardo Lebron-Muniz and Jaron Garcia. Dom Thornton may have nosed ahead of Gavin Bicher in the Raiders' starting quarterback battle, fleet running back Jake Williams is a home-run threat every time he touches the ball, and Elliot Kreider has made a solid transition into Elco's tight-end spot.
"They've really come along in terms of understanding the system," said Miller. "Another positive is that we have a lot of depth at positions. Plus, the energy and physicality of this group is really good.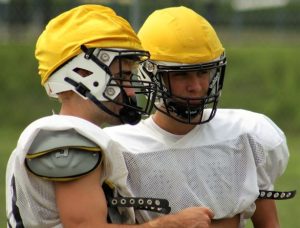 "But we've got to make sure we do a much better job of executing offensively and defensively, assignment-wise," Miller added. "When you lose a gadget-player like (QB) Cole Thomas and a guy like Luke Williams, there is a concern you've got to change the things you do offensively and defensively. That is definitely a concern, replacing those guys."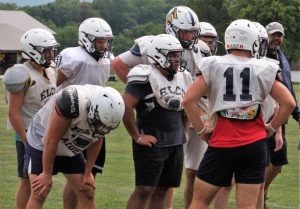 But their departure just provides an opportunity for new performers to step in and step up.
One of those is Fritsch, who will be counted on to lead the defense. He will be joined on that side of the ball by fellow linebackers Eddie Rodriguez and Mitchell Frederick, as well as defensive back Alden Stickler.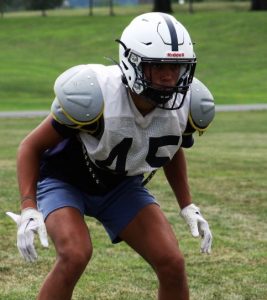 "He's been a benefactor of it, and a big contributor to the culture we're trying to foster," said Miller of Fritsch. "It's exciting for me to watch so many kids unselfishly putting the culture first. And it's not just talk. They're doing it."
Elco will kick off its 2022 season on Friday, August 26, at home against West York. The Raiders will be competing in the revamped Section Four of the Lancaster-Lebanon League.
"We're excited about the season," said Miller. "We have a great group of men who are working towards representing the program. Now we've got to combine discipline and execution. The goal is to become closer, raise the standard and represent the school, our teammates and the community.
"We're going to have a phenomenal season, good and bad," he added.
To purchase images in this article please email jeff@lebcosports.com.
(This preview and LebCoSports' coverage of the Elco football team this season is presented by Carriage House Car Wash, 123 Bowman Street in Lebanon.)
2022 Elco Football Roster
Number
First Name
Last Name
Height
Weight
1
Jordan
Hartz
 6-0
180
2
Justin
Smucker
 6-1
150
4
Alden
Stickler
 6-0
155
5
Jacdson
Conners
   5 -11
155
6
Josh
Blair
 5-10
170
7
Philip
Horst
  6 -1
180
9
Aiden
Yordy
 5 -5
160
10
Elliot
Kreider
 5-11
210
11
Dom
Thornton
 6-0
160
14
William
Wolf
 5-5
162
15
Dante
James
 5-7
140
17
Gavin
Bicher
 6-0
175
20
Michael
Books
 5-9
135
21
Carter
Kemper
 5-8
180
22
Jake
Williams
 5-11
180
23
Zane
Trostle
 5-4
130
24
Mitchell
Frederick
 5-6
150
25
Lee
Tobias
 5-8
165
28
Jason
Arnold
 5-8
130
29
Isaac
Harms
 5-10
155
30
Sara
Miller
 5-4
110
32
Eddie
Rodriguez
 5-9
185
33
Brady
Stoops
 5-9
180
34
Landon
Gettle
 5-9
175
38
Isaiah
Angley
 5-10
190
40
Ira
Gensamer
 5-8
140
41
Austin
Yesko
 5-6
140
45
JC
Dejesus
 5-=9
220
50
Jordan
Mogel
 6-0
205
52
Ricardo
Lebron-Muniz
 5-6
215
53
Aidon
Fritsch
 6-0
225
54
Ben
Smeltzer
 5-2
165
55
Brayden
Malloy
 6-1
220
57
Chris
Bateman
 5-11
260
58
Paul
Williams
 6-2
225
62
Griffin
Fisher
 5-7
225
63
Alex
Muniz-Cruz
 5-9
185
65
Jaron
Garcia
 5-10
190
66
Colin
Daub
 6-4
275
72
Jakob
Showers
 5-9
210
73
lucas
Morasco
 5-19
245
76
Robert
Lubin
 5-8
180
77
Ethan
Henson
 5-11
205
78
Dawson
Ocker
 6-1
190
79
Bryce
Maize
 5-7
210
80
Victor
Feliciano
 5-11
145
81
Aidyn
McLain
 6-0
155
82
Chase
Hess
 5-7
175
84
Noah
Burgess
 5-5
140
87
Dom
Herzog
 5- 10
150
88
Bryce
Haislip
 5-9
135
89
Jonathon
Fisher
 5-10
145
19
James
Prosser
 5-11
130
26
Ethan
Busser
 5-9
140
3
Steven
Rosado
 5-4
135
35
Dominic
Shaak
 5-9
145
48
Landon
Goodison
 5-4
145
59
Tupac
Vasquez-Disla
  5-9
210
64
Dominic
Lattarulo
 6-0
225
74
Kyle
Miller
  6-0
215
8
Shane
Boyer
 5-9
155
85
Landon
Leonard
 6-0
190
Head Coach:
Robert Miller
Assistants:
John Carley
Skeeter Thomas
Robert Williams
Wyatt Hall
Warren Zimmerman
Tom Eberley
Derek Thomas
John Wetzel
Kyle Knight
2022 Elco Football Schedule