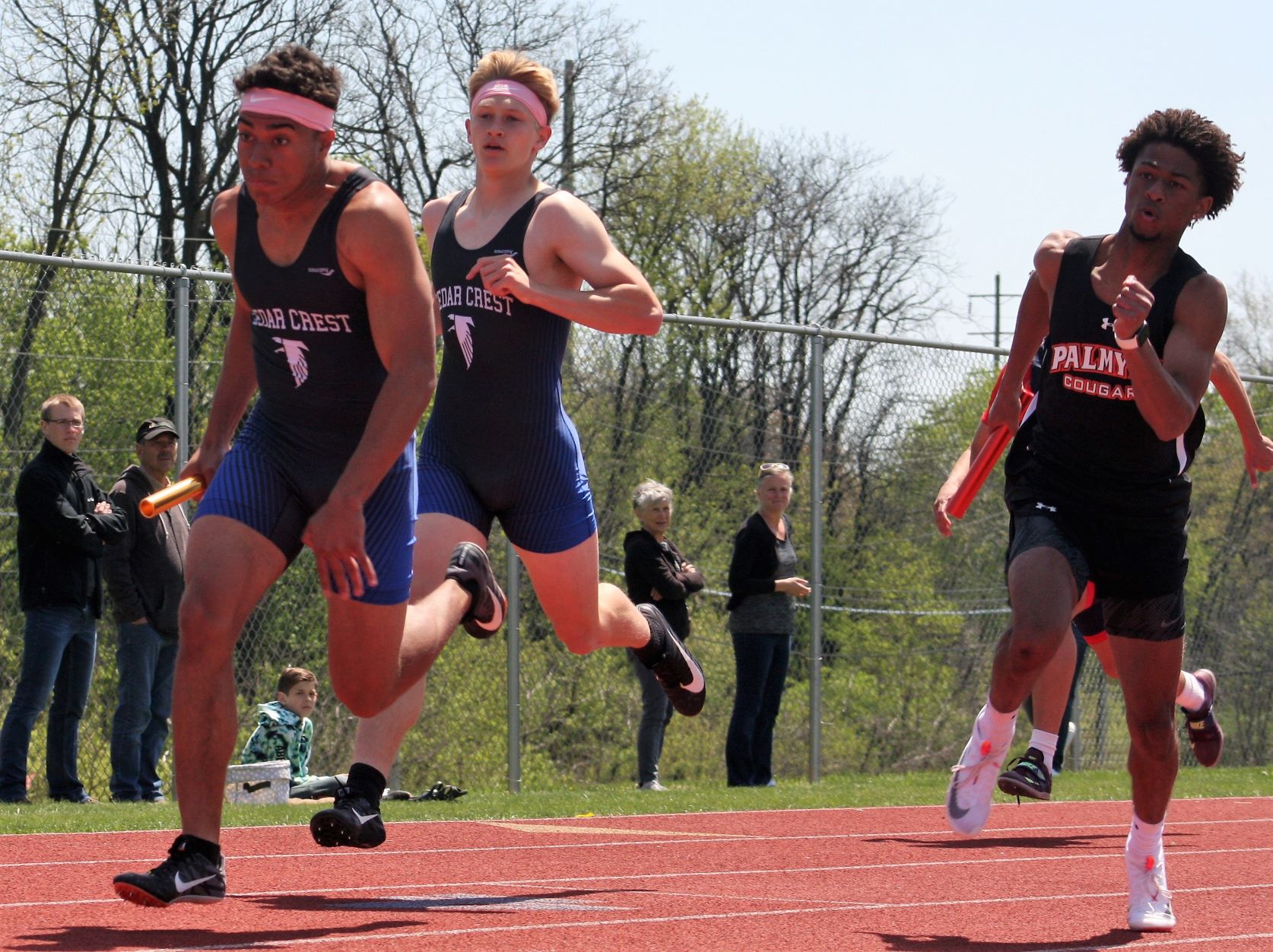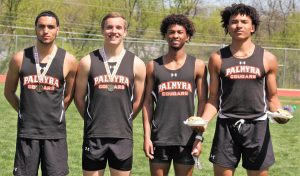 BY JEFF FALK
Editor
LEBANON –  The Cedar Crest boys desperately wanted what they believed rightfully belonged to them
 Quinton Townsend was determined to hang on to it for his side. And even though his best efforts weren't quite enough, the Palmyra senior earned a pretty cool consolation prize.

On a sun-drenched Saturday afternoon at Lebanon High School, Townsend and the Falcon boys grabbed all the center-stage spotlight at the annual Lebanon County Track and Field Championships. Townsend was part of four Palmyra victories, but the Falcons had just a little bit more depth to edge Townsend's Cougars for the team title.
 Cedar Crest registered 170 points compared to Palmyra's 165.5 to regain the team title it lost to the Cougars last season. Elco finished in third place as a team, followed by Annville-Cleona and Lebanon, which tied for fourth, and Northern Lebanon.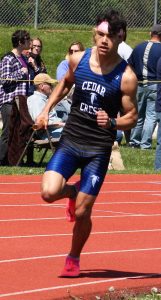 Palmyra's victory in 2021 had snapped the Falcons' remarkable streak of 23 straight Lebanon County team titles.
 Certainly Townsend did everything in his powers to prevent it from happening. The Cougar sprinter claimed gold medals in the 100- and 200-meter dashes, anchored Palmyra's victorious 400- and 1600-meter relay squads.
 "We all know what Palmyra brings to the table," said Cedar Crest head coach Rob Bare, of the clash of unbeaten dual-meet teams. "They're undefeated, and we're undefeated as well. We knew it was going to be a dogfight and that's the way it turned out. We just came out on the right side of 4.5 points."
 "I'd rather have the team trophy than the individual trophy," said Townsend. "I did what I could do. Track is a team sport, not an individual sport. I was just looking to do my part."
 Early in the afternoon, Townsend helped teammates Jose Morales, Kasen Bixler and Anthony Mansfield to emerge victorious in the 400-meter relay, in a new county record time of 42.76.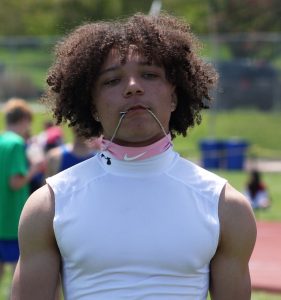 Then, after ripping off a 50.57 to nudge Mansfield in the 400 meters, Townsend posted a 22.88 to best Lewis in the 200-meter dash. Townsend capped his afternoon by teaming with Morales, Bixler and Mansfield to win the 1600-meter relay.
 "I felt my performance were pretty mixed," said Townsend. "But I felt like I did the best I could. The goal was to win the meet, but we had plenty of PRs (personal records). It's not about a 'me' victory. It's about a team victory.
 "Overall, this meet is a different experience," continued Townsend. "It's one of the only times we get to run against some of these teams. They made us have good competition today."
  "My goal was to get the award," said Mansfield of the Outstanding Athlete trophy. "But I'm glad my teammate Quinton got it. No matter what, I wanted someone from our team to get it."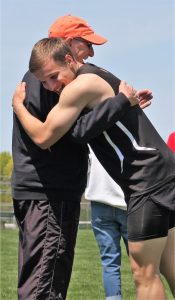 To offset Townsend's performance, Cedar Crest received strong efforts from a number of competitors, including Jake Wolfe, who won both the 800- and 1600-meter runs. Wolfe also won the 1600 meters last year.
The Falcon foursome of Caleb Peters, Ben Causak, Derrick Nolan and Luke Hinegardner hit the line first in the 3200-relay, Crest sprinter Gabe Lewis was the winner of the 100-meter dash and Cedar Crest amassed plenty of complementary points through the performance of its supporting competitors.
 Bixler also won two individual events for the Cougars, the triple jump and the long jump, where he established a new Lebanon County standard with a leap of 22.5. Also for Palmyra, freshman Tyler Burgess took top honors in the 110 hurdles, junior Eli Becker struck gold in the javelin and senior Nathan Berarducci topped sophomore teammate Mason Bucks for victory in the pole vault.
 "These boys have really overachieved this year," said Bare. "They've reached deep into the well. We feel like we're back to normal this year.
 "It was great competition today," added Bare. "I thought we had some guys step up. We're a little nicked up."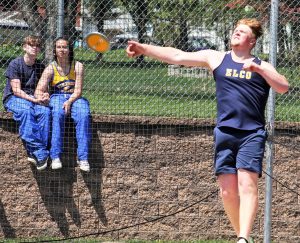 Also capturing two Lebanon County championships was Elco thrower Colin Daub, who won the discus by 17 feet and the shot put by six inches. Another Raider, sophomore Luke Macchione, finished first in the 300 hurdles.
 Lebanon senior Caleb Hershey won the 3200-meter run by 48 seconds. Annville-Cleona junior Noah Gunderson was crowned the Lebanon County high jump champion with a leap of 6-2.
 "Coming into the season, we didn't picture ourselves as section (One of the Lancaster-Lebanon League) champions," said Bare. "These guys just willed themselves to it. The goal now is to get as many league and district qualifiers as possible, and finish strong."
To purchase images in this article please email jeff@lebcosports.com.
Lebanon County Track and Field Championships
Meet Records
****************************************************************
EVENT EFFORT PERFORMER SCHOOL YEAR
100m Dash 12.0 Leslie Hummer Annville-Cleona 1985 10.4 Greg Miller Palmyra 1999
200m Dash 25.1 Reagan Hess Annville-Cleona 2016 21.4 Greg Miller Palmyra 1999
400m Dash 57.5 Sue Wolfe Annville-Cleona 1987 49.0 Jeronimo Rodriguez 2015
800m Run 2:17.4 Kayleigh Perry ELCO 2010 1:54.3 Derin Klick Lebanon 2016
1600m Run  5:08.8 Kayleigh Perry ELCO 2009 4:19.4 Drew Gerberich ELCO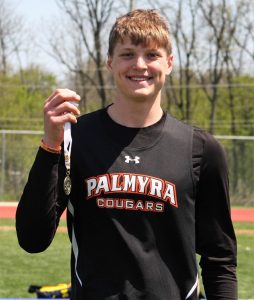 3200m Run 11:13.8 Stacy Stoner Northern Lebanon 1995 9:40.1 Connor Strynkowski Palmyra 2011
100m Hurdles 15.07 DeAsia Holloman Cedar Crest 2019 110m Hurdles 14.4 Matt Deysher Cedar Crest 2011
300m Hurdles 45.9 Joy Buckwalter Palmyra 1989 39.1 Chris Bradley Cedar Crest 2010
400m Relay 49.5 DeAsia Holloman, Hannah McCurdy, Ariel Jones, Destinee Holloman, Palmyra 2022  42.76 Jose Morales, Kasen Bixler, Quinton Townsend, Anthony Mansfield
1600m Relay 4:06.8 Maria Tukis, Jess Dembrowski, Palmyra 2014 Miranda Salvo, Katie Dembrowski, 3:22.61 Quinton Tonwsend, Xander Topos, Jake Kucinec, Anthony Mansfield, Palmyra 2021
3200m Relay 10:01.6 Erin Frey, Angie Paliometros, Lebanon 1995 Shelby Margut, Jess Lentz 8:00.4 Chad Bomgardner, Jordan Cruise Cedar Crest 2013 Jared Glosser, Willie Bragg
Shot Put 41-3 Ryelle Shuey Elco 2019 61-1.25 Jeremy Silverman Annville-Cleona 2001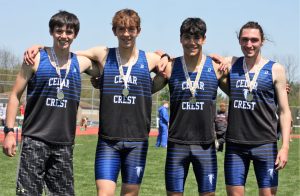 Discus Hannah Woelfling Cedar Crest 2018 161-10 Jeremy Silverman Annville-Cleona 2001
Javelin 133-9 Meghan Briggs Palmyra 2006 203-9 Thomas Jordan Cedar Crest 2003
Long Jump 19-1.5 Reagan Hess Annville-Cleona 2017 22-5 Kasen Bixler Palmyra 2022
Triple Jump 37-3 Ariel Jones, Cedar Crest 2017 45-2.5 Mike Wagner Annville-Cleona 1980
High Jump 5-7.5 Ariel Jones, Cedar Crest 2017 6-6 Dana Hollinger Cedar Crest 1979 6-6 Andrew Batula Annville-Cleona 2008
Pole Vault 12-1 Erin Winters, Lebanon 2014 14-9.5 Darryl Miller Northern Lebanon 1979

Lebanon Federal Credit Union