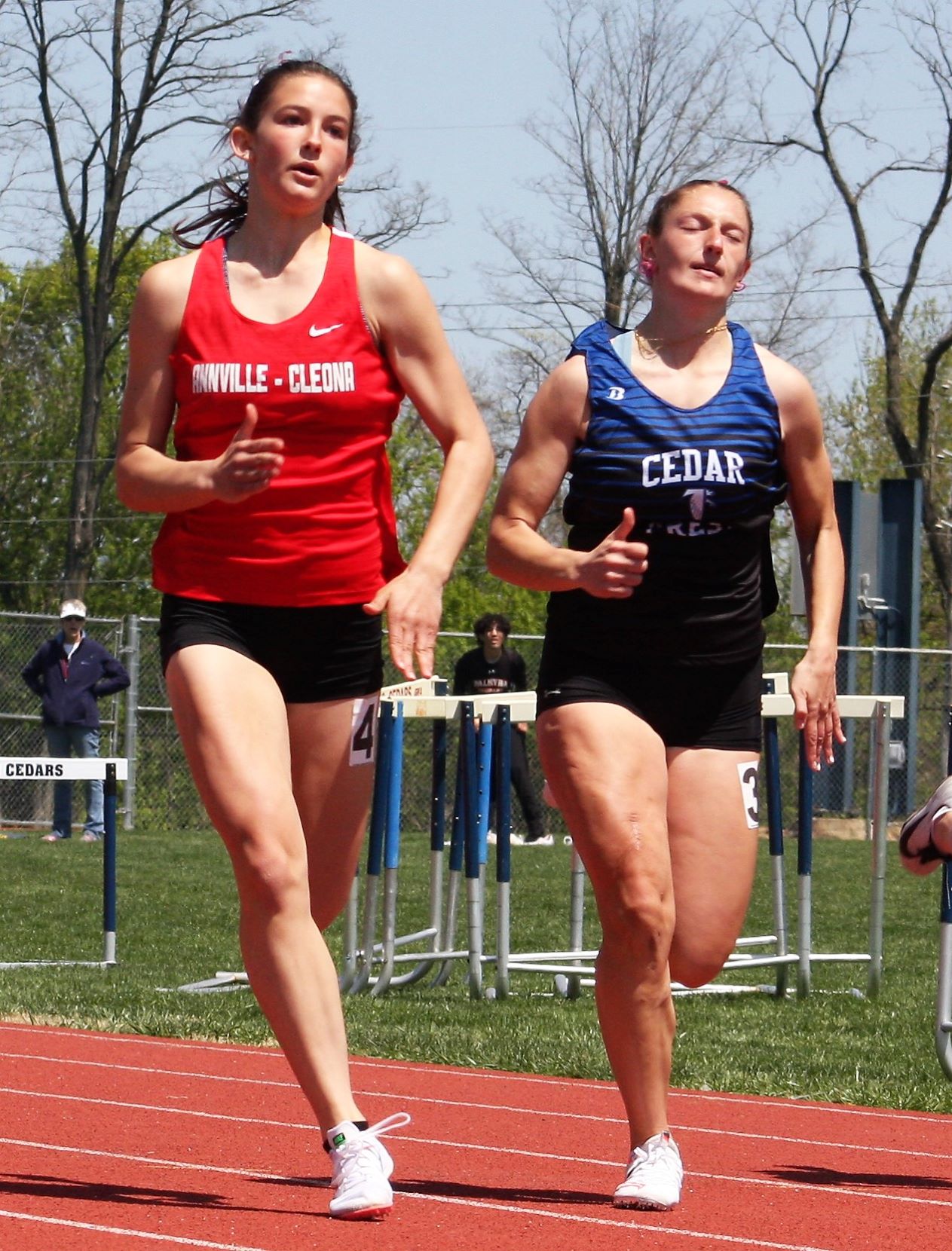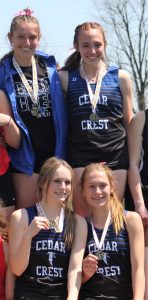 BY JEFF FALK
Editor
 LEBANON – It possesses the power to bring people together.
 It explores the true nature and meaning of athletic competition.
 It has the ability to bring the best out of student-athletes.
 There are so many great things about the county meet. But the best thing about is that it's ours.

 On a bright Saturday afternoon, dozens of local competitors celebrated the sport of track and field during the annual contesting of the Lebanon County Championships at Lebanon High School. Among the most jubilant celebrants were Annville-Cleona freshman Kendall Cooper and a close-knit squad of Cedar Crest Falcons.
 Cedar Crest laid claim to the girls' team championship in a reasonably comfortable fashion. The Falcons compiled 165 team points to easily outdistance runner-up Palmyra, which totaled 137 team points, and Elco, which was third with 104 points.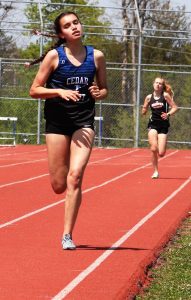 Annville-Cleona came in fourth, Lebanon was fifth and Northern Lebanon sixth.
 As for Cooper, she burst onto the local and walked away with the Outstanding Female Athlete award with a pair of electrifying performances in the sprints. She also ran the anchor leg for an Annville-Cleona 400-meter relay team that ran a strong second.
 "Before the meet, the coaching staff told the kids, 'It's not what you do, it's how you do it. It's about the process,'" said Cedar Crest head coach Rob Bare. "It's more about the journey than the destination. We told them to just go out and compete with intensity and Falcon pride."
 "I'm shocked," said Cooper. "There were a couple of people who were saying that I was going to get the Outstanding Athlete award. I'm just so nervous. I'm speechless. It's a huge accomplishment. I didn't even know they had this award."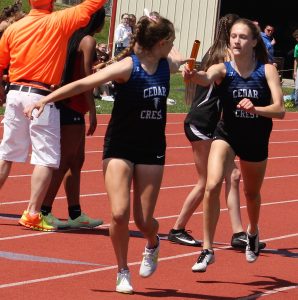 After posting a personal best of 12.65 in the morning's 100-meter trials, Cooper upset defending champion Lily Young of Cedar Crest by .18 of a second to win the event. Later in the meet, Cooper out kicked Young to claim the gold medal in the 200 meter dash, this time by .16 of a second.
 In between individual events, Cooper collaborated with Allison Cooper, Audrey Sider and Emily Shuey for a silver medal in the 400-meter relay.
  "It's pretty scary," said Cooper. "I knew how big the teams are and they have a lot of good people. I was really nervous, just being able to compete as a freshman. It was just awesome.
 "One of my big goals for the rest of the season would be to qualify the four-by-one for districts," continued Cooper. "We keep getting closer and closer. I also want to get new PRs (personal records) in the 100 and 200. I hope the season keeps going this way."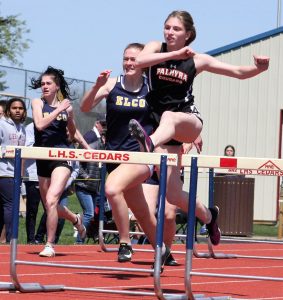 Balance and versatility played key roles in Cedar Crest's team triumph. The Falcons received a number of key contributions from a number of different sources, including in the relay portion of the competition, where Cedar Crest emerged victorious in all three events and piled up a total of 30 team points.
 Falcons Alyssa Stiver, Juliana Donley and Grace Tadajewski combined to win the 3200-meter relay. Through their meshed talents Emily Oriel, Alainia Miller, Alyssa Vandett and Young copped the 400-meter relay. And Cedar Crest's Paige Bucher, Miller, Emilee Walborn and Lizzie Lowe were crowned champions of the 1600-meter relay.
 Individually, Tadajweski, a junior won the 3200-meter run and Oriel, a senior, garnered the pole vault's top prize.
 "Coming into the girls' meet, we thought we were the favorites," said Bare. "Our girls team is solid across the board. We may not have a lot of district qualifiers, but we have a lot of depth."
 Katie Gingrich paced Palmyra's solid effort with a pair of triumphs and a runner-up finish. The senior earned top honors in the 100 hurdles and long jump, and came in behind Lebanon County champion Makenna Haas of Elco in the triple jump.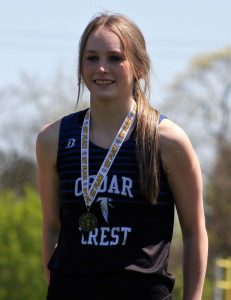 Also contributing to the Cougars' showing was senior Ashley Newman, who registered a 100.72 to claim the 400-meter dash.
Elco was paced by sophomore Sara Miller and her gold medal in the 300 hurdles, and Sam Nelson, who bested Palmyra freshman Sophie Price for victory in the javelin.
 Annville-Cleona received top-spot performances by senior Braetan Peters in the 1600-meter run and freshman Ava Hoover in the high jump.
 Lebanon senior Maddie Bishop dominated the 800-meter field to capture the event for the second straight year, while sophomore teammate Dora Lopez took home top honors in the discus.
 Seeded fifth coming in, Northern Lebanon senior Cala Martino captured the shot put competition with a heave of 32-11.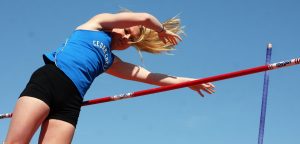 Saturday represented the final time that the Lebanon County Track and Field Championships will be contested at its current location directly south of Lebanon High School. Just as it has over the previous 30-plus years, the Lebanon school district will continue to host the local competition, but at a new location across Wilhelm Avenue, on an artificial surface track expected to be completed in time for the 2023 Lebanon County Track and Field Championships.
 "The new track across Wilhelm Avenue should be ready by next spring," said Lebanon athletic director Sam Elias. "This (the Lebanon County Track and Field Championships) is one of the integral parts of our athletic department and our booster club. We don't want to give it up.
 "This is one of the neatest things we do with all the schools in Lebanon County," Elias added. "There are not a lot of opportunities for athletic events that include all the schools. It brings out the best in Lebanon County athletes."
 "This event is something that you always mark on your athletic calendar," said Bare. "Everyone brings their best effort to the county meet. It's just neat to see all the county teams together in one place."
    To purchase images in this article please email jeff@lebcosports.com.
Lebanon County Track and Field Championships
Meet Records
****************************************************************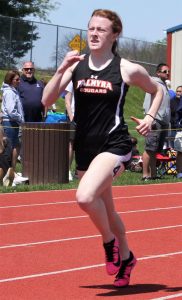 EVENT EFFORT PERFORMER SCHOOL YEAR
100m Dash 12.0 Leslie Hummer Annville-Cleona 1985 10.4 Greg Miller Palmyra 1999
200m Dash 25.1 Reagan Hess Annville-Cleona 2016 21.4 Greg Miller Palmyra 1999
400m Dash 57.5 Sue Wolfe Annville-Cleona 1987 49.0 Jeronimo Rodriguez 2015
800m Run 2:17.4 Kayleigh Perry ELCO 2010 1:54.3 Derin Klick Lebanon 2016
1600m Run  5:08.8 Kayleigh Perry ELCO 2009 4:19.4 Drew Gerberich ELCO
3200m Run 11:13.8 Stacy Stoner Northern Lebanon 1995 9:40.1 Connor Strynkowski Palmyra 2011
100m Hurdles 15.07 DeAsia Holloman Cedar Crest 2019 110m Hurdles 14.4 Matt Deysher Cedar Crest 2011
300m Hurdles 45.9 Joy Buckwalter Palmyra 1989 39.1 Chris Bradley Cedar Crest 2010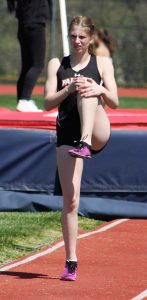 400m Relay 49.5 DeAsia Holloman, Hannah McCurdy, Ariel Jones, Destinee Holloman, Palmyra 2022  42.76 Jose Morales, Kasen Bixler, Quinton Townsend, Anthony Mansfield
1600m Relay 4:06.8 Maria Tukis, Jess Dembrowski, Palmyra 2014 Miranda Salvo, Katie Dembrowski, 3:22.61 Quinton Tonwsend, Xander Topos, Jake Kucinec, Anthony Mansfield, Palmyra 2021
3200m Relay 10:01.6 Erin Frey, Angie Paliometros, Lebanon 1995 Shelby Margut, Jess Lentz 8:00.4 Chad Bomgardner, Jordan Cruise Cedar Crest 2013 Jared Glosser, Willie Bragg
Shot Put 41-3 Ryelle Shuey Elco 2019 61-1.25 Jeremy Silverman Annville-Cleona 2001
Discus Hannah Woelfling Cedar Crest 2018 161-10 Jeremy Silverman Annville-Cleona 2001
Javelin 133-9 Meghan Briggs Palmyra 2006 203-9 Thomas Jordan Cedar Crest 2003
Long Jump 19-1.5 Reagan Hess Annville-Cleona 2017 22-5 Kasen Bixler Palmyra 2022
Triple Jump 37-3 Ariel Jones, Cedar Crest 2017 45-2.5 Mike Wagner Annville-Cleona 1980
High Jump 5-7.5 Ariel Jones, Cedar Crest 2017 6-6 Dana Hollinger Cedar Crest 1979 6-6 Andrew Batula Annville-Cleona 2008
Pole Vault 12-1 Erin Winters, Lebanon 2014 14-9.5 Darryl Miller Northern Lebanon 1979

Lebanon Federal Credit Union