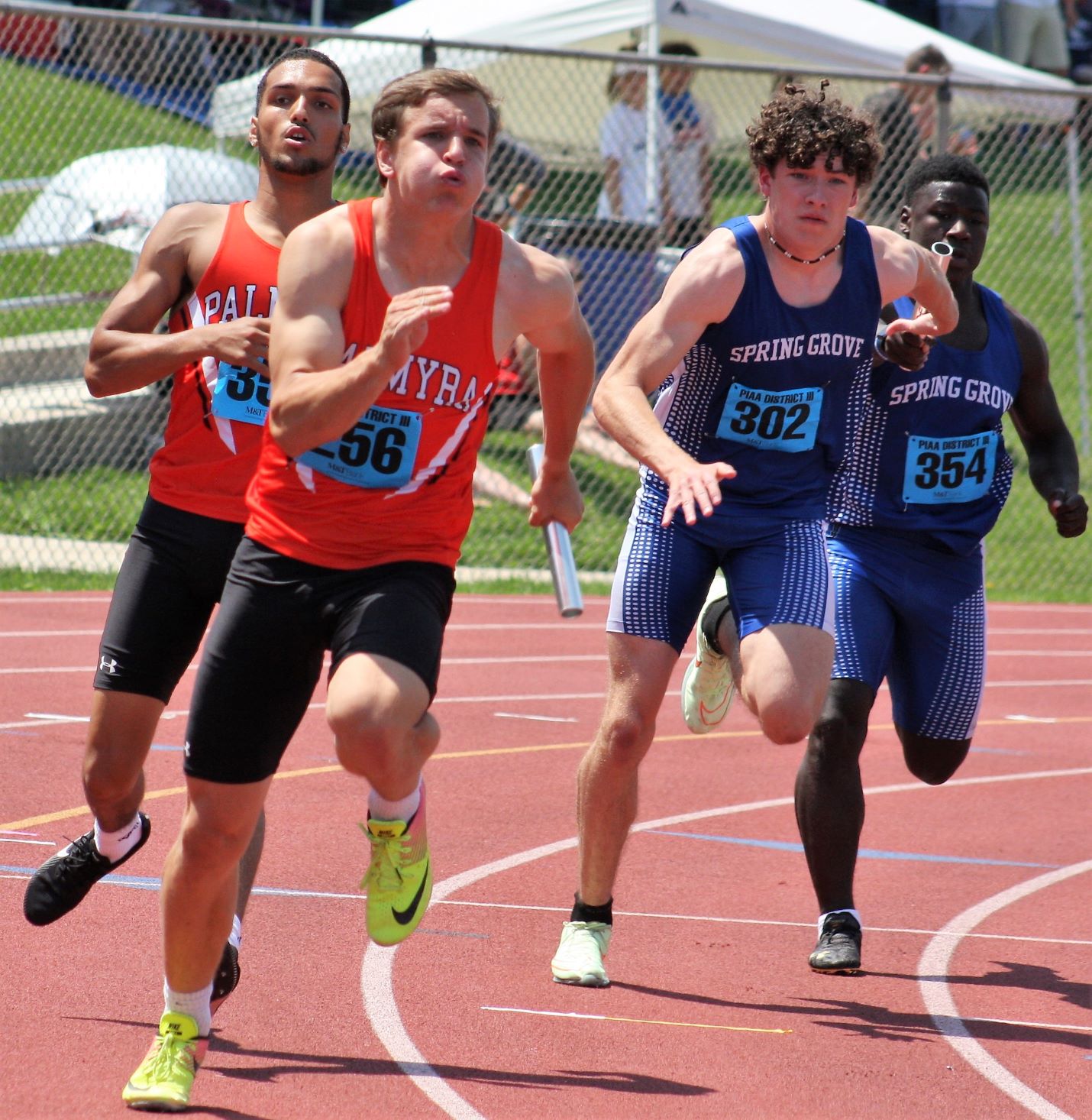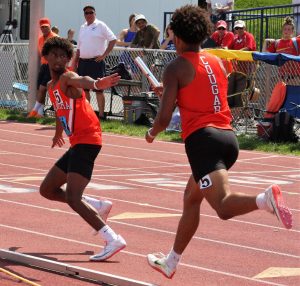 BY JEFF FALK
Editor
SHIPPENSBURG – It's a widely-help myth, a fallacy in track and field circles. Runners do not fun faster with batons in their hands.
But like all rumors, this one is rooted in truth.
Yesterday, Lebanon County student-athletes did nothing to dispel the myth.
On a hot Saturday at Seth Grove Stadium, on the campus of Shippensburg University, a strong local contingent certainly put their collective best foot forward in relay portion of the 97th annual District Three Track and Field Championships. Motivated by familiarity and team chemistry, three Lebanon County relay squads gave what only could be considered their supreme efforts.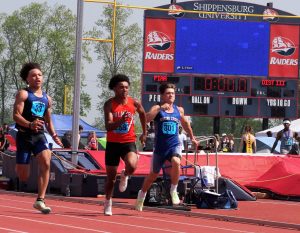 The Palmyra foursome of Joe Morales, Kasen Bixler, Anthony Mansfield and Quentin Township sprinted to the gold medal in the Class AAA 400-meter relay, then teamed to finish a close runner-up to Cumberland Valley in the meet-closing, Class AAA 1600-meter relay. The Annville-Cleona quartet of Allison Cooper, Audrey Sider, Emily Shuey and Kendall Cooper also copped a silver medal, in the Class AAA 400-meter relay.
While Lebanon County's prowess  in the relays proved to be the local highlight of the District meet, county competitors also fared quite well in individual events. On Saturday, Lebanon County captured either gold, silver or bronze medals in nine different events, giving it metallic pieces of hardware from 16 events overall.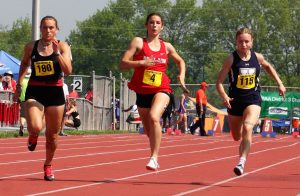 "For me, it's the four-by-one, the four-by-four and everything else," said Townsend, who also successfully competed in two individual events. "I like it just because of the team aspect, and being held accountable. Everyone has to do their part, and anything can happen.
"We really focus on hand-offs," added Townsend. "We're friends off the track, and that helps. We trust each other."
The Cougars were at their collaborative best in the 400-meter relay, where they were seeded first and blistered to a time of 42.56. Palmyra's hand-offs were crisp, and with baton in hand, Mansfield closed out the triumph in true anchor fashion.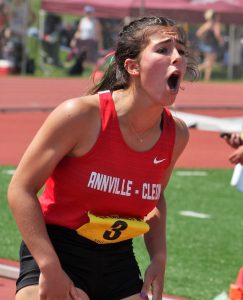 "I'd say my best event is the four-by-one," said Mansfield. "My second is maybe the 100 (dash). Then probably the four-by-four and the long jump. I'm putting my focus on the four-by-one and the 100."
In the 1600-meter relay, the Cougars got off to a strong start and led early. But they were overcome by the Cumberland Valley Eagles late in the race, before finishing in 3:33.52.
"I was just tired. I gave it all I had," said Townsend. "Everyone did well. I thought we had a lot of people score points, across the board, on the track and in the field."
"I just wanted to come in and go to states in all of my events," said Mansfield, who was a very strong second in the Class AAA high jump and fourth in the Class AAA 100-meter dash. "I was thinking win the four-by-one. During the regular season, I wasn't doing well, but I guess I'm peaking at the right time."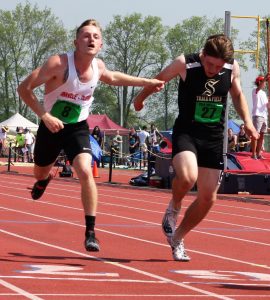 That type of cohesion and unified spirit was certainly on display for Annville-Cleona in the Class AA 400-meter relay. Every one contributed and did their part, as the Little Dutchmen battled eventual District Three champion Wyomissing to the bitter end before settling for second.
"I think running with a team is a little more important," said Annville-Cleona freshman K. Cooper, who was also fourth in both the 100-meter and 200-meter dashes. "I think I do push myself because I don't want to disappoint the team. But I always push myself. Not only do we work hard in practice, but we're a very close team. They're like a mini-family.
"I'm really proud of how I did overall," K. Cooper added. "I placed where I was seeded. It was a great season for the team. I'm proud of the team. Coming into it, I wasn't sure how the season was going to go."
Two of K. Cooper's teammates – Rogan Harter and Braetan Peters – medaled in a pair of events.
Harter copped bronze medals in both the Class AA 100- and 200-meter dashes. Peters added to her silver medal in the Class AA 3200-meter run on Friday with a third-place piece of hardware in the 1600-meter run yesterday. A fourth Little Dutchman, Grace Coleman, came in third in the Class AA shot put with a heave of 33-1.75.
Cedar Crest junior sprinter Gabe Lewis laid down a 10.85 and came in third in the Class AAA 100-meter dash.
To purchase images in this article please email jeff@lebcosports.com.