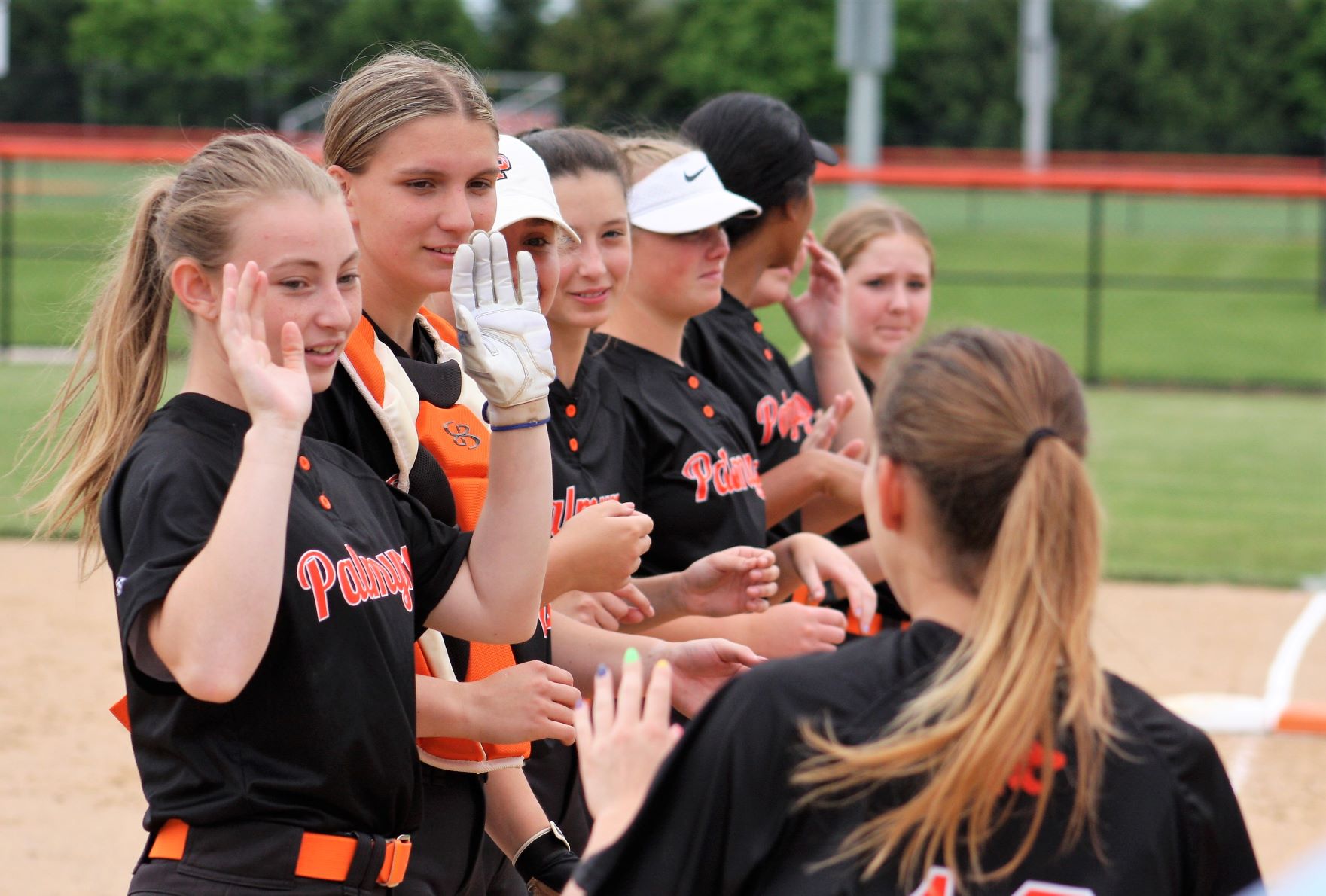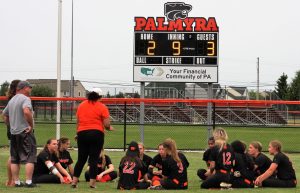 BY JEFF FALK
Editor
PALMYRA – If you would've gone to the Palmyra softball team at the beginning of the season and told it that it was going to win 14 games, share the Mid-Penn Keystone Division championship and qualify for districts, the Cougars probably would've taken it. But what made this spring so special was what happened in between.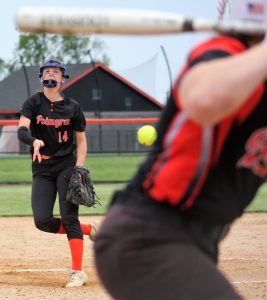 On an overcast Monday evening at Palmyra High School, the Cougars' inspiring season came to a head with a disappointing 3-2, nine-inning loss to Northeastern, in the opening round of the PIAA District Three Class AAAAA playoffs. After a scoreless pitching duel spilled over into extra innings, the two sides combined to score five runs in the ninth inning, after two outs had been recorded.
The loss ended seventh-seeded Palmyra's emotional campaign at 14-6 overall. After opening the spring 1-3, the Cougars went on a tear and won 12 of their next 14 games under the guidance of interim head coach Chelsea Ebersole.
The District Three Class AAAAA appearance represented the Cougars' third in-a-row.
The result propelled tenth-seeded Northeastern to 15-6 and into Thursday's quarterfinal round of the PIAA District Three Class AAAAA playoffs.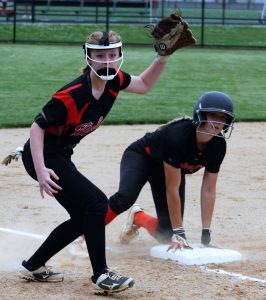 "To me, it's (the District Three playoffs) something we prepare for," said Ebersole. "A loss is never going to be good enough. This game doesn't reflect our season. It's a game we lost. It's not the way we've been playing.
"It's about how much they've (her players) grown since since the beginning of the season," added Ebersole. "It's a loss, but we are capable of a lot. They did show that this year."
"I would say that nothing is ever good enough," said Palmyra senior leader and catcher Sam Krahling. "But if you had told me that at the beginning of the season, I might have call you a liar. That's just Palmyra. We know how to turn seasons around. We're going to flip it on its head."
Reeling from the three runs that Northeastern had just scored in the top of the ninth inning, Palmyra kept fighting in the home half of the frame.
With two outs, Emily Cutman blasted a two-run 'big fly' to left field to pull the Cougars to within a run of the lead. But Palmyra's rally and season ended when the next batter popped to the shortstop.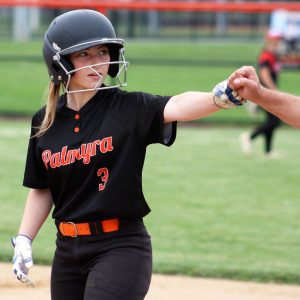 During her at-bat prior to Cutman's, Krahling blasted a long fly ball to the deepest part of the park, where it was hauled in on the warning track by the Northeastern centerfielder for the second out of the inning.
"I definitely thought we could've swung the batters better," said Ebersole. "We definitely weren't up to our standards, hitting the way we normally do. It happens. It's not always a perfect game.
"She (Bobcat starter and winner, Brooke Frey) was good," continued Ebersole. "She was pitching strikes. We just kept hitting them to people instead of getting on base."
"She didn't throw too many pitches," said Krahling of Frey. "We didn't take advantage of strikes. We needed to be more aggressive.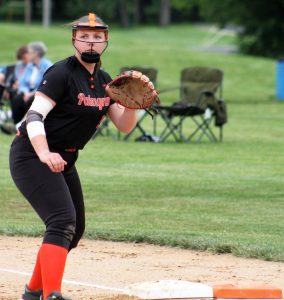 "I thought we played the best we could," Krahling added. "We played as a team. We were in it the whole time. Someone's got to win and someone's got to lose."
With the scored tied at 0-0, Northeastern pushed across three runs in the top of the ninth inning, after two outs had been recorded. The big blow was Elena Mitrovich's two-run bomb to left field, which gave the Bobcats a 2-0 lead.
But the eventual winning run was driven in by Frey's double, after the inning had been kept alive by a Cougar error.
"Molly pitched one heck of a game," said Ebersole. "We had a few errors and our bats weren't where they should've been.
"Molly has pitched amazingly all season," Ebersole continued. "I told her to just keep doing what she was doing. She was having fun, you could tell. Her and Sam are always working together. She's just a good pitcher, and has a great mix of pitches."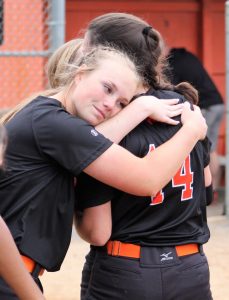 In her nine innings of work, White struck out 13 and didn't walk a batter. She surrendered eight hits and stranded nine Northeastern runners on base.
"Molly's an all-around great pitcher," said Krahling. "She can throw multiple pitches and she really sets up hitters well.
"We are clicked, like two puzzle pieces," added Krahling. "We're always on the same page. We're always talking before games."
Palmyra missed out on a chance to win the game in regulation, after Krahling led off the bottom of the seventh inning with a ringing double. The Cougars got her to third base with one out, before stranding her there.
But during a span earlier in the game – after a two-out single by Cutman in the home half of the opening inning – Frey sat down 14 Palmyra batters in-a-row.
"Overall, we had a very good season," said Ebersole. "They (her players) turned it around. I told them not to hang their heads. There was a lot to learn from this season, and we did. They did a lot of great things.
"We improved a lot," continued Ebersole. "I went into it wanting to get it turned around and wanting to get it together. They trusted me. We worked hard in practice. After that, it just exploded and kept moving in a positive direction. That's what got us this far."
"At first, it was a big change," said Krahling of Ebersole taking over. "But it was a good change. She grew our team with her positivity.
"We improved tons," Krahling continued. "I wish I could say it was magic, but it wasn't. What did it for us was practice. We worked on the game until we learned it."
To purchase images in this article please email jeff@lebcosports.com.
2022 Palmyra Softball Results
| | | | | | |
| --- | --- | --- | --- | --- | --- |
| 2022-03-25 | H | vs | Elizabethtown(3) | L | 1-6 |
| 2022-03-29 | A | vs | Mechanicsburg(3) | L | 0-9 |
| 2022-03-30 | A | vs | Bishop McDevitt (3)(3) | W | 10-2 |
| 2022-04-04 | H | vs | Central Dauphin East(3) | L | 4-14 |
| 2022-04-11 | H | vs | Susquehanna Township(3) | W | 7-1 |
| 2022-04-13 | A | vs | Hershey(3) | W | 7-2 |
| 2022-04-14 | A | vs | West York(3) | W | 9-4 |
| 2022-04-20 | H | vs | Mechanicsburg(3) | W | 3-1 |
| 2022-04-22 | H | vs | Lower Dauphin(3) | W | 1-0 |
| 2022-04-23 | A | vs | Penn Manor(3) | L | 1-2 |
| 2022-04-25 | H | vs | Bishop McDevitt (3)(3) | W | 8-7 |
| 2022-04-27 | A | vs | Central Dauphin East(3) | W | 8-6 |
| 2022-05-02 | A | vs | Carlisle(3) | W | 8-7 |
| 2022-05-04 | A | vs | Susquehanna Township(3) | W | 3-0 |
| 2022-05-09 | H | vs | Hershey(3) | W | 7-1 |
| 2022-05-11 | A | vs | Lower Dauphin(3) | L | 6-12 |
| 2022-05-13 | H | vs | Muhlenberg(3) | W | 1-0 |
| 2022-05-17 | H | vs | Carlisle(3) | W | 3-2 |
PIAA District Three Class AAAAA Power Rankings
| | | | | | | | | | | | |
| --- | --- | --- | --- | --- | --- | --- | --- | --- | --- | --- | --- |
| AAAAA | School |  W |  L |  T |  Rating |  TWP |  OWP |  TWPW |  OWPW |  TWPL |  OWPL |
| 1*** | Exeter Township | 16- | 4- | 0 |  0.741685 |  0.856502 |  0.601353 |  19.10 |  231.10 |  3.20 |  153.20 |
| 2*** | Shippensburg | 17- | 3- | 0 |  0.731581 |  0.876168 |  0.554864 |  18.75 |  213.90 |  2.65 |  171.60 |
| 3*** | Lampeter Strasburg | 14- | 4- | 0 |  0.726117 |  0.840796 |  0.585954 |  16.90 |  204.00 |  3.20 |  144.15 |
| 4*** | Lower Dauphin | 14- | 4- | 0 |  0.722620 |  0.833333 |  0.587304 |  16.00 |  198.45 |  3.20 |  139.45 |
| 5*** | South Western | 15- | 3- | 0 |  0.710007 |  0.869231 |  0.515401 |  16.95 |  172.35 |  2.55 |  162.05 |
| 6*** | Solanco | 14- | 5- | 0 |  0.696675 |  0.811736 |  0.556045 |  16.60 |  201.90 |  3.85 |  161.20 |
| 7*** | Palmyra | 13- | 5- | 0 |  0.690619 |  0.784574 |  0.575784 |  14.75 |  194.50 |  4.05 |  143.30 |
| 8*** | Elizabethtown | 13- | 7- | 0 |  0.680751 |  0.734742 |  0.614763 |  15.65 |  235.70 |  5.65 |  147.70 |
| 9*** | Mechanicsburg | 14- | 6- | 0 |  0.678713 |  0.761682 |  0.577307 |  16.30 |  213.95 |  5.10 |  156.65 |
| 10*** | Northeastern | 14- | 6- | 0 |  0.671829 |  0.761905 |  0.561736 |  16.00 |  211.78 |  5.00 |  165.23 |
| 11*** | Twin Valley | 13- | 6- | 0 |  0.659329 |  0.727494 |  0.576016 |  14.95 |  189.25 |  5.60 |  139.30 |
| 12*** | New Oxford | 12- | 7- | 0 |  0.655358 |  0.713178 |  0.584690 |  13.80 |  211.95 |  5.55 |  150.55 |
| 13*** | Manheim Central | 14- | 5- | 0 |  0.652641 |  0.771654 |  0.507182 |  14.70 |  180.08 |  4.35 |  174.98 |
| 14*** | Northern York | 13- | 7- | 0 |  0.644850 |  0.703980 |  0.572580 |  14.15 |  220.30 |  5.95 |  164.45 |
| 15*** | Donegal | 13- | 6- | 0 |  0.642097 |  0.724138 |  0.541825 |  13.65 |  191.08 |  5.20 |  161.58 |
| 16*** | Waynesboro | 12- | 7- | 0 |  0.638161 |  0.684350 |  0.581707 |  12.90 |  214.65 |  5.95 |  154.35 |
| 17 | Greencastle Antrim | 11- | 9- | 0 |  0.591610 |  0.602564 |  0.578222 |  11.75 |  223.98 |  7.75 |  163.38 |
| 18 | Conestoga Valley | 8- | 12- | 0 |  0.560184 |  0.500000 |  0.633741 |  9.60 |  246.05 |  9.60 |  142.20 |
| 19 | Hershey | 8- | 10- | 0 |  0.530080 |  0.505952 |  0.559568 |  8.50 |  186.70 |  8.30 |  146.95 |
| 20 | Dover | 8- | 11- | 0 |  0.526580 |  0.493298 |  0.567260 |  9.20 |  204.10 |  9.45 |  155.70 |
| 21 | Cedar Cliff | 6- | 14- | 0 |  0.511546 |  0.395604 |  0.653252 |  7.20 |  245.10 |  11.00 |  130.10 |
| 22 | Garden Spot | 7- | 12- | 0 |  0.483254 |  0.406162 |  0.577476 |  7.25 |  208.70 |  10.60 |  152.70 |
| 23 | Cocalico | 6- | 13- | 0 |  0.445912 |  0.352617 |  0.559938 |  6.40 |  199.45 |  11.75 |  156.75 |
| 24 | Red Land | 4- | 16- | 0 |  0.444818 |  0.268571 |  0.660230 |  4.70 |  253.00 |  12.80 |  130.20 |
| 25 | Susquehannock | 6- | 14- | 0 |  0.440066 |  0.347826 |  0.552805 |  6.40 |  208.33 |  12.00 |  168.53 |
| 26 | Daniel Boone | 4- | 15- | 0 |  0.439968 |  0.267806 |  0.650389 |  4.70 |  238.40 |  12.85 |  128.15 |
| 27 | Gettysburg | 7- | 13- | 0 |  0.438791 |  0.357500 |  0.538146 |  7.15 |  213.73 |  12.85 |  183.43 |
| 28 | Spring Grove Area | 2- | 18- | 0 |  0.352790 |  0.137143 |  0.616359 |  2.40 |  233.60 |  15.10 |  145.40 |
| 29 | Muhlenberg | 2- | 14- | 0 |  0.341941 |  0.141844 |  0.586503 |  2.00 |  177.30 |  12.10 |  125.00 |
| 30 | York Suburban | 3- | 16- | 0 |  0.324722 |  0.188060 |  0.491753 |  3.15 |  172.93 |  13.60 |  178.73 |
| 31 | Milton Hershey | 2- | 16- | 0 |  0.301394 |  0.145349 |  0.492116 |  2.50 |  159.17 |  14.70 |  164.27 |

Lebanon Federal Credit Union