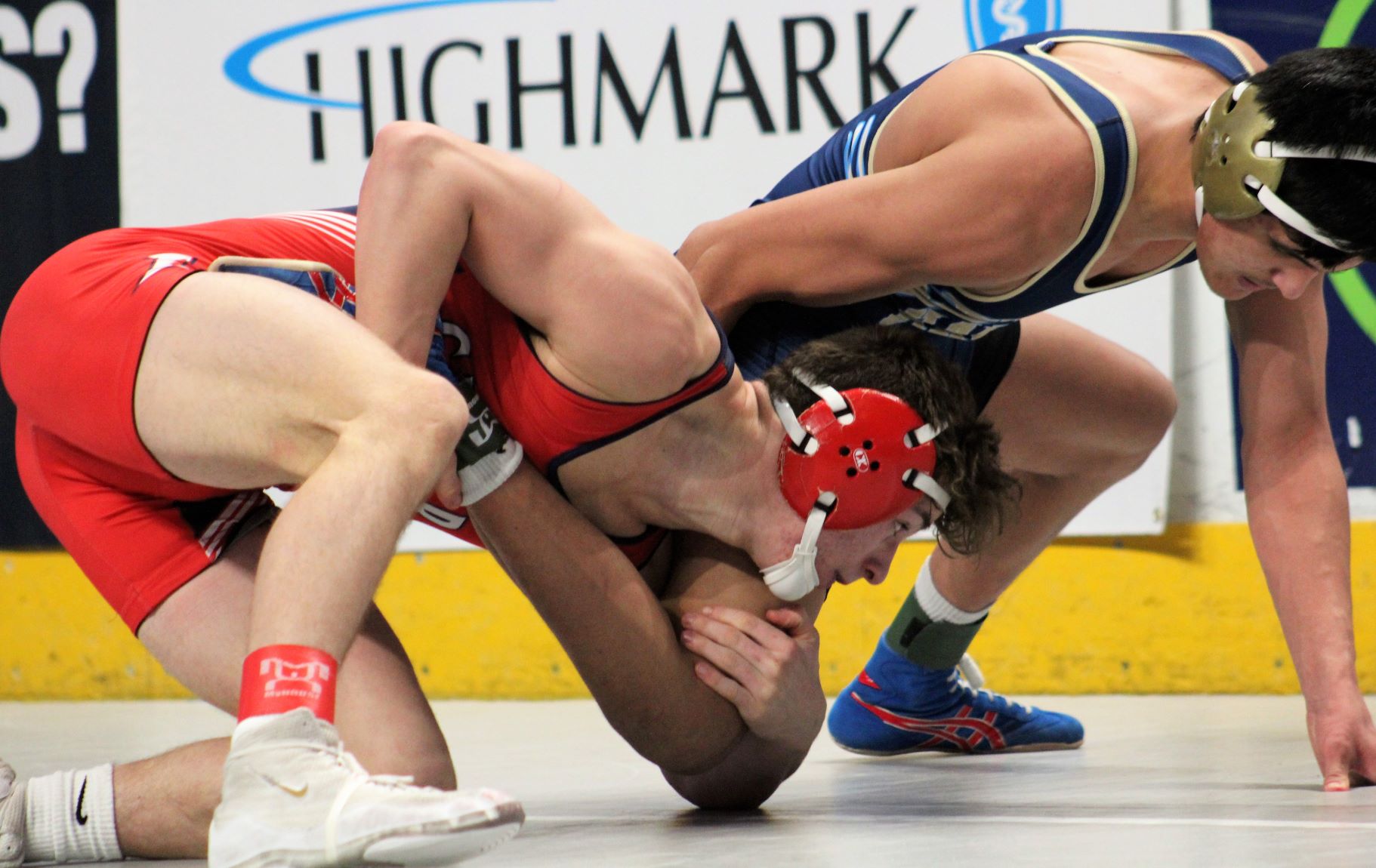 BY JEFF FALK
Editor
HERSHEY – It won't be the medal he came here for. Right now, that's a disappointment, a hard pill of reality for Griffin Gonzalez to swallow.
But when the competitive adrenaline does subside, and a good dose of perspective settles in, Gonzalez will realize exactly what he has accomplished.
On Friday afternoon at Hershey's Giant Center, the Lebanon junior both won and lost, during the second day of his first trip to the PIAA Class AAA Wrestling Championships. Gonzalez dropped a tough 8-3 decision to Kaeman Smith of Cathedral Prep in the quarterfinals of 152-pound weight class, then bounced back nicely to post a solid 5-2 triumph over Council Rock South's Bekhruz Sadriddinov in the third round of consolations.
That victory assured Gonzalez, the fourth-place finisher out of the Southcentral Region, a state medal. The color of that medal will be determined on Saturday by his upcoming performance in the later rounds of the consolation portion of the 152-pound bracket.
In light of Friday's 1-1 showing, Gonzalez has now gone 3-1 at the state tournament and is 38-5 this season. With yesterday's triumph, Gonzalez has also established a new Lebanon wrestling program standard for wins in a career.
Those are just way too many positives to consider his first trip to the PIAA tournament anything but a success.
"I'm getting a medal, no matter what," said Gonzalez. "But I didn't come here for just any medal. I came here to win, but I didn't. So now any medal is the next best thing. Now the goal is third. I've just got to try to continue to do better."
"That's really exciting for him, for the school," said Lebanon head coach Vaughn Black of Gonzalez's impending state medal. "Coming here, we didn't want to put limits on what he could do. Now, he's shooting for third. He's met that goal (of a state medal). Now the question is, 'How high can he go?'
"Nothing really bothers him," continued Black. "It's like, 'OK, now I'm on to the next match.' He doesn't look back. It's 'What adjustments do I need to make?' He did his thing. He realized he could hang with these guys."
Gonzalez's consolation bout with Sadriddinov was both a rebound and a revert to prior success.
The fighting Cedar never trailed after taking down his Council Rock South opponent near the end of the first period. Gonzalez padded his lead with an early second-period escape, then opened a 5-0 cushion with another takedown with 30 seconds remaining in the period.
"I wrestled better in the second match," said Gonzalez. "I didn't just hang, and I finished my shots. But at the end of the match, I really wasn't looking to score. I was looking to hang on. That's what I need to improve on.
"Obviously it's tough bouncing back," said Gonzalez, "especially after I lost one I thought I was going to win. Overall, I wrestled alright. I definitely thought I could've done better."
"It was pretty close to the way he wrestled yesterday (Thursday)," said Black of Gonzalez's consolation performance. "In his first match, he had a hard time. He wrestled OK. But at this level, it's anyone's game.
"I think when Griff is wrestling well, he's very active," Black continued. "He's in an open position. He's strong in his game. He's more mobile. He scores a lot more."
In the quarterfinals against Smith, Gonzalez used an escape to respond to an early takedown. Five seconds into the middle stanza, Gonzalez nailed a reversal to establish a 3-2 edge.
"I definitely think I could've wrestled better in the quarterfinals," said Gonzalez. "I let him (Smith) get to his offense. When I did get to my offense, I didn't go to the position I could've."
"In that match, I thought he kind of reverted back to how he wrestled in districts," said Black. "More reserved. Guys try to hold on to him, and that's not his strength."
Smith came up with an escape and then a takedown in the middle of the second period to assume a 5-3 advantage. In the third period, he added three more insurance points.
"It's cool that people have really have gotten behind me," said Gonzalez. "But the thing about coming here is wrestling and winning. I want to come here and enjoy wrestling."
"I think the wins yesterday (Thursday) let him see that this is where he belongs," said Black. "Today showed that he can recover from a hiccup. He didn't do what he wanted to do, but he responded."
To purchase images in this article please email jeff@lebcosports.com.

Lebanon Federal Credit Union