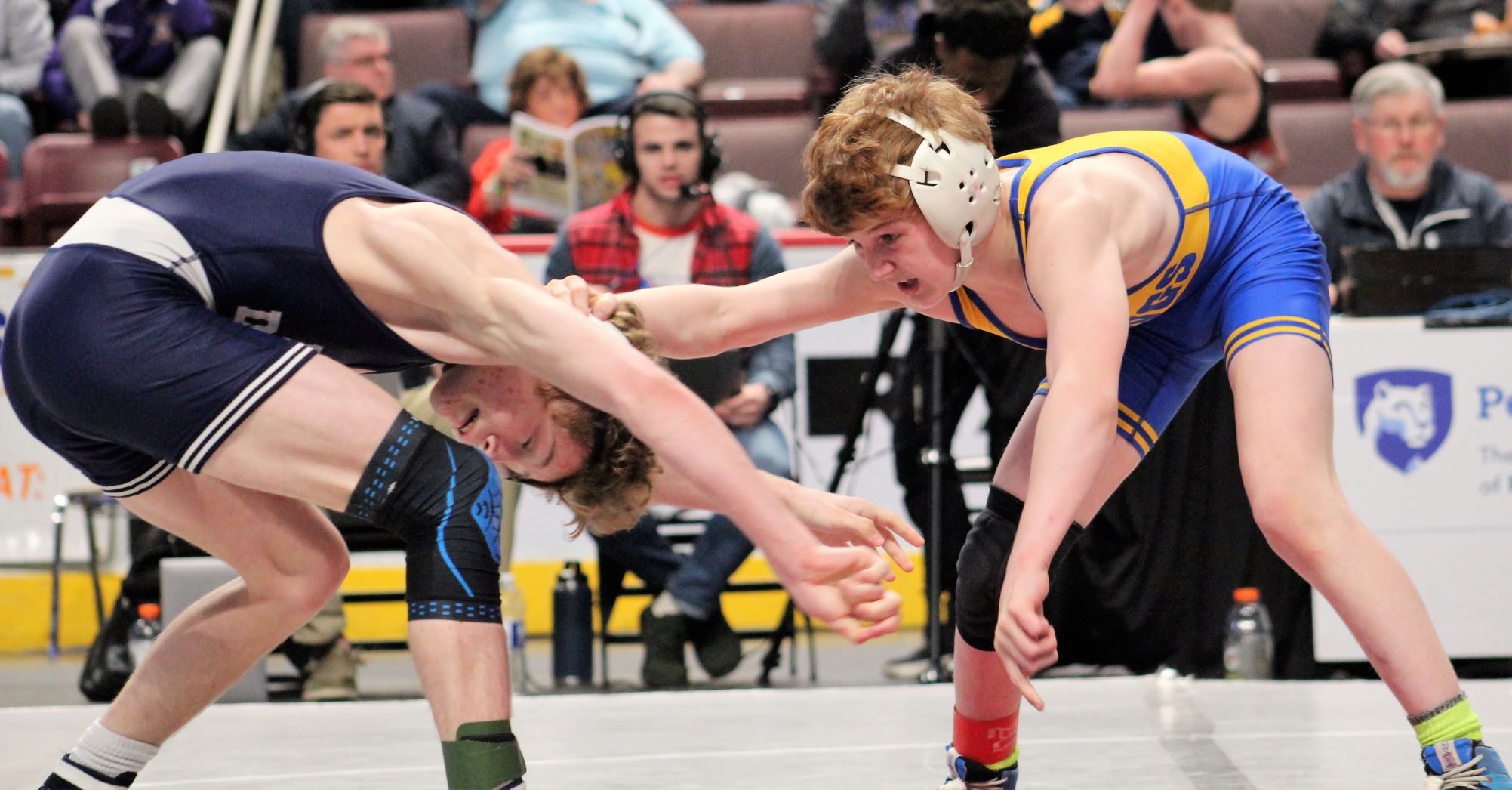 BY JEFF FALK
Editor
HERSHEY – Aaron Seidel has boldly, confidently, humbly gone where very few Lebanon County wrestlers have ever gone before. Now, only one more step remains.
And while that last step may seem like the most important one, the most difficult one, given what Seidel has already accomplished, the unimaginable almost seems likely.
On Friday night at the Hershey's Giant Center, during the annual staging of the PIAA Class AA Wrestling Championships, Seidel barged into the 106-pound championship bout, with an impressive 11-0 major decision over Burgettstown's Parker Sentipal in the semifinal round. Earlier in the day, the Northern Lebanon freshman had decked Carter Beck of Saegertown at the 1:51 mark of their quarterfinal bout.
In going 3-0 to this point of the state tournament and raising his seasonal record to 48-1, Seidel has been efficiently dominant logging a fall, a technical fall, a major decision and surrendering just two points.
On Saturday, Seidel will be seeking to become just the second state champion from a county that historically has not excelled in the sport of wrestling. In 2001, Northern Lebanon's Jim Collins captured Lebanon County's first and only PIAA wrestling championship as a senior, and no local competitor has reached the final bout at a state championship since.
But for Seidel, it certainly won't be easy. In the Class AA championship bout at 106 pounds, he will face reigning state champion and 42-1 Louie Gill of Hickory, who's ranked number-one in Pennsylvania and number-three in the country.
"I've always had that dream, ever since I was a little kid," said Seidel of a state title. "Just getting to Giant Center and getting to the final. Now that I've made it, I want to come out on top. It's awesome."
"I knew that he could do this a couple of years ago," said Northern Lebanon head coach Rusty Wallace of Seidel. "When you're coming up, a lot of kids are good. But it doesn't always carry over to high school. You've got to do the right things. You've got to live a certain way, and he does that. There's not a kid on the planet who deserves it more.
"Some of it is just being a good person," added Wallace. "Most kids don't want to do the things he does. But those are the things that it takes to be successful."
Strong on his feet, on top and on the bottom, Seidel again got off to a good start, against Sentipal. He took Sentipal down 42 seconds into the semifinal bout and led 2-0 after the first period.
"That's my go-to move," said Seidel of the single-leg takedown. "I knew I had to hit it on him and finish it. No, I wasn't nervous. I was good.
"One of my main things is on top, and neutral," Seidel added. "Probably my worst position is bottom. What I want to do is break your spirit. I was always a small kid with a lot of energy."
"The big thing was confidence," said Wallace. "His confidence has gotten better every day. This is the biggest wrestling stage in the country. Coming in as a ninth-grader, nerves are going to be a factor. But I don't think he was nervous tonight at all. He just wrestled his match and stayed with what works for him."
Seidel scored an escape 15 seconds into the middle stanza, then recorded another take down 15 seconds later and led 7-0 heading into the third period. But he remained on the attack and notched four more points in the final period.
"I think it's been going really good," said Seidel of his state tournament to this point. "I'm just trying to win and get off the mat. It's all about winning.
"It's (the personal experience and the support) definitely a cool thing," added Seidel. "Just all the people who have showed up to watch me wrestle. Some of the people I don't even know. I think there's a lot of elementary kids who have been showing up."
"He's done what I know he could do," said Wallace. "I'm happy for him and he deserves it. To be in the finals with a shot at a state championship, it's just a great opportunity. When he's ready to go, he's a major decision better than the other kid in a state semifinal match."
On Saturday morning in the quarterfinals, Seidel was leading 4-2 when he completed his pinning combination nine seconds before the end of the first period.
"Yeah, I know who he is," said Seidel. "Jim Collins was a state champion from Northern Lebanon. I always knew who he was and now I'm trying to get where he was. I've met him. He never coached me, but I've talked to him. I'd like to catch up with him."
"It's the match we've been looking for since the first day of the season," said Wallace of Saturday's championship bout with Gill. "You're six minutes away from a state championship. That's a really cool opportunity. He's going to give it his all. He's going to wrestle his heart out."
To purchase images in this article please email jeff@lebcosports.com.