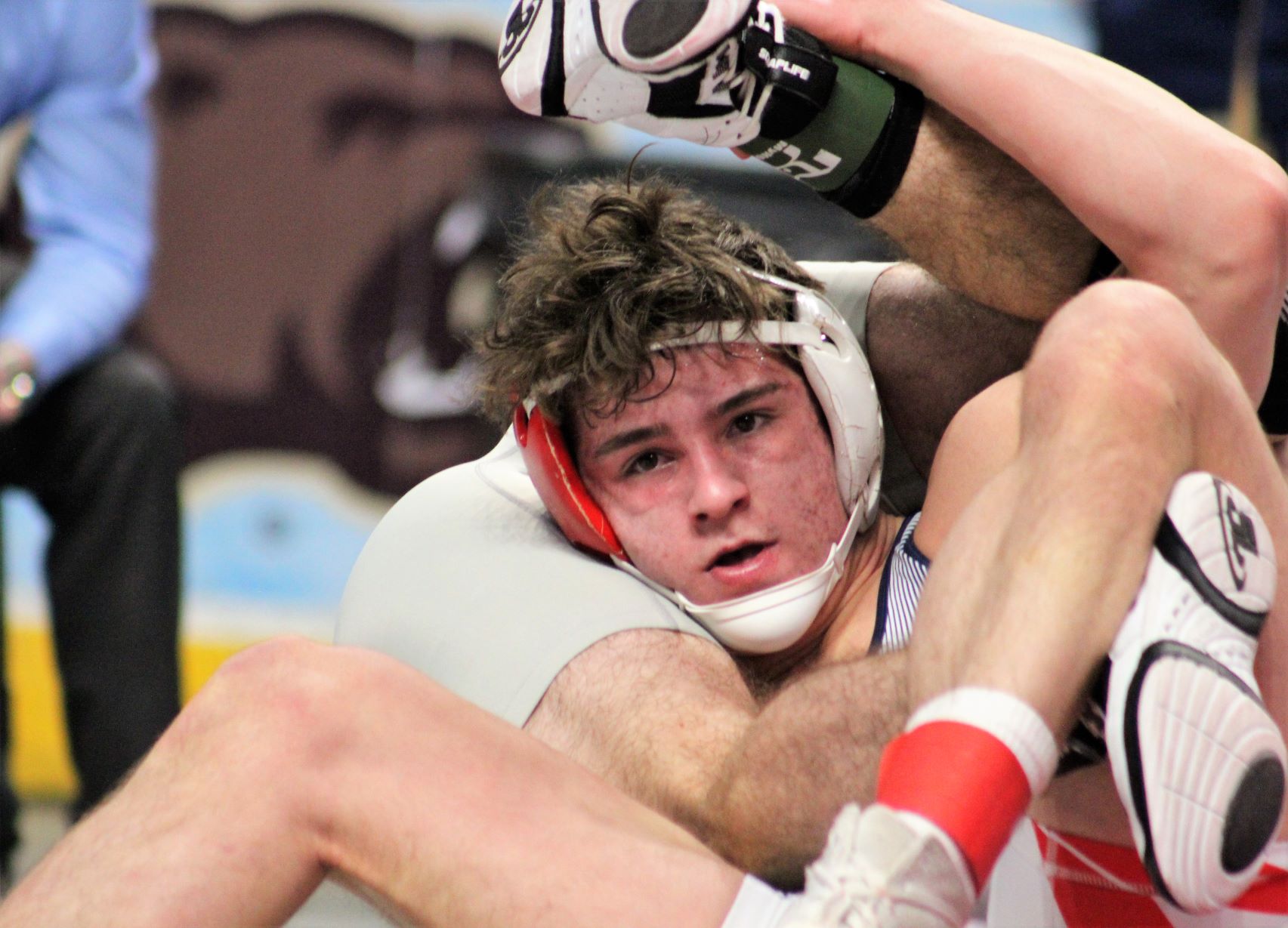 BY JEFF FALK
Editor
HERSHEY – Griffin Gonzalez qualified for the state wrestling tournament. He can do better.
Gonzalez earned a medal in his first trip to the PIAA Championships. He can do better.
He set a new school record for wrestling wins in a season. He can do better.
This weekend in Chocolatetown, Gonzalez explored the fine line that exists between improvement and appreciation, between potential and reality, between civilian and competitor. Not only does learning come in all shapes and sizes, it can also come from all sorts of sources.
On Saturday night at Hershey's Giant Center, on the third day of the annual PIAA Class AAA Wrestling Championships, Gonzalez ended his 11th-grade season with a win, a very symbolic triumph, one that truly epitomized his relentless spirit and unwavering drive to improve. With time running down, the Lebanon High junior notched a never-say-die takedown to register a 2-1 victory over Dominic Frontine of Shippensburg in the seventh-place bout at 152 pounds.
On Saturday morning, Gonzalez had been relegated to the seventh-place bout by a 4-2 loss to Greater Latrobe's Jack Pletcher in the 152-pound consolation bracket.
Let the record show that Gonzalez compiled a 4-2 record during his initial foray into the rugged PIAA wrestling postseason and that his final record for 2021-22 was 39-6, which represents one of the most productive grappling campaigns in Lebanon High history. Back in January, Gonzalez captured the 152-pound weight class championship at the Lancaster-Lebanon League meet.
"I do push myself," said Gonzalez. "I've always wanted to be on the top of the podium. There are all these people who have been with me every step of the way, and I feel like I have to do it for them. But I don't think there's pressure. If there is, I don't feel it. When there's pressure, you put it on yourself.
"My middle part of the tournament (states) wasn't great," added Gonzalez. "At the start, I came out wrestling hard. And on the last day, I was wrestling the way I wanted to."
"He'll come back and he'll ask questions," said Lebanon head coach Vaughn Black of his star pupil. "He's one of the best kids I've ever known for that. He takes criticism very well. He listens, and when he does, he's a better wrestler.
"His goal and our goal is to get better and better," continued Black. "Sometimes you've got to chip away at it. Each match builds. But he's looking at it one match at a time."
Trailing 1-0 late and the clock ticking down on his season, Gonzalez dug deep and got the proper angle on Frontino, before registering the decisive takedown with two seconds remaining on the clock. Gonzalez's reaction was a combination of joy, pride and relief.
"I was sitting there and I knew I was running out of time," said Gonzalez. "I felt him (Frontino) slipping down and I knew if I turned I might be able to get him. I knew it was short time.
"I didn't do quite as well as I wanted to here," Gonzalez added. "These last few matches were definitely about pride. When I dropped down into the consies, I wanted to get third. But it is what it is."
"Time was expiring as he was scoring his last takedown," said Black. "It was story book. It was like the end of every good movie. It was picture perfect. We're excited about what's next for him.
"Everyone who walks in the door wants to get gold," Black continued. "He was able to take some lumps and get back up. It's hard to fall into the consies and still perform. He didn't hang his head. He stayed in the moment. He tries to learn and move on."
The first two periods of Gonzalez's seventh-place bout with Frontino was a game of cat and mouse, an exercise in reacting and blocking – neither wrestler willing to take a risk that could be turned into a mistake. Then, ten seconds into the third period, Frontino managed an escape to grab a 1-0 edge.
"Coming into the season, I wanted to be on the top of the podium," said Gonzalez. "I knew I had to work harder than I did last year. I lost a couple of matches throughout the year that I shouldn't have. But I think that experience helped me.
"I think this will help me tremendously next year," continued Gonzalez. "These losses with stick with me. They're not going away soon. But I'll be back."
"At the beginning of the season, we were definitely hoping to get to this point," said Black. "The super regional last year really didn't count. We already considered him a state qualifier. We had some concerns about him jumping weight, but he handled it well. He found a way. He was always up for tougher matches.
"Griff's a fantastic leader in the room, and in the class room," concluded Black. "If he sees someone who needs help, he's the kid who will jump in there. It's awesome to see that kind of a leader, always willing to help. He's the same way in school as he is in the wrestling room."
To purchase images in this article please email jeff@lebcosports.com.