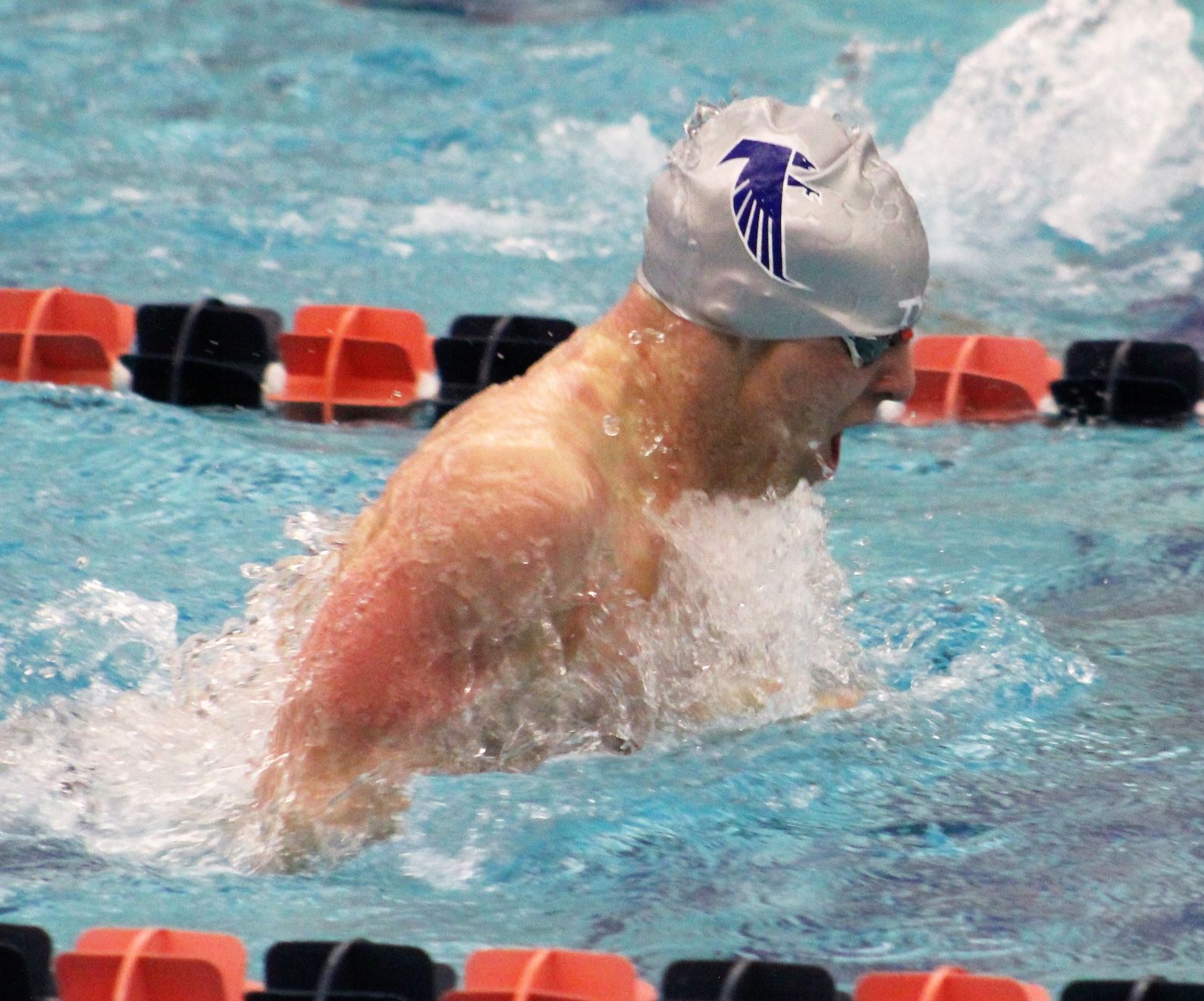 BY JEFF FALK
Editor
LEWISBURG – It wasn't a gold medal. Neither was it the perfect swim.
In Logan Smith's mind, those two concepts are both very much alike and very different. Just whatever you do, don't ask him which is more important.
On Thursday evening at Bucknell University's Kinney Natatorium, during the annual contesting of the PIAA Class AAA Swimming Championships, Smith's absolute best on one particular day produced a silver medal in the 100 breaststroke. It may not have been the color of medal that the Cedar Crest senior was gunning for, but no one could identify fault in his effort, his technique or his performance – including the highly-driven and perfection-seeking Smith.
Smith came within a whisker of a state gold medal, as he was edged out by Conestoga sophomore Jake Wang by .70 of a second. Smith's time of 55.65 seconds included splits of 25.83 and 29.82.
Wang was clocked in 54.95, a time that included splits of 25.59 and 29.26.
Smith's silver-medal showing came in the final race of his spectacular swimming career at Cedar Crest. When the dust settles and the churning waters calm, Smith will be remembered as one of the top competitors in the 50-plus-year history of Falcon swimming.
"Without making it sound bad, I was the furthest I could've been from it," said Logan Smith of state gold. "I had a good swim, but I was as far I can be from gold. I worked my butt off for four years, but you realize how far off you are to having the perfect swim and the gold medal.
"You always have things you can improve on, and for me its underwaters and turns," continued Logan Smith. "When you get to the elite levels, you realize what you have to work on. It was by no means a perfect swim. But you can't get stuck on the negatives. I finished my high school career with what was by no means my poorest swim."
"He wanted the gold and as a coach I wanted to see him get the gold," said Cedar Crest head coach Dawn Smith, who doubles as Logan's mom. "I am, in no way, disappointed with silver. You have expectations and you have to give your best, and sometimes you fall short. But that doesn't mean it takes away from all the hard work you did.
"Logan will need time to get over this a little bit," continued Dawn Smith. "It's a tough thing for him. He wanted that moment. He wanted that glory. Give him a little time and he'll be on to the next thing. He sets the bar high and takes things to heart."
Smith entered the 100 breaststroke state championship race fresh off last week's gold medal at the District Three Swimming Championships, and earlier in the day he had posted the fastest time in the preliminaries of the 100 breaststroke.
In the final, he appeared to get off to a smooth and quick start, and then battled Wang neck and neck the entire way. But as the finish block approached Wang surged and touched just ahead of Smith.
"I get in a zone before I swim and when I swim, I do it with an empty mind," said Logan Smith. "I felt like I had a strong start. Going into the turns, I felt like I had good turns. One of my weaknesses is my turns and I really tried to focus on them. That last lap I gave it all I had. I put it all out there.
"I'm happy with what I did," Smith added. "I'd say there's a little bit of a 'but'. The ultimate goal is to come here and take that gold. Not doing that put a damper on it, but I'm not disappointed."
"He was ready to race," said Dawn Smith. "I noticed that right away. He just didn't have a little bit to bring it home completely. Where he fell short was the tail end."
Thursday represented Smith's fourth straight trip to the PIAA Class AAA Swim Championships, and from his three previous appearance he had taken home two other silver medals and a ninth-place piece of hardware. In addition, Smith captured three District Three golds and a silver, and earned four Lancaster-Lebanon League gold medals in the 100 breaststroke and a pair of golds in the 200 individual medley.
Smith has committed to further his athletic and education careers at the University of Kentucky.
"I've thought about it," said Logan Smith of his place in Cedar Crest swimming history. "You see those names on the record boards (inside CCHS' John Davis Natatorium). You see those names and they don't have one or two records, they have multiple records. It's just amazing to be like them. You hope you can be on the record board,
"It's a humbling thing," added Logan Smith. "I went into each year with an attitude of giving it my all. Then when the season ends, you put your focus on the next year. It's definitely not a career to be down on myself about."
"Just because you're not on the record board doesn't mean you're not part of Cedar Crest swimming history," said Dawn Smith. "He had a very successful career. He got to experience a lot of success. He got to compete on the highest level, represent his school and get a medal.
"It's (the role of coach and mother) extremely tough," concluded Dawn Smith. "Experiencing the highest of the highs and the lowest of the lows, it can break your heart. But it's also a lifetime opportunity. It's been one of the best memories of my life."
To purchase images in this article please email jeff@lebcosports.com.