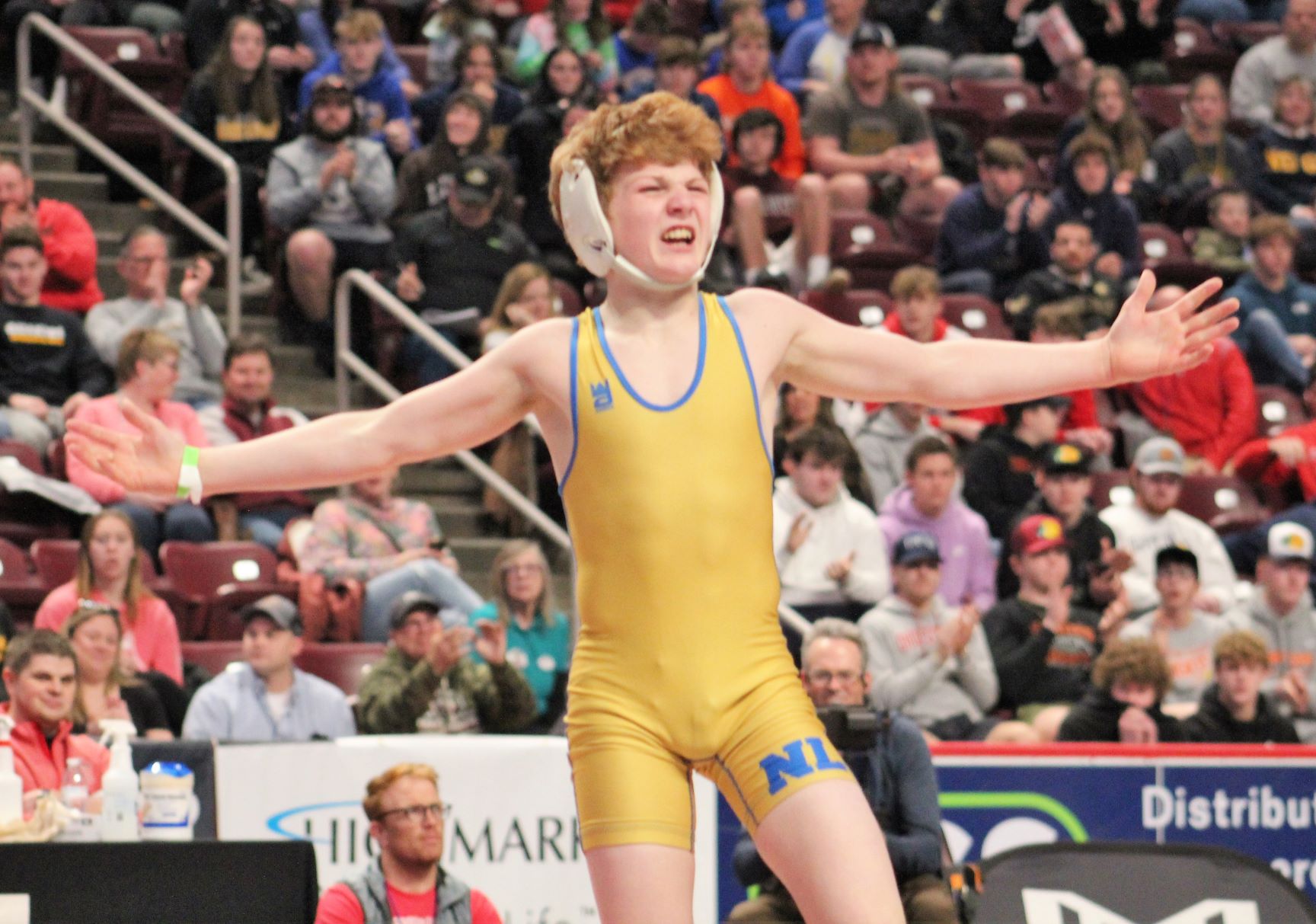 BY JEFF FALK
Editor
HERSHEY  – Here are the cold, hard facts.
Forty-nine wins and one loss. An outstanding performance at the highest level of his discipline. Just the locale's second state championship in the sport ever.
Not only was it the greatest season in the history of Lebanon County wrestling, it was also one of the greatest accomplishments in the history of county athletics. But that's only a part of it.
What adds even more value to it was the way it was done, the manner in which it was accomplished – with dignity and honor and steadiness. It was an unintentional, yet inspirational example of class from which we all could take a lesson.
At 15 years of age, Aaron Seidel has his whole life in front of him, and he's destined to go on and do great things, both on and off the mat. But no matter what happens from here on out, Seidel will always remember a late winter weekend in 2022, and no one will ever be able to take that away from him.
On Saturday afternoon at Hershey's Giant Center, Seidel completed his season-long – and in some ways lifelong – mission by capturing a state championship at the PIAA Class AA Wrestling Tournament. In a tough, physical battle, Seidel edged defending champion Louie Gill 4-2 in the final bout at 106 pounds.
Seidel became just the second Lebanon County student-athlete to ever garner a state wrestling title. The first was earned by Northern Lebanon's Jim Collins as a senior in 2001.
The state crown also represented the seventh tournament title that Seidel won during his ninth-grade campaign. Along the way, Seidel also earned Lancaster-Lebanon League, District Three and Southeast Regional titles.
"It's amazing," said Seidel. "Ever since I was a little kid, I wanted to be a state champion. I dreamt about it. That was always the main goal. I knew it was going to be really close, but I was confident I could do it.
"The support that I got here was awesome,"  continued Seidel. "My dad, all my coaches, all the students and fans who were here – and above all God – really helped me. For me, being a good person means being humble, being respectful of others and always being nice. God plays a big part in it."
"He's always been a worker, a grinder," Northern Lebanon head coach Rusty Wallace of Seidel. "Wrestling's what he loves to do. To see it all culminate in a state championship is awesome. He does all the right things. His success was always inevitable.
"He works through everything," added Wallace. "He's his own worst critic. You never have to say anything to him. He has his own set schedule. He's just a super kid, and a great role model for our younger kids."
Seidel's only loss this season had come at the hands of Gill in a bout earlier in the year. And that prior result played a huge role on Saturday, both mentally and psychologically.
The first period of the 106-pound championship bout went down in the scorebooks as score-less. But there was plenty of athleticism, tons of action, a lot of scrambling and a couple of near takedowns.
"There were a couple of times in the first period where I thought I had takedowns," said Seidel. "But you've just got to keep wrestling and not get frustrated. I just want to be smart in all of my decisions.
"Louie's a great competitor," Seidel continued. "He's ranked number three in the country. Winning that was really big for me because my only loss was to him. And of course it was for the state championship."
"I thought that first move in the first period was definitely a takedown," said Wallace. "But you've got to deal with it. You've got to stay cool and stick with it.
"When Aaron is confident and wrestling to the best of his ability, he's the best kid," Wallace added. "He works too hard not to win."
The key moment in the title bout came 45 seconds into the middle period. Seidel started on top and managed to turn Gill for three back points and a 3-0 lead.
But Gill notched a reversal with 41 seconds left in the period to pull to within a point of Seidel at 3-2.
"That three-point tilt was killer," said Seidel. "When I got that tilt, I knew I had it. One of my main things is neutral, but getting that was big. I felt pretty confident on top.
"I had a game plan coming in," added Seidel. "In neutral, I had to get to my shots. I knew I was going to have to finish them quickly. And I couldn't let him get to his shots. But we ended up scrambling a lot."
"He just wants to win the next match he wrestles," said Wallace. "He wasn't happy being here. He didn't want to medal. He wants to keep wrestling.
"It's about cherishing the moment and appreciating the ability to be able to do it," Wallace added. "There are kids who don't make it this far. You're one of the lucky ones when you get to compete. When it pays off with something like this, it just makes it extra special."
Gill allowed Seidel to get to the neutral position to start the third period and the escape point pushed Seidel's lead to 4-2. While neither competitor scored during the remainder of the final period, Seidel did an admirable job of keeping Gill off balance with his shots.
"I was thinking about neutral," said Seidel. "But my coaches wanted me to go down. And then he ended up leaving me up any way. Once in neutral, I knew I had to scramble and get to my shots."
"He has one blemish on his record," said Wallace of Seidel's freshman season. "He's beaten state-ranked and nationally-ranked kids along the way. When he's confident and he lets it fly, he's a tremendous talent. The size difference today was mind-boggling. We're just so small for the weight. But we made up for it with tenacity."
In going 4-0 at the PIAA Class AA Wrestling Championships, Seidel recorded a pin, a technical fall, a major decision and a decision. In those four bouts, he gave up a total of four points, to some of the best 106-pound wrestlers that the state of Pennsylvania has to offer.
"I think I was able to do it through hard work, all the time I spent with my coaches, just working out when I didn't want to and lifting weights," said Seidel. "Next year, the goal is definitely to win states. I'm already thinking about the next time."
"Jim was very similar to Aaron," said Wallace. "He grew up as a very accomplished youth wrestler. He got to states as a freshman and got to the state final as a sophomore. He just kept getting better and it finally paid off with a state championship. I see a lot of that in Aaron."
To purchase images in this article please email jeff@lebcosports.com.

Lebanon Federal Credit Union