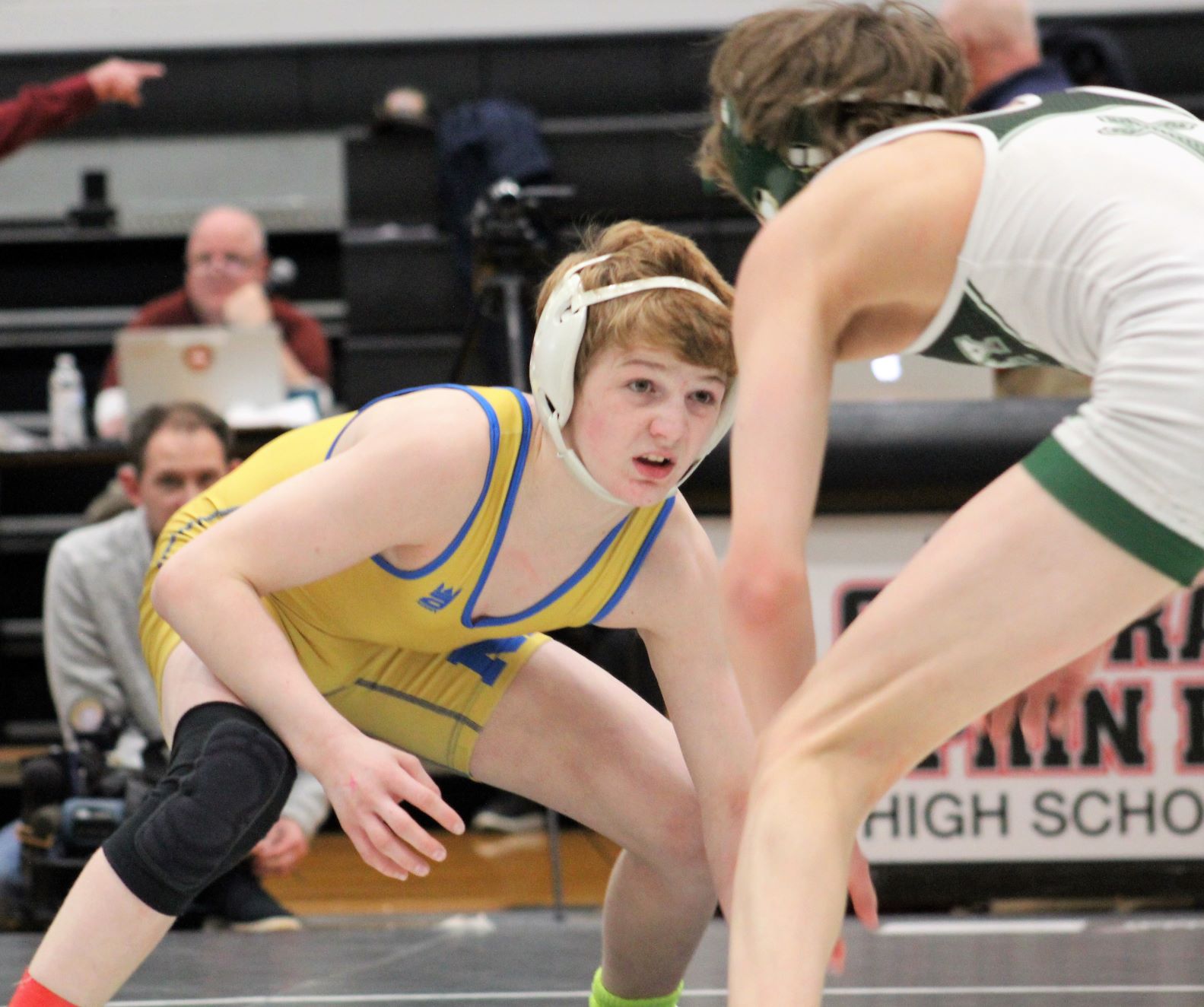 BY JEFF FALK
Editor
HARRISBURG – People relate history to records and prior events and those who came before them.
When they think of freshmen they think of youthful exuberance and innocence and potential.
Those two concepts reside on completely different ends of the time-space continuum.
It takes a competitor with special abilities to bridge the two.
On Saturday at Central Dauphin East High School, Aaron Seidel became the first freshman in the storied history of the Northern Lebanon wrestling program to capture a District Three Class AA championship. The Vikings' precocious ninth-grader registered three fairly routine victories on his way to the unprecedented title at 106 pounds.
In the final bout at 106, Seidel recorded a very business-like 8-2 triumph over Major Lewis of Trinity. During the tournament, Seidel outscored his opponents by a combined margin of 17-2.
No other wrestling program in Lebanon County has won more District Three individual championships than Northern Lebanon, but Seidel became the first freshman to do so. He also led a parade of eight current Vikings – and 11 Lebanon County student-athletes overall – into next weekend's Southeast Regional tournament at Freedom High School in Bethlehem.
"I'm happy about winning sectionals and districts," said Seidel. "I'm excited for regionals. I'm trying to win all four of them. I want to win it all. But my main goal is to win them one at a time."
"It's a big deal," said Northern Lebanon head coach Rusty Wallace. "Freshman or not, winning a District title is a big deal. To do it as a freshman is cool. He puts a lot of pressure on himself. He has high expectations and that's why he's as good as he is."
Seidel reached the championship bout at 106 with a 4-0 whitewashing of Boiling Springs' Luke Magnani in the semifinal.
Against Lewis, Seidel notched the first takedown of the match 25 seconds in, and by the end of the first period, he was sitting on a 4-1 lead. Seidel added four more points in the middle stanza to remove any doubts about the outcome.
"I'm not happy," said Seidel. "I wish I would've scored more points. On the bottom, I didn't wrestle as well as I would've liked. I've got some things to work on.
"I'm obviously one of the younger wrestlers," added Seidel. "High school wrestling is just different. A lot of the guys are bigger and stronger. But I wrestled all of the top kids in the country in middle school."
Unassuming, calm and mature beyond his years, the key to Seidel's overwhelming success seems to be in his preparation and experience. Despite his freshman standing, Seidel, now 42-1 on the season, has been wrestling for the better part of a decade.
"It feels pretty good," said Seidel. "I've wrestled in some good hard tournaments and it's prepared me for this. I've learned a lot during the season. I've wrestled a lot of experience kids."
"He's got two weeks left," said Wallace of Seidel. "I hate to put even more pressure on him. His goal is to win states. He absolutely has what it takes to do it. He believes he can do it. It's tough, but it's his expectation. His work ethic separates him from a lot of kids. He wins a lot solely on his work ethic."
Also advancing to the championship bout of his weight class was Northern Lebanon senior Cooper Gill at 160 pounds. But Gill was forced to settle for a silver medal, after he dropped a 7-0 decision to Newport's undefeated Ganon Smith.
With his performance at the District Three Class AA tournament, Gill upped his seasonal mark to 26-7.
"There's always ups and downs," said Wallace. "We brought ten to this event and eight are going to regionals. We went undefeated in the consy semifinal bracket. There were one or two that you could say got away from us. But we probably won some that, on paper, we weren't favored in. I think our kids do good ignoring records and seeds. They've wrestled a tough schedule and they go out and wrestle their matches."
Northern Lebanon senior Kayden Clark took home the bronze medal at 145, when he pinned Tucker Seidel of West Perry at 2:32 of their consolation final. Viking Julian Zaragoza, a sophomore, also finished third, by pinning Bishop McDevitt's Michael Beutler at the 4:59 mark.
Northern Lebanon's Owen Lehman placed fourth at 126 pounds, as did teammate Conor Leonard at 152 pounds.
"You want to get them all through," said Wallace of the upcoming Regional tournament. "You want them to be their best versions of themselves. We want them to go there and wrestle to their maximum potential. We try to evaluate on effort and results."
To purchase images in this article please email jeff@lebcosports.com.

Lebanon Federal Credit Union