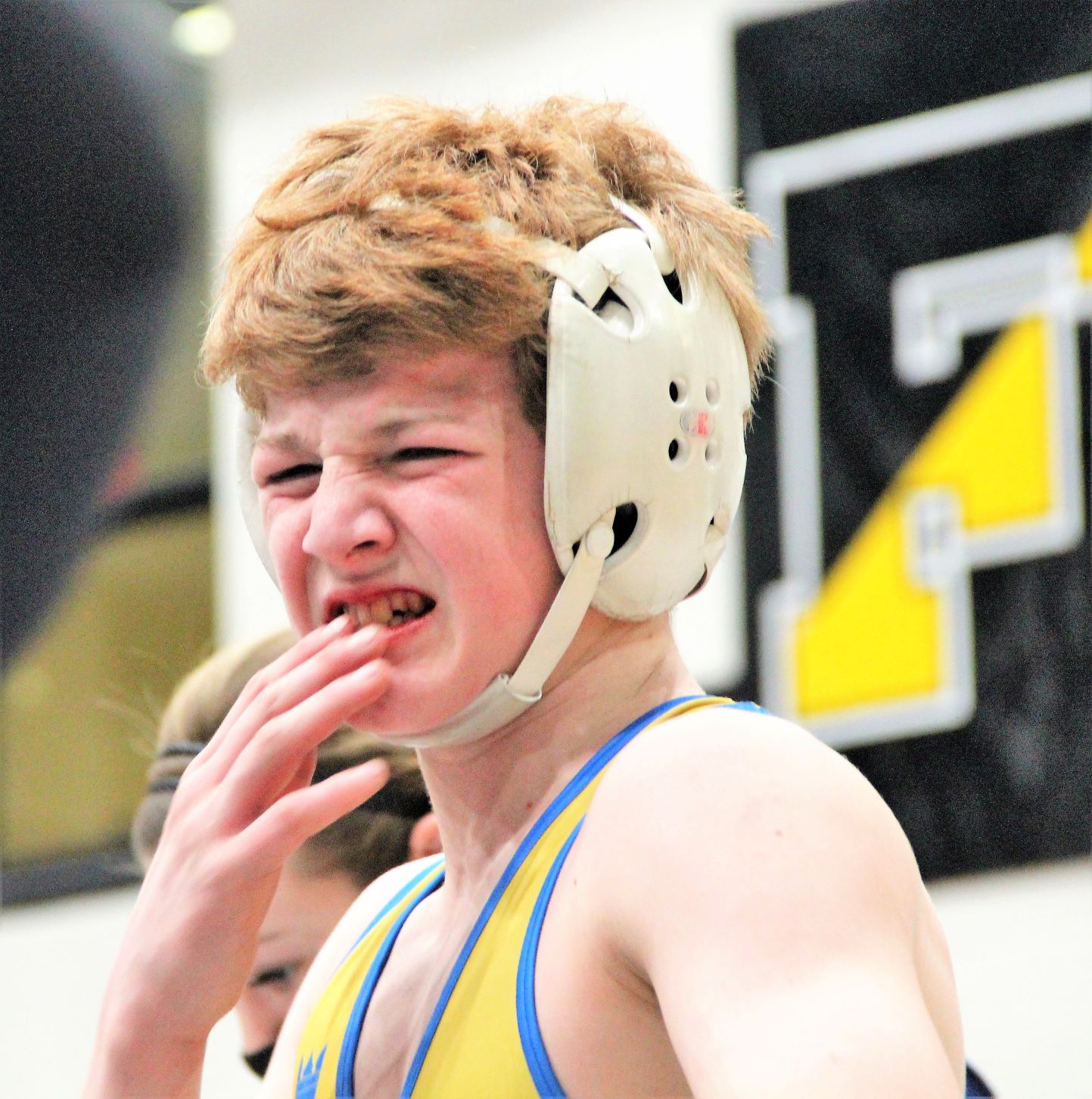 BY JEFF FALK
Editor
BETHLEHEM – In one specific realm, the PIAA Class AA Southeast Regional wrestling tournament is viewed as a staging area, a final stepping stone to the grand show. To a degree, Aaron Seidel sees it in that same light.
But then again, Seidel looks at everything as a wrung on a ladder. With an insatiable appetite for self-improvement and an unquenchable thirst for tougher competition, Seidel is constantly searching for 'what's next?'
On Saturday evening at Freedom High School, Northern Lebanon's phenomenal freshman added yet another title to his series of championships, this one at the Class AA Southeast Regional event. Seidel scored a come-from-behind 4-2 victory over Notre Dame-Green Pond sophomore Ayden Smith in the final bout at 106 pounds, for the amazing sixth tournament championship of his ninth-grade campaign.
If indeed each one of Seidel's titles has been increasingly difficult and conversely more prestigious, then the regional championship has propelled him to the top wrung – the PIAA Class AA tournament at Hershey's Giant Center, from Thursday to Saturday. In addition to the regional crown, Seidel also earned championships at the Lancaster-Lebanon League and District Three Class AA tournaments earlier.
Now 45-1 on the year, Seidel became the first Northern Lebanon wrestler since Luke Funck in 2017 to claim a Southeast Regional title.
Seidel was the only one of eight Viking regional qualifiers to advance to the PIAA postseason.
"The goal is to win," said Seidel of the state tournament in Hershey. "The first goal is to win the first match. The second goal is to win the second match. It's been a goal of mine for quite some time. I know it's going to be hard. I need to show up. Anyone can beat you at any time.
"I think I just need to add a little technique," continued Seidel. "I've improved a lot since the beginning of the season. I want to get one percent better every day. I've kind of been building up to this point and I think it's really helped my confidence."
"He's not going to states to place," said Northern Lebanon head coach Rusty Wallace. "There are going to be a lot of tough kids there, including the defending state champion. But he's not going there to get on the medal stand. He's earned that right. He's a talented kid.
"You just can't look ahead," Wallace continued. "You have to take it one match at a time and slowly work your way through the bracket. He's wrestled enough to know what it takes."
Against Smith, Seidel rallied from an early 2-0 deficit by scoring key points at the ends of both the first and second periods.
It was his takedown of Smith with four seconds remaining in the middle stanza that proved decisive. In the score-less third period, Seidel protected his lead by wrestling defensively on his feet.
"Even though I got down, I wasn't too scared or frustrated," said Seidel. "I knew I'd go down for the second period and I was pretty confident I could get out. Then he went neutral. In the third period, I was just kind of playing it safe.
"I think this is one of the best tournaments I've won this year," added Seidel. "I was down and came back. And I did it against some of the top kids in the country and the state."
"He took us down," said Wallace of Smith. "But I liked the way we wrestled the whole match, and scoring at the end of periods was huge. He (Seidel) scrambled really well. He (Smith) was in deep a couple of times and didn't score. I was proud of the way he (Seidel) was able to keep his cool.
"Winning regionals is a huge accomplishment," Wallace added. "This is the toughest region in the state. They're all here, including some defending champions. Any time you can come here, win matches and place, it's great."
Following an early feeling-out period, Smith took Seidel down 1:10 into their championship bout. But Seidel managed to escape with five seconds remaining in the opening period and that point proved crucial.
"I think I got caught tying up too much," said Seidel. "We scrambled a little bit, and then he took me down. He's (Smith) a very good wrestler. He compares with all the top-ranked kids in the state."
"He's usually a pretty cool customer," said Wallace of Seidel's emotional response to winning the title. "He's a really humble kid. He never wants to come off as cocky. What he has to understand is that he's earned the right to be happy.
"He wrestled really well," continued Wallace. "He did a nice job of sticking to the game plan. Hard work pays off."
Seidel reached the final bout at 106 pounds when he stuck Cole Hubert of Saucon Valley at the 1:46 mark of their semifinal match. He had opened his tournament with a similar first-period decking of Susquenita junior Kale Quigley.
"I've always been a hard worker," said Seidel. "My dad always made me better every day. Sometimes I over work it. It's just all the little things. It's stuff that you don't want to do, but that you have to do to get better."
"You always want to have more going to states," said Wallace. "But this is a great wrestling tournament. There's nothing more emotional than watching seniors wrestle their last matches. I probably cried five times today. But if that's the worst thing that ever happens to you, then you've had a pretty good life. Everything's perspective."
To purchase images in this article please email jeff@lebcosports.com.