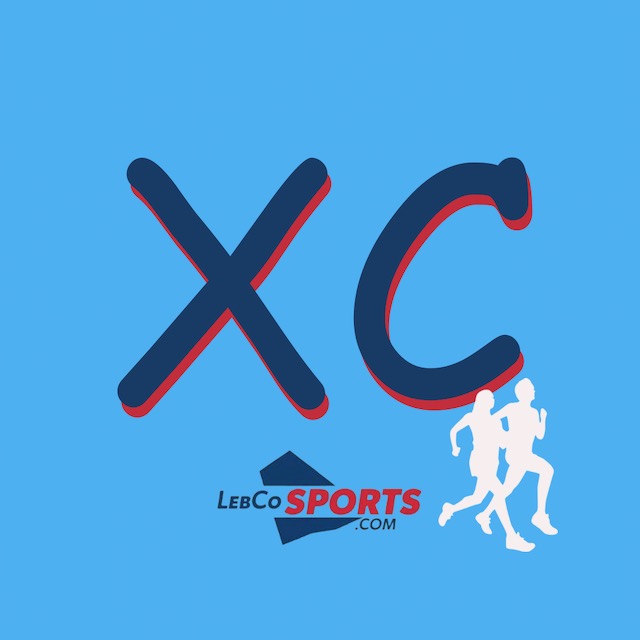 On Saturday, the Cross Country teams from Cedar Crest, Lebanon, and Palmyra were in action.  Cedar Crest and Lebanon were at Lehigh University for the Paul Short Invitational.  Palmyra was at the Carlisle Invitational.  Below are their results from these large, prestigious meets.
---
If you like this type of coverage, please let us know by Following us on social media: Twitter/X – @lebcosports1 and Facebook.
For any questions, comments, or discrepancies, please reach out to dan@lebcosports.com.
---
Paul Short Invitational
The teams from Cedar Crest and Lebanon traveled to Lehigh University on Saturday morning to compete in the annual Paul Short Invitational.  This meet is a large event with high school and college races that last all day.  The races began at 9:30 am and the last gun went off at 5:00 pm.  The race conditions were muddy, making a slow slog of the usually fast course.
Girls
Our two LebCo teams competed in the High School Brown Race, which included 370 finishers and 34 teams.  As a team, Cedar Crest finished 18th overall.
The top team was from Morgantown (WV).  Hempfield's Ella Wolfe running 18:22.5 to finish 4th overall to lead the Lancaster Lebanon contingent,
Cedar Crest
20:31.7      Lizzie Lowe – 57th
20:36.8      Eliana Schneider – 65th
21:05.6      Maddie Lowe – 99th
21:51.4      Sam Yorty  135th
22:00.9      Maggie Chernich – 147th
23:06.0      Nora Cuthie – 218th
24:13.7      Vivian Doster – 278th
24:24.5      Margaret Cuthie – 288th
25:00.8      Juliana O'Hara – 310th
Lebanon
23:50.3      Ella Whalen – 261st
Boys
The LebCo teams competed in the Boys Brown Division, a race that included 467 finishers and 43 teams.  The Falcons finished 25th, while the Cedars finished next at 26th.  The top local finished was Lebanon's Ramon Urena Batista, who medaled with his 15th place performance.
The top two teams were both fairly local, with Manheim Township edging out Hershey by a single point.  Lampeter-Strasburg's Colin Whitaker ran a 15:18.9 to finish 2nd overall.
Cedar Crest
17:06.3      Travis Furmanski – 91st
17:16.4      Ben Causak – 110th
17:16.6      Viseth Meng – 113th
17:50.1      Anthony Figueroa – 165th
18:06.7      Arturo Chavez-Ramirez – 199th
18:32.8      Jack Williams – 236th
19:36.8      Evan Weimer – 339th
19:38.7      Tobias Felker – 342nd
19:50.4      Benjamin Sheffield – 353rd
20:50.9      Conner Danz – 398th
21:21.5      Cameran Willis – 419th
Lebanon
15:57.7      Ramon Urena Batista – 15th
17:37.9      Tyler Long – 142nd
17:49.6      Gavin Sheetz – 162nd
18:03.0      Brendon Shaak – 189th
18:05.3      Javier Montalvo – 198th
18:15.4      Samuel Hershey – 212th
18:40.4      Jonathan Beltran Garcia – 249th
18:56.7      Owen Kreider – 279th
20:44.6      Cole Showers – 393rd
---
Carlisle Invitational
The Palmyra Cougars were one of 103 teams who made the trip to Carlisle to compete at this very large high school only event.
Palmyra Girls
The Lady Cougars finished 13th out of the 39 teams in the Girls Challenge large school race.  In the combined large/small school results, Palmyra finished 17th out of the 76 scoring teams.
The top large school and top team overall was Tatnall, visiting from Wilmington, DE.
Varsity
20:29.8     Avery Rohrer – 42nd
21:12.1      Amber McCurdy – 68th
21:29.9      Ellie Schaffer – 85th
21:40.2      Abby Berarducci – 96th
22:17.9      Andrea Cooper – 134th
22:50.1      Leah Senft – 153rd
24:16.7      Cecilia  Cole – 207th
Junior Varsity
24:02.0      Alyssa McCully – 61st
24:08.0      Olivia Yorty – 64th
24:31.0      Helena Baker – 78th
25:00.2      Grace Chesney – 100th
25:08.5      Abby Keiner – 106th
25:15.9      Sarah Sipe – 109th
25:34.2      Bailey Grissinger – 121st
27:30.5      Cal Mull – 198th
27:32.2      Victoria Mrakovich – 199th
27:55.8      Rachel Cote – 211th
28:15.8      Sarah Mickalonis – 228th
31:58.3      Eleanor Brower – 289th
Palmyra Boys
The Cougars finished 22nd as a team in the Boys Challenge Division (Large School Varsity), with Cornelius Cummings leading the way with a 23rd place finish out of the 323 racers.  Expanded to include the 9th-grade exclusive race, the small school race, and JV race, Cummings finished 25th out of 1,202 boys.
In the Challenge Division, the top team was University High out of Morgantown, WV, while the top PA-based team was La Salle College High School.
Varsity
16:28.6      Cornelius Cummings – 23rd
17:39.0      Jake Vottero – 103rd
18:17.6      Gavin  Bullard – 152nd
18:33.3      Logan Mierzwicki – 171st
18:36.3      Joshua Miller – 181st
18:51.2      Joshua Townsend – 200th
19:55.1      Cohen Claar – 267th
Junior Varsity
18:57.8      Ethan Yorty – 60th
19:12.5      Jason Foutz – 70th
19:40.2      Nathan Keiner – 116th
19:43.2      Luke Vottero – 120th
19:45.5      Jack Bruce – 123rd
19:49.8      Nathan Werner – 125th
19:51.4      Brayden Zerphy – 126th
19:57.5      Landyn Rose – 133rd
20:13.4      Max Davis – 155th
20:25.7      Andrew Johnson – 173rd
20:35.0      Alfred Nazeeri – 185th
20:37.2      Daniel Ray – 187th
21:49.2      Zachery Morrissey – 271st
22:17.4      Bryce Readinger – 291st
22:19.9      Andy Driscoll – 294th
23:15.6      Brayden Zettlemoyer – 345th
23:49.0      Luke Johnson – 366th
41:16.1      Logan Franchina – 430th
---
The CCXC Boys & Girls competed in the extremely competitive Brown Race at the Paul Short Run & fought through some adversity for solid TEAM finishes—Girls=18th & Boys=25th. Where will we go from here??? Keep Believing & Bring Your Best, CCXC!! pic.twitter.com/GF0ieRp9z7

— Brandon Risser (@CoachRiss112) September 30, 2023
Good experience competing in a big meet today for the Cedars at the Paul Short Invite at Lehigh on a soft and muddy course. 26th place for the boys out of 43 teams. Ramon Urena snagged some hardware with a 15th place finish in 15:57 and Ella Whalen grabbed a nice PR! Go Cedars! pic.twitter.com/AObvr8UdVw

— Cedars XC (@cedarsxc) September 30, 2023