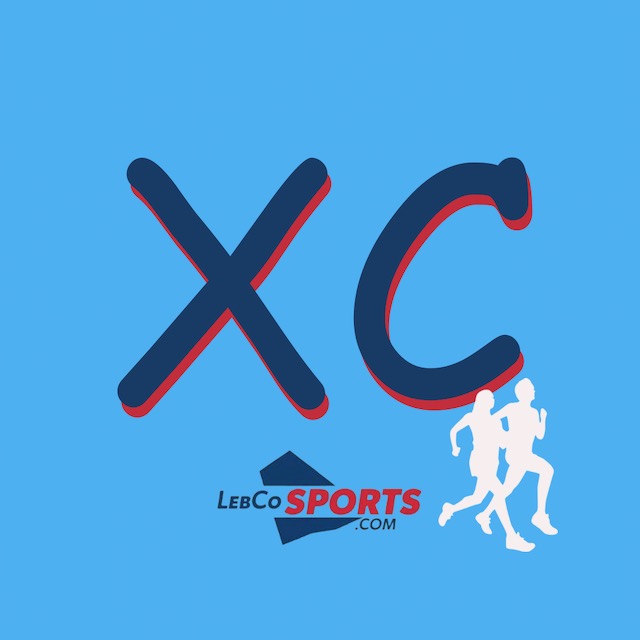 On Saturday, some of the top cross country teams from across Pennsylvania descended upon Hershey to run in the 17th annual PIAA Foundation Invitational.  The race, which takes place on the Parkview XC course that is used for the PIAA Championships, drew runners representing 162 schools from across the Commonwealth.
Annville-Cleona was among the large contingent of teams who took on the talented field of competition and the tough course, made even more difficult by Saturday's weather conditions as Tropical Storm Ophelia brought cold rain to the region on the first full day of Autumn.
While this is mostly an Annville-Cleona specific article, see the bottom for notes about other key performances from area athletes.
Girls
The Annville Girls were up first, taking part in the AA race.  The race included 30 full teams and 223 runners.  The Dutchmen were led by sophomore Makenzie Stellmach, who finished 46th overall, on the way to an 18th place team finish.  Her time of 21:50 was over a minute better than her time on the course during States last season.
Individual Results
Mackenzie Stellmach – 46th – 21:50
Emily Maag – 60th – 22:09
Leah Tshudy – 98th – 23:19
Emilie Stefanchik – 144th – 24:45
Anna Lezon – 155th – 25:01
Megan Brophy – 163rd – 25:15
Nadia Lezon – 166th – 25:25
Team Results
1) Danville Area – 66
2) Cathedral Prep – 94
3) North Catholic – 125 . . .
18) Annville-Cleona – 464
---
If you like this type of coverage, please let us know by Following us on social media: Twitter/X – @lebcosports1 and Facebook.
For any questions, comments, or discrepancies, please reach out to dan@lebcosports.com.
---
Boys
As course conditions continued to deteriorate, it became time for the start of the Boys A race.  Last season, the Dutchmen finished 3rd at the District 3 Championships, just one spot out of State qualification.  However, Landon Hostetter (now a junior) made it to Hershey and finished 5th.  This season, the Dutchmen have returned stronger having returned nearly every contributor from last year.  Saturday gave them a chance to see just how far they have come after winning the Ben Bloser Invitational last weekend.  A Big Spring to Hershey model is exactly the path that Annville is hoping for in the postseason.
In this race, the Dutchmen were again led by Hostetter's 11th place finish (17:29).  He was followed closely by sophomore Oliver Funck who finished 15th overall (17:38).  Matt Clemson, David Moran, and Z Moyer each finished under 19 minutes to place in the top 50 overall.
After the top five Dutchmen had crossed the finish line and their places were totaled, they had collected 123 points.  The total placed them 1st overall, 53 points ahead of 2nd place Winchester Thurston. There were a total of 35 full teams and 235 runners in the race.
When asked about the championship performance put forth by the her team, Coach Caitlin Heller said: "The boys ran well today, even in the raid and wind!  This is a special group of extremely hardworking and dedicated student-athletes, and we can't wait to see how this next month unfolds."
Individual Results
Landon Hostetter  – 11th – 17:29
Oliver Funck – 15th  – 17:38
Matt Clemson – 35th –  18:27
David Moran – 38th – 18:34
Z Moyer – 44th – 18:42
Samuel Domencic – 60th – 19:04
Team Results
1) Annville-Cleona – 123
2) Winchester Thurston – 173
3) Rocky Grove – 185
4) Central Cambria – 190
5) Northeast Bradford – 195
2023 PIAA Foundation Boys' White Race Champions: Annville-Cleona pic.twitter.com/qetXNOPtZs

— PIAA (@PIAASports) September 23, 2023
BOYS WIN the PIAA Foundations A Race! Great team effort! Landon Hostetter finished 11th and Oliver Funck finished 15th 👏#rainrunners pic.twitter.com/HyeXBDHEqZ

— ACXC (@acxcdutchmen) September 23, 2023
JV Results
Annville-Cleona had several athletes run in the junior varsity races.
Girls
Madison Long – 77th – 26:00
Emily Shearer – 81st – 26:18
Colbey Brown – 82nd – 26:24
Mary Haley – 168th – 36:22
Boys
Garrett Gigous – 197th – 24:26
Keaton Flynn – 242nd – 29:47
Other Noteworthy Performances
There were several other key performances from other area schools.
The biggest came in the AAA Boys Race, where Manheim Township and Hershey finished in 2nd and 5th places respectively.  Hershey's Vinay Raman finished 5th overall (16:44), with Township's Adam Kingston closely behind in 7th place (16:55).  Township's Cole Stevens ran a 17:15 to finish 16th overall. Full Results
In the AAA Girls Race, Manheim Township was the top area team, taking 2nd overall.  Four area runners finished in the top 20.  McCaskey's Gabrielle Thiry led the way, taking 6th in a time of 19:42. One second behind in 8th place was Hershey's Sophia Kim.  McCaskey's Ruby Garner-Valle (10th, 19:50) and Manheim Township's Ava Shirk (17th, 20:09) put forth impressive performances. Full Results
Key Dates
October 17th – Lancaster Lebanon League Championships @ South Hills Park
October 23rd – District 3 Championships @ Big Spring HS
November 4th – PIAA State Championships @ Hershey – Parkview