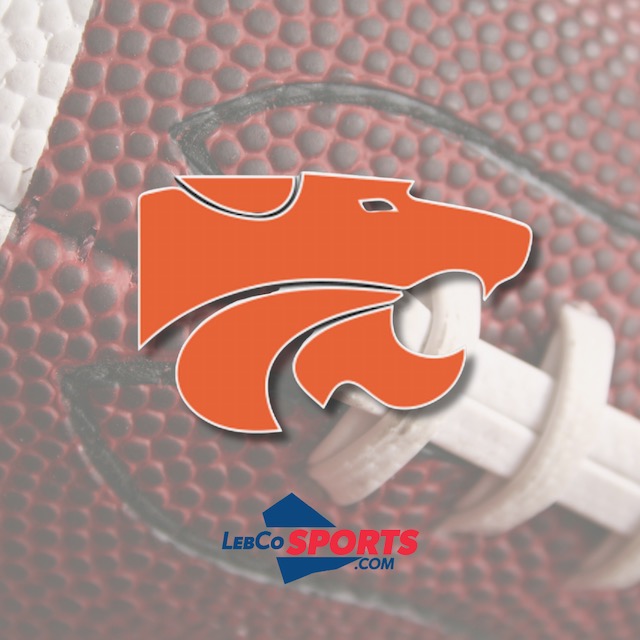 Mid Penn Conference – Keystone Division (AAAAA)
Head Coach: Chris Pavone – 2nd season
Top Returners: Matthew Bordner (Sr., Kicker); Nathan Eisenhooth (Sr., WR/DB); Logan Howard (Sr., OL/DL); Kadin Jones (Sr., OL/LB); Keagen Kleinfelter (Sr., WR/DB); Kyle Koennecke (Sr., RB/LB); Andrew Manning (Sr., OL/DL); Jason McCurdy (Sr., TE/DL/Punter); Jon McDannell (Sr., WR/DL); Titus Orlando (Sr., TE/DL); Kadan Readinger (Sr., WR/DB); Ryan Kowalski (Jr., QB/DB); Beau Toler (Jr., OL/DL)
Key Losses: Kyle Chapin; Wyatt Herr; Colton Long; Jose Morales
2022 Results: 1-9
On the Radio: Palmyra Cougar Football can be heard on WLBR/Froggy Valley three times this season: August 25 on the road at Lebanon, September 22 against Mifflin County, and October 6 versus Red Land. Click for the full radio schedule.
---
Palmyra Football Season Outlook
In 2022, the Cougars finished with a 1-9 record. That roster was full of sophomores and juniors, only carrying nine seniors. While they could have laid down throughout the season, they battled hard and picked up valuable experience each week of Coach Pavone's first season as their head coach.
Along with their veteran status, Palmyra now has a chip on its shoulder and is out to prove itself in 2023. This year's roster boasts nearly ten returning starters on both sides of the ball. This should provide a decent reset for the program, as they can rely on battle-tested players on offense, defense, and special teams.
On offense, the Cougars will be working with a new scheme. In 2022, they relied heavily upon the run game led by Juan Figueroa, who has since transferred to McDevitt. This new scheme will allow Palmyra to use the veteran, skill players still wearing the orange and black. Among the offensive weapons who will look to play big roles this year are seniors Keagan Kleinfelter, Kadan Readinger, and Jon McDannell. The speedy trio of receivers will look for new ways to contribute to the success of this year's team after combining for 45 receptions a season ago. Readinger will also look to continue his role as a special teams threat after hitting paydirt on two kickoff returns last year.
Defensively, expect much of this same hard-nosed play that will allow the offense to perform. This style starts with the strength of the line and the linebackers. This unit is led by senior linebacker Kadin Jones, who racked up 97 tackles in '22. Senior lineman Andrew Manning will look to add to the 2 sacks he had last year. As quarterbacks are being pressured, this will also have to consider the Cougar defensive backfield, especially with Kleinfelter and Kyle Koennecke on the prowl.
A Week 1 clash with Lebanon will be a test for the 2023 Palmyra Cougars to see how far they have come with a year of experience.
– Written by Dan Rau
---
2022 Key Stats
Kadin Jones – 97 tackles, 2 fumble recoveries
Keagan Kleinfelter – 19 receptions, 2 TDs / 2 INTs
Kyle Chapin* – 5 sacks
Kaden Readinger – 16 receptions, 223 yards, 2 kickoff TDs
Jon McDannell – 10 receptions, 128 yards
Juan Figueroa# – 206 carries, 793 rushing yards, 3 rushing TDs
*Graduated
#Transferred
---
2023 Palmyra Football Schedule
8/25 @ Lebanon (radio)
9/1 vs East Pennsboro
9/8 @ Donegal
9/14 @ Bishop McDevitt*
9/22 v Mifflin County* (radio)
9/29 @ Lower Dauphin*
10/6 v Red Land* (radio)
10/13 v Cedar Cliff*
10/20 @ Milton Hershey*
10/27 v Hershey*
* Keynote Division game
---
2023 Palmyra Football Roster
Number

Name

Year

Position

2

Kleinfelter

,

Keagen

Sr.

WR/OB

3

Kowalski, Ryan

Jr.

QB/DB

4

Readinger, Kadan

Sr.

WR/DB

5

Snyder, Austin

Jr.

WR/DB

7

Mccurdy, Jason

Sr.

WR/DUP

8

Hodgson, Micah

Sr.

WR/LB

9

Orlando

,

Titus

Sr.

TE/DL

10

Diguardia, Peter

So.

WR/DB

11

Eisenhooth, Nathan

Sr.

QB/DB

13

Russek, Roman

Fr.

QB/DB

14

Speck, Talon

So.

QB/DB

15

Holt, Nate

So.

WR/LB

17

Halbleib, Robert

Fr.

QB/DB

18

McDannell, Jon

Sr.

WR/DL

19

Kaplan, Justin

Jr.

RB/LB

20

Ramos, Jr., Duran

Fr.

WR/DB

21

Kurash, Caleb

Jr.

WR/DB

22

Altebrando, Joseph

Jr.

RB/LB

23

Stewart, Charles

Jr.

WR/DB

24

Francis

,

Jasiah

So.

WR/DB

26

Levan, Hayden

Jr.

WR/DB

27

Sherman, Jacob

Sr.

RB/DL

28

Risser, Braxtin

So.

RB/DB

30

Vanatta, Luke

So.

WR/DB

31

Ferretti, Aldo

Jr.

RB/LB

32

Koennecke, Kyle

Sr.

RB/DB

33

Rose, Eli

Jr.

RB/DB

34

McDannell, Travis

So.

RB/LB

35

Morgan

,

Thomas

Fr.

RB/DB

36

Ray

,

Dylan

Fr.

WR/DB

37

Bordner, Matt

Sr.

K

38

Martin, Quentin

Fr.

WR/DB

42

Sears

,

Wyatt

Fr.

RB/LB

43

Campisano, Chris

So.

RB/LB

44

Christman, Brendan

Fr.

TE/LB

47

Campisano

,

Nick

So.

RB/LB

49

Csongradi, Alex

Fr.

RB/LB

50

Doone, Richie

Sr.
OL/DL
52

Jones, Kadin

Sr.

OL/LB

53

Comarnitsky, Tyler

So.
OL/DL
55

Hathaway, Jack

Jr.
OL/DL
56

Basehore, Braeden

Fr.
OL/DL
58

Howard, Logan

Sr.
OL/DL
60

Manning, Andrew

Sr.
OL/DL
61

Wadel, Dominic

Fr.
OL/DL
62

Kipp, Jackson

Fr.
OL/DL
63

Heisey, Ashton

Fr.
OL/DL
64

Koennecke, Kam

So.
OL/DL
67

Ward, Wesley

Fr.
OL/DL
70

Reed, Ethan

Sr.
OL/DL
72

Manning, Harry

So.
OL/DL
73

Custer, Kale

Jr.
OL/DL
74

Coles, Kenneth

Fr.
OL/DL
75

Toler, Beau

Jr.
OL/DL
76

Albright, Jayson

Jr.
OL/DL
78

Snyder, Anthony

Sr.
OL/DL
79

Hamer, Andrew

Sr.
OL/DL
83

Hoover, Brayden

So.

TE/DL

84

Litzenberger, Riley

So.

WR/DB

86

Armstrong, Tristan

So.

WR/DB

87

Burns, Matthew

Fr.

WR/DB

88

Smith, Xavier

Fr.

TE/DL

89

Tshudy,Joshua

Fr.

WR/DB

Lebanon Federal Credit Union