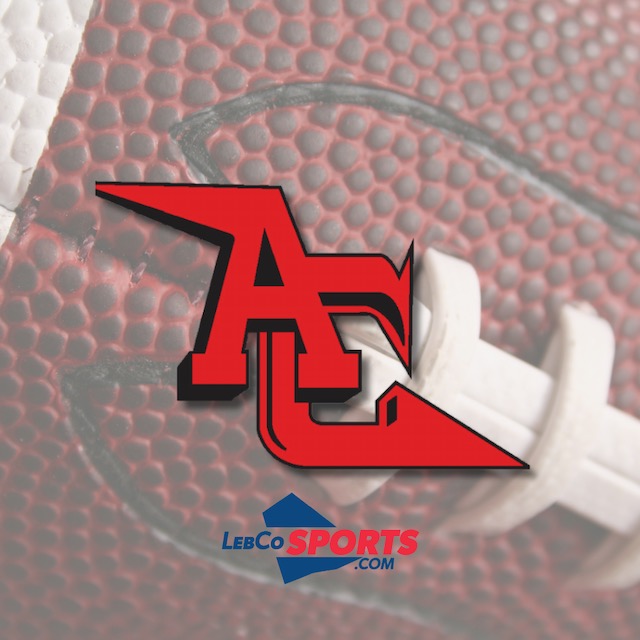 Lancaster Lebanon League – Section 5 (AA)
Head Coach: Matt Gingrich – 10th season
Top Returners: Cam Connelly (Sr., QB/DB); Cael Harter (Sr., RB/DB); Darrian Holloway (Sr., TE/LB); Damien Miller (Sr., OL/DL); Tim Montijo (Sr., TE/DE); Cash Watson (Sr., WR/DB); Preston Bomgardner (Jr., C/DE); Dominic Casciotti (Jr., WR/DB); Bryce Keller (Jr., RB/LB/DB); Jon Shay (Jr., TE/RB/DE); Malacai Victa (Jr., OL/DL)
Key Losses: Alex Long (Robert Morris); Phoenix Music (LVC); Dominic Funk; Gavin Keller; Josh Lindsay; Chris Nagle; Logan Riggenbach;
2022 Results: 8-4, Runner-up District 3 AA
On the Radio: Annville-Cleona Dutchmen Football can be heard on WLBR/Froggy Valley three times this season: August 31 when they travel to ELCO,  September 29 when they host Kutztown, and when they travel to Northern Lebanon in the regular season finale on October 27. Click for the full radio schedule.
---
Annville-Cleona Football Season Outlook
The Dutchmen made history in 2022, becoming the first Annville-Cleona Football Team to make a District Championship Finals. Following a 2-2 start, Annville won five of its last six regular season games, with the only blemish being a 14-13 loss at home to Lancaster Catholic on October 7th.  Over the course of their 8-4 season (including playoffs), they outscored their opponents 442-239, setting a new standard for football in the 17003.
Some of the keys to the success last season was the talent and leadership of their seniors who have since graduated.  Three of those young men that highlighted the roster were Phoenix Music, Alex Long, and Gavin Keller.  Defensively, Long is a major loss, as he accounted for 117 tackles from the linebacker position. Keller was the game manager, bringing a steady hand to the quarterback position. Arguably the most impactful loss was that of Music, who rushed for 2,227 yards and scored an astounding 29 touchdowns.
While the senior trio tops the list of losses, one of the major storylines of this year's team is that they graduated a total of twenty players from last year's team.  As Coach Matt Gingrich, a 1997 graduate of Annville-Cleona, expressed to WLBR in a recent interview that every single one of those seniors brought something to the program, saying, "even if they didn't play, they were so meaningful to our program."  In addition to the seniors, Gingrich is without last year's exchange student Matej Hrncir and a handful of players who chose not to come out this year.  When all is said and done, the 2023 Annville squad will only be returning about fifteen players from the team that made a run at the title last year.
However, hopes remain high for the Dutchmen, as they still have top end talent that will make them very competitive. Among those who will play major roles are the replacements for Keller and Music. At quarterback, senior Cam Connelly will take over full-time. He saw some time at the position last year, even throwing for 2 touchdowns, so going under center will not be an overwhelming task for Connelly.  Of Connelly, Gingrich said, "Cam is one of the best athletes I've ever coached. If Cam pulls and goes, he's going to go . . . he's got a home run ability."  Lining up in the backfield alongside Connelly will be Cael Harter, the senior running back who rushed for 654 yards and 7 touchdowns in '22.  Harter is physical on both sides of the ball, something that Gingrich noted when he told WLBR, "He's probably the best hitter I've ever had as a defensive back in my 23 years of coaching." This pair of talented athletes will anchor Annville's offensive efforts.
On defense, Harter and Connelly are key members of the secondary, but they are joined by several veteran teammates who broke out last year.  Among those leading the defense are senior Darrian Holloway and fellow linebacker Jon Shay, a junior.  Holloway, Shay, and Harter joined Long in the 100+ tackle club last season.  Shay's constant pressure of the quarterbacks resulted in 7 sacks.  What it also did was cause those quarterbacks to make poor decisions, something they could not afford to do with Annville's secondary.  As a result, Harter ended the season with 3 interceptions and Connelly had one that he returned for a touchdown.
While there is much to be said about the returning talent, depth will be an issue for the Dutchmen.  To compete and endure through the course of a grueling season, Coach Gingrich and his staff will need to develop their back-ups to be reliable second team players.  One key element that will aid this is that Annville runs the same system from the time players first put on pads when they are in 7th grade. Another key element is the work ethic that all the players have shown through the summer months.
Speaking to the work ethic and its effect, Connelly said, "We show up, everyone shows up every day, seven in the morning and we go through our lines and we have developed good chemistry in our routes and everything. We're able to just keep playing, getting better every single day."
When it comes to the idea of a rebuild, senior lineman Damien Miller said, "I feel like these younger guys coming in or have a lot of potential. I feel like we will definitely have a great season this year too. I mean, I know losing a lot of seniors is hard, but I feel like we can come back stronger than last year."
In terms of what advice the senior leaders are giving to their younger teammates, Harter keeps it simple telling them to "Just keep your head down. Go one week at a time. Don't look ahead the games."
While the Dutchmen will soon find out how far they can go in 2023, there is much optimism that they will again be in contention for the District 3 Championship. This is not something to which Coach Gingrich has paid any attention, as he cut social media out of his life a few years back.  When told about the buzz surrounding his team's prospects, he stated, "If there's hype, that's great."  Certainly, this news will not affect his game planning that will allow his team to live up to those expectations.
– Written by Dan Rau
---
2022 Key Stats
Phoenix Music* – 2,227 rushing yards, 29 TDs
Alex Long* – 117 tackles
Cael Harter – 654 rushing yards, 7 rushing TDs / 102 tackles, 3 INTs
Jonathan Shay – 102 tackles, 7 sacks
Cam Connelly – 2 TD passes / 1 defensive TD (interception return)
Darrian Holloway – 125 tackles
*Graduated
---
2023 Annville-Cleona Football Schedule
8/25     v   Hanover
8/31     @ ELCO (radio)
9/7       @ Littlestown
9/15     @ Hamburg*
9/22     @ Columbia*
9/29     v   Kutztown* (radio)
10/6     @ Lancaster Catholic*
10/13   v   Pequea Valley*
10/20   v   Schuylkill Valley*
10/27   @ Northern Lebanon* (radio)
* Section 5 game
---
2023 Annville-Cleona Football Roster
| | | | |
| --- | --- | --- | --- |
| # | Player | Year | Position |
| 1 | Miles Riehl | Jr. | WR/DB |
| 2 | Cash Watson | Sr. | WR/DB |
| 3 | Carson Grow | Sr. | WR/DB |
| 4 | Cael Harter | Sr. | RB/DB |
| 6 | Noah Riehl | So. | WR/DB |
| 7 | Wyatt Mase | So. | QB/DB |
| 8 | Liam Pulaski | Sr. | WR/DB |
| 9 | Gavin Martens | So. | WR/DB |
| 10 | Jonas Cupak | Jr. | WR/DB |
| 11 | Bryce Keller | Jr. | RB/DB |
| 13 | Ryan Barrientos | Jr. | RB/LB |
| 14 | Jonathan Moran | So. | RB/LB |
| 16 | Cameron Connelly | Sr. | QB/DB |
| 17 | Kaeli Pennington | Jr. | WR/DB |
| 19 | Yamaliel Navarro | Fr. | RB/DB |
| 21 | Mina Elzek | Sr. | K |
| 22 | Aidan Blauch | Jr. | WR/DB |
| 24 | Hudson Sellers | So. | RB/LB |
| 31 | Dominic Casciotti | Jr. | WR/DB |
| 33 | Luke Wentling | So. | RB/LB |
| 35 | Jack Getty | Jr. | WR/DB |
| 36 | Ivan Kreider | Jr. | TE/LB |
| 41 | Jonathon Shay | Jr. | RB/DL |
| 44 | Levi Heckard | So. | TE/DL |
| 50 | Dan Bright-Walck | So. | OL/DL |
| 51 | Alex Hemperly | Jr. | OL/LB |
| 52 | Damien Miller | Sr. | OL/DL |
| 53 | Anthony Gardner | Sr. | OL/DL |
| 54 | Malacai Victa | Jr. | OL/DL |
| 55 | Travis Wilk | So. | OL/DL |
| 59 | Jordan Nickens | So. | OL/DL |
| 64 | Armani Santos | So. | OL/DL |
| 68 | Nathanael Sanchez | So. | OL/DL |
| 70 | Blake Meyer | So. | OL/DL |
| 72 | Alec Tetzlaff | Sr. | OL/DL |
| 75 | Carter Smith | Sr. | OL/DL |
| 76 | Preston Bomgardner | Jr. | OL/DL |
| 77 | Jaxon Speece | Fr. | OL/DL |
| 87 | Darrian Holloway | Sr. | TE/LB |
| 89 | Timothy Montijo | Sr. | RB/DL |

Lebanon Federal Credit Union