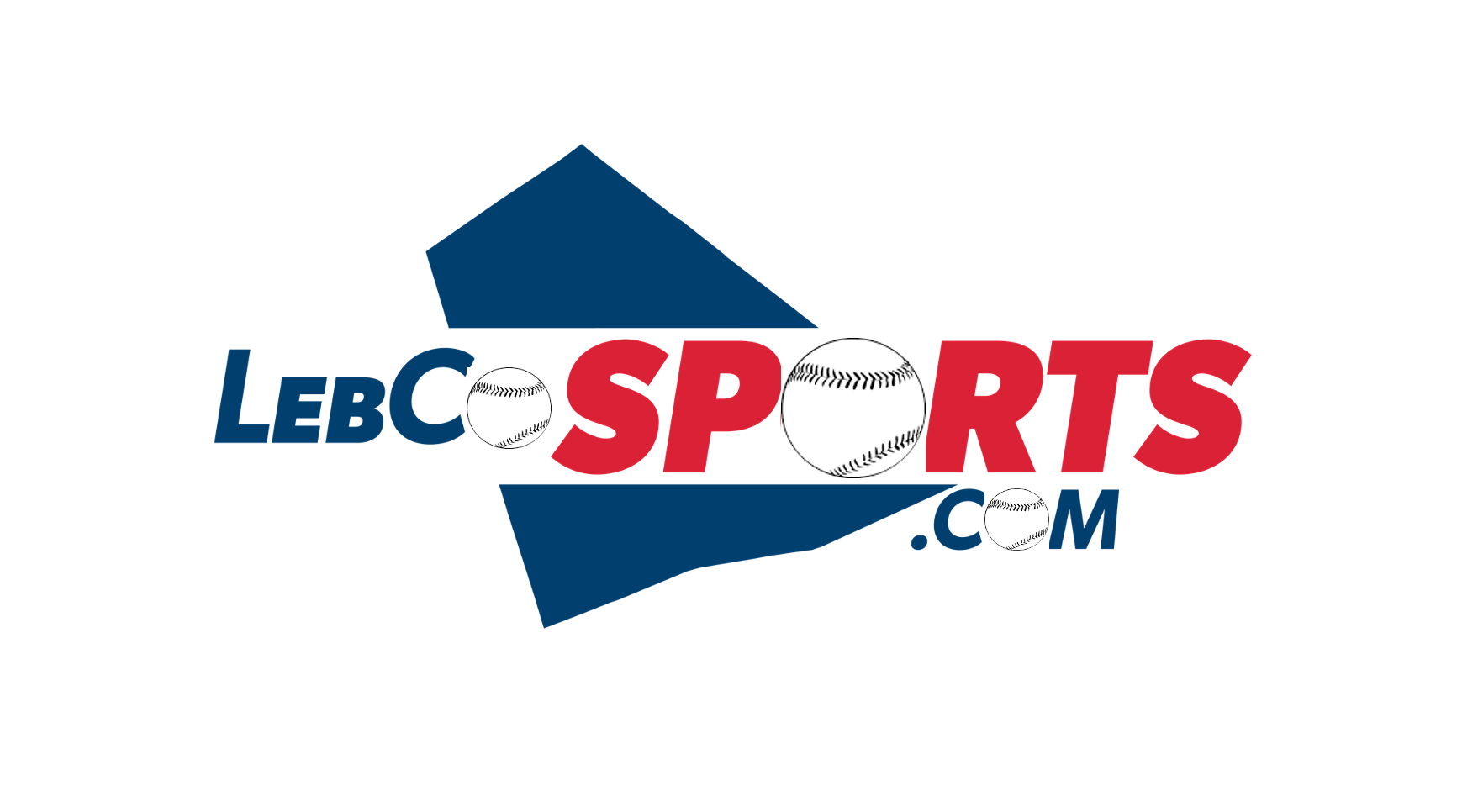 It is not a secret that LebCo produces its fair share of talented Baseball players.  This was well chronicled throughout the Spring when Steve Beard chronicled nearly thirty local alumni who are playing at the Collegiate level.
Meanwhile, back at the high school level, this level of talent qualified two teams for the District Playoffs and created a strong foundation in most programs that will result in winning to occur in the future.
To honor the most accomplished of these individual players, we put it out to a vote to gain the insight of the fans and also the coaches.  When all the votes were tallied (nearly 9,000 fan votes), there were many close calls.  In fact, the vote for Offensive Player of the Year was so close that it ended in a tie between Palmyra's Chase Blanchard and Northern Lebanon's Moises Gonzalez.  The vote for Pitcher of the Year was only slightly further apart, but resulted in Northern Lebanon's Adrian Gonzalez taking the top honor.
2024 may end up being a very exciting year, as most of the nominees and five of the six honorees will be eligible to return next year. For more information on all of the nominees, you can view the nominations by clicking here.
One final note: While this process can be somewhat intense, we want you to keep in mind that the voting was done to honor our athletes by drawing attention to all of the impressive achievements by some of best.  Thank you to everyone who took the time to engage and celebrate these talented young men.
---
First Team All-County
Lebanon County Baseball Offensive Players of the Year
Chase Blanchard – Palmyra, Junior
During his junior season, the powerful right-handed hitting Blanchard batted .426 with a .507 OBP.  He totaled 23 hits, 6 of which went for extra bases.  The breakdown of extra bases was as follows: 3 doubles, 1 triple, 2 home runs.  He scored runs, while driving in 9.  In 68 plate appearances, Blanchard walked 11 times and only struck out in 7 of those at-bats.  A tough out, Blanchard racked up an OPS of 1.137 and a SLG % of .630.
These numbers only tell part of the story about Blanchard, as he faced a tremendous level of pitching in the Mid Penn throughout the season.  In the 20 games, Palmyra faced 9 pitchers who threw over 90 mph and only 2 that threw less than 86 mph.  Of those pitchers, 4 of them are committed to NCAA Division I schools.  Blanchard batted a collective .400 with 3 doubles and a triple against those pitchers who are committed to Clemson, Tennessee, West Virginia, and William & Mary. Blanchard even blasted a game-winning homer against the WVU signee.
This year proved to be a breakout campaign for Blanchard, something the coaches around the league recognized in naming him to the Mid Penn Keystone First Team.  In terms of his fielding, Coach Hileman ranks his catcher/first baseman very high, as Blanchard's talents are not just on display during one-half of every inning.  Blanchard will have one more year of high school ball to continue to build on the foundation he set this past season.  If this year was any indication, look for Blanchard to be the cornerstone of a resurgent Palmyra team next season.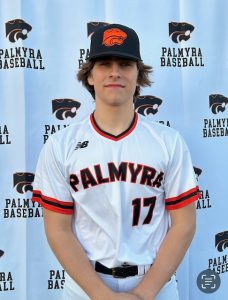 Moises Gonzalez – Northern Lebanon, Junior
For the first time in school history, the Vikings made the PIAA State Tournament.  They fielded a powerful offensive unit that score a total of 183 runs.  While there were many talented bats that contributed, the biggest pop came courtesy of the junior Moises "Mo" Gonzalez.  On the season, Gonzalez played in 24 of Northern Lebanon's 26 games, making 91 plate appearances and compiling a .338 batting average, with a stunning .516 OBP. He produced 22 hits, crossing home 24 times and driving home 19 runs.  Overall, his OPS was a .993 with a .476%.  Once on base, Gonzalez was also a threat on the basepath and successfully stole 19 bases.
Gonzalez's offensive stats were not the result of meaningless hits.  His timely hitting was a major reason that the Vikings went from 7-13 in 2022 to 17-9 in 2023.  During the District 3 postseason run, Gonzalez had at least one Run scored and an RBI in each of the four games.  None of his offensive explosions was bigger than in Northern Lebanon's first District game against West Perry when he walked up to the plate, with his team trailing 6-4 in the Bottom 6th.  Living up to the moment, Gonzalez sent the ball over the left field outfield wall to give his team lead. Dylan Fegley then shut down the Mustangs in the final frame to enshrine the magnitude of Gonzalez's clutch hitting (game article here).
With one year remaining in his high school career, it will be interesting to see how far the big right-handed hitter will progress and what it will mean for the success of his Northern Lebanon team.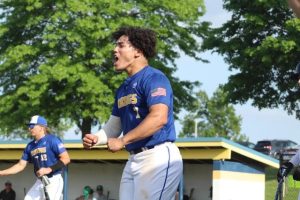 Lebanon County Baseball Pitcher of the Year / Rookie of the Year
Adrian Gonzalez – Northern Lebanon, Freshman
While Adrian is not a biological brother to Moises, they share a brotherhood as teammates of the Northern Lebanon Viking Baseball Team that was the first to make the PIAA State Tournament.  This is a team that scored 183 runs, which was 61 more than their opponents.  This lopsided run deficit was made possible by the solid pitching staff that Coach Thome called upon throughout the season.  Though only in ninth grade, Gonzalez was the workhorse of that staff.
Gonzalez appeared on the mound in 12 games, starting 10 of them for the Vikings.  Throwing 50.2 innings, he went 4-4 with a 3.38 ERA.  He struck out 40, only walking 8.  A stat that reveals Gonzalez's control (combined with the work of catcher DJ Byerly) was that he only threw 1 wild pitch all season.  While that stat is impressive, a number that is even more dazzling is the fact that Gonzalez tossed 3 complete games.
The frosh proved himself throughout the season and was handed the ball to start Northern Lebanon's State Playoff game against Hopewell.  While Northern Lebanon lost the game 3-0, Gonzalez gained valuable experience that will serve him well in the future.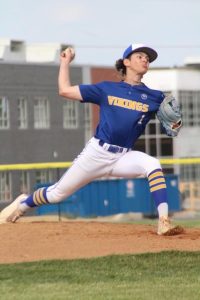 ---
Second Team All-County
Pitcher: Jonathan Strohecker – Palmyra, Sophomore
Player: Tie for 1st Team vacated 2nd Team position
All-County Honorable Mention
Pitcher: Jordy Polanco – Lebanon, Senior
Player: Dallas George – ELCO, Junior

Lebanon Federal Credit Union