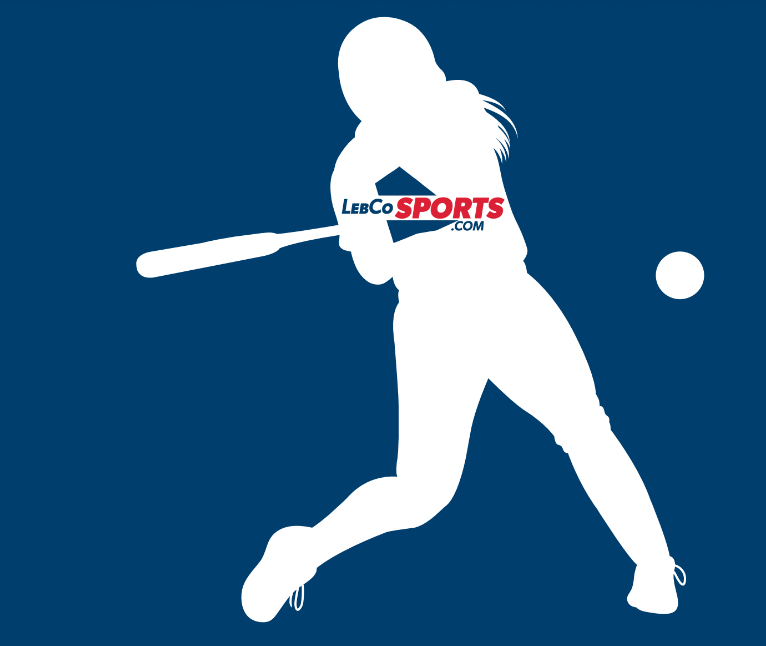 When three of LebCo's six softball teams made the District 3 Playoffs, it is easy for one to assume that there are many talented players.  In this case, you would be safe to make that assumption.  However, it is important to keep in mind that there are talented, hardworking athletes on each of the six rosters, regardless of how many games they ended up winning as a team.
In an attempt to honor some of the top athletes in the county, we turned to help from the coaches and the fans for help.  The main hope behind this tactic is that it drives extra attention to the accomplishments of our local athletes.  What we witnessed was that over 5,000 votes were cast, meaning that members of the community took time to honor these athletes.  With that said, there were not any poor choices as to who they could have voted for, as there was a solid case to be made for every individual on the list.
Once all of the votes were counted, one athlete who stood just a little taller than the rest of the field was Palmyra's Mollie White, as she was named the Pitcher of the Year.  In addition, LebCoSports.com is excited to announced the White has also been named the LebCo Softball Most Valuable Player, an accomplishment that she can add to her list of accolades as she heads off to play in college.
While the seniors will move on, the large majority of the nominees will return to the high school field in 2024 as they look to improve upon what are already impressive statistics on their way to helping their teams win.  We look forward to seeing what next season brings.
Keep in mind that the voting was done to honor our athletes by drawing attention to all of the impressive achievements by some of best.  Thank you to everyone who took the time to engage and celebrate these young women.  For more information on all of the nominees, you can view the nominations by clicking here.
---
First Team All-County
Lebanon County Softball Most Valuable Player / Pitcher of the Year
Mollie White – Palmyra, Senior
White was nothing short of sensational her senior year, starting on the mound in all twenty-one games for Palmyra as the Lady Cougars roared into the District 3 Playoffs.  Getting credited with eleven wins, that total only tells part of the story as to how impressive the veteran hurler was throughout the season.  White pitched 111 innings, sending 230 batters back to the bench with a K next to their name in the scorebook.  In a testament to her control as a pitcher, she only issued 26 walks.  With a strong defense behind her, White was tough to score a run against as she pitched five shutouts on her way to registering a 1.76 ERA.  Two of those shutouts were no-hitters, including the April 14th game at Gettysburg that went into extras in an eight-inning masterpiece by White where she struck out nineteen and walked one.
At the plate, White was equally tough on opposing teams.  She posted a batting average of .446 and a .516 on-base percentage.  With 25 hits, including going yard twice, White ended the season with a 1.123 OPS.
As a result of her success, White was recognized by the Mid Penn Coaches as the Keystone Co-Player of the Year for 2023.  However, her success as a player extends to past years, including winning the Keystone Co-Player of the Year in 2022.  She finished her high school career with virtually every Palmyra pitching record.  These impressive records included 618 career strikeouts over the course of her three seasons as the Palmyra starter ('21-'23), a number that seems to be the most in LebCo since Lebanon's Cait Paine struck out 785 over a four-year career ('06-'09).  White will have the opportunity to terrorize more batters when she takes the mound for West Virginia Wesleyan.
Player of the Year
Emily Cutman – Palmyra, Senior
Making a transition this season to serve as Palmyra's catcher, not only did Cutman serve as White's battery-mate, she also stood with White as the other half of the two-headed offensive monster.  Batting out of the leadoff spot, Cutman reached based well over half the times she stood in the batter's box and then extended those opportunities into extra bases as a result of her speed and aggressiveness.  She posted a .542 batting average and a .605 OBP.  Her 33 hits, including 11 doubles, a triple, and a home run, resulted in her scoring 25 runs.  In terms of putting herself in position to score, Cutman stole an astounding 21 bases without being caught, a mark that led the Mid Penn Conference and set the Palmyra record.  She was named a 1st Team All-Star in the Keystone Division.  Hitting .502 for her career and finishing with 90 hits (including eight homers), Cutman finishes as Palmyra's all-time hit queen.  She will undoubtedly continue to add to her list of accomplishments when she takes the field next season for Penn State – Harrisburg.
Rookie of the Year
Addison Hollenbach – Northern Lebanon, Freshman
On a talented team that had won a Section Championship the year before, there is not often space for freshmen in the starting line-up.  In fact, Northern Lebanon had multiple players who appeared as starters despite only being in ninth grade.  Hollenbach, along with Addison Kubica, not only got significant playing time, but made a positive impact on the way to the Lady Vikings winning sixteen games.  For Hollenbach, she appeared in the field and as one of starting pitchers.  Offensively, she finished the season with a .394 batting average and a .476 OBP.  She racked up 28 hits, 12 RBI, and scored 25 times.  When getting a chance to pitch, Hollenbach registered a 3.28 ERA, going 5-1 and striking out 65 in the process.  For her prowess on both offense and defense, Hollenbach was recognized as a 1st Team Lancaster Lebanon League Section 4 All-Star.  With three more years of eligibility remaining, keep your eye on Hollenbach as she will look to add to the successes of her rookie season.
---
Second Team All-County
Pitcher: Lynsie Mauser – Northern Lebanon, Sophomore
Player: Danika Setlock – Annville-Cleona, Sophomore
Rookie: Chloe Shirk – ELCO, Freshman
---
All-County Honorable Mention
Pitcher: Meda Pulaski– Annville-Cleona, Junior & Gabby Smith – ELCO, Sophomore [tie]
Player: Brooke Beamesderfer – Northern Lebanon, Junior
Rookie: Abby Evans – Annville-Cleona, Freshman
---
Link to the Nomination Descriptions

Lebanon Federal Credit Union