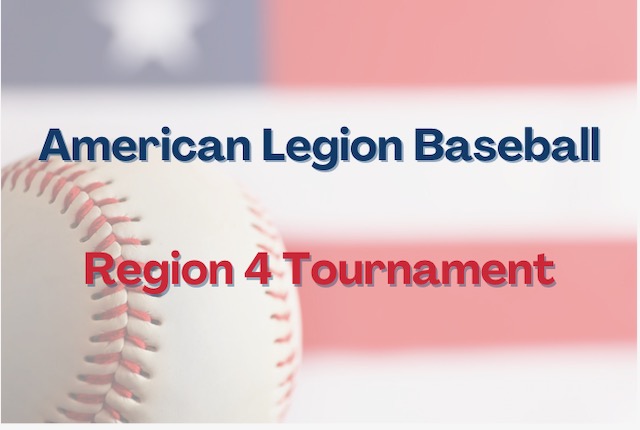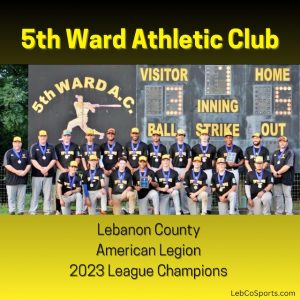 For the past three days, Lebanon City's Boys of Summer have been playing games in Waynesboro as they took part in Pennsylvania American Legion Baseball's Region 4 Tournament. They were the Lebanon County representative in the event, after wrapping up the Lebanon County Championship last Wednesday. On Monday, Fifth Ward Athletic Club's season came to an end with a loss to their counterparts from Northeastern (York). This was their third game in as many days following Saturday's win over Waynesboro and a loss to Hampden Township on Sunday.
After the game, Fifth Ward Assistant Coach Brad Kreiser (his father Greg serves as the Head Coach) reflected on the experience of the tournament and his team's season as a whole saying, "I am very proud of the team's success this season. Our players have put a lot of time in working to get better. Winning a game at regionals was very special for this group of players."
This group consisted mostly of current or recently graduated players Lebanon High where Kreiser has served as an assistant under Fred Gonzalez . This provides some additional context for him as a coach who has seen the progress made by the players: "Our success should symbolize all the hard work we put into this high school and legion season and the dedication from players and the coaches."
Weighing the historical context of their success this year, Kreiser said, "A Lebanon City team has not won a Lebanon County Legion title or represented Lebanon County in regionals since 1983. So, this was an awesome experience for our players and coaches"
This is an accomplishment that Kreiser did not feel was lost of the community, which supported Fifth Ward as they made their championship run and then played at Regionals. He said, "I feel like our whole community supported us with non-stop with messages of good luck and congratulations, with many fans that traveling back and forth to our games at Waynesboro."
It is worth noting that Fifth Ward was without two key players, both of whom are top-end pitchers. Griffin Gonzalez reported to Lehigh University, where he will be attending on a wrestling scholarship, and Braden Collazo was unavailable due to illness.
Game Recaps
Saturday, July 15
Fifth Ward 7, Waynesboro 3
Sunday, July 16
Hampden Township 14, Fifth Ward 1
Hampden Township struck early, playing a game of small ball to put three on the board in the bottom of the 1st inning. Fifth Ward began fighting back when they got back up to the plate with singles by Randy Polanco and Ben DiScuillo, followed by a throwing error that scored Polanco. Unfortunately, Hampden Township put up another curved number by scoring three times in their 2nd inning at-bats. At the end of two, the score was 6-1.
In the third inning, Fifth Ward's Noah Brandt reached on an error and Yostin Guerrero singled. The inning ended with Brandt standing on third base. Hampden would go onto to put the game away with an offensive explosion in the bottom 3rd, scoring seven runs to build a 13-1 lead.
They would go on to score one more run in the 4th, taking a 14-1 lead into the 5th inning. As bad as it may have seemed, it could have been much worse, with Fifth Ward's Daulton Heisey finding his way out of a jam and stranding two runners before they could tack more runs onto the scoreboard.
Fifth Ward had one more chance in the Top 5th, but after being turned away without scoring, the game ended under the mercy rule.
Hits – Yostin Guerrero, Randy Polanco, Ben DiScuillo, Kaleb Walizer
Pitching – Ander Duran 2 IP, 5 H, 6 R, 5 ER, 4 BB, 1 K; Daulton Heisey 2 IP, 3 H, 8 R, 5 ER, 4 BB, 1 K
Monday, July 17
Northeastern 5, Fifth Ward 1
Both of these two teams entered Monday in a do-or-die scenario, as they each had suffered earlier losses. Fifth Ward sent rising junior Ben DiScuillo to the mound, who would give an admirable effort despite giving up three runs in the first inning. DiScuillo ended the inning with a strikeout (his 2nd of the inning) to cause Northeastern to leave with the bases loaded. He would strike out two more in the 2nd inning and kept the score 3-0.
Despite Fifth Ward getting baserunners on in each of the first two innings, they were unable to score. Northeastern was able to add another run on an RBI single, but DiScuillo got his 5th K of the day to end the inning with runners on 1st and 3rd.
The score remained 4-0 until the 5th inning when Fifth Ward was able to get on the board when DiScuillo reached on an error and then scored on a passed ball.
Northeastern added one more run in the 6th when they hit an RBI single off of reliever Randy Polanco. With the score 5-1, Fifth Ward was down to its final six outs to close the deficit. This task was made more difficult when Northeastern called upon Quinn Shindler to close it out. Shindler, a top pitching recruit who throws in the mid- to high 80s, was able to get the final three outs.
On the day, Fifth Ward drew four walks and had one hit. To make up for the lack of baserunners, they were aggressive once onboard with Ander Duran, Tyson Griffiths, and DiScuillo each stealing one bag.
Hits – Ander Duran
Pitching – Ben DiScuillo 5 IP, 6 H, 4 R, 3 ER, 4 BB, 5 K; Randy Polanco 2 IP, 2 H, 1 R, 1 ER, 1 BB, 1 K
A special thanks to Tom Brandt for providing updates from the games on Sunday and Monday.

Lebanon Federal Credit Union