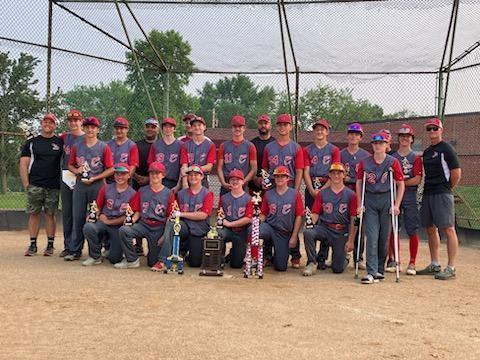 One of the mainstays on the local youth baseball scene is teener ball.  The Lebanon Valley Teener League is a 16U baseball organization, featuring eight teams.  The draw of players comes from the following school districts: Lebanon, Palmyra, Annville-Cleona, and Cedar Crest.
This year, the team from Cleona reigned supreme.  In the process of winning the Teener League Championship, they achieved a 22-2 record.  For the first time this year, the season was split into two nine-game halves, with the winner of each half playing at the end of the season in a best-of-three series.  Cleona's solid and consistent play throughout the duration of the season witnessed them having the best record in both halves, thus eliminating the need for the two winners to play each other.
They did play more games following their regular season championship, as the annual Umpires Tournament was held.  Cleona continued their winning ways, taking home the championship trophy at the end of the double-elimination tournament.
The level of success that this group experienced in 2023 did not come easily.  Having played together for several years, they also lost together . . . a lot.  Head Coach Chad Slabach has the long-term perspective and when reflecting on his team's past said, "We've taken so many losses, have been on the wrong end of so many mercy rule games, but you know how these things go, they grow."  Slabach went on to say, "They learned how to lose well, with class and grace and kindness, and I suspected this year would be special and they would learn to win with those same characteristics."
When it came to the success of the field, it started with their strong stable of pitchers, made up of Preston Bomgardner, Elisha Slabach, Zac Frentz, and Max Ortwein. With that said, Coach Slabach pointed out that his unit was strong throughout the lineup whether it be in terms of pitching, hitting, or defense.  The coaching staff preached a family mentality and the players showed respect for one another's unique talents that helped them to win.
This type of support for one another came into play when they played in the Umpires Tournament without several key players who were on vacations and mission trips.  This meant that the thirteen- and fourteen-year-olds on the roster were forced to take on a bigger role.  While this may have put them at a disadvantage, their overall mentality and preparedness allowed those younger players to step up to help their team win.
When asked about the highlights of the season, Slabach said, "I could give you many, many beautiful moments, on the field and off, but what I'll tell you is that, championships or not, this group was full of exemplary young men who fought, with each other and for each other."
Further praising his players, he said, "It was a true honor to be around them and to watch such a cool thing from such a good seat."
Slabach finished his thoughts by saying, "Coaching them was easy – I just wrote the lineup cards."
At the end of the season, there was a Lebanon Valley League Teener All-Star Team that was named.  There are many deserving players, many of which are already making an impact at the high school varsity level.  The Cleona squad is well-represented.
Cleona Teener Roster
Preston Bomgardner
Coilin Brophy
Tanner Copenhaver
Devon Englehart
Zac Frentz
Evan Gallagher
James Garney
Jackson Hanley
Kyle Hinton
Ben Hirons
Max Ortwein
Hudson Sellers
Elisha Slabach
Cian Soliday
Tanner Stokes
Grayden Summers
Luke Wentling
Colton Wickenheiser

Lebanon Federal Credit Union