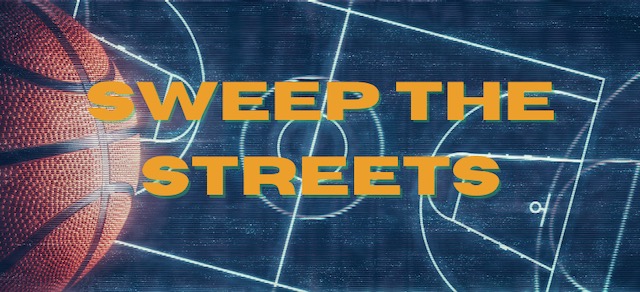 On Wednesday, the 8th annual High School Boys Basketball Sweep the Streets Tournament was held at Coleman's Park. This year's edition welcomed eight teams, with seven hailing from within Lebanon County. Each of the public high school's were represented in addition to the junior varsity team from Cedar Crest. The lone participant from outside of county was Blue Mountain.
After winning their first two games, the two teams who made the Championship Round were Cedar Crest and ELCO. These are both programs who made appearances in the District 3 Playoffs last season and relied heavily among talent that is returning this season. The Raiders led most of the way, but the Falcons pulled it back to an even matchup with about eight minutes left of the thirty-minute game. The game remained a back-and-forth affair for about the next five minutes before Crest was able to build a lead on their way to finishing the game.
A major factor in the win for Crest was that Coach Smith was able to use his depth, going ten or eleven deep in his talented line-up. This is a team that returns many of its key players from last season and was looking poised to run it back. The players who made up the winning unit were: Aiden Schomp, Owen Chernich, Leo Tirado, Fernando Marquez, Alex Abreu, RJ Young, Jackson Custer, Danny Speaks, Jack Waranavage, Dylan Groff, Kayden Tirado, Isaac Wolfe, Owen Reager, and Evan Kitchen.
In the Third Place Game, Annville and Lebanon met in what would be an exciting finish to cap off the day. The Cedars were leading by two and looking to close out the game, but Annville's Elisha Slabach had other ideas. Having hit twenty-five threes during his sophomore season, the rising junior was given the opportunity for another make when the ball left his hands as time on the clock was expiring. It was good, giving the chance for the Dutchmen to celebrate as they left court as victors.
In the highly anticipated three-point shooting contest, Cedar Crest's Chernich won the with eight made shots in thirty seconds. This was a feat that was made more difficult by the windy conditions.
This event, which offered a good check-in as teams prepare through the summer in anticipation of the winter season, was organized by Sweep the Street's George "G-Zo" Rodriguez and local basketball referree Gary Morinchin. Catching up with Rodriguez after the event, he stated, "It's awesome to see high school teams compete in a street ball environment with music and huge crowds. It's just great to watch."
Rodriguez also stated the organization's goal of establishing a Girls' tournament for next year. But before we can look ahead to 2024, Sweep the Street's flagship event will be held on August 5th and 6th when the 16thannual Men's Tournament will be played at Coleman's Park. As an added bonus, Rodriguez will be playing one-on-one against Lebanon's Kailah Correa. (Here is a recently released promo video for that match-up.)
Round-By-Round Results
1st Round
Cedar Crest defeated Northern Lebanon
Lebanon defeated Palmyra
ELCO defeated Cedar Crest JV
Annville-Cleona defeated Blue Mountain
Semifinals Round
Cedar Crest defeated Lebanon
ELCO defeated Annville-Cleona
Championship
Cedar Crest defeated ELCO
3rd Place Game
Annville-Cleona defeated Lebanon
1st Consolation Round
Blue Mountain defeated Cedar Crest JV
Palmyra defeated Northern Lebanon
2nd Consolation Round
Blue Mountain defeated Palmyra
Thank you to G-Zo, the officials, and all the sponsors that made this great day at the HS Sweep the Streets possible. Always good to walk away with some hardware! pic.twitter.com/WHoKoBJmZE

— Cedar Crest Hoops (@CCHS_Hoops) June 22, 2023
Congrats to @CCHS_Hoops and Proud of our guys. Just need to continue improving. Great event. Shout out to Sweep the Streets founder G-Zo and everyone else involved as well. Neat experience for our hs players. https://t.co/NuwqJObrhz

— B Conners (@beconners) June 21, 2023
AC finishes 3rd at SweepTheStreets Tourn. 8 teams participated in event for a great cause.
Great team play in all games w/an exclamation by Slabach's 3 at the buzzer for a 1 pt. win in 3rd place game over Lebanon. Special thanks to G-Zo for running an awesome event! @GooseK88 pic.twitter.com/EDgKQqKUuW

— Annville-Cleona Boys Basketball (@Hoops_ACHS) June 22, 2023

Lebanon Federal Credit Union