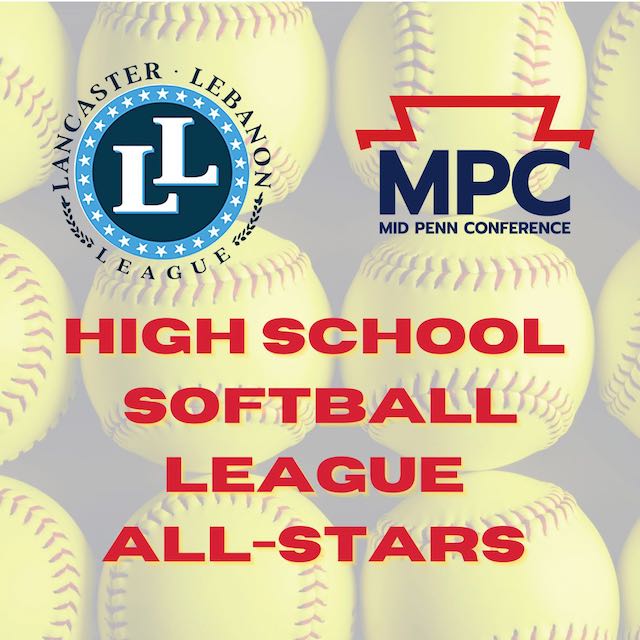 After the Softball season ended, coaches from the Lancaster Lebanon League and the Mid Penn Conference voted on which players they thought were deserving of All-Star status.  Among the players selected were TWENTY-THREE athletes from LebCo's six high school teams.  FIFTEEN of those talented young ladies were First Team selections in their respecting leagues/divisions.
Highlighting this list of honorees is Palmyra's Mollie White who was named the Player of the Year in the Mid Penn Keystone Conference after posting a 1.76 ERA on her way to striking out 230 and throwing two no-hitters.  When she was at the plate, she was a tough out, posting a batting average of .446 and a .516 on-base percentage.
Below are the lists of all of the players who were selected, divided up in three different ways for your reading preference.
If there are any errors or discrepancies, please reach out to Dan via email at dan@lebcosports.com.
---
Full List
Kiera Anspach, Northern Lebanon – LL Section 4 Honorable Mention
Reese Arnold, Cedar Crest – LL Section 1 Honorable Mention
Brooke Beamesderfer, Northern Lebanon – 1st Team LL Section 4
Emily Cutman, Palmyra – 1st Team Mid Penn Keystone
Emily Dietrich, ELCO – LL Section 3 Honorable Mention
Abby Evans, Annville-Cleona – 1st Team LL Section 4
Abby Hassler, ELCO – LL Section 3 Honorable Mention
Addison Hollenbach, Northern Lebanon- 1st Team LL Section 4
Caitlyn Kleinfelter, ELCO – 1st Team LL Section 3
Addison Kubica, Northern Lebanon – 1st Team LL Section 4
Lynsie Mauser, Northern Lebanon – 1st Team LL Section 4
Alexis Messner, Lebanon – LL Section 2 Honorable Mention
Meda Pulaski, Annville-Cleona – 1st Team LL Section 4
Riley Rohrer, Cedar Crest – LL Section 1 Honorable Mention
Danika Setlock, Annville-Cleona – 1st Team LL Section 4
Jenna Seyfert, Lebanon – LL Section 2 Honorable Mention
Chloe Shirk, ELCO – 1st Team LL Section 3
Olivia Shutter, Northern Lebanon – LL Section 4 Honorable Mention
Gabby Smith, ELCO – 1st Team LL Section 3
Mollie White, Palmyra – 1st Team Mid Penn Keystone / Keystone Player of the Year
Morgan Wilson, ELCO – 1st Team LL Section 3
Sereniti Zidik, Lebanon – 1st Team LL Section 2
Brooke Zimmerman, Cedar Crest – LL Section 1 Honorable Mention
---
---
---
Honors by Tier
First Team
Brooke Beamesderfer, Northern Lebanon – 1st Team LL Section 4
Emily Cutman, Palmyra – 1st Team Mid Penn Keystone
Abby Evans, Annville-Cleona – 1st Team LL Section 4
Addison Hollenbach, Northern Lebanon- 1st Team LL Section 4
Caitlyn Kleinfelter, ELCO – 1st Team LL Section 3
Addison Kubica, Northern Lebanon – 1st Team LL Section 4
Lynsie Mauser, Northern Lebanon – 1st Team LL Section 4
Meda Pulaski, Annville-Cleona – 1st Team LL Section 4
Danika Setlock, Annville-Cleona – 1st Team LL Section 4
Chloe Shirk, ELCO – 1st Team LL Section 3
Gabby Smith, ELCO – 1st Team LL Section 3
Mollie White, Palmyra – 1st Team Mid Penn Keystone / Keystone Player of the Year
Morgan Wilson, ELCO – 1st Team LL Section 3
Sereniti Zidik, Lebanon – 1st Team LL Section 2
Honorable Mention
Kiera Anspach, Northern Lebanon – LL Section 4 Honorable Mention
Reese Arnold, Cedar Crest – LL Section 1 Honorable Mention
Emily Dietrich, ELCO – LL Section 3 Honorable Mention
Abby Hassler, ELCO – LL Section 3 Honorable Mention
Alexis Messner, Lebanon – LL Section 2 Honorable Mention
Riley Rohrer, Cedar Crest – LL Section 1 Honorable Mention
Jenna Seyfert, Lebanon – LL Section 2 Honorable Mention
Olivia Shutter, Northern Lebanon – LL Section 4 Honorable Mention
Brooke Zimmerman, Cedar Crest – LL Section 1 Honorable Mention
---
---
---
Honors by School

Annville-Cleona Dutchmen 
Lancaster-Lebanon League Section 4
Abby Evans (Fr.) – 1st Team
Meda Pulaski (Jr.) – 1st Team
Danika Setlock (So.) – 1st Team
---

Cedar Crest Falcons 
Lancaster-Lebanon League Section 1
Reese Arnold  (Jr.) – Honorable Mention
Riley Rohrer (Jr.) – Honorable Mention
Brooke Zimmerman (Jr.) – Honorable Mention
---

ELCO Raiders  
Lancaster-Lebanon League Section 3
Emily Dietrich (Sr.) – Honorable Mention
Abby Hassler (So.) – Honorable Mention
Caitlyn Kleinfelter (Sr.) – 1st Team
Chloe Shirk (Fr.) – 1st Team
Gabby Smith (So.) – 1st Team
Morgan Wilson (So.) – 1st Team
---

Lebanon Cedars
Lancaster-Lebanon League Section 2
Alexis Messner (Jr.) – Honorable Mention
Jenna Seyfert (So.) – Honorable Mention
Sereniti Zidik (So.) – 1st Team
---

Northern Lebanon Vikings
Lancaster-Lebanon League Section 4
Kiera Anspach (Jr.) – Honorable Mention
Brooke Beamesderfer (Jr.) – 1st Team
Addison Hollenbach (Fr.) – 1st Team
Addison Kubica (Fr.) – 1st Team
Lynsie Mauser (So.) – 1st Team
Olivia Shutter (So.) – Honorable Mention
---

Palmyra Cougars
Mid Penn Conference – Keystone Division
Emily Cutman (Sr.) – 1st Team
Mollie White (Sr.) – 1st Team / Keystone Player of the Year

Lebanon Federal Credit Union