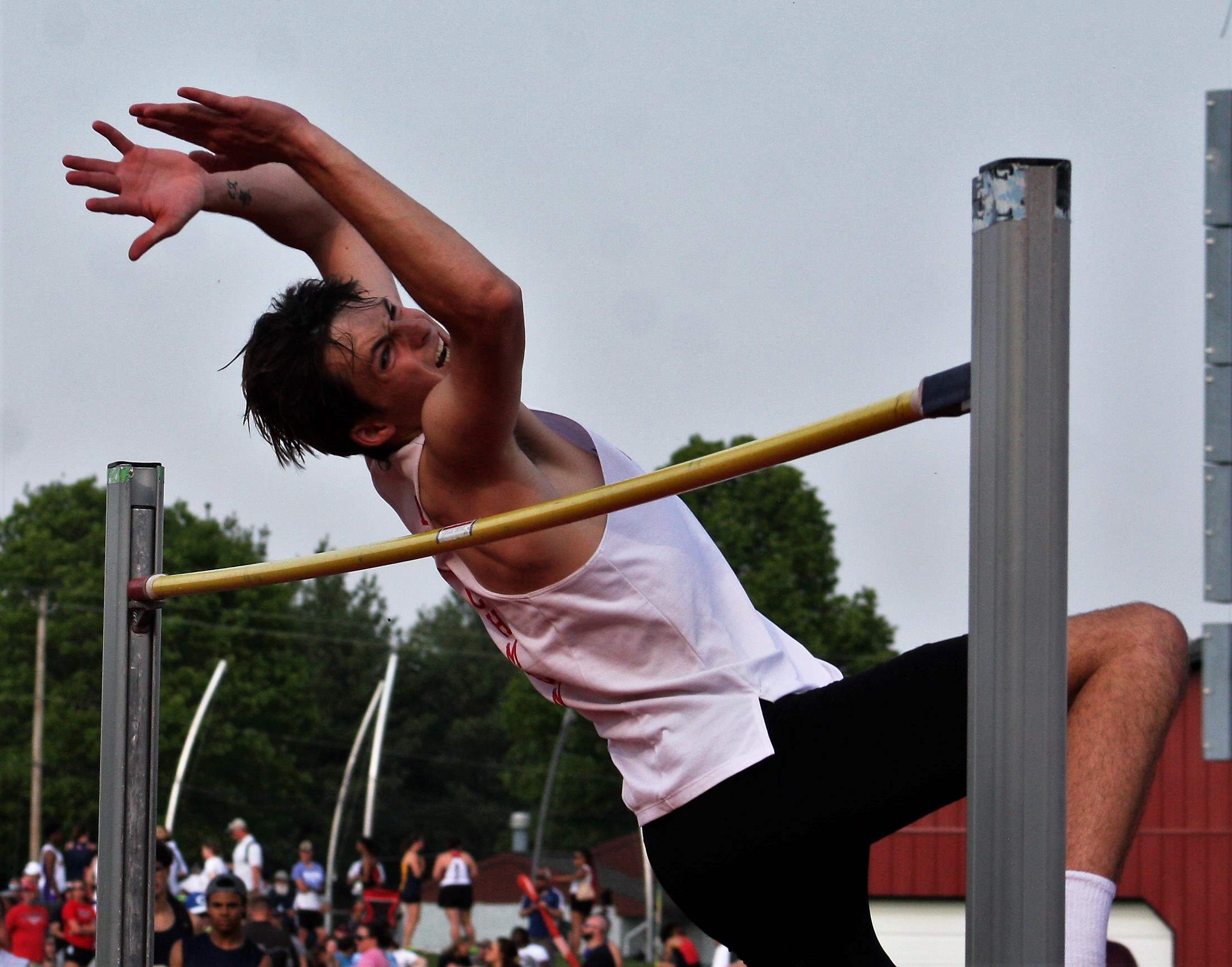 BY JEFF FALK
LANDISVILLE – It's extremely important to do your very best. That's the ultimate goal.
But getting rewarded for your absolute best adds an extra dimension of meaning to it.
On a warm Friday evening at Hempfield High School, during the opening day of the annual Lancaster-Lebanon League Track and Field Championships, student-athletes from three different Lebanon County schools matched or surpassed personal records and were rewarded with gold medals. Lebanon junior Zariyah Whigham 's 36-11.5 was the winning mark in the triple jump, Annville-Cleona senior Noah Gunderson leapt 6-6 to eclipse the field in the high jump and Elco senior Carissa Bender reached 12-0 to claim victory in the pole vault.
All in all, it was a very good start for local competitors at the Lancaster-Lebanon League meet, which will conclude on Saturday, back at Hempfield. The best may be yet to come.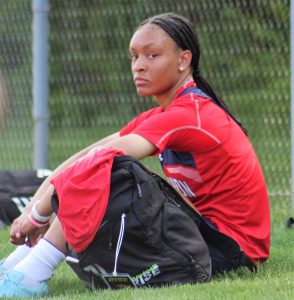 "It just feels really good to have my hard work and dedication pay off," said Bender. "It's such a light weight feeling, showing everyone how hard I've been working. If I had to choose, I'd rather do my best than get a gold medal. I think this is one of the best things I've been able to accomplish. It just feels absolutely amazing."
"I just wanted to come in and win again," said Gunderson. "I wasn't seeded first and I wanted to prove I should've been seeded first. I was hoping to jump better than I did last year, and just relax a little bit."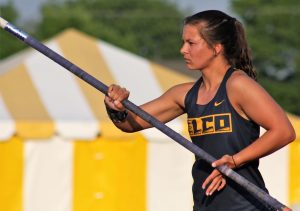 "I just love this. I love the environment," said Whigham. "The feeling was really exciting when she (the triple jump official) announced it, because I really didn't think I jumped that far. I personally think I can do much better than that. With practice and work on my technique, I think I can get there."
The top seed coming in, Whigham led the triple jump competition most of the way. But she hit her personal best on her final attempt, and that was good for a five-inch victory over Manheim Central senior Maddison Knier.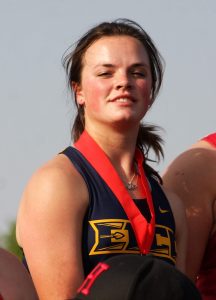 Not bad for a student-athlete who's only been triple jumping for about two months, or for someone who got a late start on the track and field season because of her involvement with the Cedars' successful girls' basketball season this winter.
"I had to flip the switch," said Whigham, who was crowned the Lebanon County triple jump champion a week earlier. "I had to go from basketball mode to track mode. It put me two weeks behind. But it really didn't stop me.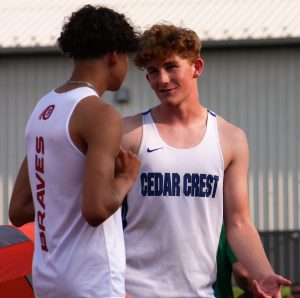 "I was like, 'Why not the triple jump?'" continued Whigham. "I already do the long jump, 'Why not give it a try?' And my coach was like, 'Yeah, why not?'"
A seasoned competitor, Gunderson had missed a good chunk of his senior campaign to a quad injury. But he showed no ill effects of the injury in equaling the PR he used to win the triple jump at the District Three Class AA championships last spring.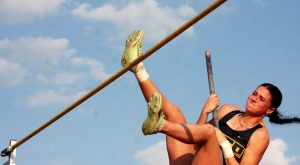 He had garnered last year's Lancaster-Lebanon League title with a 6-2 in the high jump.
"It certainly made me more nervous," said Gunderson of his lay-off. "It was a lot more stressful. I'm a nervous person anyway. So I didn't jump for two weeks and I had to come back at one of the biggest meets I'm ever going to jump in. It's pretty intimidating.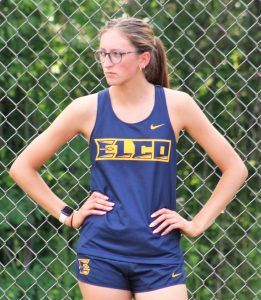 "Hopefully, I can go back-to-back at districts, and jump better at states," added Gunderson. "I'm just looking for improvement, and the results will come with that."
In winning the pole vault, Bender equaled a personal best she had just established on Monday. She earned the gold medal on less faults than runner-up Anna Rank of Elizabethtown, who also cleared 12-0.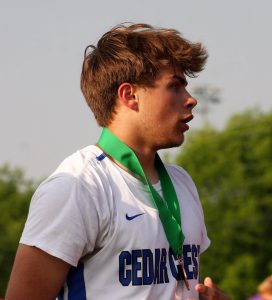 Bender, who was seeded second coming in, finished fourth at the Lancaster-Lebanon League meet last year and second at the District Three Class AAA Track and Field Championships in 2022.
"I did not expect this happen," said Bender. "It's a big surprise. I was just try to jump 12-0 again. I was just here to have a good time with my friends."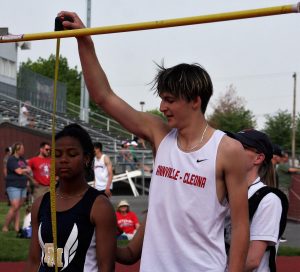 Bender's Elco teammate, senior Sam Nelson earned a silver medal in the discus. Another Raider, sophomore Makenna Haas, finished fourth in the triple jump, as did Elco's Jacey Hentz in the pole vault.
Cedar Crest junior Reed Fretz collected a bronze medal in the long jump, a performance matched by teammate Leo Tirado in the high jump. In the javelin, Falcon sophomore Dylan Groff came in fourth
To purchase images in this article please email jeff@lebcosports.com.
For all of the Lancaster-Lebanon Track and Field Championship results, go to www.macfat.net.