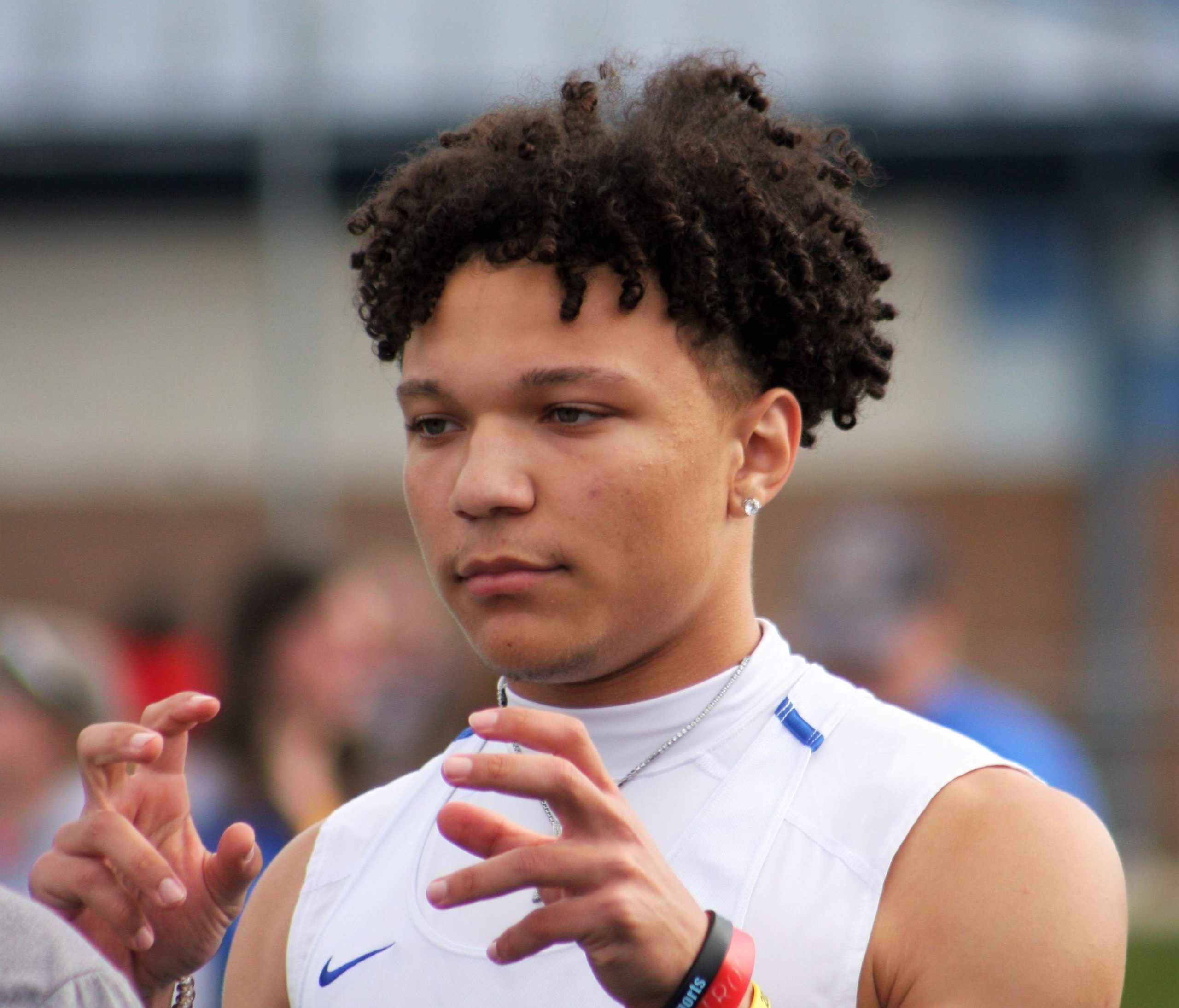 BY JEFF FALK
SOUTH LEBANON – It wasn't the Cedar Crest boys' track and field team's first county title. But it was the Falcons' first local championship on their home turf.
That home cooking is what made this one unique
On a calm Thursday night at Cedar Crest High's School's Ed and Jeanie Arnold Field at Earl Boltz Stadium, the Falcons ran away with another team championship at the Lebanon County Track and Field meet. Getting contributions from seemingly everywhere, Cedar Crest piled up a whopping 215 team points to more than double runner-up Palmyra's output.
Elco scored 94 team points to come in third, while Lebanon was fourth, Annville-Cleona fifth and Northern Lebanon sixth.
The Lebanon County team championship was Cedar Crest's 24th in the last 25 years, but the previous 23 had come at Lebanon High School. The on-going construction of Lebanon's new middle school necessitated this year's Lebanon County Track and Field Championships being relocated to Cedar Crest.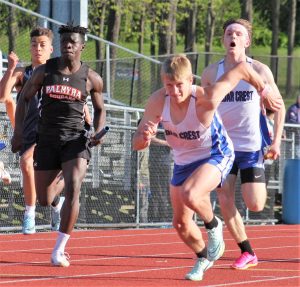 While the Falcons' performance was extremely balanced, no competitor contributed more to the Cedar Crest cause than senior sprinter Gabe Lewis. Lewis walked away with the meet's Outstanding Male Athlete award by posting three victories and breaking a handful of records.
"We've been at Lebanon for every year of my career," said Cedar Crest head coach Rob Bare. "It was awesome being here at Cedar Crest, under the lights, on a school night. We talked about the significance of it being here for the first time. We didn't want to waste this opportunity. I'm pleased with how the boys competed."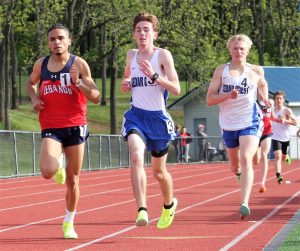 Also competing on his home track for the final time in his career, Lewis sprinted with a sense of urgency.
The speedy senior ripped off a 10.83 to take the 100-meter dash. In the 200, Lewis set a new Lebanon County meet record with a 22.25. And in between, he partnered with Leo Tirado, Kyle Rauchut and Nick Garman to establish a new County meet standard in the 400-meter relay, at 42.33.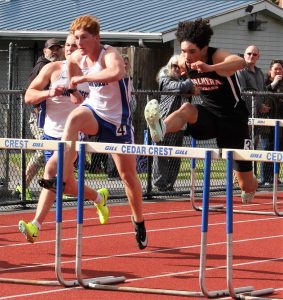 In the 1600-meter relay, Lewis' squad of Garman, Rauchut and Ethan Heisey was the runner-up to the Palmyra quartet of Camden Lynch, Jonathan McDannell, Tyler Burgess and Jose Morales, by .47 of a second.
"Last year was key for Gabe," said Bare. "He was the hunter. This year, he's the hunted. It's been a little bit of  a challenge to him. But he came out and did what he needed to do."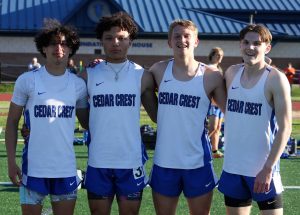 Lewis was supported by Raucht and Garman, who went one-two in the 400-meter dash, as well as Owen Sparks, who took home top honors in the 1600-meter run. In the javelin, Cedar Crest received key first-place points from Dylan Groff and his throw of 157-3.
Another Falcon, Reed Fretz went 20-9.5 to win the long jump. Cedar Crest's Jay Reyes Vega cleared 6-0 in winning the high jump.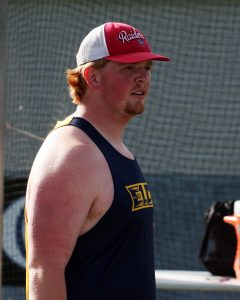 Falcons Jack Williams, Max Wauhop, Derrick Nolan and Ben Causak collaborated on a 3200-meter relay championship.
"I'm proud of both of them," said Bare of the dual team championships garnered by the CC boys and girls. "It's a competitive group of young men and women. We talk about, not what you do, but how you do it. That's what a family is all about."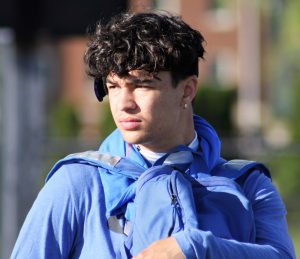 Cougar Burgess collected gold in both hurdle events, with a 15.13 in the 110 high hurdles and with a 40.66 in the 300 intermediates.
Elco senior Colin Daub also registered a pair of triumphs, in the discus and the shot put. Raider teammate Alden Stickler posted a 42-2 to win the Lebanon County championship in the triple jump, while Elco's Landon Brubaker won the pole vault.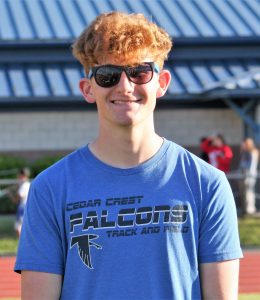 Elco's Camden Marquette emerged victorious in the 800-meter run.
In the boys' 3200-meter race, Landon Brubaker of Annville-Cleona edged Cedar Crest's Travis Furmanski for the county crown.
To purchase images in this article please email jeff@lebcosports.com.
MEET RECORDS
****************************************************************
EVENT                    RECORD                NAME                                                     SCHOOL                YEAR
100m Dash               12.0                         Leslie Hummer                                         Annville-Cleona       1985
10.4                         Greg Miller                                               Palmyra                   1999
200m Dash               25.5                         Regan Hess                                              Annville-Cleona       2014
21.4                         Greg Miller                                               Palmyra                   1999
400m Dash               57.5                         Sue Wolfe                                                Annville-Cleona       1987
49.0                         Jeronimo Rodriguez                                  Lebanon                   2015
800m Run                2:17.4                      Kayleigh Perry                                         ELCO                      2010
1:54.3                      Derin Klick                                              Lebanon                   2016
1600m Run              5:08.8                      Kayleigh Perry                                         ELCO                      2009
4:19.4                      Drew Gerberich                                        ELCO                      2012
3200m Run              11:13.8                    Stacy Stoner                                             Northern Lebanon     1995
9:40.1                      Connor Strynkowski                                 Palmyra                   2011
110m Hurdles           15.7                         Deasia Holloman                                      Cedar Crest              2019
14.4                         Matt Deysher                                            Cedar Crest              2011
300m Hurdles           45.9                         Joy Buckwalter                                         Palmyra                   1989
38.9                         Chris Bradley                                           Cedar Crest              2010
400m Relay              49.5                         DeAsia Holloman, Shayla Bonzelet            Cedar Crest              2017
Ariel Jones, Destinee Holloman
42.6                         Jose Morales, Kasen Bixler,                       Palmyra                   2022
Quinton Townsend, Anthony Mansfield
49.7                         Muser, Holloman, Jones, Holloman            Cedar Crest              2016
1600m Relay            4:06.8                      Maria Tukis, Jess Dembrowski,                  Palmyra                   2014
Miranda Salvo, Katie Dembrowski
3:22.61                    Jake Klucinec, Quinton Townsend,             Palmyra                   2021                                                        Xander Topos, Anthony Mansfield
3200m Relay            9:45.9                      Olivia Farabaugh, Devin Strynkowski         Palmyra                   2012
Maria Tukis, Katie Dembrowski
8:00.4                      Chad Bomgardner, Jordan Cruise,               Cedar Crest              2013
Jared Glosser, Willie Bragg
Shot Put                   41' 03"                    Ryelle Shuy                                              ELCO                      2019
61'  1.25"                 Jeremy Silverman                                     Annville-Cleona       2001
Discus                     134' 10"                  Hannah Woelfling                                     Cedar Crest              2018
161' 10"                  Jeremy Silverman                                     Annville-Cleona       2001
Javelin                     133' 9"                    Meghan Briggs                                         Palmyra                   2006
133' 9"                    Kirsten West                                            Palmyra                   2018
203' 9"                    Thomas Jordan                                         Cedar Crest              2003
Long Jump               19' 1 ½"                   Reagan Hess                                             Annville-Cleona       2017
22'5"                       Kasen Bixler                                            Palmyra                   2022
Triple Jump              37' 3"                      Ariel Jones                                               Cedar Crest              2017
45-2 ½"                    Mike Wagner                                            Annville-Cleona       1980
High Jump                5' 7"                        Ariel Jones                                               Cedar Crest              2017
6' 6"                        Dana Hollinger                                         Cedar Crest              1979
6' 6"                        Andrew Batula                                         Annville-Cleona       2008
Pole Vault                12'1"                       Erin Winters                                             Lebanon                   2014
14' 9 ½"                   Darryl Miller                                            Northern Lebanon     1979
2022 MEET CHAMPIONS
EVENT                                RESULT                              NAME                                                          SCHOOL                                         GENDER
300 I HURDLES                 51:19                                     SARAH MILLER                                       PALMYRA                                                  GIRLS
41:56                                     LUKE MACCHIONE                                ELCO                                                            BOYS
3200 RELAY                       10:17.39                               —————————-                               CEDAR CREST                                          GIRLS
8:28.47                                  —————————-                              CEDAR CREST                                          BOYS
110 H HURDLES               16:50                                     KATIE GINGRICH                                   PALMYRA                                                  GIRLS
15:18                                     TYLER BURGESS                                    PALMYRA                                                  BOYS
100 DASH                           12:93                                     KENDALL COOPER                                ANNVILLE-CLEONA                              GIRLS
11:13                                     GABE LEWIS                                             CEDAR CREST                                          BOYS
1600 RUN                            5:18.41                                  BRAETAN PETERS                                  ANNVILLE-CLEONA                              GIRLS
4:45.07                                  RYAN WOLFE                                          CEDAR CREST                                          BOYS
400 DASH                              1:00.72                                  ASHLEY NEWMAN                                 PALMYRA                                                  GIRLS
50:47                                     QUINTON TOWNSEND                          PALMYRA                                                 BOYS
400 RELAY                         51:25                                     ——————————-                         CEDAR CREST                                          GIRLS
42:76                                     ——————————-                         PALMYRA                                                 BOYS
800 RUN                              2:23.56                                  MADISON BISHOP                                  LEBANON                                                  GIRLS
2:02.28                                  RYAN WOLFE                                          CEDAR CREST                                          BOYS
200 DASH                           26.65                                     KENDALL COOPER                                ANNVILLE-CLEONA                              GIRLS
22.88                                     QUINTON COOPER                                 PALMYRA                                                  BOYS
3200 RUN                            12:21.84                               GRACE TADAJWESKI                            CEDAR CREST                                          GIRLS
9:40.79                                  CALEB HERSHEY                                   LEBANON                                                                          BOYS
1600 RELAY                       4:15.79                                  ——————————-                         CEDAR CREST                                          GIRLS
3:27.11                                  ——————————-                         PALMYRA                                                  BOYS
SHOT PUT                           32'11.5"                               CALA MARTINO                                      NORTHERN LEBANON                         GIRLS
45'4".5                                  COLIN DAUB                                            ELCO                                                            BOYS
DISCUS                                102'                                       DORA LOPEZ                                            LEBANON                                                  GIRLS
139'4"                                   COLIN DAUB                                            ELCO                                                            BOYS
JAVELIN                             117'6"                                   SAMANTHA NELSON                            ELCO                                                            GIRLS
155'3"                                   ELI BECKER                                              PALMYRA                                                  BOYS
LONG JUMP                       15'11.25"                             KATIE GINGRICH                                   PALMYRA                                                  GIRLS
22'5                                       KASEN BIXLER                                      PALMYRA                                                 BOYS
TRIPLE JUMP                    32'11.5"                               MAKENNA HAAS                                    ELCO                                                            GIRLS
41'7.5"                                  KASEN BIXLER                                        PALMYRA                                                  BOYS
HIGH JUMP                         4'10"                                     AYA HOOVER                                          ANNVILLE-CLEONA                              GIRLS
6'2"                                        NOAH GUNDERSON                              ANNVILLE-CLEONA                   BOYS
POLE VAULT             11'3"                         EMILY ORIEL                                           CEDAR CREST                                          GIRLS
12'6"                                     NATHAN BERARDUCCI                        PALMYRA                                  BOYS
OUTSTANDING FEMALE ATHLETE                         KENDALL COOPER                                ANNVILLE-CLEONA                              GIRLS
OIUTSTANDING MALE ATHLETE                            QUINTON TOWNSEND                          PALMYRA                                                  BOYS

Lebanon Federal Credit Union