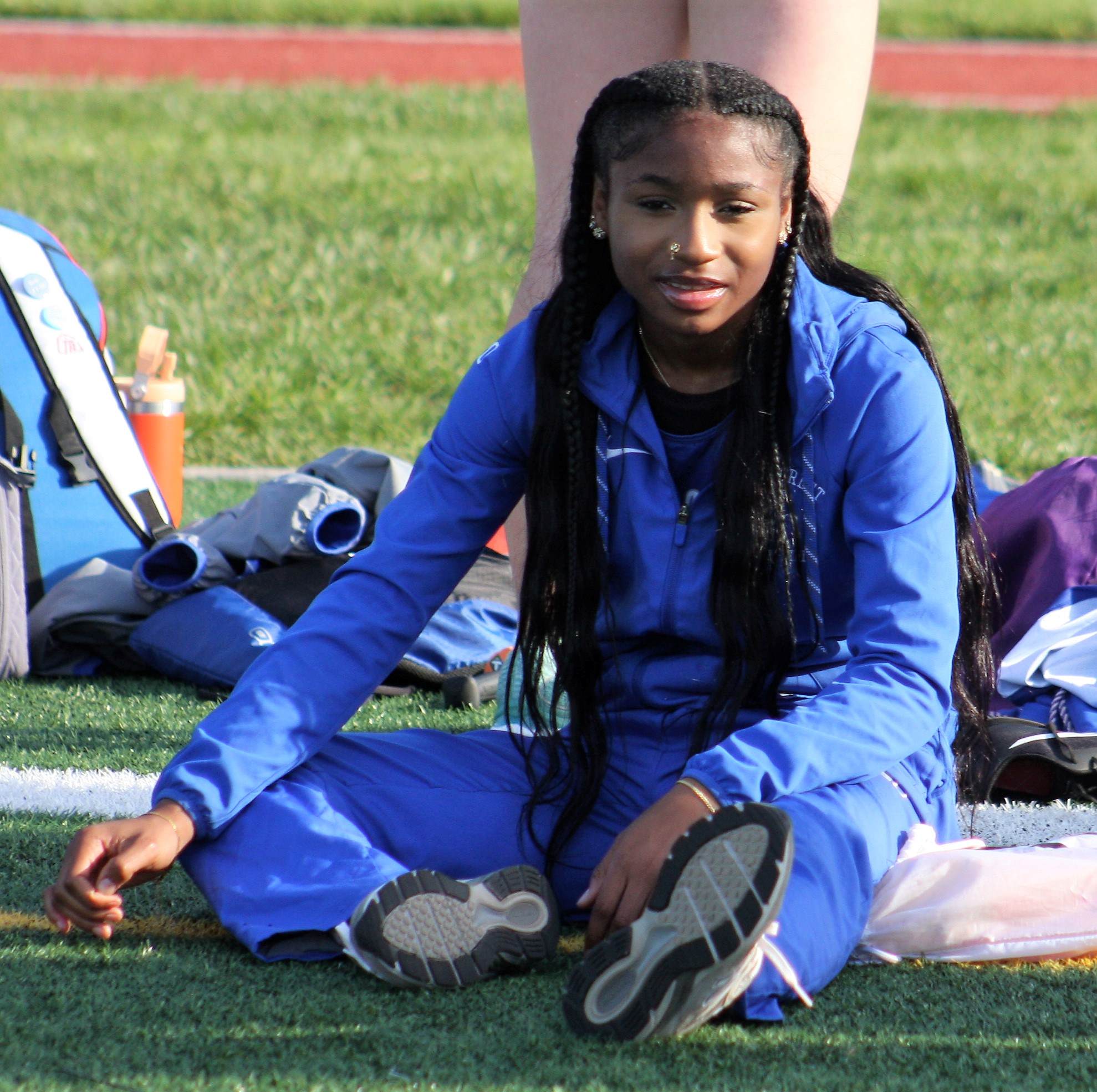 BY JEFF FALK
SOUTH LEBANON – The Cedar Crest girls' track and field squad has already accomplished a lot this season. And the Falcons still have some really big things in front of them.
But they'll be hard-pressed to top what they did last night.
On a clear Thursday evening at Cedar Crest High School's Ed and Jeannie Arnold Field at Earl Boltz Stadium, the Falcons put it all together and captured the team title at the annual contesting of the Lebanon County Track and Field Championships. Guided by some strong senior leadership and propelled by outstanding performances from a couple of talented freshmen, Cedar Crest edged Palmyra and the rest of the local contingent for the team trophy.
Cedar Crest amassed 165.5 team points to out distance the runner-up Cougars by more than 40 points. Annville-Cleona came in third with 99.5 team points, followed by Elco with 81, Lebanon and Northern Lebanon.
The Falcons' county team title was their second straight and seventh in the last eight years.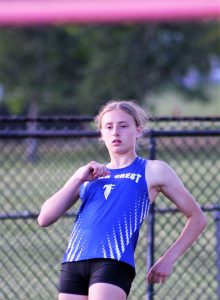 Falcon freshman phenom Kaddel Howard was named the meet's Outstanding Female Athlete, as she posted dominant performances in both the 200 and 400-meter runs, and ran the anchor on Cedar Crest's victorious 1600-meter relay team. But another freshman, Elianna Schneider, proved just as helpful with two individual victories, and a third-place showing
"We have a small group of senior leaders, and they're great," said Cedar Crest head coach Rob Bare. "Throw some competitive freshmen in there and then we have the makings of a great track and field team. The boys have always been a really good dual meet team, and that's the level we're trying to get to with the girls."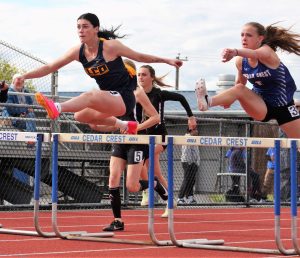 The much heralded Howard didn't disappoint.
She ran a 24.01 to smash the Lebanon County record in her specialty, the 200-meter dash. An hour earlier, Howard had laid down a 55.91 in the 400-meter dash to top runner-up Kendall Cooper of Annville-Cleona by nearly five seconds.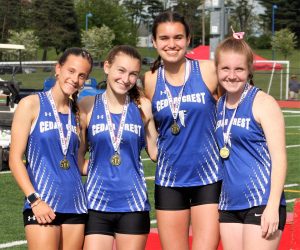 In the 1600-meter relay, she collaborated with Lizzie Lowe, Emma Pavlesich and Schneider on another dominant performance.
"Competition will help Kaddel run even faster," said Bare. "Her times are going to continue to drop. We just want to see how she does when she runs against the top girls in the state."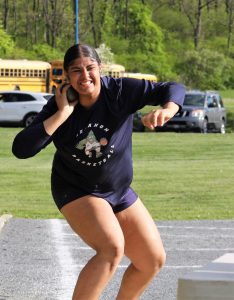 Schneider was busy as well.
On the track, Schneider claimed top honors in the 1600-meter run. In the field, she won her favorite event – the javelin – with a throw of 139-9, and finished third to Palmyra's Lydia Stoner's gold in the high jump.

In the 3200-meter relay, it was the Falcon foursome of Pavlesich, Carly Atkins, Grace Jadajweski and Maggie Chernich who crossed the finish line first. Cedar Crest's Shannon Dorsey won the 100 hurdles, while teammate Tadajweski emerged victorious in the 800-meter run.
For the Cougars of Palmyra, Isabella Temple struck gold in the 300-meter hurdles.
Cooper defended her Lebanon County title in the 100-meter dash, with a 12.77. She also anchored Annville-Cleona's winning 400-meter relay squad, which also featured Audrey Sider, Miracle Hershey and Kaylyn Stokes.
Also for the Little Dutchmen, Mackenzie Stellmach was crowned the Lebanon County champion of the 3200-meter run.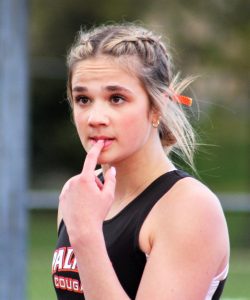 With triumphs in the pole vault and long jump, Carissa Bender enjoyed a strong outing for Elco.
Lebanon's Liliana Harrison also captured a pair of events, the shot put and the discus. Another Cedar, Zariyah Whigham leapt to victory in the triple jump.
To purchase images in this article please email jeff@lebcosports.com.
MEET RECORDS
****************************************************************
EVENT                    RECORD                NAME                                                     SCHOOL                YEAR
100m Dash               12.0                         Leslie Hummer                                         Annville-Cleona       1985
10.4                         Greg Miller                                               Palmyra                   1999
200m Dash               25.5                         Regan Hess                                              Annville-Cleona       2014
21.4                         Greg Miller                                               Palmyra                   1999
400m Dash               57.5                         Sue Wolfe                                                Annville-Cleona       1987
49.0                         Jeronimo Rodriguez                                  Lebanon                   2015
800m Run                2:17.4                      Kayleigh Perry                                         ELCO                      2010
1:54.3                      Derin Klick                                              Lebanon                   2016
1600m Run              5:08.8                      Kayleigh Perry                                         ELCO                      2009
4:19.4                      Drew Gerberich                                        ELCO                      2012
3200m Run              11:13.8                    Stacy Stoner                                             Northern Lebanon     1995
9:40.1                      Connor Strynkowski                                 Palmyra                   2011
110m Hurdles           15.7                         Deasia Holloman                                      Cedar Crest              2019
14.4                         Matt Deysher                                            Cedar Crest              2011
300m Hurdles           45.9                         Joy Buckwalter                                         Palmyra                   1989
38.9                         Chris Bradley                                           Cedar Crest              2010
400m Relay              49.5                         DeAsia Holloman, Shayla Bonzelet            Cedar Crest              2017
Ariel Jones, Destinee Holloman
42.6                         Jose Morales, Kasen Bixler,                       Palmyra                   2022
Quinton Townsend, Anthony Mansfield
49.7                         Muser, Holloman, Jones, Holloman            Cedar Crest              2016
1600m Relay            4:06.8                      Maria Tukis, Jess Dembrowski,                  Palmyra                   2014
Miranda Salvo, Katie Dembrowski
3:22.61                    Jake Klucinec, Quinton Townsend,             Palmyra                   2021                                                        Xander Topos, Anthony Mansfield
3200m Relay            9:45.9                      Olivia Farabaugh, Devin Strynkowski         Palmyra                   2012
Maria Tukis, Katie Dembrowski
8:00.4                      Chad Bomgardner, Jordan Cruise,               Cedar Crest              2013
Jared Glosser, Willie Bragg
Shot Put                   41' 03"                    Ryelle Shuy                                              ELCO                      2019
61'  1.25"                 Jeremy Silverman                                     Annville-Cleona       2001
Discus                     134' 10"                  Hannah Woelfling                                     Cedar Crest              2018
161' 10"                  Jeremy Silverman                                     Annville-Cleona       2001
Javelin                     133' 9"                    Meghan Briggs                                         Palmyra                   2006
133' 9"                    Kirsten West                                            Palmyra                   2018
203' 9"                    Thomas Jordan                                         Cedar Crest              2003
Long Jump               19' 1 ½"                   Reagan Hess                                             Annville-Cleona       2017
22'5"                       Kasen Bixler                                            Palmyra                   2022
Triple Jump              37' 3"                      Ariel Jones                                               Cedar Crest              2017
45-2 ½"                    Mike Wagner                                            Annville-Cleona       1980
High Jump                5' 7"                        Ariel Jones                                               Cedar Crest              2017
6' 6"                        Dana Hollinger                                         Cedar Crest              1979
6' 6"                        Andrew Batula                                         Annville-Cleona       2008
Pole Vault                12'1"                       Erin Winters                                             Lebanon                   2014
14' 9 ½"                   Darryl Miller                                            Northern Lebanon     1979
2022 MEET CHAMPIONS
EVENT                                RESULT                              NAME                                                          SCHOOL                                         GENDER
300 I HURDLES                 51:19                                     SARAH MILLER                                       PALMYRA                                                  GIRLS
41:56                                     LUKE MACCHIONE                                ELCO                                                            BOYS
3200 RELAY                       10:17.39                               —————————-                               CEDAR CREST                                          GIRLS
8:28.47                                  —————————-                              CEDAR CREST                                          BOYS
110 H HURDLES               16:50                                     KATIE GINGRICH                                   PALMYRA                                                  GIRLS
15:18                                     TYLER BURGESS                                    PALMYRA                                                  BOYS
100 DASH                           12:93                                     KENDALL COOPER                                ANNVILLE-CLEONA                              GIRLS
11:13                                     GABE LEWIS                                             CEDAR CREST                                          BOYS
1600 RUN                            5:18.41                                  BRAETAN PETERS                                  ANNVILLE-CLEONA                              GIRLS
4:45.07                                  RYAN WOLFE                                          CEDAR CREST                                          BOYS
400 DASH                              1:00.72                                  ASHLEY NEWMAN                                 PALMYRA                                                  GIRLS
50:47                                     QUINTON TOWNSEND                          PALMYRA                                                 BOYS
400 RELAY                         51:25                                     ——————————-                         CEDAR CREST                                          GIRLS
42:76                                     ——————————-                         PALMYRA                                                 BOYS
800 RUN                              2:23.56                                  MADISON BISHOP                                  LEBANON                                                  GIRLS
2:02.28                                  RYAN WOLFE                                          CEDAR CREST                                          BOYS
200 DASH                           26.65                                     KENDALL COOPER                                ANNVILLE-CLEONA                              GIRLS
22.88                                     QUINTON COOPER                                 PALMYRA                                                  BOYS
3200 RUN                            12:21.84                               GRACE TADAJWESKI                            CEDAR CREST                                          GIRLS
9:40.79                                  CALEB HERSHEY                                   LEBANON                                                                          BOYS
1600 RELAY                       4:15.79                                  ——————————-                         CEDAR CREST                                          GIRLS
3:27.11                                  ——————————-                         PALMYRA                                                  BOYS
SHOT PUT                           32'11.5"                               CALA MARTINO                                      NORTHERN LEBANON                         GIRLS
45'4".5                                  COLIN DAUB                                            ELCO                                                            BOYS
DISCUS                                102'                                       DORA LOPEZ                                            LEBANON                                                  GIRLS
139'4"                                   COLIN DAUB                                            ELCO                                                            BOYS
JAVELIN                             117'6"                                   SAMANTHA NELSON                            ELCO                                                            GIRLS
155'3"                                   ELI BECKER                                              PALMYRA                                                  BOYS
LONG JUMP                       15'11.25"                             KATIE GINGRICH                                   PALMYRA                                                  GIRLS
22'5                                       KASEN BIXLER                                      PALMYRA                                                 BOYS
TRIPLE JUMP                    32'11.5"                               MAKENNA HAAS                                    ELCO                                                            GIRLS
41'7.5"                                  KASEN BIXLER                                        PALMYRA                                                  BOYS
HIGH JUMP                         4'10"                                     AYA HOOVER                                          ANNVILLE-CLEONA                              GIRLS
6'2"                                        NOAH GUNDERSON                              ANNVILLE-CLEONA                   BOYS
POLE VAULT             11'3"                         EMILY ORIEL                                           CEDAR CREST                                          GIRLS
12'6"                                     NATHAN BERARDUCCI                        PALMYRA                                  BOYS
OUTSTANDING FEMALE ATHLETE                         KENDALL COOPER                                ANNVILLE-CLEONA                              GIRLS
OIUTSTANDING MALE ATHLETE                            QUINTON TOWNSEND                          PALMYRA                                                  BOYS