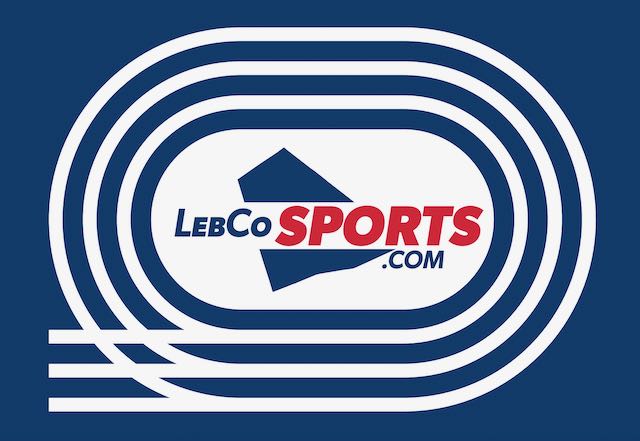 Bob and Louise Trump were long-time track and field officials and fixtures within the ELCO community.  While they were still active in 2009, the ELCO Junior High Track Invitational was renamed to honor their servitude. Mr. Trump passed away in 2019 and Mrs. Trump followed a year later, but the meet carries on, serving as a reminder to their years of service to student athletics.
The 2023 edition of the Trump Invitational was held last Friday night. Eleven teams competed, including five teams from Lebanon County. When all the events were finished and the scores tallied, it was two Lebanon County teams who won the team trophies. Cedar Crest won the Boys' Championship, edging out Manheim Central by three points.  The results for the Girls' Championship was even tighter, with Palmyra winning by one point over Cedar Crest.
Below are the top eight finishers in each event that factored into the team scoring.  The Lebanon County athletes are bolded. While most may write these results off as only being junior high track, they do offer a glimpse into what is coming up through each school's systems when it comes to the future success of their athletic programs.  If you follow sports in Lebanon County, you might also recognize a few of the family names when you read the results below.
---
Girls Results
100m
1st       13.12     Madison Nelson, 7th     ELCO
2nd      13.25   Maddie Waldryon, 8th     Palmyra
3rd       13.25   Jada Morales, 8th     Annville-Cleona
4th       13.51   Cayleigh Shaak, 7th     Lebanon
5th       13.78   Leeannia Peterson, 8th     Ephrata
6th       13.92   Cara Miller, 8th     Exeter Township
7th       13.95   Arys Guzman, 7th     Cedar Crest
8th       14.02   Nia Hafey, 8th     Annville-Cleona
200m
1st       27.58   Maddie Waldryon, 8th     Palmyra
2nd      27.97   Jada Morales, 8th     Annville-Cleona
3rd       29.04   Arys Guzman, 7th     Cedar Crest
4th       29.45   Breanna Deitzler, 8th     Cedar Crest
5th       29.56   Juleen Fortney, 7th     Exeter Township
6th       29.91   Sabrina Phinitpapha, 9th     Ephrata
7th       30.27   Adewale Oluwaseyitan, 7th     ELCO
8th       30.41   Nia Hafey, 8th     Annville-Cleona
400m  
1st       1:08.0  Abigal Nelson, 9th     ELCO
2nd      1:08.2  Kate Lachance, 8th     Palmyra
3rd       1:08.3  Helena Baker, 8th     Palmyra
4th       1:10.8  Dana Hoover, 8th     Annville-Cleona
5th       1:10.9  Ryan Stopper, 7th     Cedar Crest
6th       1:10.9  Lea Goodhart, 7th     Exeter Township
7th       1:11.0  Claire Altemos, 8th     Ephrata
8th       1:11.1  Addison Mays, 7th     ELCO
800m 
1st       2:38.4            Madeline Mcauliffe, 8th     Exeter Township
2nd      2:42.5            Reagan Orwig, 8th     Manheim Central
3rd       2:43.2        Amber McCurdy, 8th     Palmyra
4th       2:50.3            Susan Archibald, 7th     Ephrata
5th       2:50.7         Lucy Stellmach, 7th     Annville-Cleona
6th       2:51.6            Mia Pfautz, 8th     Ephrata
7th       2:52.6            Claudia Pagotto, 7th     Lehighton
8th       2:52.7           Remy Loser, 9th     Central Dauphin
1600m
1st       5:44.0            Madeline Mcauliffe, 8th     Exeter Township
2nd      5:58.2            Susan Archibald,  7th     Ephrata
3rd       5:59.1            Mia Pfautz, 8th     Ephrata
4th       5:59.5          Amber Mccurdy, 8th     Palmyra
5th       6:06.7            Lena Bluestone, 7th     Exeter Township
6th       6:08.8        Lucy Stellmach, 7th     Annville-Cleona
7th       6:18.2            Claudia Pagotto, 7th     Lehighton
8th       6:18.7            Avery Ibach, 7th     Manheim Central
4x100m
1st       55.0          Ephrata
2nd      55.5         Cedar Crest
3rd       55.72       ELCO
4th       56.2         Palmyra
5th       56.23      Annville-Cleona
6th       56.26      Lebanon
7th       57.37       Exeter Township
8th       57.43      Central Dauphin
4x400m
1st         4:39.7      Manheim Central
2nd      4:46.0    Cedar Crest
3rd       4:47.7     Ephrata
4th      4:54.7     Palmyra
5th      4:56.5      ELCO
6th        5:05.0      Exeter Township
7th       5:07.7       Lebanon
8th       5:11.5       Annville-Cleona
4x800m
1st       9:59.1       Manheim Central
2nd      10:24.7    Palmyra
3rd       10:33.3    ELCO
4th       10:48.6    Ephrata
5th       11:01.4      Exeter Township
6th       11:08.2      Lebanon
7th       11:34.2       Lehighton
8th       11:45.7       Central Dauphin
High Jump
1st       4′ 8″      Rory Kane, 8th     Central Dauphin
2nd      4′ 6″     Kailee Thomas, 8th     Lehighton
2nd      4′ 6″     Kate Lachance, 8th     Palmyra
4th       4′ 4″     Lily Harchuska, 7th     Cedar Crest
5th       4′ 4″     Kirsten Lindemuth, 9th     Manheim Central
6th       4′ 2″     Jenna Ulrich, 8th     Annville-Cleona
7th       4′ 2″     Dakota Dengler, 7th     Cedar Crest
7th       4′ 2″     Helena Baker, 8th     Palmyra
Long Jump
1st       14′ 7″                 Lilah Snyder, 8th     Ephrata
2nd      14′ 5″                Erica Kline, 9th     Manheim Central
3rd       14′ 2.50″          Cara Miller, 8th     Exeter Township
4th       14′ 2.50″       Madison Nelson, 7th     ELCO
5th       14′ 1″             Paige Frey, 7th     Cedar Crest
6th       13′ 9″                Esther Yaidoo, 7th     Ephrata
7th       13′ 9″             Kate Lachance, 8th     Palmyra
8th       13′ 7                   Naomi Fittery, 7th     Manheim Central
Discus
1st       80′ 7″              Howe, Brooke, 8th     Central Dauphin
2nd      75′ 4″          Dana Hoover, 8th     Annville-Cleona
3rd       71′ 11″         Mikalyn Weaber, No Grade   Cedar Crest
4th       70′ 6″          Veronica Castro, 8th     Cedar Crest
5th       69′ 3″              Erica Kline, 9th     Manheim Central
6th       67′ 1″               Hallie Miller, 7th     Lehighton
7th       63′ 6″           Sierra Skipper, 8th     Palmyra
8th       63′ 5″               Sophia Serfass, 7th     Lehighton
Shot Put
1st       33′ 5.50″         Mikayla Fripps, No Grade  Cedar Crest
2nd      32′ 2.50″         Kimberly Mccleary, 7th     Central Dauphin
3rd       31′ 10.75″        Erica Kline, 9th     Manheim Central
4th       29′ 9.75″          Veronica Castro, 8th     Cedar Crest
5th       27′ 2.25″          Kailee Thomas, 8th     Lehighton
7th       26′ 7″                Saige Quelch, No Grade  Lehman
8th       26′ 4.50″         Hallie Miller, 7th     Lehighton
Team Scores
1) Palmyra MS – 71.5
2) Cedar Crest Middle School – 70.5
3) Ephrata – 65
4) Annville-Cleona MS – 54
5) Exeter Township – 49
6) ELCO – 44
6) Manheim Central MS – 44
8) Central Dauphin Middle School – 30
9) Lehighton  – 28
10) Lebanon MS – 10
11) Lehman Middle School – 2
---
Boys Results
100m
1st       11.83   Braeden Mazzocchi, 8th     Ephrata
2nd      11.87   Jordan Anderson, 7th     Cedar Crest
3rd       12.1     Griffin Kreider , 8th     ELCO
4th       12.14   Nathan Bowerman, 7th     Manheim Central
5th       12.48   Aidan  Smith, 8th     Cedar Crest
6th       12.58   Holden Kelly, 8th     Central Dauphin
7th       12.62   Jamil   Gordon, 9th     Lebanon
8th       12.64   Savion Torres, 9th     Central Dauphin
200m
1st       24.59   Cory Taylor, No Grade     Lehman
2nd      24.82   Jordan Anderson, 7th     Cedar Crest
3rd       25.38   Armani Acevedo, 9th     Ephrata
4th       25.47   Isaiah Zimmerman, 8th     Cedar Crest
5th       25.82   Syrus Lubeskie, 9th     Manheim Central
6th       26.26   Adalberto Blanco, 9th     Exeter Township
7th       26.33   Blake Boyer, 8th     Annville-Cleona
8th       27.67   Jamil   Gordon, 9th    Lebanon
400m  
1st       57.33            Preston Melhorn, 9th     Manheim Central
2nd    57.83          Griffin Kreider, 8th     ELCO
3rd     1:00.3        Michael Durning, 8th   Cedar Crest
4th       1:00.7          Cash White, 8th   Lehighton
5th       1:01.0           Andrew Brubaker, 7th     Manheim Central
6th      1:01.1          Yassine Hakam, 7th     Lebanon
7th       1:01.9            Damiri Cintron, 8th     Exeter Township
8th       1:02.8           Tobias Felker, 8th     Cedar Crest
800m
1st         2:19.2             Derek Moffett, 9th     Manheim Central
2nd      2:22.4          Samuel Hershey, 8th    Lebanon                                                                                                
3rd       2:27.7          John Yerke, 8th     Palmyra                                                                                                          
4th        2:28.2        Henry Wengert, 7th     Cedar Crest                                                                                          
5th        2:29.0        Max Frederick, 7th    ELCO                                                                                     
6th        2:29.7         Danny Shay, 7th     Annville-Cleona 
7th          2:29.9           Luke Bowers, 7th     Ephrata
8th         2:30.1            Max Kosydar, 9th     Manheim Central
1600m
1st       4:57.3  Hayden Snavely, 7th   Cedar Crest    
2nd      4:58.6  Kyle Reidenbaugh, 8th  Ephrata
3rd       5:08.5  Samuel Hershey, 8th  Lebanon         
4th       5:11.5  John Yerke, 8th    Palmyra          
5th       5:13.8  Josh Voegele, 8th    Manheim Central
6th       5:15.0  David Sinyagin, 9th    ELCO
7th       5:21.6  Henry Wengert, 7th   Cedar Crest    
8th       5:37.1  Ryan Jones, 8th    Exeter Township
4x100m Relay
1st       49.51     Manheim Central
2nd      49.68    Ephrata
3rd       50.87    Central Dauphin
4th       50.93    Exeter Township
5th       51.5        ELCO 
6th       51.6        Lehman
7th       52.02      Lebanon   
8th       52.57      Lehighton
4x400m
1st        4:03.2        Manheim Central
2nd     4:06.8     Cedar Crest  
3rd       4:12.7         Lehighton
4th      4:13.8      ELCO
5th       4:16.8         Ephrata
6th       4:28.5     Lebanon                            
7th       4:33.7      Palmyra   
8th       4:33.9         Exeter Township
4x800m Relay
1st       9:59.1         Manheim Central
2nd      10:24.7      Palmyra                           
3rd       10:33.3      ELCO   
4th       10:48.6      Ephrata
5th       11:01.4       Exeter Township
6th       11:08.2       Lebanon      
7th       11:34.2       Lehighton
8th       11:45.7       Central Dauphin  
High Jump 
1st       5′ 2″     Jared Smith, 9th   Manheim Central
2nd      5′ 2″     Hayden Snavely, 7th   Cedar Crest    
3rd       5′ 2″     Dylan  Marshall, 8th   Central Dauphin
4th       5′ 0″     Calvin Dash, No Grade   Cedar Crest
5th       5′ 0″     Xavier Smith, 8th       Palmyra     
6th       4′ 10″   Sahmad Spicer-Rogers, 9th   Ephrata
7th       4′ 10″   Braylon Reinert, 8th   Exeter Township
8th       4′ 10″   Henne Cortes, 8th      Lebanon         
8th       4′ 10″   Brice Pallozzi, 8th       Palmyra
Long Jump
1st       17′ 10.25″       Braeden  Mazzocchi, 8th     Ephrata
2nd      17′ 9.50″       Griffin Martin, 7th     Lehighton
3rd       17′ 8″             James Myer, 8th     Cedar Crest
4th       17′ 5″              Nasire Lovell, No Grade   Lehman
5th       17′ 2.50″        Isaiah  Gadsden, 8th     Central Dauphin
6th       16′ 11″            Eddiel Nunez, 8th     Cedar Crest
7th       16′ 6.50″         Jarred Stoner, 9th     Manheim Central
8th       15′ 11.50″       Dylan  Marshall, 8th     Central Dauphin
Discus
1st       136′ 11"    Alexys Ortiz Castro, 9th     Ephrata
2nd      129′ 6″    Avery Kurtz, 9th    ELCO
3rd       124′ 10″  Tanner Zimmerman , 9th     Cedar Crest
4th       117′ 4″     Marc Macias, 8th   Lehighton
5th       109′ 6″     Noah Miller, 9th    Cedar Crest
6th       106′ 11″     Cooper Nied, 9th  Manheim Central
7th       106′ 5″        Gabe Witmer, 9th  Manheim Central
8th       104′ 1″         Gabriel Lara, 8th  Central Dauphin
Shot Put
1st       45′ 0″          Avery  Kurtz, 9th    ELCO
2nd      40′ 5.50″  Hunter Gaskin, 9th ELCO
3rd       40′ 0″            Braylon Reinert, 8th   Exeter Township
4th       38′ 10.75"      Mark Stalter, 8th   Manheim Central
5th       37′ 6″          Tanner Zimmerman, 9th  Cedar Crest
6th       35′ 11″             Alexys Ortiz Castro, 9th  Ephrata
7th       35′ 11″             Marc Macias , 8th     Lehighton
8th      35′ 6.25″      Josh Tshudy , 8th     Palmyra
Team Scores
1) Cedar Crest Middle School – 93
2) Manheim Central MS – 90
3) Ephrata – 69
4) ELCO – 62
5) Lehighton – 29
6) Lebanon MS – 28.5
7) Palmyra MS – 26.5
8) Exeter Township – 24
9) Central Dauphin Middle School – 23
10) Lehman Middle School – 18
11) Annville-Cleona MS – 5