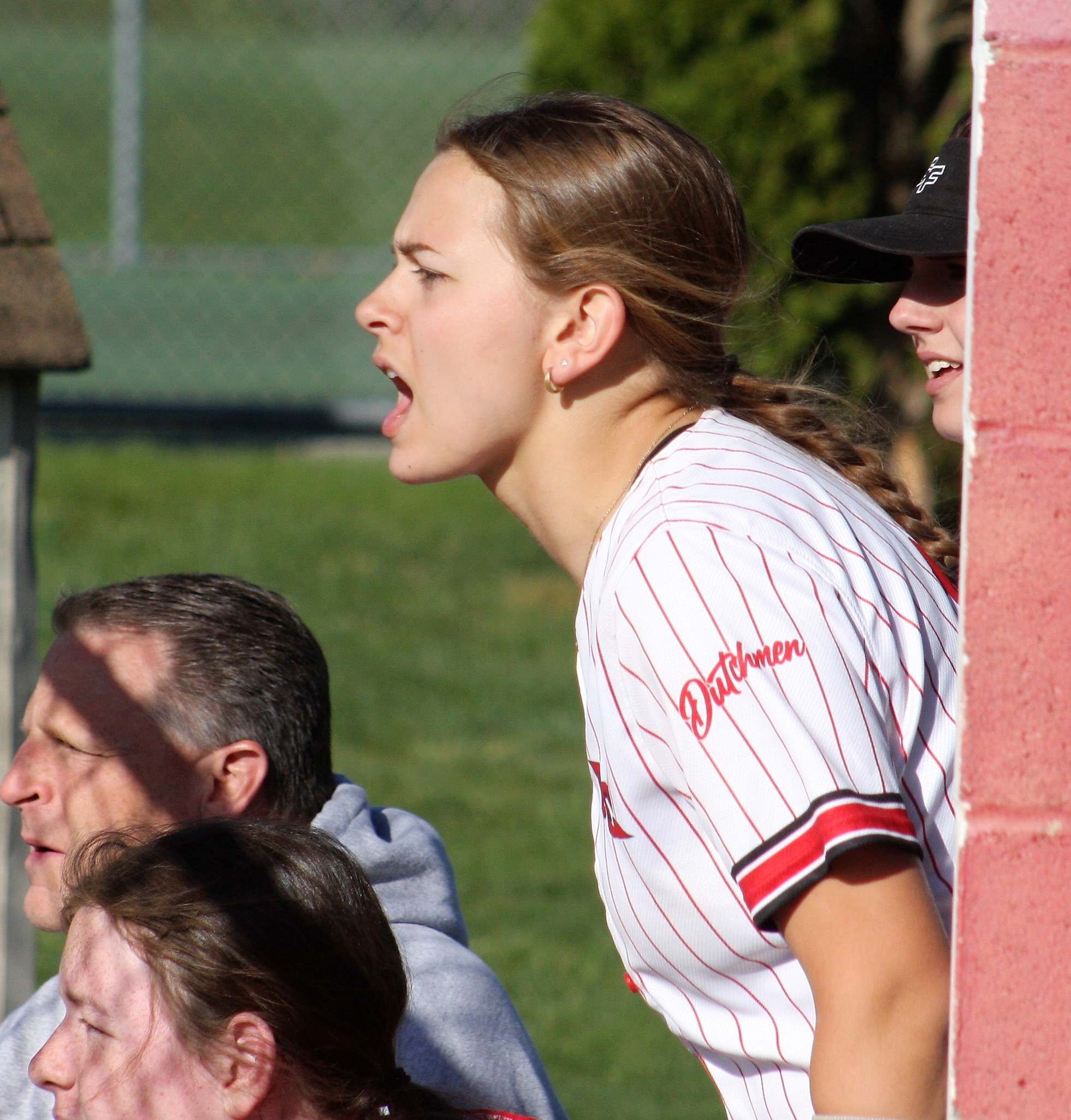 BY JEFF FALK
ANNVILLE – It was a difficult game. It was an intense game.
It was the kind of game that sharpens steel. It was the kind of game from which to project.
On a bright Wednesday evening at Annville-Cleona High School, the Little Dutchmen scored the kind of softball win that will serve them well as the season progresses, a 2-1, ten-inning triumph over Lancaster Catholic. Annville-Cleona tallied the decisive run with two outs in the bottom of the third extra frame, courtesy of some aggressive base-running by Danika Setlock and a Crusader throwing error.
The victory was significant on a number of levels.
It was the Little Dutchmen's fifth win over their last six outings and pushed them to 7-3 overall and 6-2 in Section Four of the Lancaster-Lebanon League. In the most recent District Three power rankings, Annville-Cleona, which counts five sophomores and two freshmen on its varsity roster, was situated fifth in an AAA classification that takes six teams for its postseason.
The result evened Lancaster Catholic's spring mark at 4-4. Back on April 3rd in Lancaster, the Crusaders had scored a 3-0 triumph over Annville-Cleona.
"'Frustrating' would be the word I'd use," said Annville-Cleona head coach Tim Bowen of the contest. "We didn't touch that kid (Lancaster Catholic pitcher Maddy Detz). She did a nice job. We always tell our girls, 'find a way,' and they did. It was a big win for us because they beat us the first time.
"We're still super young and we're still learning," Bowen added. "But I thought tonight they (his players) did grow up a little bit."
Down a run, Annville-Cleona began the bottom of the tenth inning with a designated runner placed on second base. Following  Summer Light's sacrifice and a strikeout, Setlock laced a two-out, run-scoring up the middle to tie the score.
Meda Pulaski singled, before Setlock took off from second base in an attempt to steal third. When the throw at third base got away, Setlock raced home with the winning run.
"I knew Summer was a good bunter and I knew she was going to get it down," said Bowen. "But the biggest part of it was Danika being at second base and seeing the steal sign. She's the best baserunner we have. I saw her coming to third base. I didn't see the ball get away. But she popped up and ran home.
"But holding them (the Crusaders) to one run in the top of the tenth inning was important," continued Bowen. "We settled ourselves down, and that was key."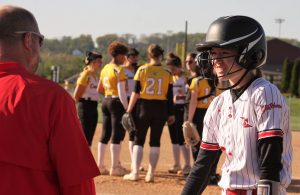 After the two sides had battled through nine scoreless frames, Lancaster Catholic notched the game's first run in the top of the tenth inning. Similarly, the Crusaders' placed runner at second base scored on an Annville-Cleona throwing error.
But that in no way could diminish Pulaski's magnificent performance on the mound. The hard throwing righthander threw all ten innings, fanned 19, did not walk a batter and scattered four hits.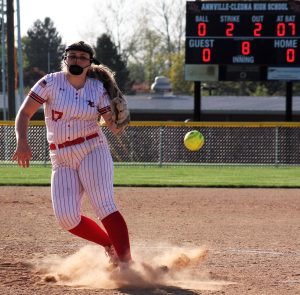 None of the hits that Pulaski allowed came at the start of an inning.
"Today, she (Pulaski) did everything perfect," said Bowen. "She threw it where I asked her to throw it and she changed speeds. When she's hitting her spots like that, she's almost unhittable. She gets in rhythms like this.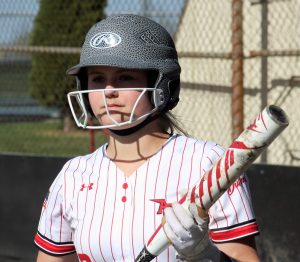 "But as a team, we've got to find a way to help her defensively," he added.
"We did play well," said Lancaster Catholic head coach Emily Detz. "But it still hurts to lose like that. Unfortunately, it came down to one error at the end."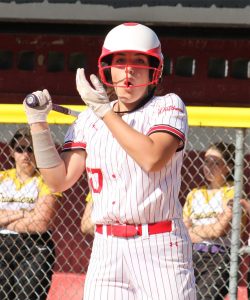 For nine innings, Detz matched Pulaski goose egg for goose egg. She finished with 12 strikeouts and two walks, and Annville-Cleona touched her for a total of four hits, none of which came before the sixth inning.
"We always talk to our hitters about finding ways to make adjustments," said Bowen. "There at the end, we made the adjustment of crowding the plate, and it worked out for us. I like for these kids to figure out some of these things on their own."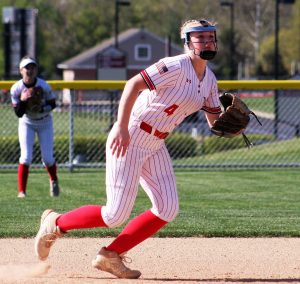 The Little Dutchmen mounted the most serious threat during regulation, loading the bases with one out in the bottom of the sixth. Miranda Thielmann's double, an intentional walk to Pulaski and a Lancaster Catholic error juiced the sacks, but Detz got off the hook with a comebacker and a strikeout.
"The games we've lost, we've beaten ourselves," said Bowen. "During the last few practices, we've been pounding and pounding on playing good defense. I'm a firm believer that defense wins championships.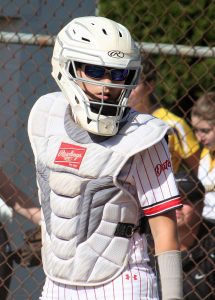 "Win our section, first and foremost, and win a district championship," Bowen continued. "That's the two goals. Those were the goals from Day One. That's always going to be our goals, as long as I'm here."
To purchase images in this article please email jeff@lebcosports.com.
2023 Annville-Cleona Softball Results
| | | | | | |
| --- | --- | --- | --- | --- | --- |
| 2023-03-27 | H | vs | Eastern Lebanon County(3) | W | 5-4 |
| 2023-03-29 | A | vs | Kutztown(3) | L | 5-0 |
| 2023-03-31 | A | vs | Central Dauphin East(3) | W | 7-5 |
| 2023-04-03 | A | vs | Lancaster Catholic(3) | L | 3-0 |
| 2023-04-05 | H | vs | Columbia(3) | W | 12-2 |
| 2023-04-10 | H | vs | Pequea Valley(3) | W | 10-6 |
| 2023-04-12 | A | vs | Lancaster Mennonite(3) | W | 16-1 |
| 2023-04-14 | A | vs | Northern Lebanon(3) | L | 13-3 |
| 2023-04-17 | A | vs | Pequea Valley(3) | W | 10-6 |
| 2023-04-19 | H | vs | Lancaster Catholic(3) | | 0-0 |
| 2023-04-21 | H | vs | Northern Lebanon(3) | | 0-0 |
| 2023-04-24 | A | vs | Columbia(3) | | 0-0 |
| 2023-04-26 | H | vs | Lancaster Mennonite(3) | | 0-0 |
| 2023-04-28 | A | vs | Lancaster Catholic(3) | | 0-0 |
| 2023-04-29 | H | vs | Spring Grove Area(3) | | 0-0 |
| 2023-04-29 | H | vs | Tournament() | | 0-0 |
| 2023-05-01 | H | vs | Columbia(3) | | 0-0 |
| 2023-05-03 | H | vs | Pequea Valley(3) | | 0-0 |
| 2023-05-04 | A | vs | Lancaster Mennonite(3) | | 0-0 |
| 2023-05-08 | A | vs | Northern Lebanon(3) | | 0-0 |
PIAA District Three Class AAA Power Rankings
| | | | | | | | | | | | |
| --- | --- | --- | --- | --- | --- | --- | --- | --- | --- | --- | --- |
| AAA | School |  W |  L |  T |  Rating |  TWP |  OWP |  TWPW |  OWPW |  TWPL |  OWPL |
| 1 | Littlestown | 9- | 0- | 0 |  0.748042 |  1.000000 |  0.440093 |  9.45 |  84.85 |  0.00 |  107.95 |
| 2 | Kutztown | 9- | 3- | 0 |  0.669161 |  0.777273 |  0.537024 |  8.55 |  110.60 |  2.45 |  95.35 |
| 3 | Susquenita | 8- | 1- | 0 |  0.654382 |  0.867925 |  0.393387 |  6.90 |  69.00 |  1.05 |  106.40 |
| 4 | Wyomissing | 6- | 4- | 0 |  0.543970 |  0.611650 |  0.461249 |  6.30 |  85.70 |  4.00 |  100.10 |
| 5 | Annville-Cleona | 6- | 3- | 0 |  0.542221 |  0.662983 |  0.394622 |  6.00 |  63.10 |  3.05 |  96.80 |
| 6 | Upper Dauphin | 7- | 3- | 0 |  0.537744 |  0.638889 |  0.414122 |  5.75 |  65.10 |  3.25 |  92.10 |
| 7 | Lancaster Catholic | 4- | 3- | 0 |  0.509577 |  0.566929 |  0.439479 |  3.60 |  74.25 |  2.75 |  94.70 |
| 8 | Pequea Valley | 4- | 5- | 0 |  0.431615 |  0.427746 |  0.436344 |  3.70 |  79.00 |  4.95 |  102.05 |
| 9 | Biglerville | 3- | 5- | 0 |  0.425156 |  0.357143 |  0.508283 |  2.75 |  92.05 |  4.95 |  89.05 |
| 10 | Bermudian Springs | 3- | 8- | 0 |  0.424835 |  0.298578 |  0.579149 |  3.15 |  113.60 |  7.40 |  82.55 |
| 11 | Oley Valley | 4- | 7- | 0 |  0.401412 |  0.344186 |  0.471355 |  3.70 |  92.15 |  7.05 |  103.35 |
| 12 | Camp Hill | 3- | 6- | 0 |  0.390643 |  0.360947 |  0.426939 |  3.05 |  69.10 |  5.40 |  92.75 |
| 13 | Tulpehocken | 2- | 9- | 0 |  0.322004 |  0.165854 |  0.512855 |  1.70 |  95.75 |  8.55 |  90.95 |
| 14 | Columbia | 0- | 10- | 0 |  0.237118 |  0.000000 |  0.526929 |  0.00 |  83.65 |  9.90 |  75.10 |

Lebanon Federal Credit Union