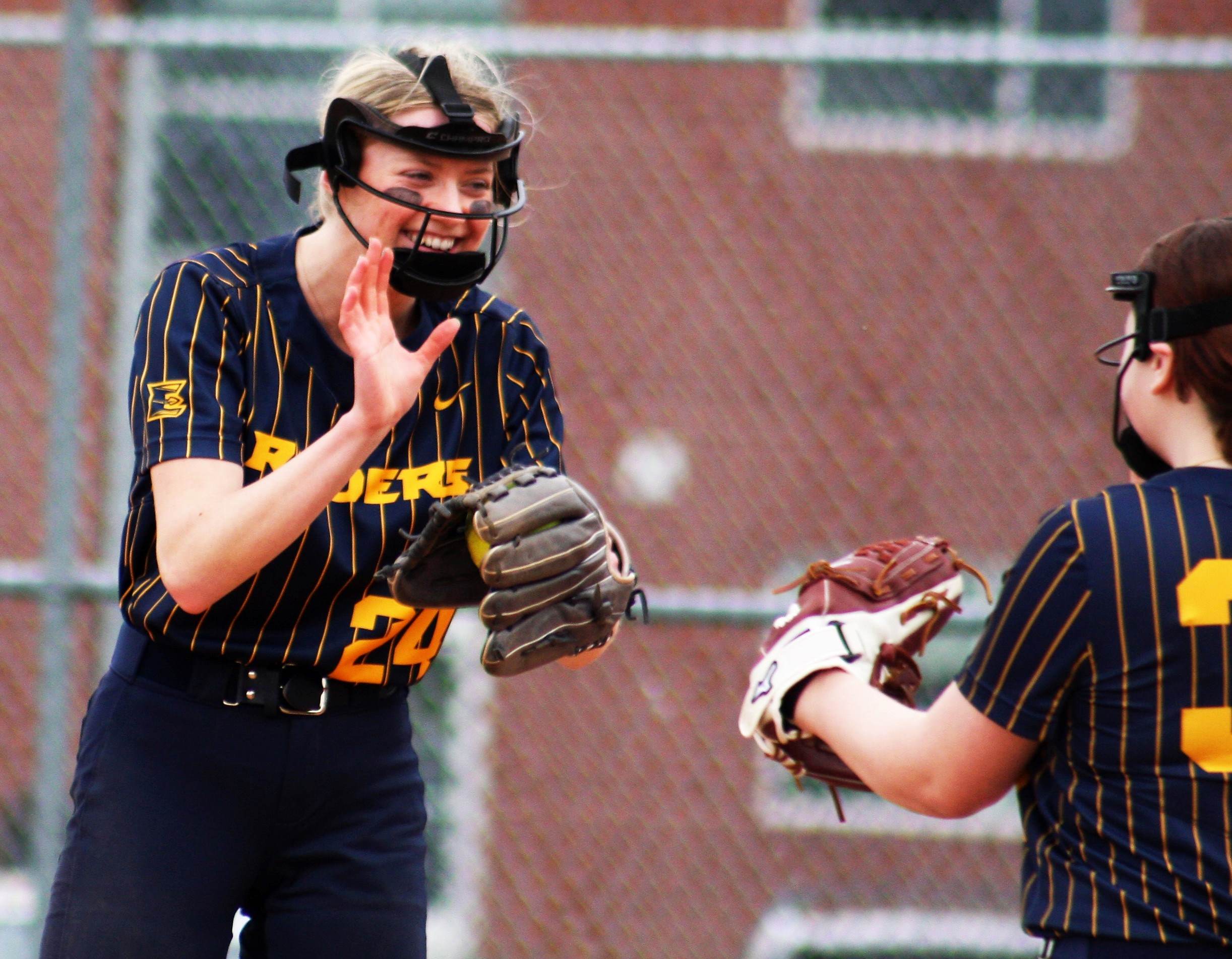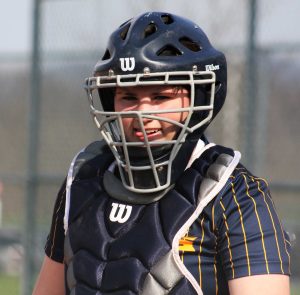 BY JEFF FALK
Editor
MYERSTOWN – Some things simply can't be rushed. Especially the good stuff.
The Elco softball team has put in the time, put in the work, put in the patience. Now the Raiders are hoping that this is finally the year.
On a windy Wednesday evening at Elco Middle School, the evolution of the Raiders' new program culture continued, during a 7-3 Lancaster-Lebanon Section Three triumph over Cocalico. Elco used a pair of three-run rallies to overcome an early 3-0 deficit.
The victory evened the Raiders' overall record at 2-2 and their Section Three mark at 1-1. Cocalico dipped to 1-4 on the season and 0-2 in league play, "It does take time," said Elco head coach Allen Phillips. "We're growing every year, but we're still young. But it (the change in culture) comes from the youth organizations. I've preached how important that it comes from the feeder program. We have another good group coming up.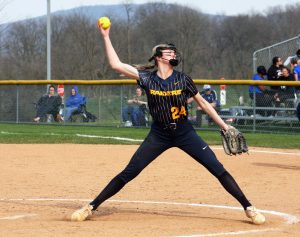 "As I met with the girls, as a team and individually, the thing I heard most was that they want to make the playoffs," continued Phillips. "So we decided to make that a team goal. But I told them, 'If you guys want to make the playoffs, we probably have to go 13-7. Or maybe 15-5 to be safe.'"
Yesterday, as sophomore righthander Gabby Smith went, so went the Raiders. Smith struggled just a tiny bit early, but once she settled in, her pitching kept Elco in the game and set the stage for some middle-of-the-game offense by the Raiders.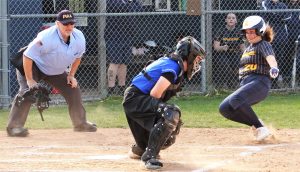 Smith surrendered a total of three hits, but none after the third inning. She finished with 16 strikeouts and three walks.
"Gabby was really dialed in today," said Phillips. "I thought she did great. She's her own biggest critic. The nice thing about her is that she self-diagnoses. She's a special talent.
"Of course, Gabby is one of the best pitcher in the county," added Phillips. "But we have another pitcher, Abby Hassler, and she's very solid. It's nice to have Abby to give Gabby a break. We're solid there."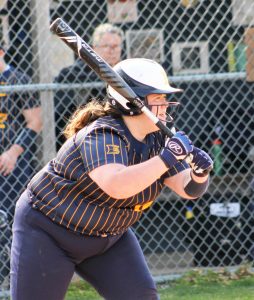 "They're a good team," said Cocalico head coach Paige Roell of the Raiders. "They have a good pitcher. She hit good spots and had good speed."
Down 3-0, Elco really got the bats going in the bottom of the third inning.
Caitlyn Kleinfelter, Smith and Morgan Wilson all stroked one-out hits for the Raiders. But it was Gracie Barshinger's two-out, two-run single that tied the game at three.
"We're happy with the result," said Phillips. "We started a little slow. Our bats have been doing well. We can hit the ball, but we're still working on our defense.
"It took a little bit of time to get going," Phillips. "Their pitcher (Haley Schoener) is a very good pitcher. We knew we'd be in for a battle with her. The first couple of innings was a matter of getting our timing down. Once we got our timing down, our bats woke up, and we woke up."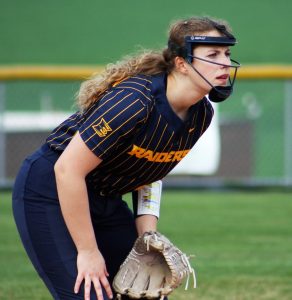 In the fifth, the Raiders' winning rally began with an Eagle error and Chole Shirk's safety. Hassler, Barshinger and Avery Garrison followed with RBIs.
"We're really focusing on being aggressive at the plate," said Phillips. "We want to jump on that first-pitch strike. We don't want to let that first good one go by."
Elco rounded out the scoring in the bottom of the sixth, on doubles from Smith and Shirk.
"Our first league game was with Donegal, and we competed with them early," said Phillips. "Because this was a section game, it was important for us to come out and get a win. Now we go into a little bit of a spring break at .500.
"It's been a tough start to the season so far," Phillips added. "Three of our first four games were away, against tough opponents. Now we're going to get a better feel for where we stand in the section."
To purchase images in this article please email jeff@lebcosports.com.
2023 Elco Softball Schedule
| | | | | | |
| --- | --- | --- | --- | --- | --- |
| 2023-03-28 | A | vs | Annville-Cleona(3) | L | 6-5 |
| 2023-03-29 | A | vs | Lebanon(3) | W | 15-4 |
| 2023-04-03 | A | vs | Donegal(3) | L | 19-4 |
| 2023-04-05 | H | vs | Cocalico(3) | | 0-0 |
| 2023-04-10 | A | vs | Garden Spot(3) | | 0-0 |
| 2023-04-12 | H | vs | Manheim Central(3) | | 0-0 |
| 2023-04-14 | A | vs | Octorara(3) | | 0-0 |
| 2023-04-17 | H | vs | Garden Spot(3) | | 0-0 |
| 2023-04-19 | H | vs | Donegal(3) | | 0-0 |
| 2023-04-20 | A | vs | Middletown(3) | | 0-0 |
| 2023-04-21 | H | vs | Octorara(3) | | 0-0 |
| 2023-04-24 | A | vs | Cocalico(3) | | 0-0 |
| 2023-04-26 | A | vs | Manheim Central(3) | | 0-0 |
| 2023-04-28 | A | vs | Donegal(3) | | 0-0 |
| 2023-05-01 | H | vs | Cocalico(3) | | 0-0 |
| 2023-05-02 | A | vs | Wyomissing(3) | | 0-0 |
| 2023-05-03 | A | vs | Garden Spot(3) | | 0-0 |
| 2023-05-05 | H | vs | Manheim Central(3) | | 0-0 |
| 2023-05-06 | H | vs | Tulpehocken(3) | | 0-0 |
| 2023-05-08 | A | vs | Octorara(3) | | 0-0 |