With commitments becoming official for high school athletes who plan to compete at the collegiate level, we have compiled a list of where our Lebanon County athletes are planning to use their talents next year.  We will work to update this list as we receive word of more athletes either signing letters of intent or through another official means.  If any athletes were inadvertently missed, please let us know by emailing dan@lebcosports.com.
The newest additions are colored in green.
---
     Annville-Cleona Dutchmen 
Girls Soccer
Sage Sherk (Clarion University)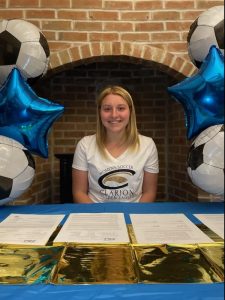 ---
     Cedar Crest Falcons 
Field Hockey
Paige Bucher (Kutztown University)
Football
Roman Brummel (Lebanon Valley College)
Jay Huber (Lycoming College)
Ethan Heisey (Lebanon Valley College)
Golf
Jillian Fidler (Berry College, GA)
Lacrosse
Josh Trovinger (Juniata College)
Soccer
Lily Young  (Jacksonville University)
Abrielle Miller (Lebanon Valley College)
Swimming
Braden Hain (Edinboro University)
Tennis
Taliah Thomas (Bryn Mawr College)
Track & Field / Cross Country
Kyle Rauchut (Slippery Rock University)
Owen Sparks (Indiana University of Pennsylvania)
Volleyball
Sophia Rosenberg (U.S. Coast Guard Academy)
---
 ELCO Raiders  
Tennis
Ali Bender (Moravian College)
Track & Field
Colin Daub (Shippensburg University)
Carissa Bender (Shippensburg University)
Samantha Nelson (Southern Utah University)
Soccer
Julia Bidelspach (Lycoming College)
Chandler Earhart (Stevenson University)
Thayne Kahl (Geneva College)
Carley Kleinfelter (Lebanon Valley College)
Field Hockey
Caitlyn Kleinfelter (Gwynedd-Mercy College)
Baseball
Nick Pagano (Neumann University)
Volleyball
Emily Snader (Penn State – York)
Football
Aidon Fritsch (Millersville)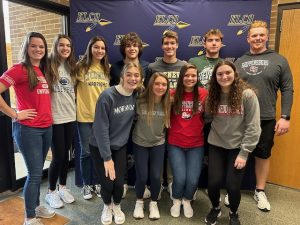 ---
     Lebanon Cedars
Wrestling
Griffin Gonzalez (Lehigh University)
* The first Lebanon wrestler in fifty years to go Division I.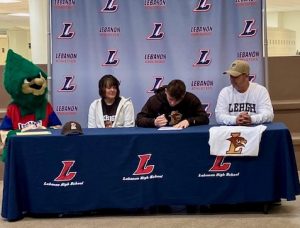 Griffin Gonzalez
Swimming 
Carlos Hidalgo (Saint Bonaventure) *1st Cedar swimmer to go D1
Football 
Emanuel Mason (Seton Hill)
Blaze Watson (Grove City)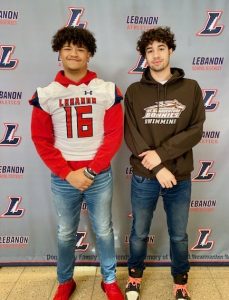 Mason & Hidalgo
---

New Covenant Flames
Girls Volleyball
Renae Rohrer (Eastern University)
Audra Foster (Penn State – York)
---
     Northern Lebanon Vikings
Girls Volleyball
Sam White (Millersville University)
Baseball
Jared Ecenroad (Delaware Valley)
DJ Byerly (Virginia Wesleyan)
Soccer
Erin Shuey (Delaware Valley)
Wrestling
Owen Lehman (Frostburg State)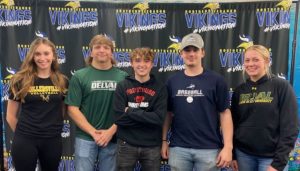 ---
   Palmyra Cougars
Boys Soccer
Brayden Sunho (Penn State – Harrisburg)
Field Hockey
Alaina Bryan (York College)
Alicia Battistelli (University of Vermont)
Avery Russell (University of Richmond)
Katie Lintz (Bucknell University)
Olivia Kirkpatrick (Liberty University)
Piper Taylor (Frostburg State)
Rileigh Lambert (Bloomsburg University)
Girls Soccer
Makayla Bucks (Penn College)
Katy Pavusek (Pitt – Johnstown)
Softball
Mollie White (West Virginia Wesleyan)