BY JEFF FALK
LEBANON – For a program looking to turn things around, it has become a less-than-ideal scenario. The Lebanon baseball team was looking to get off to a fresh start, build momentum and then reach some solid and reasonable goals.
Now, the Cedars will never mail it in, but some things are going to have to change, drastically, and soon.
On a bright Monday evening at Coleman Memorial Park, Lebanon again endured its share of difficulties during a 13-2 setback at the hands of Ephrata, in a Lancaster-Lebanon Section Two contest shortened to five innings by the mercy rule. It was a 4-1 ball game before the Mountaineers tallied eight runs in the top of the fourth inning to bring the ten-run rule into play.
While Ephrata, one of the top programs in the Lancaster-Lebanon League, deserves a ton of credit, Lebanon certainly could've performed better. The result dropped the Cedars to 1-6 on the year and 0-3 in Section Two, while the Mounts improved to 4-1 on the spring and 2-0 in the circuit.
"There were some positives," said Lebanon head coach Fred Gonzalez. "But it's the Lebanon way. We can't win games in high school (baseball). I'm starting to second-guess whether I'm the right guy to be here. They (his players) have to play from start to finish.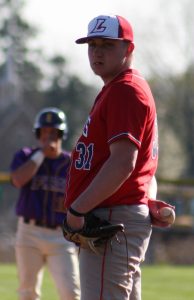 "I didn't expect this at this point of the year," continued Gonzalez. "Our pitching has been a big disappointment. We're in a tough section. Ephrata's a good team and you can never take anything away from them. We want to finish strong in the second half of the season. It's frustrating because they (his players) work hard."
The outcome was very much in doubt when Ephrata came to bat in the top of the fourth inning. But the Mounts emerged from the frame with a 12-1 lead, after ten of their first 11 hitters reached base, thanks in part to five safeties, three hit batters and a pair of free passes.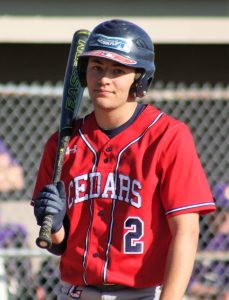 "They (the Mountaineers) hit the ball," said Gonzalez. "We got behind batters and they made us pay for it. They got singles when they needed to. We're still learning.
"I felt we were a little selfish in situations," added Gonzalez. "We'll play well and then the bottom will drop out. Sometimes we're not mentally focused."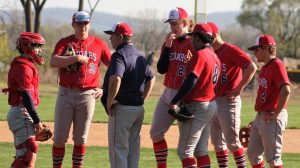 "I thought we did a great job of establishing the lead early," said Ephrata head coach Adrian Shelley of his side's trio of first-inning runs. "I thought our batters did a good job in two-strike counts. Our pitchers stranded some of their guys early. It was a good win. It's always hard to win on the road."
Lebanon did generate some offense in the bottom of the first frame, courtesy of clean-up hitter Jordy Polanco's sacrifice fly. The team at-bat had begun with back-to-back singles from Griffin Gonzalez and Ben DiScuillo.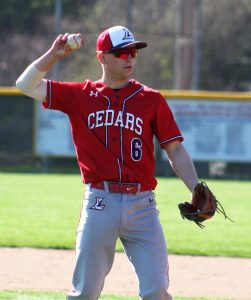 "We just didn't put enough pressure on their defense," said Gonzalez. "I feel like we're a team that can put pressure on defenses. I figured in the first part of the season that we'd be crushing the ball. We're starting to swing it better and get guys on base. But they're not consistent yet."
The Cedars plated their second run in the bottom of the fifth on Yostin Guerrero's RBI-single. Lebanon's table was set by DiScuillo being hit by a pitch and a Victor Espinal single.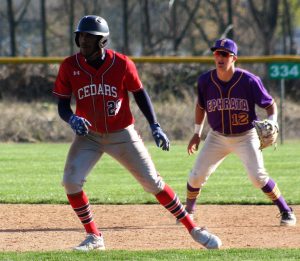 "I thought Jordy threw well," said Gonzalez of his starter. "It was good having him back on the mound. With Jordy on the mound, we're in the ball game.
"Some days, it's really tough to be positive," Gonzalez added. "I love these kids. But it can be very trying. I expected better. They need to expect better out of themselves and each other."
To purchase images in this article please email jeff@lebcosports.com.
2023 Lebanon Baseball Schedule
| | | | | | |
| --- | --- | --- | --- | --- | --- |
| 2023-03-24 | A | vs | Northern Lebanon(3) | L | 6-3 |
| 2023-03-28 | H | vs | Cedar Crest(3) | L | 10-4 |
| 2023-03-29 | A | vs | Eastern Lebanon County(3) | L | 10-0 |
| 2023-04-03 | A | vs | Conestoga Valley(3) | L | 6-3 |
| 2023-04-05 | H | vs | Elizabethtown(3) | L | 11-0 |
| 2023-04-06 | H | vs | Annville-Cleona(3) | W | 9-0 |
| 2023-04-10 | H | vs | Ephrata(3) | | 0-0 |
| 2023-04-12 | A | vs | Lampeter Strasburg(3) | | 0-0 |
| 2023-04-14 | H | vs | Solanco(3) | | 0-0 |
| 2023-04-17 | A | vs | Ephrata(3) | | 0-0 |
| 2023-04-19 | H | vs | Conestoga Valley(3) | | 0-0 |
| 2023-04-21 | A | vs | Solanco(3) | | 0-0 |
| 2023-04-24 | A | vs | Elizabethtown(3) | | 0-0 |
| 2023-04-26 | H | vs | Lampeter Strasburg(3) | | 0-0 |
| 2023-04-28 | A | vs | Conestoga Valley(3) | | 0-0 |
| 2023-05-01 | H | vs | Elizabethtown(3) | | 0-0 |
| 2023-05-03 | H | vs | Ephrata(3) | | 0-0 |
| 2023-05-05 | A | vs | Lampeter Strasburg(3) | | 0-0 |
| 2023-05-08 | H | vs | Solanco(3) | | 0-0 |
| 2023-05-10 | A | vs | Milton Hershey(3) | | 0-0 |