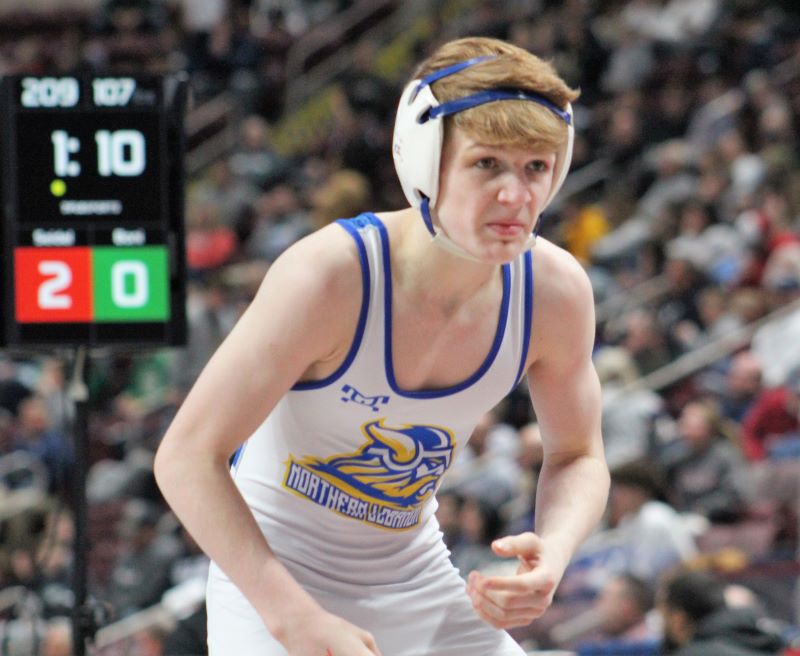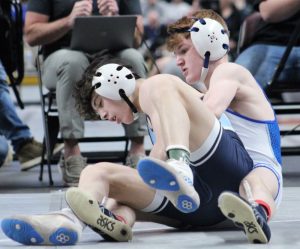 BY JEFF FALK
Editor
HERSHEY – Winning a state championship is a lot harder than Aaron Seidel is making it look. The Northern Lebanon sophomore is making it look so routine that he's bringing specific periphery stuff into question – like the age-old concept of peaking, the debate of whether or not he's the best wrestler at states in any weight class or this notion that the PIAA championships somehow carry some sort of extra pressure.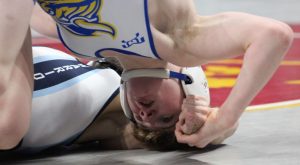 On Friday at Hershey's Giant Center, during the middle day of the annual staging of the PIAA Class AA Wrestling Championships, Seidel looked like something more than your average competitor attempting to defend a state title. In winning his two bouts in the Class AA 107-pound weight class, he looked dominant and calmly fluid and supremely confident.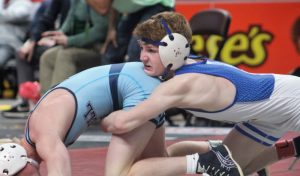 Seidel pinned Cam Baker of Burrell at the 1:39 mark of their semifinal bout. Earlier in the day, the Viking tenth-grader posted a 15-0, 4:29 technical fall over Central Valley's Antonio Boni in the quarterfinals.
Seidel is now 47-0 on the season, 7-0 all-time at states, while none of his matches this year have gone the full six minutes. Of course, he's a year removed from becoming just the second Lebanon County competitor to ever capture a PIAA championship in wrestling.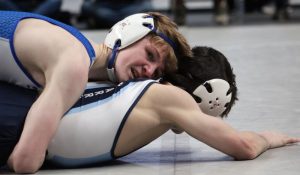 On Saturday at 2 p.m., Seidel will take on Chestnut Ridge freshman Dominic Deputy in the final bout at 107 pounds.
Meanwhile, Seidel's Northern Lebanon teammate, 114-pounder Sam Wolford, met a different fate, as his spectacular postseason run was short-circuited by an 11-0 setback at the hands of Josef Garshnick of United.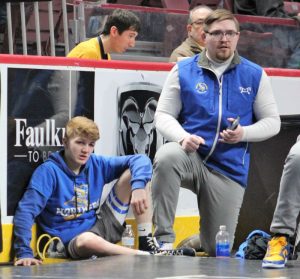 "It just helps me be more comfortable here," said Seidel of his competition at national events outside of Pennsylvania. "I think they're all really important. States has always been really important to me. But I have other goals too.
"I don't really care about being the best wrestler here," continued Seidel. "There are other studs here, and I can name all of them. I don't know if I'm the top overall wrestler or not. But if I keep working, maybe I can get there."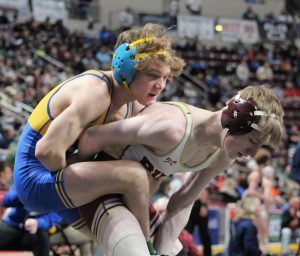 Baker provided Seidel with a bit of drama when he got in on his legs during an early takedown attempt. But Seidel adeptly fought the shot off, and 15 seconds later, he notched a takedown of his own.
The score of the semifinal bout was 5-0 when Seidel completed his pinning combination.
"I'm always motivated. That was a big match for me," said Seidel. "My goal was to make it to the finals, so it feels good. I just wanted to get the match done and move on, because anything can happen."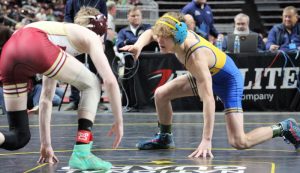 Opposite Boni, Seidel registered an opening takedown 22 seconds in, before adding five back points prior to the close of the first period. By the end of the second period, Seidel was sitting on a 12-0 cushion.
"I just feel more aggressive than last year," said Seidel. "I'm excited. I do get nervous before matches, but after I get started I calm down."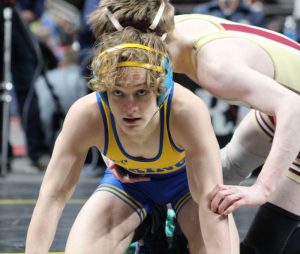 Wolford just couldn't get anything going against Garshnik. Their battle in the third-round of consolations was scoreless after the first period, but Wolford surrendered three back points in the middle stanza and trailed 3-0 entering the third.
A round earlier in the consolations at 114, Wolford had posted an exhilarating 9-8 3OT triumph over Chartiers-Houston junior Jorden Williams. After trailing 3-0 in the opening period, Wolford scored a reversal with ten seconds left in the third extra session to win it.
"I wrestled my best," said Wolford, who ended his season at 45-14. "I'll be back next year and wrestler better. I just wanted to make it here. It's nerve-racking going out on the mat here. There are a lot of people watching you.
"I learned what I needed to get better at," Wolford added. "I need to get better at wrestling kids who are fast on their feet and wrestle kids who are bigger than me in general. Just working with Aaron Seidel in the practice room every day helped. He gave me a pretty good example of what it was going to be like here."
To purchase images in this article please email jeff@lebcosports.com.

Lebanon Federal Credit Union