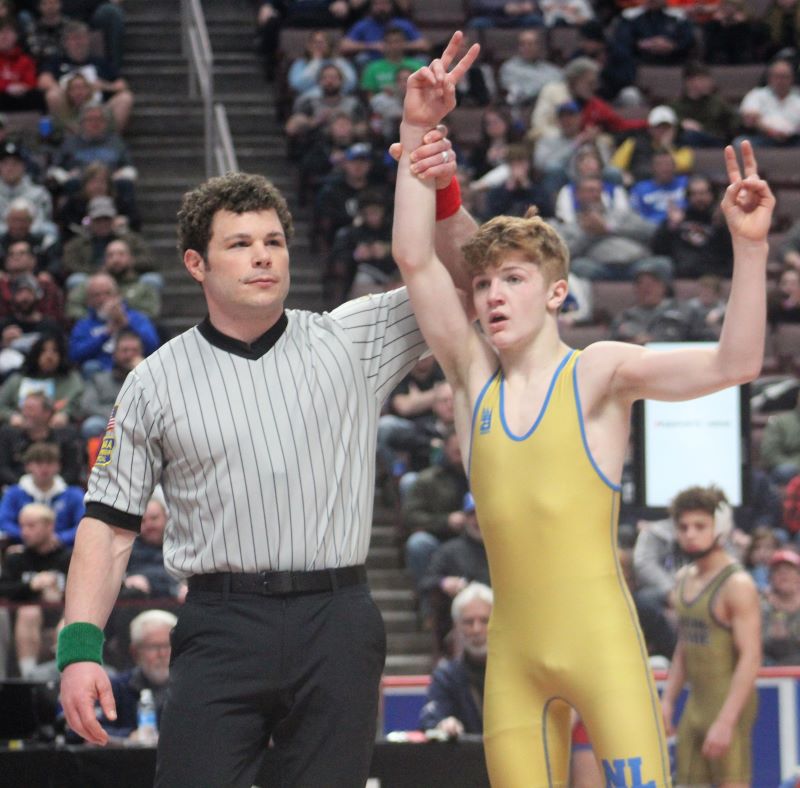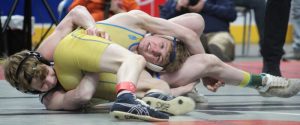 BY JEFF FALK
Editor
HERSHEY – It's one thing to say that Aaron Seidel has a high ceiling. It's a completely different thing to set the bar as high as he has.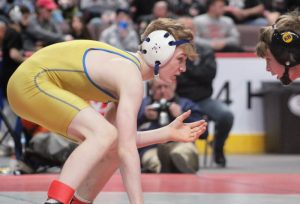 All of it, of course, comes at a cost. But it's a price that Seidel is more than willing to pay.
On Saturday afternoon at Hershey's Giant Center, the fruits of his labor and the lifestyle that he leads paid off in the the form of a second state championship. The Northern Lebanon sophomore defeated Dominic Deputy of Chestnut Ridge 6-1 in the final bout of the Class AA 107-pound weight class, during the annual staging of the PIAA Wrestling Championships.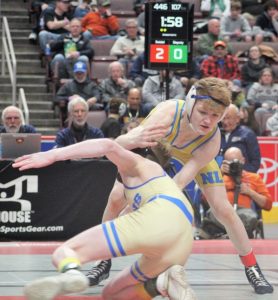 Not only did the triumph complete Seidel's undefeated campaign, it concluded one of the most spectacular seasons in the annals of Lebanon County athletics, in any sport. It also raised the question of how many more state wrestling championships Seidel can win over the next two years, and where such career accomplishments might place him in local sports history.
As the only Lebanon County wrestler to ever capture two state championships, Seidel went 48-0 during the 2022-23 season and his career record now stands at an incredible 97-1. Seidel never really came close to losing this winter and only three of his wins were determined by decisions, two of which occurred against Deputy.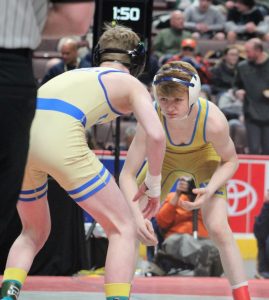 "I've always got to work hard and make sacrifices," said Seidel. "A lot of my friends want to hang out, but I've got to go to practice. It's just about being around the right people, surrounding yourself with practice partners who want to work hard.
"I always thank God and my family and everybody here," continued Seidel. "I just never want to be cocky. My family taught me well."
"Just to be great at anything there's a sacrifice not a lot of people understand," said Northern Lebanon head coach Rusty Wallace. "He's in the weight room before school. He's at practice after school, and then he's going to another practice. He's trained for this and this is a huge moment.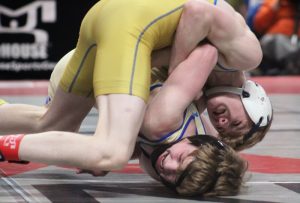 "A  lot of kids want to do well," Wallace continued. "But not everyone is willing to give up everything and jump in with both feet. He is. He deserves it, and you want kids to get what they deserve and what they earn. He definitely earned this."
Following some early scrambling, Seidel took Deputy down with 20 seconds left in the first period. He notched a second takedown 34 seconds into the middle period to open a 4-0 lead.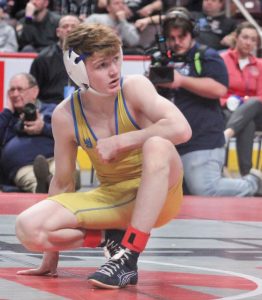 "I was just happy I got the first takedown," said Seidel. "My best thing is probably on top. I always want to score as many points as I can. I just want to have the same mindset in every match.
"There was a lot of joy and happiness last year," added Seidel. "I loved when everyone called me a state champ. It's kind of cool to be called that again."
"He wrestled like he wrestled all year," said Wallace of Seidel. "He was on the attack all four matches, trying to score as many points as he can. He competes like he trains, and that's 100 miles an hour."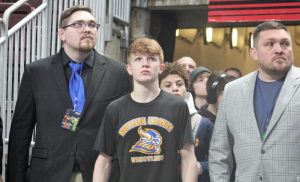 "He's been dominant throughout the year, which is impressive because we go to some pretty tough tournaments," Wallace added. "Our postseason is very tough. When you finish undefeated in the state of Pennsylvania it says something. Pennsylvania is the toughest state in the country for wrestling."
Seidel rode Deputy for most of the third period, before the Chestnut Ridge freshman used a late escape to record his only point of the bout. But with seven seconds remaining, Seidel took him down again.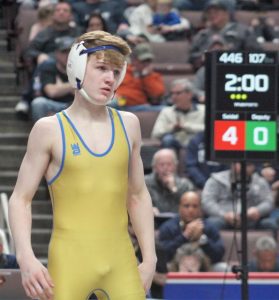 "It's a lot of pressure," said Seidel. "But at the end of the day, I'm used to it. It (wrestling Deputy in December) helped a lot because I knew what Dom was going to do. The last couple of months I've been training to beat him.
"I've just got to keep working hard like I have been," Seidel continued. "I know sometimes people win state championship and they think they're top dog and they slack off. I've just got to keep working hard. My goal next season is to win every match."
"To win one state championship is mind-boggling," said Wallace. "To win two, you put yourself in some pretty special company. When you start talking about winning three or four, that list gets really, really short. It's not going to be from a lack of effort. He's going to train like he always does.
"A lot of people were talking about defending his state title, defending his state title," continued Wallace. "He wasn't defending anything. That state title (from last season) was going to be be his forever. No matter what happened today, no one was going to take anything away from him. The most important match to him is the next one."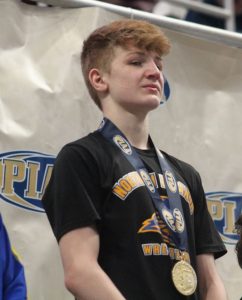 At the prestigious King of the Mountain tournament in December, Seidel had registered a 6-2 triumph over Deputy. Deputy took Seidel down first in that bout and had led 2-0.
"This is going to help our team get better," said Seidel. "When my teammates see me accomplishing these goals, that makes them want to accomplish them too. I can set a good example for younger kids and show them what they can do."
"The greatest part of coaching is watching kids have some success," said Wallace. "There's nothing like it. Seeing a kid like Aaron, who gives his life to the sport 365 days a year, seven days a week, he loves every aspect of wrestling. He's willing to do the things other kids his age aren't willing to do. It's extra special."
To purchase images in this article please email jeff@lebcosports.com.

Lebanon Federal Credit Union