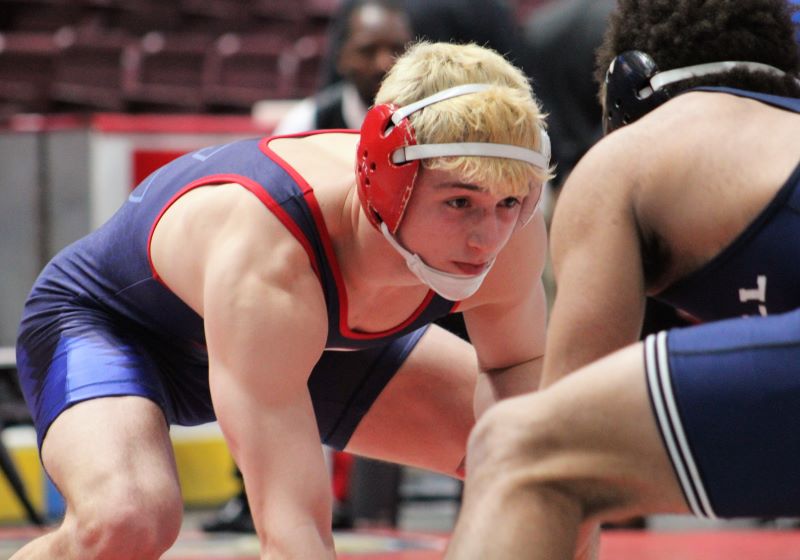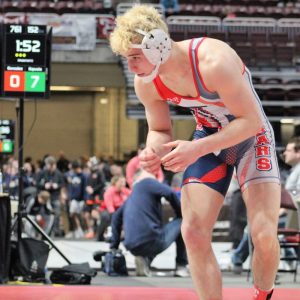 BY JEFF FALK
Editor
HERSHEY – In a very real way, resiliency results from disappointment, it's born out of necessity. It demands character and focus and commitment.
Griffin Gonzalez has constructed an entire wrestling career out of resiliency.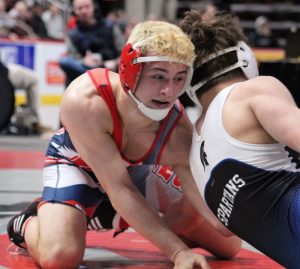 On Friday at the PIAA Class AAA Wrestling Championships, being contested at Hershey's Giant Center, Gonzalez's resiliency served him well again. After dropping a tough 7-0 decision to Lucas Kapusta of Hempfield Area in the quarterfinals of the 152-pound weight class, the Lebanon senior bounced back to post a 3-2 victory over McDowell sophomore Artis Simmons in the third round of consolations.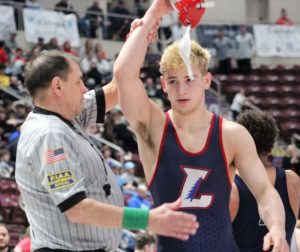 The triumph assured Gonzalez another state medal, as well as another test of his resiliency on Saturday, when the PIAA Class AAA championships conclude back at Hershey's Giant Center. Gonzalez, who earned a seventh-place medal at states a year ago, had finished a somewhat disappointing fourth two weeks ago at the District Three Class AAA Championships, before rebounding with a pair of solid wins during Thursday's opening day of the PIAA tournament.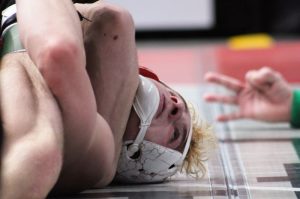 In other Class AAA action on Friday, Elco freshman Ashton Kriss grudgingly bowed out of the 107-pound weight class bracket when he was decked by Braiden Weaver of Altoona at the 4:02 mark of their match during the third-round of consolations.
"The goal is to wrestle back for third," said Gonzalez. "Now, it's about getting the next best thing. I want to wrestle my best. I want to know I wrestled the best I could.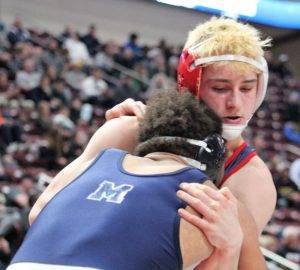 "No, I don't think I have wrestled my best," continued Gonzalez. "Two weeks ago at the district tournament, I hoped I would feel like I wrestled my best."
With his season and career on the line, Gonzalez scored a second-period escape against Simmons, then recorded a takedown before the period was through to establish a 3-0 lead. In the final period, Gonzalez did enough to weather a stalling point and an escape by Simmons.
"It took a lot mentally," said Gonzalez of his bout with Simmons. "I didn't want to lose that match (versus Kapusta). I didn't come here to lose, much less in the quarters. I wanted to make it to the finals."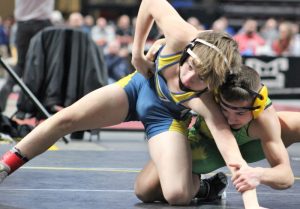 Gonzalez gave up a takedown ten seconds into his quarterfinal match with Kapusta. He trailed 7-0 entering the third period.
With his results at states, Gonzalez now sports a 42-5 overall record this season.
"I'd definitely like to finish higher than seventh," said Gonzalez. "I have to be more confident. I just have to go out there with all the confidence I have and not hold anything back."
Kriss fell behind Weaver 7-0 in the second stanza, and was trailing 12-0 at the time of his fall.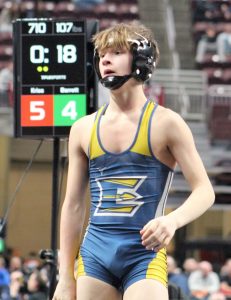 During the second round of consolations at 107 pounds, Kriss had rallied for a 6-4 victory over Dylan Barrett of Penn Trafford to keep his freshman season going. After falling behind 4-0, Kriss tallied the final six points of the bout.
Kriss concluded his year with a 37-8 mark.
"I'm a little disappointed, but I'm only a freshman and I have three more years of wrestling left," said Kriss. "I had some matches I wrestled well, and some others that I didn't wrestle as well. I feel like I could've wrestled better sometimes.
"It blew my mind how all of the my hard work paid off," Kriss continued. "My coaches got me out of my comfort zone, and that's what got me here. I need to get a little stronger. I have to put a lot of dedication and heart into this sport.
To purchase images in this article please email jeff@lebcosports.com.

Lebanon Federal Credit Union