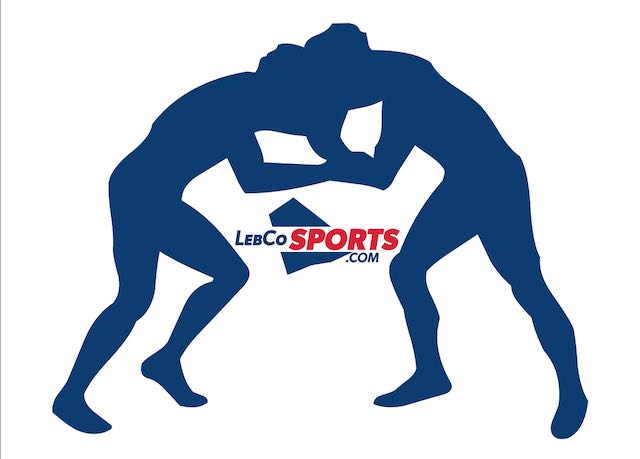 Written by Hudson Brown, Northern Lebanon Junior and member of the wrestling team
Photos were provided by Carter Kubica, Northern Lebanon Sophomore
This article was written as part of the mission of LebCoSports to give young writers an opportunity to develop skills they may use in their future careers.
---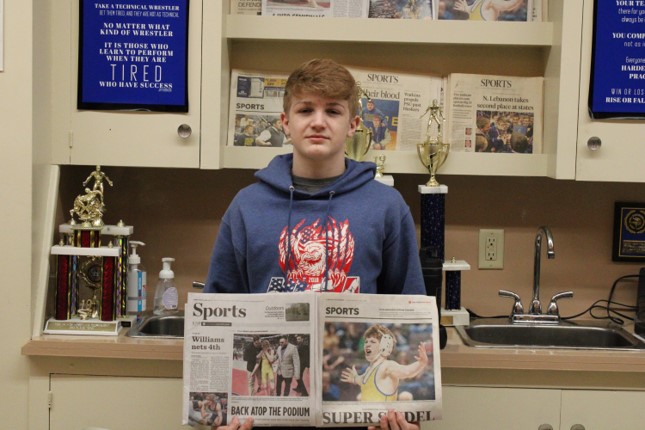 Aaron Seidel, is a name well-known by many in the wrestling community. The Sophomore from Northern Lebanon won his second consecutive AA state title, at the 107 lb weight class, over the weekend. This win capped off a perfect 48-0 season, and made him the first two-time state champion in Northern Lebanon school history.
Coming off of his state championship win last year, Aaron said, "I definitely think I am more experienced this year because I have been here once so I'm not as nervous. I'm much more confident in myself, and used to the environment there." This experience clearly helped him as he earned a spot in the finals match after two technical falls and a pin respectively.
Aaron said, to deal with the pressure of his big matches "I like to talk to my coaches and joke around to get my mind off the match. Music also helps me get my mind off the match. Being able to get my mind off the match is very important and helps me not overthink it." This strategy seemed to work as Aaron secured the PIAA state title with a 6-1 decision over Dominic Deputy.
Aaron was extremely proud to have won his second state title, however he said "Making the state tournament with Sam [Wolford] was one of the coolest things." Aaron and Sam have known each other since they were young, and being able to compete alongside Sam was a highlight of the tournament for Aaron. This speaks to Aaron's character, he is a true team player and wants the best for all the people around him.
Unfortunately, Sam lost in the third round of consolation matches after wrestling extremely hard up until that point. He had a great performance for his first year and left with lots to build on for next season.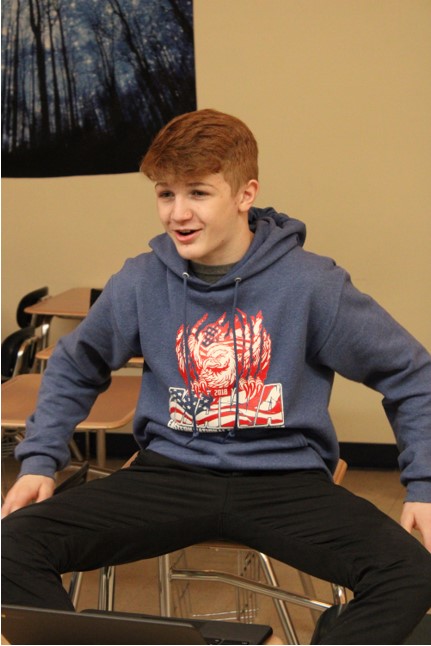 Aaron excitedly talks about his teammate's achievements.
Aaron's love of wrestling comes from the toughness of the sport. He said, "It helps you become a stronger person in life, it is a very tough sport that makes you a tougher person. I love the hard work that comes with it, and meeting new people at all the tournaments I go to." This love for the sport is what allows Aaron to put in the work required to be a great wrestler. His coach Russell Wallace said, "Coaching a kid like Aaron is fun and enjoyable because he is the type of kid that is willing to do the things he needs to do to be the best. Most things about wrestling are not fun so finding people that love the hard parts makes them easy to coach because they enjoy that challenge."
From the beginning of this season Aaron has been feeling good, and wrestling even better. "Beginning of this year during the season I felt very good because I was having dominant performances. I was cutting weight, so I knew I was stronger than the other kids and that made me more confident." He hopes to carry this confidence into the postseason where aims to pick up wins on the national stage: NHSCA individual tournament (March 24-26), the Fargo National tournament (July), and Super 32 tournament (October). Along with this, he is staying ready for next season when he looks to secure a third consecutive state title.
Aaron has a lot of preparation to do working ahead of another state title defense. He said, "Sometimes in the first match of a tournament I will let it go longer to get warmed up for later matches in the tournament. Outside of that I try to get it over as quickly as possible." This a lesson Aaron also applies as he prepares for the grind of the season, which as one of the nation's best wrestlers, is a year-round endeavor.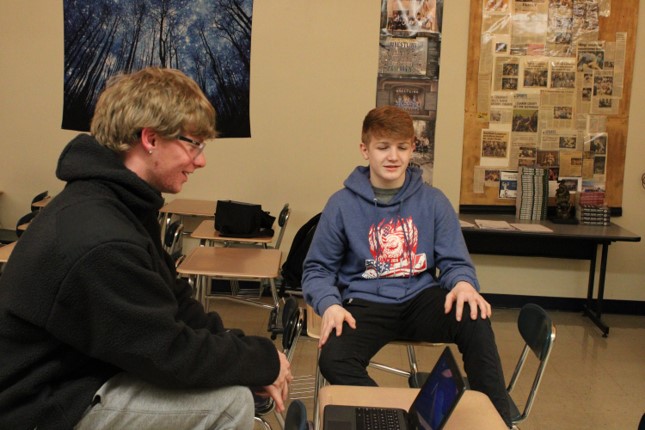 Hudson interviews a humble Aaron.
---
If you are looking to provide feedback or are a business or individual interested in providing sponsorship to aid our mission at LebCoSports, you are asked to contact Dan by emailing dan@lebcosports.com.

Lebanon Federal Credit Union