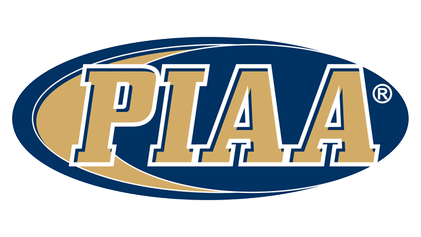 Updated 3/18 after completion of meet.
This article was originally published on Wednesday, March 15, but has been updated to include results.  The original text appears in black.
Beginning tomorrow, athletes from across Pennsylvania will converge upon Lewisburg to compete in the PIAA State Swimming & Diving Championships.  The venue is the Kinney Natatorium located at Bucknell University.  The AA schools will go first, with their events being held on Wednesday and Thursday.  The AAA schools will then hold their competitions on Friday and Saturday.  All in all, Lebanon County will have three swimmers and one diver competing in a combined total of six events.
Updates/Results are in green.  
Recap
Four Lebanon County swimmers went to Bucknell to compete and all of them had performances that outpaced their seeds.  The two main headliners came in the form of Lebanon's dynamic duo of senior Carlos Hidalgo and junior Will Parker.  Hidalgo left Lewisburg with two medals, a silver in the 100 Freestyle and a bronze in the 50 Freestyle.  He finishes his high school swim career with four State medals in all, after medaling in both events a year ago (finishing 7th and 8th respectively).  Parker, a 13th seed in the 100 Breaststroke, hit a new level at this meet and earned himself a spot in the Finals where he finished 5th in Pennsylvania.  As a result of these finishes, Lebanon placed 13th overall among Boys AAA schools.  
AA
Carter Cheslock, Northern Lebanon
The junior finished 9th in the 100 Freestyle at the District 3 Championships, but in the race he dropped .87 seconds off of his previous time to swim a 49.77.  This met the state qualifying mark and earned him a spot as one of the top thirty-two swimmers selected for the State Championship Meet.
100 yd Freestyle – entry time 49.77, seeded 28th overall
Results – 49.79, 23rd overall
On Thursday morning, Cheslock swam in the 100 Free prelims.  His time was almost exactly his entry time, but he swam 5 spots ahead of his seeding to finish 23rd in Pennsylvania.
AAA
Elise Potter, Palmyra
With a score of 170.70 the Palmyra senior diver placed 5th at the District 3 Diving Championships to earn her spot in the State Championships.  Her score of 194.55 at the Mid Penn Championships earned her a silver medal.
1 meter Diving – 170.70 entry score ranks 20th overall
Results – 162.60, 19th overall
On Friday afternoon, Potter competed in the Diving Championship.  On the toughest of stages for a high school diver, Potter remained consistent and moved up one spot from her original seed, finishing 19th overall.
Carlos Hidalgo, Lebanon
The Lebanon senior is a returning State medalist after finishing 7th in the 100 Free and 8th in the 50 Free at last year's meet.  This year he enters after winning gold in both events at the District 3 Championship Meet. His entry time in the 50 Free is 20.74 and ranks him 4th ahead of States.  In the 100 Free, his time of 46.00 at Districts has him in the 5th seed. However, the time that won him the LL League crown was 45.55, which would have been good enough for the #3 spot.  No matter which way you look at it, Hidalgo is in a good position to repeat as a medalist in both events.  It will just be a matter of if he will be fast enough to grab one of the shinier medals. Unless our records are wrong, there has never been an individual state champion from Lebanon, something Hidalgo is looking to change.
50 yd Freestyle – entry time 20.74, seeded 4th overall.
Prelims – 20.78, 4th place (qualified for finals)
In the prelims, Hidalgo swam a 20.78 to finish the round in 4th place overall to make the Finals.  Going into tonight's race, he is guaranteed a medal and is currently less than .3 seconds off of the #1 seeded swimmer.
Finals – 20.49, 3rd place
In the finals, Hidalgo dropped an additional .29 seconds to swim a 20.49 and finish 3rd, earning a bronze medal.  The winning time was a 20.14.
100 yd Freestyle – entry time 46.00, seeded 5th overall.
Prelims – 45.12, 2nd place (qualified for finals)
Hidalgo's 45.12 was .88 seconds faster than his entry time and was good enough to place 2nd in the prelims.  It was also .43 faster than the time that won him the LL Championship in this event.  The top seed going into the finals swam a 44.69.  The #1 ranked swimmer coming into today finished 3rd, but had a District 1 time of 44.72.  
Finals – 44.56, 2nd place
Hidalgo had already put up his best time yet when he grabbed the #2 seed heading into the Finals.  The question was if he had more room for improvement when swimming in the medal round.  He answered with an authoritative "YES!", as he cut off another .56 seconds to touch the wall in 2nd place.  Hidalgo now joins a very short list of Cedar athletes who have ever earned a silver medal on the State level and becomes the first to do so since track star Emmitt Jeronimo Rodriguez finished #2 at the 2015 400m PIAA State Track Meet.
Swimming: Lebanon senior Carlos Hidalgo takes silver in state 3A boys 100 yd freestyle (44.56)@LancasterSports @CedarAthletics @cedarsxc @LebanonHSCedars pic.twitter.com/jr0WJDTsJ0

— John Walk (@JWalkLNP) March 18, 2023
Carlos Hidalgo brings home the silver medal with a 44.56 in the 100 Freestyle and finishes his career as Lebanon's most successful swimmer in history with 4 state medals!! pic.twitter.com/RVZchoyiMF

— Rooty Cedars (@cedars_rooty) March 18, 2023
Will Parker, Lebanon
The junior from Lebanon qualified for two events this weekend at Bucknell.  While Parker is solid in the 50 yd Freestyle event, this will serve as a prelude to Saturday's 100 yard Breaststroke, his specialty.  At the Lancaster Lebanon League Championships, he took silver in the 50 and then won the 100 Breast handily.  At Districts, he finished 2nd in the 100 Breast.  His District time of 57.59 ranks him 13th overall going into the event.  While this time makes him a medal contender, keep in mind that this time was .70 seconds slower than his League gold medal performance.
50 yd Freestyle – entry time 21.75, seeded 29th overall.
Results – 21.60, 19th overall
In Friday morning's prelims, Parker entered as the 29th seed and came out of the pool having finished in 19th place after dropping .15 seconds off of his State Qualifying time for the District 3 Championships.
100 yd Breaststroke – entry time 57.59, seeded 13th overall.
Prelims – 56.46, 4th place (qualified for finals)
Parker dropped 1.13 seconds off of the entry time, which was his time from Districts, to move up 9 spots in order to punch his card for the Finals.  It is also faster than his previous season best time of 56.89.  While Parker is guaranteed a medal with a successful start, he could earn a top three medal if he still has more left in the tank.
Finals – 56.31, 5th place
Parker barged his way into the Finals with a very impressive swim in the prelim round.  Was the junior peaking at the right time?  Could the effort be replicated?  Yes and no.  Yes, he was peaking at the right time.  No, he had more to give.  In the medal round, Parker shaved off another .15 seconds (1.28 at this meet) and finished 5th overall.
Swimming: Lebanon junior Will Parker in state 3A boys 100 yd breaststroke
Places 5th in 56.31 seconds@LancasterSports @cedarsxc @CedarAthletics @LebanonHSCedars pic.twitter.com/oGmPT95DcP

— John Walk (@JWalkLNP) March 18, 2023
The Lebanon Cedars Swim Team finishes 13th in the State in AAA!!! pic.twitter.com/0GJbEQHBVE

— Rooty Cedars (@cedars_rooty) March 18, 2023
---
If you are looking to provide feedback or are a business or individual interested in providing sponsorship to aid our mission at LebCoSports, you are asked to contact Dan by emailing dan@lebcosports.com.

Lebanon Federal Credit Union