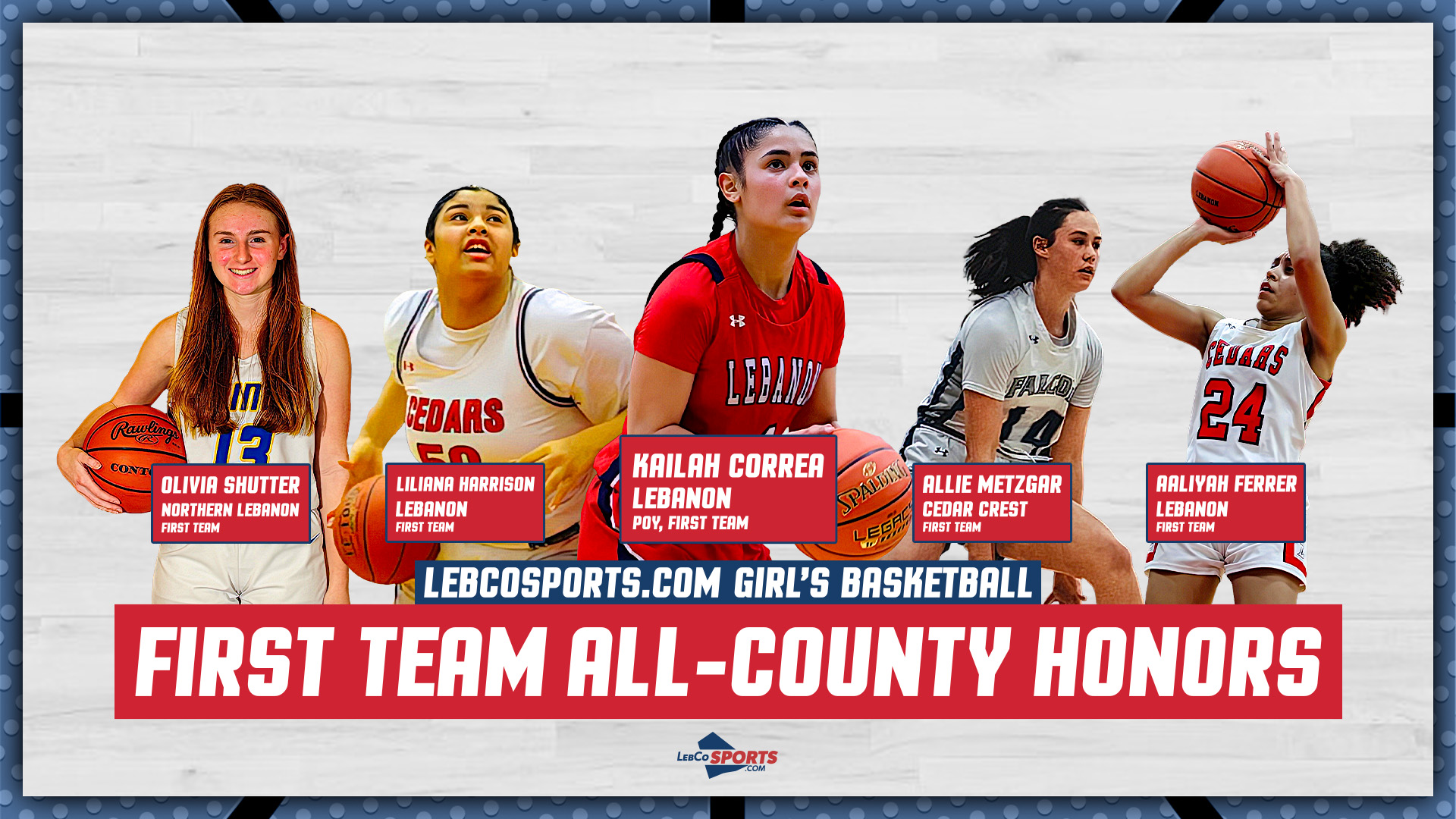 First Team All-County
Kailah Correa – Lebanon, Sophomore
Lebanon County Player of the Year
Correa is undoubtedly one of the best playmakers in the State. She averaged 18.3 points per game and, during the District 3 Playoffs, hit the 1,000 career point milestone. She also averaged 4.1 rebounds, 3.4 assists, 2.5 steals, and carried a 1.3 assist to turnover ratio. Correa may downplay it, but she is the most major reason as to how her Cedars finished the regular season with an unblemished record and the Section 1 Championship. With having already won a round in States this season, it will be worth watching how Correa continues to develop and what that will mean for Lebanon.
Aaliyah Ferrer – Lebanon, Senior
Ferrer had a breakout season during her senior campaign, as her play helped the Cedars out of many tough spots during games. She excelled in her role as an outside scoring option, hitting 53 three-pointers on the season. She averaged: 10.0 points, 2.4 assists and 3.5 rebounds. She was also a scrappy defender, averaging 1.3 steals per game.
Allie Metzgar – Cedar Crest, Junior
Metzgar offered nightly scoring consistency for the Lady Falcons squad who tied for 2nd in Section 1 and earned a berth in the District 3 Playoffs. She averaged 9.8 points, relying on her tremendous three-point shooting. When all the stats were tallied, Metzgar knocked down 40 shots from beyond the arc.
Liliana Harrison – Lebanon, Sophomore
Harrison averaged 11 points and 9.6 rebounds per game, offering an interior scoring option as she created matchup problems for many opponents. On the defensive end, she made it tough to score close to the rim, but that doesn't mean they didn't try allowing her to average 1.6 blocks per game.
Olivia Shutter – Northern Lebanon, Sophomore
Shutter was Northern Lebanon's top scoring option throughout the season, averaging 14.7 points per game. A great shooter, she hit 37 three-pointers. She also led the team in rebounding.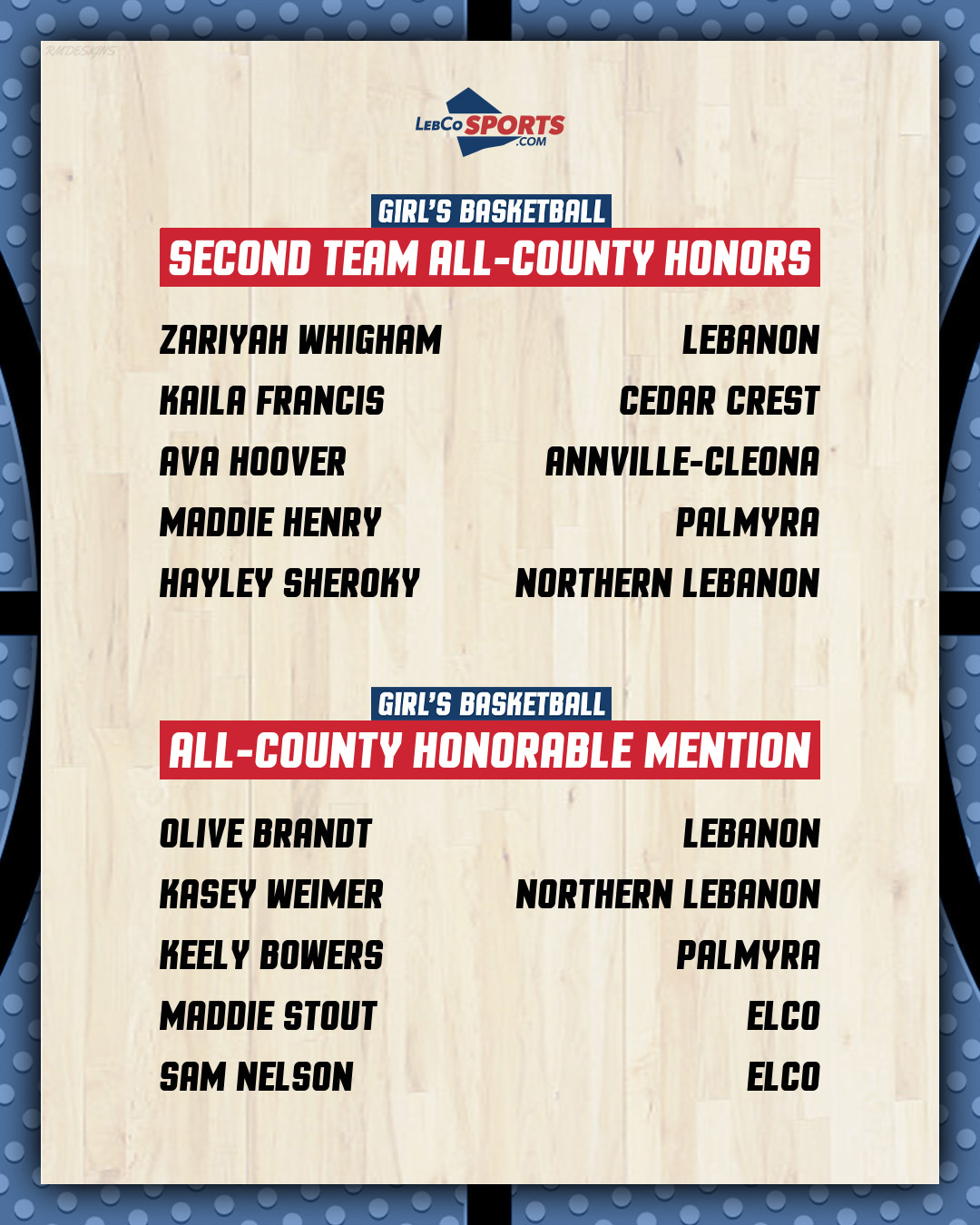 Second Team All-County
Zariyah Whigham – Lebanon, Junior
A hustler, Whigham was a coach's dream as she fought for every loose ball. She made her presence felt in the paint throughout the season, as she used her athleticism to average 10.8 rebounds, 1.7 blocks, and 1.5 steals. She also averaged 6.9 points per game, as she created many opportunities for herself.
Kaila Francis – Cedar Crest, Freshman
Francis had an excellent freshman season, especially considering that she led the team in scoring as they made the District 3 Playoffs. She averaged 10.5 points and 6.7 rebounds per game. Known as an interior scorer, she did force triple overtime against Lebanon when she hit a three-pointer in the closing seconds of the second overtime.
Ava Hoover – Annville-Cleona, Sophomore
Hoover recorded 11 double-doubles in 22 games this season. Overall, her she averaged 11.3 points and 8.2 rebounds.
Maddie Henry – Palmyra, Senior
Henry was the Lady Cougar's senior leader and she proved it game after game. She averaged 8 points and 6.1 rebounds, while also drawing the oppositions best defender. On the defensive end, she was versatile and was used to guard any position.
Hayley Sheroky – Northern Lebanon, Freshman
Sheroky averaged 9 points per game, while also being used to control the offense through smart guard play. She also made 21 three pointers on the season.
All-County Honorable Mention
Olive Brandt – Lebanon, Freshman
Brandt started for the Cedars as a freshman, averaging: 7.0 points, 3.5 rebounds, 2.5 assists, and 1.6 steals. She proved to be a good ball handler, who gave her team an additional scoring option.
Kasey Weimer – Northern Lebanon, Freshman
Weimer averaged 9 points per game for the Lady Vikings, while also leading the team in offensive rebounding. She was also considered to be Northern Lebanon best defender.
Keely Bowers – Palmyra, Junior
Bowers averaged 8.2 points per game for the Lady Cougars, offering a quality shooting option. She led them with 19 three pointers, but also hi 77% of her free throws on the year. Her biggest game was a 19 point outing that resulted in a thrilling win over Red Land.
Maddie Stout – ELCO, Freshman
As a freshman, Stout averaged 7.5 points per game and connect on 22 three-pointers for the Lady Raiders.
Sam Nelson – ELCO, Senior
Nelson averaged 7.7 points and 5 rebounds. She also led her team, playing tough defense that resulted in 1.2 steals per game. Nelson always took on the most difficult defensive assignment.
---
Click here to see the LebCo All-County Boys Team.
---
The nominations for this honor were done by the coaches. The voting was a combination of the coaches, the writers, and the fan voting that so many participated in on behalf of their favorite players.
The graphic designs were made by Annville-Cleona alum Ryan Mathews. A huge thanks to Ryan for his efforts!
Special thanks to the following for use of the photos used for this coverage: MDS Photography, Rachelle Isgriggs, and the coaches who were able to procure the pictures.
---
If you are looking to provide feedback or are a business or individual interested in providing sponsorship to aid our mission at LebCoSports, you are asked to contact Dan by emailing dan@lebcosports.com.

Lebanon Federal Credit Union