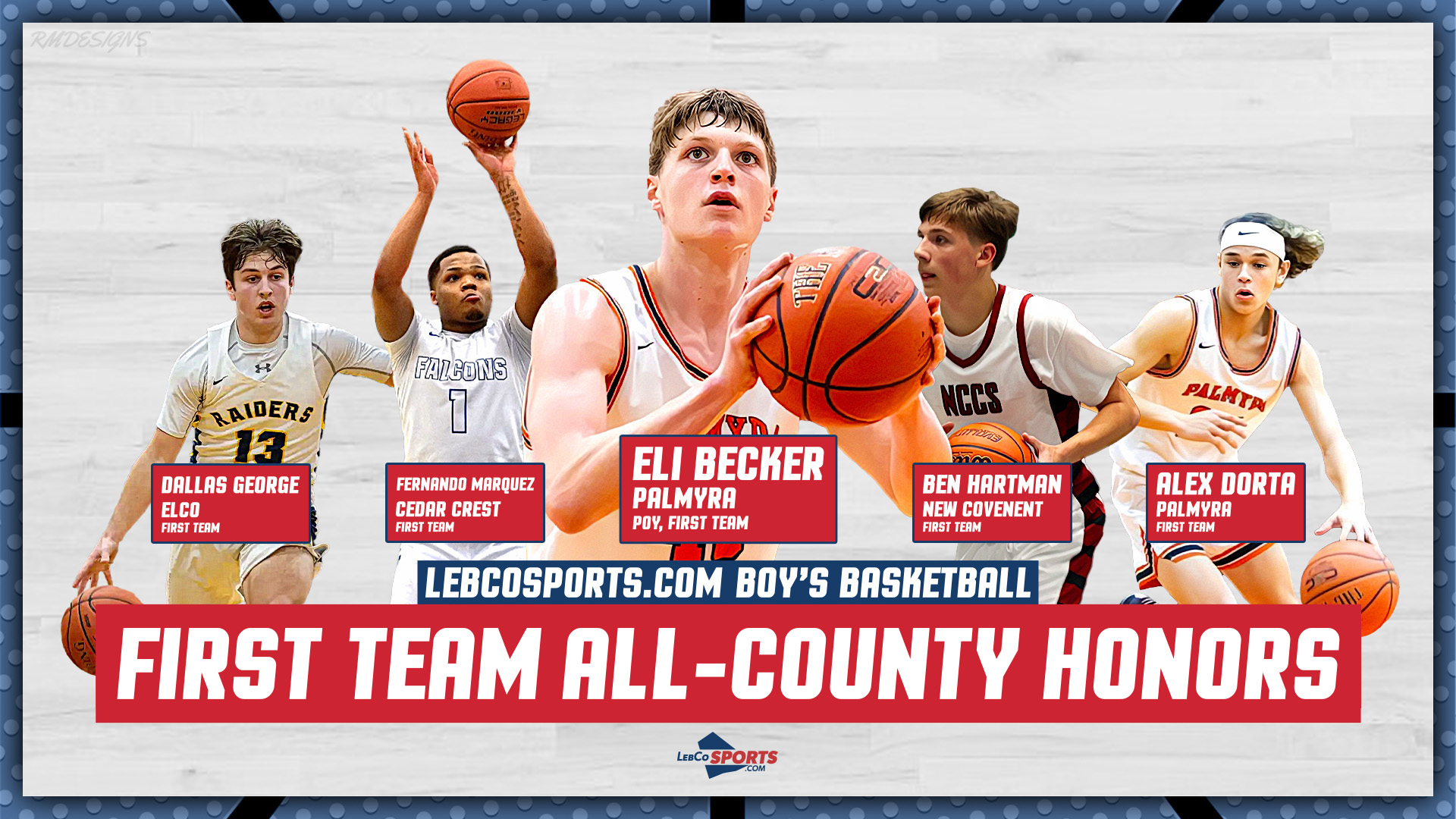 First Team All-County
Eli Becker – Palmyra, Senior
Lebanon County Player of the Year
Becker did it all for the Cougars and in impressive fashion.  He averaged 15 points and 8 rebounds a game.  Known as an excellent interior scorer, hitting 54% of shots taken inside the arc.  However, Becker also shot 35% from 3-point range and 77% from the foul line.  His defense was also a key part of his game, averaging 2 blocks and 1.5 steals per contest.  Beyond the stats, his leadership for the Palmyra team was invaluable.
Ben Hartman – New Covenant, Senior
Hartman is an athlete who put forth huge efforts night after night.  This resulted in him averaging 20 points per game, along with averaging: 4.0 rebounds, 2.5 assists and 3.1 steals for the Flames.  In back-to-back games, Hartman scored 36 and then followed it up with a 33 point performance.
Dallas George – ELCO, Junior
George was seen as ELCO's most consistent player throughout the season, averaging 11.5 points per game. He also averaged 3.3 rebounds, 3 assists and 2.8 steals, while posting a 1.5 assist to turnover ratio.  For the season, he was a 77% free throw shooter who also hit 22 threes, mostly in clutch situations of games.
Fernando Marquez – Cedar Crest, Junior
Marquez was part of a Cedar Crest crew that featured balanced scoring.  As a talented scoring option, he averaged 10 points per game, while shooting 45% from the field and 73% from the foul line.  In addition to Marquez as a scoring threat, he also pulled down 6 rebound per game.  Was a major contributor to Cedar Crest making the Lancaster Lebanon League and District 3 Playoffs.
Alex Dorta – Palmyra, Sophomore
Dorta turned many heads this season with the amount of things he was doing right on the court, along with how he was constantly improving.  On the season, he averaged: 11.8 points, 3.7 rebounds, 2.4 assists, and 2.5 steals.  Over the final 16 games of the season, Dorta shot 40% from three-point range.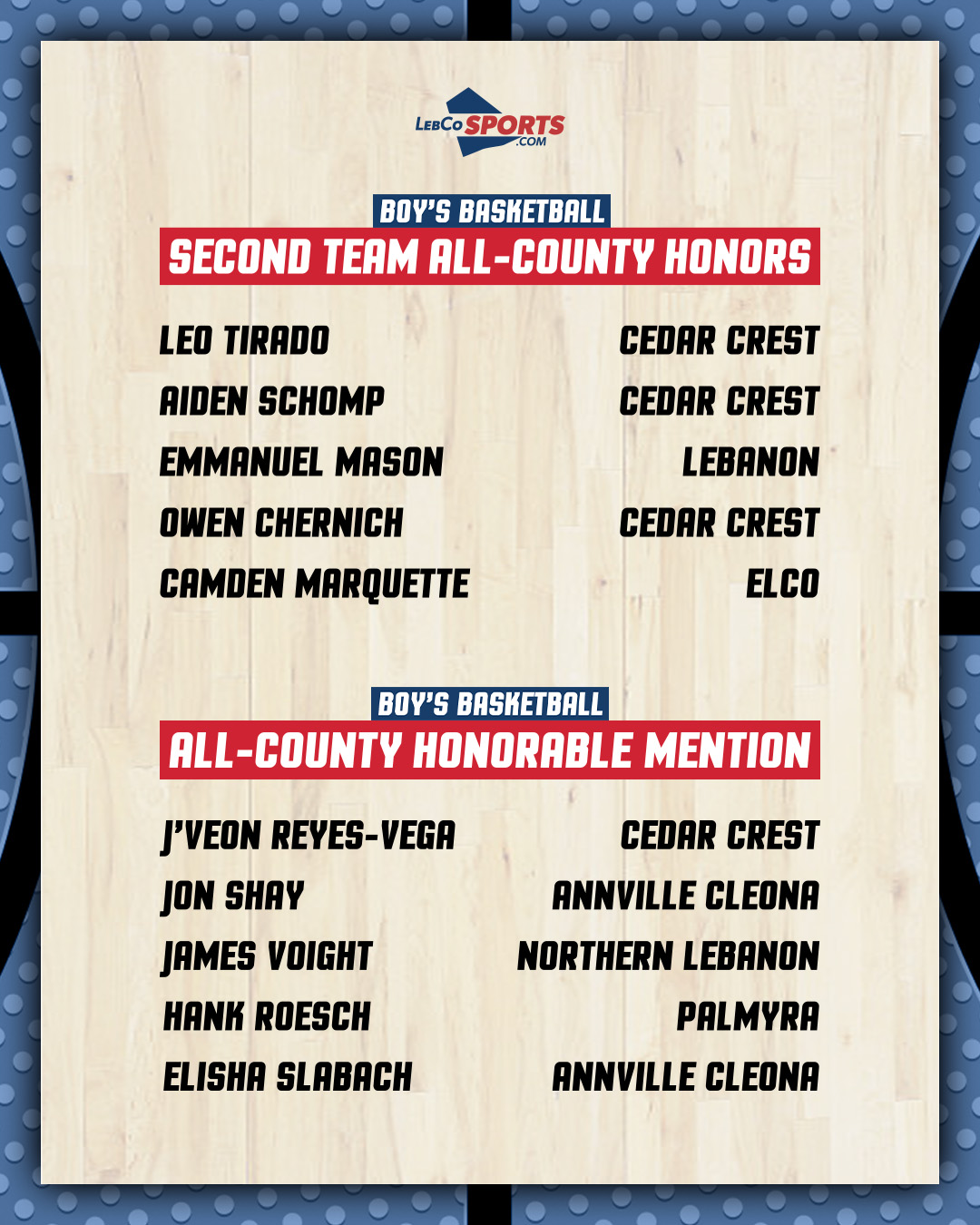 Second Team All-County
Leo Tirado – Cedar Crest, Junior
Tirado was a sparkplug for the Falcons in many victories as they rolled to a 2nd place finish in Section 1 of the Lancaster Lebanon League.  Known as a lockdown defender, he was also a scoring threat, averaging 7.5 points per game.  He also averaged: 2.5 rebounds, 2.5 assists, 2 steals.
Aiden Schomp – Cedar Crest, Junior
Schomp is a talented big man who scores, rebounds, and defends.  For the season, he averaged 8.5 points and 7 rebounds, while also shooting 46% from the field.  The Falcons outscored their opponents by 112 points when Schomp was on the floor.
Emanuel Mason – Lebanon, Senior
The season did not go according to plan for Mason, as he was limited to 11 games as a result of injurt. However, in the games that he played, he averaged 15.3 points, while knocking down 26 three-pointers.  Back from injury against Penn Manor on February 2nd, Mason scored 40 points while hitting 9 three-pointers.
Owen Chernich – Cedar Crest, Junior
Chernich was among the cast of players that offered balance to the Cedar Crest team as they made the postseason.  He averaged 7.5 points, 5 rebounds, and 3 assists, while also taking care of the ball with a 1.44 assist to turnover ratio.  His defense was also quality, as he worked each game to shut down the opposition's wing scorer.  In doing so, Chernich averaged 2.5 steals.
Camden Marquette – ELCO, Junior
Marquette offered ELCO a secondary scoring option to Dallas George and he responded by averaging 11 points per contest.  He also averaged 5.8 rebounds.  He was a solid free throw shooter who shot 78%, becoming even more reliable late in games.  Marquette also hit 24 three-pointers for the season.
All-County Honorable Mention
J'Veon Reyes-Vega – Cedar Crest, Senior
Reyes-Vega averaged 9.5 points per game, as he drilled 35 three-pointers on the season.  He proved that he was a clutch shooter time after time, including during the win against McCaskey that clinched the Section 1 runner-up spot for the Falcons.
Jon Shay – Annville-Cleona, Sophomore
Shay averaged 11 points and 7.5 rebounds for the Dutchmen.  Even though he is young, he was a strong and physical team leader.  He scored a season-high 32 points against Upper Dauphin.
James Voight – Northern Lebanon, Senior
Voight averaged 7 points and 5.8 rebounds per game, but was mostly known for his defense.  He proved to be a versatile defender who could guard any player from the opposing team.  For his efforts, he record 18 blocks, while averaging 1.7 steals.
Hank Roesch – Palmyra, Sophomore
For the Cougars, Roesch averaged 8.9 points per game, but showed continuous improvement during the season.  He successfully made 43 three-pointers on the season.  In the final game of the season, Roesch scored 21 points.
Elisha Slabach – Annville-Cleona, Sophomore
Slabach averaged 9.4 points and 2.8 rebounds.  On the season, he hit 25 three-pointers for the Dutchmen.
---
Click here to see the LebCo All-County Girls Team.
---
The nominations for this honor were done by the coaches.  The voting was a combination of the coaches, the writers, and the fan voting that so many participated in on behalf of their favorite players.
The graphic designs were made by Annville-Cleona alum Ryan Mathews.  A huge thanks to Ryan for his efforts!
Special thanks to the following for use of the photos used for this coverage: MDS Photography, Rachelle Isgriggs, and the coaches who were able to procure the pictures.
---
If you are looking to provide feedback or are a business or individual interested in providing sponsorship to aid our mission at LebCoSports, you are asked to contact Dan by emailing dan@lebcosports.com.

Lebanon Federal Credit Union