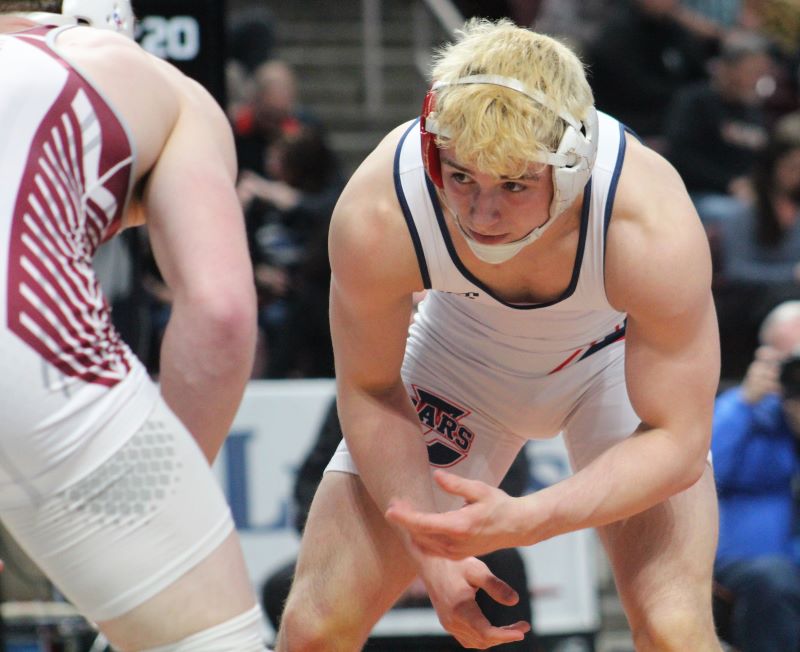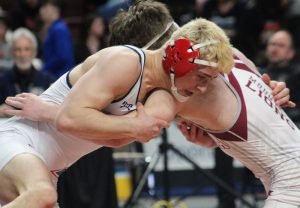 BY JEFF FALK
Editor
HERSHEY – When Griffin Gonzalez does afford himself the luxury of looking back on his scholastic career it will be with great fondness and pride. He'll remember the improvement, two trips to states and a pair of PIAA medals.
But it may be that Gonzalez's best wrestling is ahead of him.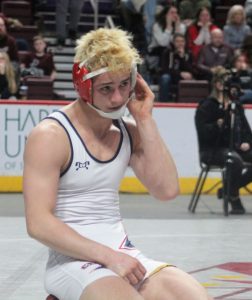 On Saturday night at Hershey's Giant Center, Gonzalez's stellar career came to an end on the 152-pound weight class podium at the PIAA Class AAA Wrestling Championships. While an eighth-place medal might not have been what the Lebanon High senior was shooting for, some future perspective will reveal more positives about it than negatives.
In the Class AAA seventh-place match at 152 pounds, Gonzalez dropped a tough 3-1 decision to Altoona sophomore Luke Sipes.
"I felt like I under wrestled a little bit this weekend," said Gonzalez. "When I'm wrestling to my capabilities, I'm getting to my attacks, I'm forcing the action, I'm riding hard on top. I'm just scoring more points.
"I had a pretty decent career," continued Gonzalez. "But there are definitely a lot of matches I'd like to have back. There are things I could've done differently and matches I could've approached differently. But at the end today, I wrestled as hard as I could."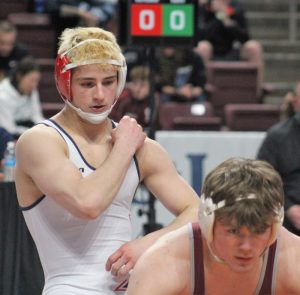 "He didn't get the picture-perfect ending to his career," said Lebanon head coach Vauhgn Black. "But he has the character to get through the tough stuff. I told he left a legacy behind. But he doesn't want to hear about that.
"Physically, he wasn't 100 percent," added Black. "But he wouldn't make excuses for what he didn't do. He won't make excuses. He always wants to hold himself accountable."
Following a score-less opening period in the seventh-place bout, Gonzalez gave up an escape 45 seconds into the second stanza. But Gonzalez matched that with an escape of his own eight seconds into the third period.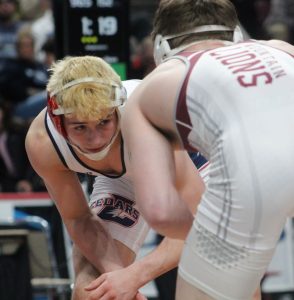 The match stayed knotted at one until Sipes took Gonzalez down with 11 seconds left.
"He got to his offense before I did," said Gonzalez of Sipes. "It was hard for me to shoot all weekend. He got me at the end and I didn't have time to do anything.
"I definitely would've liked to do better," added Gonzalez. "I thought if I went out and wrestled hard and did my best, that's all that mattered to me. I felt like some of my matches I didn't wrestle the way I wanted to. But I did the best I could do today."
"He started out wrestling OK," said Black. "But I could see he was protecting his shoulder. He won't make excuses. He told me he could've created more opportunities to score points."
Earlier Saturday morning, Gonzalez's 7-2 loss to Jake Dailey of Bethlehem Catholic in the fourth round of consolations had sent him to the seventh-place match. After scoring two impressive early wins on Thursday, Gonzalez assured himself a medal with a victory in his first bout in the consolation bracket.
Gonzalez, who finished fourth at the District Three Class AAA meet, concluded his senior season with a 42-7 record. At last season's PIAA Class AAA Wrestling Championships, Gonzalez came in seventh at 152.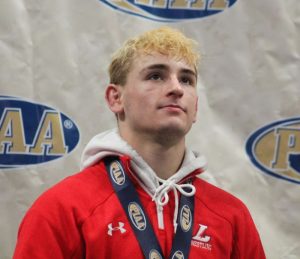 "Yeah, there's definitely more positives than negatives," said Gonzalez. "There are a lot of kids who wanted to make it here and didn't. And there were kids who got here and didn't get on the podium."
"In his freshman season, he only had one loss up until districts," said Black. "But he got a taste of it. Moving forward, he did all the work needed to get the job done. He does a great job of managing his time on the mat.
"At some point last year he came to me he wanted to keep his (athletic) options open," added Black. "But he told me he didn't want to do both (wrestling and baseball) in college. I was surprised he chose wrestling."
Gonzalez has chosen to further his academic and athletic pursuits at Lehigh University.
"I think in his freshman year he'll add some muscle and get used to college wrestling," said Black. "He learns quickly. He's always going to push the best guy in the room. I don't think anyone's going to notice him right away, which I think could work to his advantage."
To purchase images in this article please email jeff@lebcosports.com.

Lebanon Federal Credit Union