This section was started as a way to share some of the many noteworthy items that occur on a regular basis. We get some of it out via our social media, but keeping up with every item can prove difficult. We hope you enjoy. If you have anything you think we should know, please reach out by sending an email dan@lebcosports.com or by finding us on Twitter @lebcosports1.
---
Jared Odrick is among the most unique individuals you could ever meet. When he isn't racing cars or acting alongside of Sylvester Stallone on your television screen, the Lebanon High School graduate is probably working on another project. One of these projects that he oversaw is a documentary called Am I Crazy?. The eight-part series examines CTE and how football players are affected by this neurological condition. This is something in which Odrick has a personal stake, as he played seven years in the NFL following a successful high school career at Lebanon that earned him a scholarship to play at Penn State. He went on to become a First Round pick in the 2010 NFL Draft.
Watch the trailer here:
---
Coach Tommy Smith, Cedar Crest Boys Basketball, won his 200th game when his Falcons defeated Columbia on Monday night. Now in his 13th season at the helm, Smith has a record of 200-127 and became just the 15th coach in the history of the Lancaster Lebanon League to achieve 200 wins. Within that impressive list, only two other coaches won all their games solely at a Lebanon County based school, with Mike Miller and Scott Clentimack both getting 200 wins at Lebanon Catholic. Smith will look to add to this win total next week when his Falcons take on Wilson in the 1st round of the District 3 6A Playoffs.
Coach Smith 200 Wins with the family. Congratulations pic.twitter.com/lvNcfR5mVC

— Cedar Crest Athletics (@CCHSFalcons) February 14, 2023
---
When it comes to the Lancaster Lebanon League Championship, one cannot look past tonight's game when the Lebanon Girls Basketball Team will meet Columbia, with the winner being crowned as the 2022-2023 LL Girls Basketball Champions. The Section 1 champion Cedars are currently 24-0 after defeating Lancaster Catholic on Tuesday evening. A 25th win would lock up Lebanon's first LL League crown since 1979. They also won in 1976 and 1978. Tipoff for this Finals matchup will take place at 7:00 pm on the hardwood at Manheim Township. If you're unable to make the game, you can watch the LL Hoops broadcast here.
---
When it comes to the postseason, the Lancaster Lebanon League Bowling Championships will take place today and tomorrow.
In today's action, the girls will be knocking down pins at Palmyra Bowl. Representing Lebanon County schools will be: Ciara Leeper (Cedar Crest, junior, 155.7 avg.); Morgan Kline (ELCO, junior, 209.2 avg.); Kiley Deeks (ELCO, junior, 122.7 avg.); Alexa Lopez (Lebanon, junior, 123.5 avg.); Paxton Horner (Northern Lebanon, junior, 133.0 avg); Andreanna Davis (Northern Lebanon, sophomore, 124.0 avg.) ELCO's Morgan Kline enters the competition with the 3rd highest average among all LL females.
On Friday, the boys will have their turn when they go hunting for strikes at Leisure Lanes. Representing Lebanon County schools will be: Toby Zombro (Cedar Crest, junior, 212.8 avg.), Paxton Thomas (Cedar Crest, freshman, 182.9 avg.), Hunter Heinsey (ELCO, junior, 201.5 avg.), Charlie Albright (Northern Lebanon/Palmyra, sophomore, 206.9 avg.). Cedar Crest's Zombro enters Leagues as the 8th ranked bowler.
---
This past weekend, the Cedar Crest Falcon Youth Travel Basketball 6th Grade Boys added another trophy to their collection. A week after winning the LL Travel League, they played in the iROY Winter Jam Tournament in Collegeville. They won the championship game, 46-29 over Aston.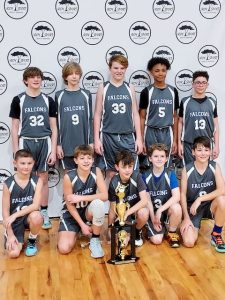 ---
While the young Schomp is winning youth basketball trophies, Cedar Crest junior Aiden Schomp recently announced that he had received a Division 1 Football offer from the University of Pennsylvania. The 6'6″, 230 pound tight end / edge rusher will have some time to make his decision, but this is a pretty fantastic start as he plans out his future.
---
Speaking of Cedar Crest athletes with D1 potential, keep your eye on freshman sprinter Kaddel Howard as she starts the spring track season. Last weekend at the Pennsylvania Track & Field Coaches Association Indoor Track Carnival at Lehigh University, Howard won the 200m and the 400m races. Her time in the 200m was 25.49, while her 400m time was 57.64. Keep in mind, this meet draws in some of the top talent from many of PA's perennial track powerhouses.
---
When it comes to Cedar Crest Track and Field athletes, there are few better at the collegiate level right now than 2019 grad Hannah Woelfling, now a senior at Millersville. Specializing in the throws, Woelfling was at the Big Apple Invitational this past weekend, taking on several D1 competitors. In the weight throw she came in 2nd. She also took 4th in the shot put. For her efforts, she was named the PSAC Women's Field Athlete of the Week.
---
If you are looking to provide feedback or are a business or individual interested in providing sponsorship to aid our mission at LebCoSports, you are asked to contact Dan by emailing dan@lebcosports.com.

Lebanon Federal Credit Union