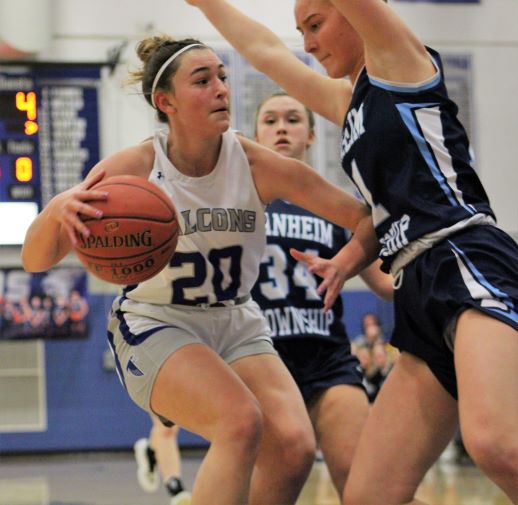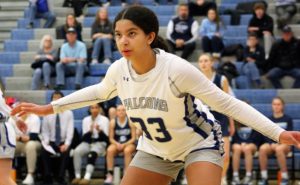 BY JEFF FALK
Editor
SOUTH LEBANON – Following a fantastic start to the season, things haven't gone as well for the Cedar Crest girls' basketball team over its second half. It appears likely that they will qualify for the postseason, but the Falcons will enter the playoffs with little or no momentum.
On Thursday night at CCHS' 'The Cage', the Falcons' late-season struggles continued, in the form of a 46-36 loss to Manheim Township. Although Cedar Crest fought valiantly throughout, it never led and couldn't make up an early four-score deficit.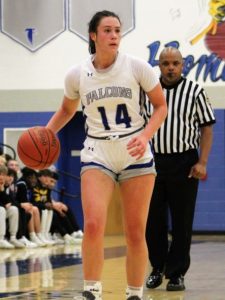 The defeat was Cedar Crest's seventh over its last ten outing and dropped it to 13-8 overall, 5-4 in Section One of the Lancaster-Lebanon League. At one point earlier this year, the Falcons sported a surprising 10-1 record.
In the latest District Three power rankings, Cedar Crest stood ninth in an AAAAAA classification that takes 12 teams for its postseason.
But last night's result gave Manheim Township, now 14-6 overall and 5-4 in the league, a leg up over the Falcons for Section One's second and final spot in the Lancaster-Lebanon League playoffs. Back on January 10 in Neffsville, Cedar Crest had edged the Blue Streaks 44-43.
"I'm very proud of the kids, the way they've played, the way they've practiced, the way they get along," said Cedar Crest head coach Will Wenninger. "We've had a great year. We've had ups and downs, but more ups than downs. That's sports, and life in general. Overall, I think it's been a positive experience.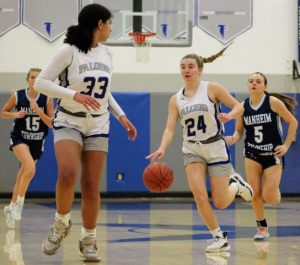 "I think our schedule got more difficult," continued Wenninger. "Our section is pretty good. Just look at the district rankings and the teams we've lost to. We haven't lost to teams we should've beaten. When you get into conference play, there's just so much familiarity and that lends itself to competitiveness. The proof is in the pudding."
Turnovers were responsible for putting the Falcons into an early hole that it couldn't dig itself out of. Manheim Township led 10-2, six minutes into the contest.
"I realize we need to work on taking care of the ball," said Wenninger. "For whatever reason, the things we've been working on in practice have not transferred to the game. It's like teaching. How do the things in the classroom transfer to tests?"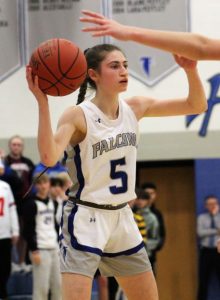 Twice – late in the first quarter and early in the second period – Cedar Crest shrunk the Blue Streaks' lead to five points. First on an Allison Metztgar three-pointer, and later on a Lizzie Lowe jumper.
But Manheim Township finished the first half on a 5-0 run and took a 20-9 lead to the break.
"We had some really good looks on our end," said Wenninger. "Our kids never quit. It was just that they (the Blue Streaks) hit some big shots. In the first half, when we played player-to-player I thought we rebounded the ball well. Hats off to them. They turned us over a lot and they deserved to win."
Freshman Kaila Francis poured in 14 points to lead the Falcon scoring, and she was supported by Lowe and her 12 points. Manheim Township outscored Cedar Crest 15-6 from downtown.
"Section games are more important," said Wenninger. "From my perspective, I don't like to lose in anything. When you talk about the program, section games are always more important. On the days we're not successful, I look at myself in the mirror first."
Cedar Crest cleaned some things up at halftime, shot the ball better and was generally much more efficient offensively in the second half. The Falcons closed to within 23-17 of Manheim Township on back-to-back baskets from Francis and Lowe in the middle of the third period, and then later cut their deficit to 27-21 and 29-23.
Early in the final quarter, another Metgzar three-pointer made it a 33-26 game, but that would prove to be as close as the Falcons could come.
"The goal from here on out is to win," said Wenninger. "We want to finish our season with a win. Last year, we all know I didn't do a good job and it left a very, very bad taste in my mouth."
To purchase images in this article please email jeff@lebcosports.com.
2022-23 Cedar Crest Girls' Basketball Results
| | | | | | |
| --- | --- | --- | --- | --- | --- |
| 2022-12-03 | H | vs | Manheim Central(3) | W | 37-32 |
| 2022-12-06 | H | vs | Wilson (3)(3) | W | 40-30 |
| 2022-12-09 | H | vs | Harrisburg(3) | W | 52-36 |
| 2022-12-10 | H | vs | Mechanicsburg(3) | L | 32-23 |
| 2022-12-13 | H | vs | Twin Valley(3) | W | 50-24 |
| 2022-12-14 | A | vs | Warwick(3) | W | 43-36 |
| 2022-12-16 | H | vs | Hempfield (3)(3) | W | 30-23 |
| 2022-12-19 | A | vs | Conrad Weiser(3) | W | 36-19 |
| 2022-12-21 | H | vs | Penn Manor(3) | W | 49-20 |
| 2022-12-22 | A | vs | Palmyra(3) | W | 45-33 |
| 2022-12-27 | H | vs | Harrisburg(3) | W | 49-24 |
| 2022-12-28 | A | vs | Lower Dauphin(3) | L | 33-22 |
| 2023-01-03 | A | vs | Reading(3) | L | 47-38 |
| 2023-01-06 | H | vs | Lebanon(3) | L | 51-38 |
| 2023-01-10 | A | vs | Manheim Township(3) | W | 44-43 |
| 2023-01-12 | A | vs | J P McCaskey(3) | W | 55-51 |
| 2023-01-17 | H | vs | Governor Mifflin(3) | L | 64-56 |
| 2023-01-20 | A | vs | Hempfield (3)(3) | L | 40-20 |
| 2023-01-24 | A | vs | Penn Manor(3) | W | 56-34 |
| 2023-01-27 | A | vs | Lebanon(3) | L | 66-64 |
| 2023-02-02 | H | vs | Manheim Township(3) | | 0-0 |
| 2023-02-07 | H | vs | J P McCaskey(3) | | 0-0 |
PIAA District Three Class AAAAAA Power Rankings
| | | | | | | | | | | | |
| --- | --- | --- | --- | --- | --- | --- | --- | --- | --- | --- | --- |
| AAAAAA | School |  W |  L |  T |  Rating |  TWP |  OWP |  TWPW |  OWPW |  TWPL |  OWPL |
| 1 | Cedar Cliff | 19- | 0- | 0 |  0.817041 |  1.000000 |  0.593423 |  22.45 |  232.80 |  0.00 |  159.50 |
| 2 | Lebanon | 18- | 0- | 0 |  0.816342 |  1.000000 |  0.591871 |  21.40 |  249.00 |  0.00 |  171.70 |
| 3 | Central York | 18- | 2- | 0 |  0.815954 |  0.933628 |  0.672129 |  21.10 |  283.00 |  1.50 |  138.05 |
| 4 | Central Dauphin | 15- | 3- | 0 |  0.751669 |  0.891304 |  0.581003 |  18.45 |  222.35 |  2.25 |  160.35 |
| 5 | Red Lion | 14- | 6- | 0 |  0.731523 |  0.784404 |  0.666892 |  17.10 |  296.00 |  4.70 |  147.85 |
| 6 | Cumberland Valley | 11- | 4- | 0 |  0.728276 |  0.820896 |  0.615074 |  13.75 |  213.00 |  3.00 |  133.30 |
| 7 | Northeastern | 17- | 4- | 0 |  0.717092 |  0.846154 |  0.559350 |  19.25 |  239.15 |  3.50 |  188.40 |
| 8 | Manheim Township | 13- | 6- | 0 |  0.703555 |  0.776156 |  0.614820 |  15.95 |  263.85 |  4.60 |  165.30 |
| 9 | Cedar Crest | 13- | 7- | 0 |  0.696502 |  0.742925 |  0.639764 |  15.75 |  276.25 |  5.45 |  155.55 |
| 10 | Dallastown | 13- | 7- | 0 |  0.696224 |  0.747596 |  0.633437 |  15.55 |  275.45 |  5.25 |  159.40 |
| 11 | William Penn | 15- | 6- | 0 |  0.693603 |  0.797753 |  0.566308 |  17.75 |  244.90 |  4.50 |  187.55 |
| 12 | Ephrata | 13- | 5- | 0 |  0.661650 |  0.778646 |  0.518655 |  14.95 |  211.30 |  4.25 |  196.10 |
| 13 | Hempfield (3) | 10- | 10- | 0 |  0.656784 |  0.601010 |  0.724952 |  11.90 |  320.90 |  7.90 |  121.75 |
| 14 | Reading | 11- | 8- | 0 |  0.647090 |  0.667532 |  0.622104 |  12.85 |  268.50 |  6.40 |  163.10 |
| 15 | J P McCaskey | 11- | 10- | 0 |  0.632947 |  0.630170 |  0.636341 |  12.95 |  259.85 |  7.60 |  148.50 |
| 16 | Wilson (3) | 12- | 8- | 0 |  0.628371 |  0.681159 |  0.563852 |  14.10 |  239.75 |  6.60 |  185.45 |
| 17 | Governor Mifflin | 10- | 10- | 0 |  0.604791 |  0.595960 |  0.615584 |  11.80 |  260.70 |  8.00 |  162.80 |
| 18 | Carlisle | 8- | 10- | 0 |  0.576874 |  0.552326 |  0.606877 |  9.50 |  244.45 |  7.70 |  158.35 |
| 19 | Harrisburg | 9- | 12- | 0 |  0.561608 |  0.535452 |  0.593576 |  10.95 |  234.70 |  9.50 |  160.70 |
| 20 | Penn Manor | 5- | 13- | 0 |  0.498040 |  0.369565 |  0.655064 |  5.95 |  271.95 |  10.15 |  143.20 |
| 21 | Waynesboro | 7- | 11- | 0 |  0.496724 |  0.433333 |  0.574201 |  7.15 |  235.25 |  9.35 |  174.45 |
| 22 | South Western | 7- | 13- | 0 |  0.491282 |  0.427419 |  0.569336 |  7.95 |  250.65 |  10.65 |  189.60 |
| 23 | Chambersburg Area | 5- | 13- | 0 |  0.486297 |  0.375000 |  0.622327 |  6.15 |  244.45 |  10.25 |  148.35 |
| 24 | York County School of Technology | 8- | 11- | 0 |  0.406495 |  0.417827 |  0.392645 |  7.50 |  161.75 |  10.45 |  250.20 |
| 25 | Conestoga Valley | 4- | 15- | 0 |  0.388164 |  0.270270 |  0.532256 |  4.50 |  199.25 |  12.15 |  175.10 |
| 26 | Dover | 3- | 17- | 0 |  0.377445 |  0.189560 |  0.607082 |  3.45 |  251.15 |  14.75 |  162.55 |
| 27 | Central Dauphin East | 2- | 17- | 0 |  0.367716 |  0.151420 |  0.632079 |  2.40 |  262.85 |  13.45 |  153.00 |

Lebanon Federal Credit Union