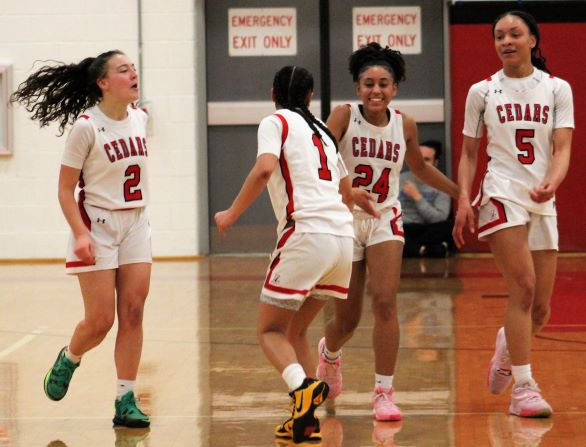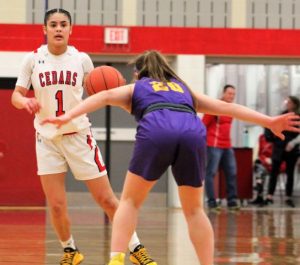 BY JEFF FALK
Editor
WARWICK – Sure, defense wins championships, but so does unity, balance and selflessness – teams. The way it turns out, the Lebanon girls' basketball team has five primetime players.
On Tuesday night at Warwick High School, the undefeated Cedars took the team concept to some next level, getting contributions from familiar and not so familiar sources, during their most important victory to date, a 54-43 signature triumph over Lancaster Catholic, during the semifinals of the Lancaster-Lebanon League playoffs. With lead guard Kailah Correa showing the way, Lebanon received an inside presence and rebounding from Lily Harrison, deadly shooting from Aaliyah Ferrer, as well as clutch moments and plays from Zariyah Whigham and Olive Brandt.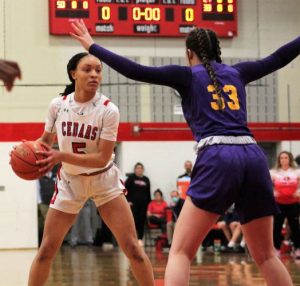 With the result, Section One champion Lebanon improved to 24-0 and barged into the Thursday's 7 p.m. Lancaster-Lebanon League championship at Manheim Township, opposite Section Four champion Columbia, a 51-29 winner over Manheim Central. In the most recent District Three Class AAAAAA power rankings, the Cedars were positioned third.
Lancaster Catholic, the winners of Section Three, fell to 21-3 on the season.
"We are more than that, which is why we are in this position," said Lebanon head coach Jaime Walborn, not mentioning Correa by name. "It's tough to win a game at this point of the season with one player. That's the beauty of our team. We look to different kids to do different things.
"Zariyah was huge with offensive rebounds and put backs," continued Walborn. "Olive did a great (defensive) job on (Lancaster Catholic star, Mary) Bolesky. I thought she contested everything. And we made free throws down the stretch."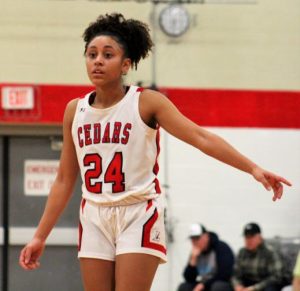 "I think Correa does a good job of sharing the ball," said Lancaster Catholic head coach Charlie Detz. "She gets everyone involved. Number five (Whigham) and 24 (Ferrer) hurt us. We did a good job on 50 (Harrison), but 5 and 24 picked it up."
After Lebanon led the entire way – by as much as three possessions at some points – Lancaster Catholic closed to within 44-43 of the Cedars with 2:40 remaining. But Lebanon closed the door and closed the game on a 10-0 run.
Whigham netted four of those points, as did Brandt, all from the line, while Harrison also converted a pair of charity tosses.
"At that point, we just wanted to control the boards," said Walborn. "We knew they're a three-point shooting team. The game plan was to guard the three-point line, make them feel uncomfortable and get the rebound. We're not great at stalling the ball."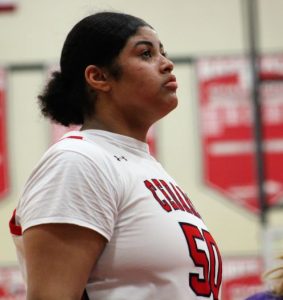 Late in the third quarter, the Cedars still had the same five-point lead they enjoyed at halftime. But that was before Correa converted a driving lay-in and Brandt stroked a free throw to extend the Lebanon lead to 39-31 early in the final period.
"I thought obviously, we played well enough to win," said Walborn. "We did a great job of sticking to the game plan. That's (Lancaster Catholic) a great team there. We knew they were going to make a run in the second half, and we didn't back down.
"I do say to them (her players) that the play is going to have to be elevated for the playoffs," added Walborn. "But I thought we did elevate our play at times during the season."
Mostly on athletic moves in the paint, Whigham struck for a career-high 16 points, a total that was matched by Correa. Ferrer popped for 14 points, including a pair of three-point field goals.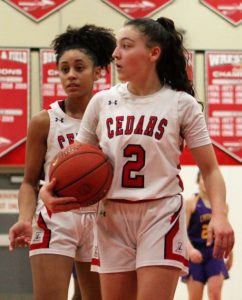 Lebanon outscored Lancaster Catholic 36-20 on two-point field goals.
"It means everything," said Walborn of Thursday's 7 p.m. date in the L-L League championship game. "That's what you play for. We weren't happy with 23-0. We want banners. We want championships."
Down 8-4 early, Lebanon ripped off a 12-1 run to grab a 16-9 lead. Ferrer knocked down both of her triples, Correa tallied another six points and Harrison maneuvered inside for a deuce.
"We did exactly what we wanted to do defensively," said Walborn. "We just wanted them (the Crusaders) to take tough shots. They're a great shooting team. We just wanted to make it difficult."
The highlight of the Cedars' second period was their 8-4 spurt in the middle of it. Ferrer netted six of those points, including an old-fashioned three-point play that made Lebanon's advantage 26-19.
"This was the first time in a long time that we got overwhelmed by the moment," said Detz. "That's not who we are. It's so disappointing. Lebanon took it to us from the opening tip. Part of that is Lebanon. They make you do different things, offensively and defensively."
To purchase images in this article please email jeff@lebcosports.com.
2022-23 Lebanon Girls' Basketball Results
| | | | | | |
| --- | --- | --- | --- | --- | --- |
| 2022-12-06 | H | vs | Manheim Central(3) | W | 43-40 |
| 2022-12-09 | A | vs | Bethlehem Catholic(11) | W | 55-53 |
| 2022-12-10 | A | vs | Fleetwood(3) | W | 59-24 |
| 2022-12-10 | P | vs | TBA() | | 0-0 |
| 2022-12-13 | A | vs | Governor Mifflin(3) | W | 51-45 |
| 2022-12-16 | A | vs | Manheim Township(3) | W | 53-50 |
| 2022-12-19 | H | vs | Garden Spot(3) | W | 82-30 |
| 2022-12-21 | H | vs | J P McCaskey(3) | W | 59-40 |
| 2022-12-28 | H | vs | Northern Lebanon(3) | W | 64-45 |
| 2022-12-29 | H | vs | Palmyra(3) | W | 59-34 |
| 2023-01-06 | A | vs | Cedar Crest(3) | W | 51-38 |
| 2023-01-10 | H | vs | Penn Manor(3) | W | 63-30 |
| 2023-01-12 | A | vs | Hempfield (3)(3) | W | 52-50 |
| 2023-01-14 | H | vs | Ephrata(3) | W | 50-39 |
| 2023-01-16 | A | vs | Hershey(3) | W | 71-30 |
| 2023-01-20 | H | vs | Manheim Township(3) | W | 60-55 |
| 2023-01-24 | A | vs | J P McCaskey(3) | W | 64-51 |
| 2023-01-27 | H | vs | Cedar Crest(3) | W | 66-64 |
| 2023-01-31 | A | vs | Cocalico(3) | W | 47-40 |
| 2023-02-02 | A | vs | Penn Manor(3) | W | 66-45 |
| 2023-02-04 | H | vs | Reading(3) | W | 67-40 |
| 2023-02-07 | H | vs | Hempfield (3)(3) | W | 60-49 |
| 2023-02-09 | H | vs | Milton Hershey(3) | W | 82-45 |
PIAA District  Three Class AAAAAA Power Rankings
| | | | | | | | | | | | |
| --- | --- | --- | --- | --- | --- | --- | --- | --- | --- | --- | --- |
| AAAAAA | School |  W |  L |  T |  Rating |  TWP |  OWP |  TWPW |  OWPW |  TWPL |  OWPL |
| 1 | Cedar Cliff | 21- | 0- | 0 |  0.812813 |  1.000000 |  0.584028 |  24.75 |  259.25 |  0.00 |  184.65 |
| 2 | Central York | 19- | 2- | 0 |  0.810250 |  0.936842 |  0.655527 |  22.25 |  303.05 |  1.50 |  159.25 |
| 3 | Lebanon | 22- | 0- | 0 |  0.808796 |  1.000000 |  0.575103 |  26.40 |  272.80 |  0.00 |  201.55 |
| 4 | Red Lion | 16- | 6- | 0 |  0.739661 |  0.805785 |  0.658842 |  19.50 |  318.55 |  4.70 |  164.95 |
| 5 | Central Dauphin | 17- | 4- | 0 |  0.738026 |  0.874214 |  0.571573 |  20.85 |  253.55 |  3.00 |  190.05 |
| 6 | Manheim Township | 15- | 7- | 0 |  0.700520 |  0.775210 |  0.609231 |  18.45 |  291.70 |  5.35 |  187.10 |
| 7 | Northeastern | 17- | 5- | 0 |  0.700022 |  0.815678 |  0.558664 |  19.25 |  267.60 |  4.35 |  211.40 |
| 8 | William Penn | 16- | 6- | 0 |  0.697794 |  0.808511 |  0.562473 |  19.00 |  265.15 |  4.50 |  206.25 |
| 9 | Cedar Crest | 14- | 8- | 0 |  0.688240 |  0.732759 |  0.633827 |  17.00 |  307.85 |  6.20 |  177.85 |
| 10 | Ephrata | 17- | 5- | 0 |  0.687105 |  0.822176 |  0.522019 |  19.65 |  243.60 |  4.25 |  223.05 |
| 11 | Dallastown | 14- | 8- | 0 |  0.683991 |  0.733624 |  0.623327 |  16.80 |  295.80 |  6.10 |  178.75 |
| 12 | Cumberland Valley | 11- | 8- | 0 |  0.663866 |  0.696203 |  0.624344 |  13.75 |  255.95 |  6.00 |  154.00 |
| 13 | Wilson (3) | 14- | 8- | 0 |  0.643407 |  0.715517 |  0.555272 |  16.60 |  260.95 |  6.60 |  209.00 |
| 14 | Reading | 12- | 10- | 0 |  0.632813 |  0.639269 |  0.624922 |  14.00 |  299.90 |  7.90 |  180.00 |
| 15 | Hempfield (3) | 10- | 12- | 0 |  0.632116 |  0.558685 |  0.721865 |  11.90 |  359.20 |  9.40 |  138.40 |
| 16 | Carlisle | 12- | 10- | 0 |  0.625772 |  0.650000 |  0.596160 |  14.30 |  279.45 |  7.70 |  189.30 |
| 17 | J P McCaskey | 11- | 11- | 0 |  0.603534 |  0.607981 |  0.598099 |  12.95 |  273.75 |  8.35 |  183.95 |
| 18 | Governor Mifflin | 10- | 12- | 0 |  0.579633 |  0.548837 |  0.617272 |  11.80 |  293.05 |  9.70 |  181.70 |
| 19 | Harrisburg | 10- | 12- | 0 |  0.574038 |  0.562212 |  0.588493 |  12.20 |  275.65 |  9.50 |  192.75 |
| 20 | Waynesboro | 8- | 14- | 0 |  0.489255 |  0.413793 |  0.581485 |  8.40 |  270.10 |  11.90 |  194.40 |
| 21 | South Western | 7- | 15- | 0 |  0.474499 |  0.395522 |  0.571025 |  7.95 |  273.15 |  12.15 |  205.20 |
| 22 | Penn Manor | 5- | 16- | 0 |  0.471652 |  0.322493 |  0.653956 |  5.95 |  319.85 |  12.50 |  169.25 |
| 23 | Chambersburg Area | 5- | 17- | 0 |  0.454230 |  0.317010 |  0.621942 |  6.15 |  296.20 |  13.25 |  180.05 |
| 24 | Conestoga Valley | 6- | 16- | 0 |  0.435794 |  0.345178 |  0.546547 |  6.80 |  259.20 |  12.90 |  215.05 |
| 25 | York County School of Technology | 10- | 12- | 0 |  0.426625 |  0.451923 |  0.395706 |  9.40 |  181.55 |  11.40 |  277.25 |
| 26 | Dover | 3- | 18- | 0 |  0.370337 |  0.181102 |  0.601623 |  3.45 |  277.95 |  15.60 |  184.05 |
| 27 | Central Dauphin East | 2- | 20- | 0 |  0.353592 |  0.131148 |  0.625468 |  2.40 |  300.60 |  15.90 |  180.00 |

Lebanon Federal Credit Union