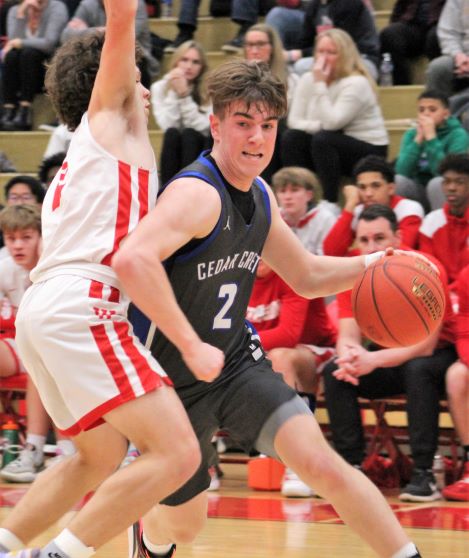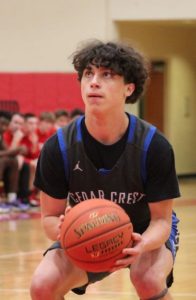 BY JEFF FALK
Editor
WEST LAWN – The Cedar Crest boys' basketball team always looks inside and evaluates its year with a harsh and discerning eye. If every campaign is measured by the postseason, then this season was undoubtedly a success.
On Tuesday night at Wilson High School, the Falcons' 2022-23 season campaign to a head, with a 48-40 loss to the hometown Bulldogs, in the opening round of the District Three Class AAAAAA playoffs. Cedar Crest led for a good portion of the contest, by as much as two or three possessions at times, before wilting under the momentum of a devastating 14-0 run that began late in the third quarter and spilled over into the fourth.
With the outcome, tenth-seeded Cedar Crest finished its season at 14-10 overall. Along the way, the junior-heaving Falcons finished second in Section One of the Lancaster-Lebanon League and won a quarterfinal game in the L-L League playoffs.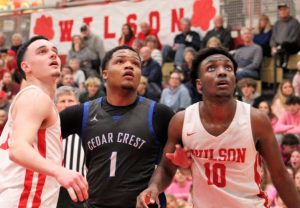 But it may have been a late-season eight-game win streak that defined the success of the Falcons' year.
The result propelled eighth-seeded Wilson to 17-6 and into the Friday's quarterfinal round of the District Three tournament. Back on January 14 in West Lawn, the Bulldogs had shaded Cedar Crest 59-40 in a non-league tilt.
"For us to get into the playoffs, we needed to go on that run," said Cedar Crest head coach Tommy Smith. "I think to a man in that locker room, they would've said they weren't happy with where we were at. Our expectations were to be a little better than we were. The reality of it was we were still a pretty young team. We played two seniors, that's it. We made a lot of strides, we were playing our best basketball at the end of the season, and that's what you want to do.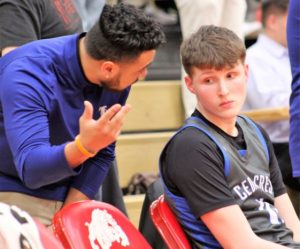 "I think our kids had a different kind of focus," continued Smith. "We knew we had our backs against the wall and we really responded. It was really fun. They accepted their roles, they embraced their roles and did a nice job in their roles. I thought we did a good job tonight. It wasn't our best game. But for the better part of three quarters, I thought we were the best team."
With Fernando Marquez draining a three-pointer, Leo Tirado converting a pair of charity tosses and J'Veon Reyes-Vegaa stroking a jumper, the Falcons opened a 35-27 advantage, with 2:05 remaining in the third quarter. But Cedar Crest went the next seven minutes of game action without a point, as Wilson rattled off 14 unanswered points to take a 41-35 lead it would never relinquish.
"We played OK," said Smith. "We didn't make the plays down the stretch. We got ourselves to a six- or eight-point lead and they (the Bulldogs) went to their trapping defense which we thought we were prepared for. We turned the ball over and struggled to make shots down the stretch. They got some rebounds and some run-outs, and that proved to be the difference in the game.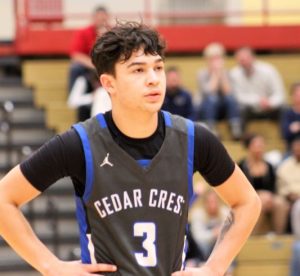 "It was a 1-2-2 half-court trap, and early on, I thought we did exactly what we needed to do against it," added Smith. "But we got a little tight and started turning the ball over."
Marquez poured in 17 points to lead the Falcon attack. Wilson outscored Cedar Crest 28-14 on two-point field goals.
"We were a better team coming down here tonight than when we played them the last time," said Smith. "We were pretty confident coming in. We weren't taking anything away from them, we just knew we were a better team.
"But you never prepare for a night like this," Smith added. "(After the game) we thanked the seniors for their tremendous efforts and the difference they made in the program."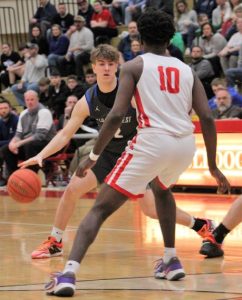 A couple of three-balls from Owen Chernich, a stick-back by Aiden Schomp and a jumper from Marquez helped stake the Falcons to an early 10-4 lead. But the first quarter ended with the Bulldogs up 12-10.
"We wanted to play that game tonight," said Smith of the deliberate, defensive pace. "We felt we had an advantage playing the half court. We wanted to have great offensive possessions and limit the turnovers, so they didn't play in transition, because they're best in transition. We wanted to set our defense. For the better part of three quarters, I thought we were able to do that. But it became their pace when they went to the trapping zone.
"I thought we played well in the first half," Smith continued. "But I thought the third quarter might have been our best quarter, until the end. I thought we had one bad quarter and it really bit us in the butt."
In the middle of the second period, the Falcons pieced together an 11-2 spurt to turn a three-point deficit into a 24-18 lead. Marquez accounted for seven of those points, while Danny Speaks drilled a three-pointer and R.J. Young sank a free throw.
"We have to have a great summer," said Smith. "I think next year, with what we have coming back, we're going to have high expectations, and sometimes it's hard to play with high expectations. We have to get better so that next year at this time we don't feel the same way."
To purchase images in this article please email jeff@lebcosports.com.
2022-23 Cedar Crest Boys' Basketball Results
Date
Opponents
Result
12/05
7:30 pm
Cedar Crest
at Governor Mifflin
71
51
Nonleague
12/06
7:30 pm
Cedar Crest
at Conestoga Valley
69
57
Nonleague
12/09
8:00 pm
Cedar Crest
at Exeter
42
62
Nonleague
12/10
4:00 pm
Cedar Crest
Berks Catholic
at Exeter
38
65
Nonleague
12/16
7:30 pm
Cedar Crest
at Hempfield
46
61
League
12/21
7:30 pm
Cedar Crest
at Penn Manor
63
51
League
12/28
7:30 pm
Palmyra
at Cedar Crest
43
59
Nonleague
12/29
7:30 pm
Exeter
at Cedar Crest
69
55
Nonleague
1/06
7:30 pm
Cedar Crest
at Lebanon
65
35
League
1/07
5:30 pm
Lower Dauphin
Cedar Crest
at Lebanon Valley College
58
56
Nonleague
1/10
7:30 pm
Manheim Township
at Cedar Crest
29
51
League
1/12
7:30 pm
McCaskey
at Cedar Crest
51
49
League
1/14
2:30 pm
Cedar Crest
at Wilson
40
59
Nonleague
1/20
7:30 pm
Hempfield
at Cedar Crest
60
42
League
1/21
1:30 pm
Bishop McDevitt
Cedar Crest
at Doe Run Elementary, Manheim
46
62
Nonleague
1/24
7:30 pm
Penn Manor
at Cedar Crest
36
53
League
1/27
7:30 pm
Lebanon
at Cedar Crest
55
95
League
1/31
7:30 pm
Lampeter-Strasburg
at Cedar Crest
48
64
Nonleague
2/02
7:30 pm
Cedar Crest
at Manheim Township
62
40
League
2/03
7:30 pm
Conrad Weiser
at Cedar Crest
54
64
Nonleague
2/07
7:30 pm
Cedar Crest
at McCaskey
61
51
League
2/13
7:00 pm
Cedar Crest
at Columbia
54
40
Playoff
2/15
7:30 pm
Cedar Crest
Manheim Central
at Conestoga Valley
46
49
Playoff
2/21
7:00 pm
Cedar Crest
at Wilson
Playoff

Lebanon Federal Credit Union