This section was started as a way to share some of the many noteworthy items that occur on a regular basis.  We get some of it out via our social media, but keeping up with every item can prove difficult.  We hope you enjoy.  If you have anything you think we should know, please reach out by sending an email dan@lebcosports.com or by finding us on Twitter @lebcosports1.
---
Ariel Jones, the former Cedar Crest Lady Falcon standout, is set to become the all-time scoring leader in the history of PSAC Women's Basketball when her Shippensburg Raiders travel to take on the Millersville Marauders tonight at 5:30 pm.  Jones scored 22 points as she helped to lead her team to a comeback win in overtime against Northern Lebanon graduate Zara Zerman's Kutztown Golden Bears. In the game, Zerman scored 10.
Jones now has 2,404 career points, just 3 points away from tying the record held by Shippensburg's Lauren Beckley ('06-'10).  If you are interested in watching Ariel break the record, the live feed can be found here: PSAC Digital Sports Network Live Feed. Additionally, this past week Fox 43 sat down with Ariel to talk to her about her journey to this historic mark.  The interview can be found here: Fox43 feature.
---
On Saturday, the Cedar Crest Boys Basketball team scored a major win against a very talented Bishop McDevitt team.  The McDevitt team is being coached first year head man, Mark Risser.  This name may be familiar to many in Lebanon County, as he was a key member of the Palmyra Cougar Basketball teams from 1999 – 2002, serving a captain during his junior and senior year.  He went onto play his freshman year at Alvernia before turning his attention to coaching, which included two stints in Annville-Cleona's program.  He was hired by Bishop McDevitt in 2013, serving as the lead assistant to Coach Mike Gaffey before being named as Gaffey's replacement by current ELCO AD Tommy Mealy this past summer.  In addition to his coaching duties, Risser serves as a math teacher at Lebanon Middle School.  Coach Risser's Crusaders are currently 11-3.
---
When it comes to local coaches, there may not be anyone more recognizable than Vaughn Black who has served as the head coach of the Lebanon High School Wrestling Team since 2013.  One of his most defining characteristics had been his long dreadlocks.  These are currently being spoken of in the past tense, because in December the players' coach made due on his promise to cut his hair if any of his wrestlers ever placed at States.  Griffin Gonzalez's 7th place finish was responsible for triggering the haircut.  Black even let Gonzalez help to cut off his long locks.
---
Speaking of Coach Black, he has been a major proponent of getting girls involved in wrestling, including getting a Girls Wrestling program added as an official varsity sport at Lebanon.  Over the weekend, he organized the Lebanon All-Girls Wrestling Tournament at Lebanon High School.  The event drew 330 female wrestlers from   near and far ranging in age from 6U through high school.  Anna Kreider of Annville-Cleona was the lone Lebanon County gold medalist among the high schoolers, winning the 117# division.  Gabrielle Hetrick of Lebanon took 2nd in the 152# division. Full results for all age divisions can be found at this link.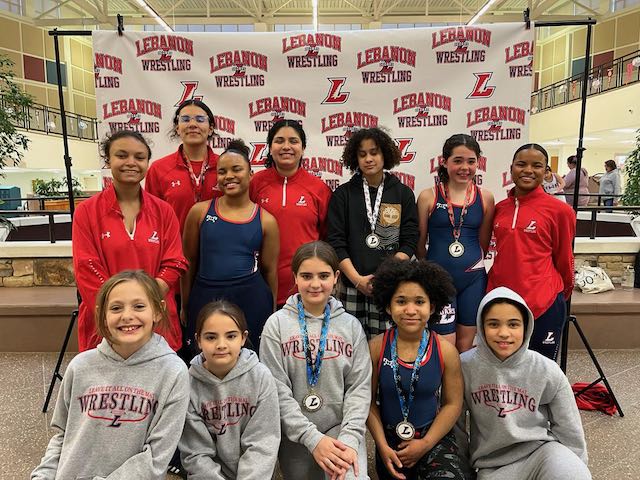 Lebanon School District's Wrestlers
---
All eyes will be on ELCO on Wednesday night when they will host Northern Lebanon.  The two are both undefeated in Section 3 matches, so they will be wrestling for the Section 3 Title.  Northern Lebanon has been a perennial powerhouse, winning as recently as last year.  ELCO has not clinched a Section championship since 2009.
---
This past week, Palmyra Field Hockey's Olivia Kirkpatrick earned another accolade for her tremendous play that helped the Lady Cougars to the District 3 Championship and a trip to the PIAA State Championship game.  Kirkpatrick was named by Max Field Hockey as a First Team All-American.
---
If you are looking to provide feedback or are a business or individual interested in providing sponsorship to aid our mission at LebCoSports, you are asked to contact Dan by emailing dan@lebcosports.com.

Lebanon Federal Credit Union