This section was started as a way to share some of the many noteworthy items that occur on a regular basis. We get some of it out via our social media, but keeping up with every item can prove difficult. We hope you enjoy. If you have anything you think we should know, please reach out by sending an email dan@lebcosports.com or by finding us on Twitter @lebcosports1.
---
On Sunday, Coach Rob Bare, the longtime leader of the Cedar Crest Track & Field program, took to Twitter to celebrate a milestone that puts him closer to a goal he set 37 years ago. He is now 3,000 miles away from reaching his ultimate goal of 50,000 miles (equal to two trips around the Earth's equator).
As any runner can attest, the sport often mirrors life, with its good days and downright awful experiences. Yet, true runners push through and lace up time after time. Running for this goal year after year has been a journey for Coach Bare, mirroring the journey of life. Today, wherever he goes he carries with him the memory of his wife Tiff, a dedicated educator in the Lebanon School District who was taken from this Earth too soon when she lost her courageous battle to breast cancer in 2019 at the age of 46. Best wishes to Coach Bare as he continues towards this goal helping others along the way as the leader of #teamTIFF.
Here's to another 1,000 miles in the books. 47,000 miles & counting. Inching closer & closer to the goal I set in 1985 of running around the world twice (approx 50,000 miles). Let's Go #teamTIFF pic.twitter.com/tsGTFOcT8K

— Coach Bare (@coach_bare) January 15, 2023
---
Morgan Kline, a junior on the ELCO Bowling Team recently returned from Las Vegas where she competed at Team USA Bowling Trials that took place from January 2nd through January 7th. After five days of bowling, the Myerstown resident ranked 87th among all women in the competition. Among all amateurs, Kline was 73rdand 46th when just considering youth bowlers. Any way you look at it, it was an impressive showing. Since reentering in local high school matches, Kline looks to have brought back with her some mojo from her appearance in Vegas. She bowled a 265 high game in ELCO's most recent match.
Congratulations to Raider junior bowler Morgan Kline. Morgan spent last week in Las Vegas competing in the Team USA Bowling Trials. Morgan ended up placing 87th in the amateur division out of 149 bowlers in the country. Congratulations Morgan! 🎳 @LebCoSports1 @ELCOSupt pic.twitter.com/FzG1IwGhjt

— ELCO Athletics (@ELCOAthletics) January 10, 2023
---
Competition can come in many forms and the inaugural edition of the Annville-Cleona High School Competitive Cheerleading Squad is finding success, representing their school and community with pride. They recently competed in the Milton Panther Challenge Cheer Competition. In the traditional small varsity division, Annville placed 6th out of 17 teams. Earlier in the season, they placed 1st out of 25 teams at the Haverford Cheer Competition in the non-tumbling division! If this is what year one looks like, the sky could be the limit for this program.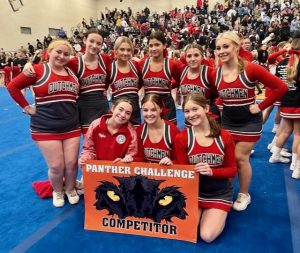 ---
While the field hockey season ended in November, accolades continue to roll in. This past week, Max Field Hockey announced their All-Region teams. In the Pennsylvania Region, two familiar names appeared with Palmyra's Alicia Battistelli and Olivia Kirkpatrick being First Team selections. For the complete list of the young ladies who were honored, visit here.
---
In what has become a weekly ritual, we bring you another update on Cedar Crest Basketball alum Ariel Jones as she continues to lead Shippensburg in impressive fashion. She is not quite to the all-time PSAC career scoring record just yet (though that should be coming soon), but she was named the PSAC Eastern Women's Basketball Athlete of the Week for the 4th time this season! This is the 15th time she has received the award in her career. During her freshman year, she offered some consistency to the Freshman of the Week Award so much that after winning it 8 straight weeks, the award was discontinued.
---
As colleges continue to wade into the new era that NIL has brought, Lebanon Valley announced this week that they have decided to partner with Athliance to better connect its athletes to opportunities for use of their name, image, and likeness in paid sponsorships. More on this story can be found here.
High schools, you're on the clock . . .
---
If you are looking to provide feedback or are a business or individual interested in providing sponsorship to aid our mission at LebCoSports, you are asked to contact Dan by emailing dan@lebcosports.com.

Lebanon Federal Credit Union