This section was started as a way to share some of the many noteworthy items that occur on a regular basis. We get some of it out via our social media, but keeping up with every item can prove difficult. We hope you enjoy. If you have anything you think we should know, please reach out by sending an email dan@lebcosports.com or by finding us on Twitter @lebcosports1.
---
Last Monday, Shippensburg's Ariel Jones became the PSAC's All-Time Career Leader in points, as she surpassed the previous record of 2,407 points held by former Shippensburg star Lauren Beckley ('06-'10). In the game at Millersville, the Cedar Crest alum needed four points to break the record. She scored 51! This also broke the PSAC single-game scoring record. In the game, she also became the NCAA Division 2 All-Time Career Leader in Made Free Throws. THREE major records! By all accounts, this was considered a better than average night for the senior guard. Jones now has 2,500 career points and is only the 12th NCAA Division 2 player to hit this milestone. This season, she leads the nation in scoring with 24.4 ppg and in free throws made with 137.
For the 7th time this season and for the 5th consecutive week, Jones was named the PSAC Eastern Division Women's Basketball Athlete of the Week. Her Raiders are now 17-3 overall and are on a four-game win streak. They also lead the PSAC Eastern Conference with a 12-2 record.
---
While on the topic of collegiate stars from Lebanon County, it is a great time to remind you that the top draft eligible kicker is the University of Maryland's Chad Ryland. The former Cedar Crest Falcon is currently in Mobile, Alabama, preparing for the Reese's Senior Bowl. This heavily scouted weeklong event will culminate with the game that will be played on Saturday, with kickoff (maybe by Ryland) taking place at 2:30 pm. It will be televised on the NFL Network.
---
Keeping on the topic of alumni, it was Hershey Soccer Coach Andrew Maya who won the 2022 Coach of the Year Award from the Pennsylvania Soccer Coaches Association. Maya may have won the state title in Dauphin County, but he is a graduate of Annville-Cleona. On Saturday, he accepted this prestigious award at the annual PSCA banquet held at Harrisburg's Penn Harris Hotel. Also accepting awards for being named to the All-State Boys Team were Ben Hartman (New Covenant) and Brayden Sunho (Palmyra).
---
Another award went to a Lebanon County native, this time '22 Northern Lebanon graduate Ashlyn Messinger as she is finding success in her freshman basketball season at Clarks Summit University. For her efforts, she was named the Colonial States Athletic Conference Offensive Player of the Week. In two wins last week, Messinger averaged 18 points. This included a 24-point performance against Valley Forge, during which she was 9-14 from the field, including going 4-5 from beyond the arc.
---
When it comes to finding success on the basketball court, it was New Covenant's middle schoolers who were tearing it up this past weekend at the Lititz Christian Tournament. The Girls team won the title, defeating York Christian in the finals by a score of 46-9. In that game, the Flames were led by Quynne Demler's 18 point performance, with McKenna Kantner providing an additional 11 points. They are now 10-1 on the season. The Boys also took home the championship trophy at this event.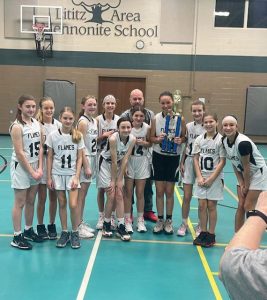 ---
Though it's not "in season", several Palmyra Field Hockey players traveled to Walt Disney World to compete in the Sunshine Showcase. The freshmen that were part of the Alley Cat's U16 Team were Jovie Weaver, Maddy Witt, AJ Walker, Madi Gingrich, and Abby Bennett. Facing competition from across the nation, the team went an impressive 5-1.
---
In a final note, we recently learned of the passing of Peter Gamber at the age of 96. Gamber was a 1944 graduate of Lebanon High School and went onto a 37 year teaching career with stops at Lebanon, Hershey, and Annville-Cleona. While at Annville-Cleona, he became the first head football coach in the school's history. Coach Gamber, may you rest in peace. To read his full obituary, click here.
---
If you are looking to provide feedback or are a business or individual interested in providing sponsorship to aid our mission at LebCoSports, you are asked to contact Dan by emailing dan@lebcosports.com.

Lebanon Federal Credit Union