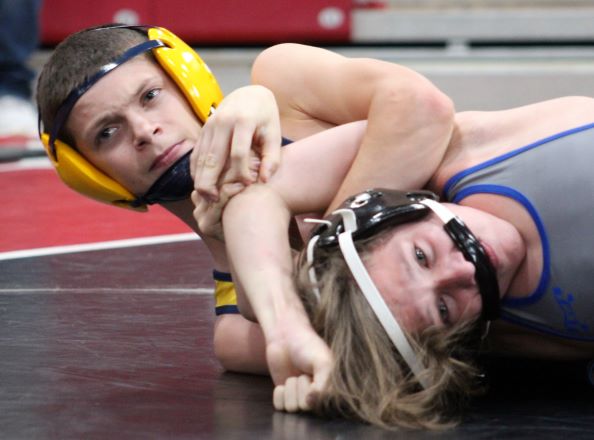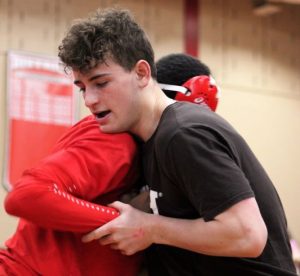 BY JEFF FALK
Editor
ANNVILLE – It was an outward display of athletic fellowship and friendship.
It was contested on a competitively level playing field.
It was a vehicle for promoting and celebrating the great sport of wrestling.
It was just a great way to open a season.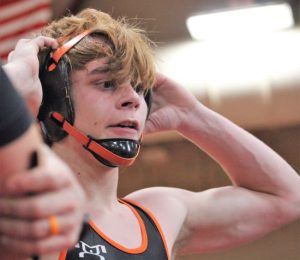 On Saturday morning at Annville-Cleona High School, five local wrestling coaches, in conjunction with the Little Dutchmen athletic department, resurrected the once abandoned Lebanon County Wrestling Championships. More than 52 student-athletes, of different levels of skill and experience – both boys and girls –  from five of Lebanon County's six public high schools – Cedar Crest, Lebanon, Palmyra, Elco and Annville-Cleona  – came together to start the 2022-23 winter campaign.
Although no team champion was named and no outstanding wrestler chosen, Lebanon County champions were crowned in the 13 different weight classes.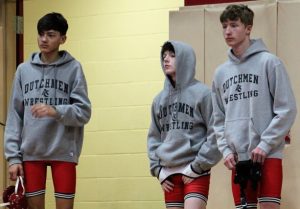 "I thought things went pretty well," said Annville-Cleona head coach Mike Miller. "It was a very competitive tournament. No school dominated. Everybody had some success.
"For one thing, it promotes the sport in the county," continued Miller. "I think Northern Lebanon has a leg up on everyone else. We're trying to get to that level. It starts by being at something competitive. All the other county schools are pretty competitive together. It's a good way to start a season off."
Lebanon County does not conduct its own championship in every scholastic sport. So when the Lebanon County Wrestling Championships were discontinued seven years ago because of competition and scheduling issues, it proved to be a blow to overall health of the sport locally.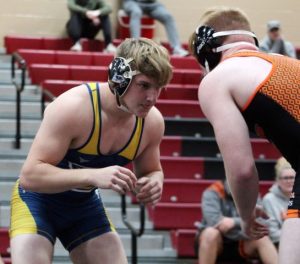 Since then, Lebanon County has enjoyed its share of individual success in the sport, but not the same overall level of team success.
"I was looking for a more competitive tournament for our guys," said Miller. "We didn't have Cedar Crest, Palmyra or Lebanon on our schedule. So when I went to (Annville-Cleona athletic director) Tommy (Long) about it, he said, 'Let's see if everyone else wants to come.' The other schools really bought into it.
"I think Lebanon County wrestling is getting better," added Miller. "It's highs and lows. Let's face it, it's a difficult sport. I don't think Lebanon County wrestling is terrible. But filling all the weight classes is difficult."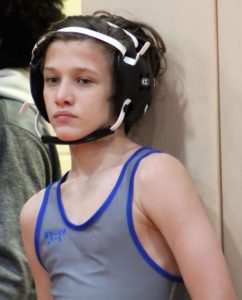 Headlining Lebanon County's weight class champions was Lebanon senior 160-pounder Griffin Gonzalez, who placed seventh at the PIAA Class AAA Championships last spring. But he captured the Cedars' only championship.
Palmyra, Elco and Annville-Cleona all garnered four weight class championships.
For the Cougars, 107-pound Tyler Detwiler, 127-pound Nate Foltz, 215-pound Cooper Ickes and 285-pounder Jayson Albright were all crowned Lebanon County champions. Raiders Ashton Kriss at 114 pounds, Zane Trostle at 121 pounds, Luke Bailey at 172 and Isaiah Angley at 189 struck local gold.
Taking home top honors for the Little Dutchmen were 133-pounder Cael Harter, 139-pounder Landon Hostetter, 145-pounder Ivan Kreider and 152-pounder Ayden Heilman.
"It was designed to get kids as many matches as possible," said Miller. "I was pleased with our team's performance. There are a lot of places to improve on. But it's all stuff that can be worked on in the wrestling room.
"I think COVID really hurt us," Miller added. "It kind of made us take a step back. For me, it's about trying to get the numbers back out. We have 19 kids on the high school team, which is good. But we need more to fill out the weights."
To purchase images in this article please email jeff@lebcosports.com.