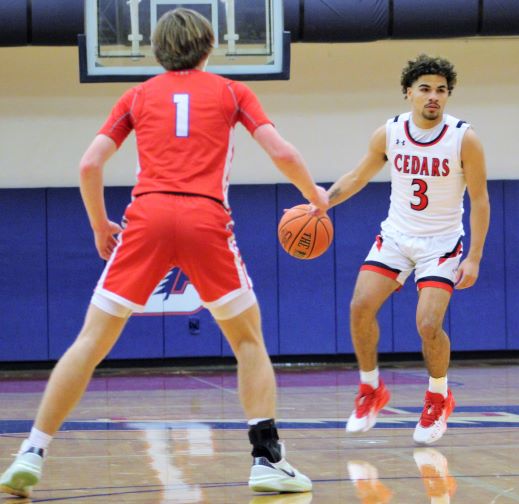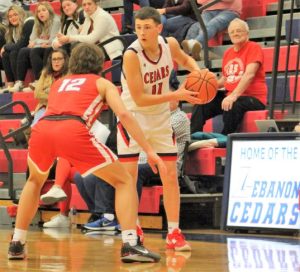 BY JEFF FALK
Editor
LEBANON – The Lebanon boys' basketball team is going to fight for and earn everything that it gets this season. But during that struggle it's important for the Cedars to control the things that they can.
On Saturday night, a young group of inexperienced Cedars struggled again, during a 66-45 loss to North Schuylkill, in the consolation game of the Lebanon booster club's annual tip-off tournament. Lebanon showed some promise early, but encountered difficulties with consistency over most of the final three quarters of play.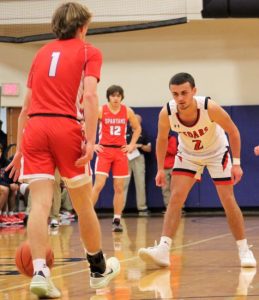 In light of Friday night's season-opening 62-37 defeat at the hands of Spring Grove, Lebanon is now 0-2 under first-year head coach Kris Uffner.
"Clearly, we didn't play our best," said Uffner. "We didn't execute some of the things we've been working on. But we're young. There are going to be times when we're learning on the fly. That's just the reality right now.
"It was kind of a continuation of last night," added Uffner. "(On Friday) Spring Grove shot lights out and we lost some shooters. We have a lot of kids getting their first dose of varsity basketball. There's a lot of things we're going to go through."
Over the first few minutes of the contest, Lebanon played with energy and emotion.
Thanks in part to five points from Braylon Beaver, the Cedars opened an early 7-2 advantage. Then when senior Emanuel Mason drilled a three-pointer with 2:09 remaining in the opening stanza, Lebanon had an 11-8 edge.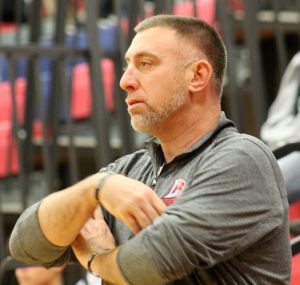 But North Schuylkill tallied the final eight points of the period and took a 16-11 lead it would never relinquish.
"We started the game OK," said Uffner. "Then when we got down, we fought back into it a little bit. But we had breakdowns on offense and we had breakdowns on defense.
"For us to be competitive with teams, we have to work hard for everything we get," Uffner added. "We're already working hard on of the offensive end for the few good looks we're getting. Right now, we struggling on both ends of the floor."
A driving lay-in by Jaydin Mercado pulled Lebanon to within 19-16 of the lead, 1:28 into the second quarter. But North Schuylkill rattled off 12 of the next 13 points to extend its lead to 31-17.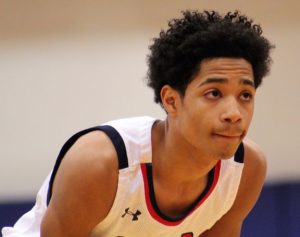 "We weren't protecting the ball," said Uffner. "We weren't taking care of the ball. We gave them (the Spartans) too many easy things. We're not good enough to give up easy things. We're kind of shooting ourselves in the foot.
"We didn't handle it (the ball) very well," continued Uffner. "The turnover flood never really stopped."
For the contest, Lebanon counted 28 turnovers. In addition, the Cedars converted just six of their 15 foul shots.
Beaver led the Cedars in scoring with 12 points. Mason was named to the all-tournament team.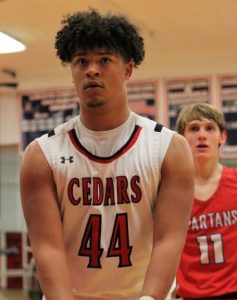 "We have to be one percent better than yesterday," said Uffner. "We have to take little steps and keep working. Our problem is we're taking one step forward and two steps back."
Mason nailed a three-pointer three minutes after halftime, and the Cedars sliced their deficit to 39-31. But the Spartans tallied the last three points of the third period and the first seven points of the fourth to push their lead to 56-36.
"Coming in, the main goal was to establish the culture for the program that I wanted," said Uffner. "For the kids, I wanted them to improve, learn the game of basketball and have those moments that they will remember. For the younger kids, I want them to use this as experience moving forward.
"In a lot of cases, we're looking to later in this year and next season," Uffner continued. "We're going to look to be competitive and leave our own mark on the program. But as a coach, I also want to teach them life lessons along the way."
To purchase images in this article please email jeff@lebcosports.com.
2022 Lebanon Boys' Basketball Schedule
| | | | | | |
| --- | --- | --- | --- | --- | --- |
| 2022-12-09 | H | vs | Spring Grove Area(3) | L | 62-37 |
| 2022-12-10 | H | vs | TBA() | | 0-0 |
| 2022-12-13 | H | vs | Governor Mifflin(3) | | 0-0 |
| 2022-12-16 | H | vs | Manheim Township(3) | | 0-0 |
| 2022-12-19 | A | vs | Garden Spot(3) | | 0-0 |
| 2022-12-21 | A | vs | J P McCaskey(3) | | 0-0 |
| 2022-12-28 | A | vs | Exeter Township(3) | | 0-0 |
| 2022-12-29 | A | vs | TBA() | | 0-0 |
| 2023-01-04 | H | vs | York Suburban(3) | | 0-0 |
| 2023-01-06 | H | vs | Columbia(3) | | 0-0 |
| 2023-01-10 | A | vs | Penn Wood(1) | | 0-0 |
| 2023-01-12 | H | vs | Hempfield (3)(3) | | 0-0 |
| 2023-01-16 | H | vs | Hershey(3) | | 0-0 |
| 2023-01-20 | A | vs | Manheim Township(3) | | 0-0 |
| 2023-01-24 | H | vs | J P McCaskey(3) | | 0-0 |
| 2023-01-27 | A | vs | Cedar Crest(3) | | 0-0 |
| 2023-01-30 | H | vs | Central Dauphin(3) | | 0-0 |
| 2023-02-02 | H | vs | Penn Manor(3) | | 0-0 |
| 2023-02-04 | H | vs | Milton Hershey(3) | | 0-0 |
| 2023-02-07 | A | vs | Hempfield (3)(3) | | 0-0 |
| 2023-02-09 | A | vs | Lower Dauphin(3) | | 0-0 |